From a smash-hit musical to museum exhibits to walking tours, "Hamilton" lovers can get the full fan experience in DC.
As Broadway's award-winning Hamilton: An American Musical comes to the Kennedy Center, it's as if the DC metro area is welcoming home one of the nation's founding fathers. Museums are dusting off their historic Hamilton artifacts, 18th-century fashion sense is reappearing on stages and exhibit spaces and all that formidable cursive – by way of letters, records and signatures – is causing confusion in the digital age.
Hamilton left an indelible mark on the nation's capital, where he's been immortalized at the Treasury Building and as the president general of the Society of the Cincinnati. Whether you want to continue your adventures after attending Hamilton at the Kennedy Center or you just want to celebrate the founder of our national banking system, we've got some great ideas for you.
01
Catch 'Hamilton' at the Kennedy Center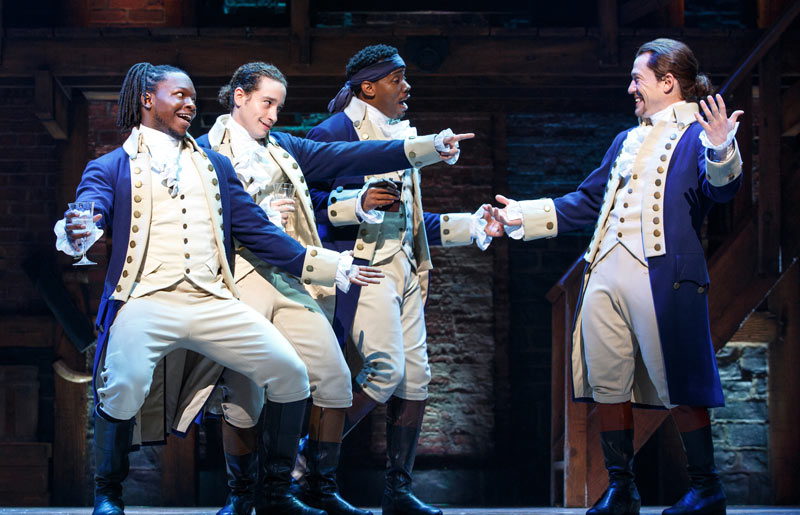 Lin-Manuel Miranda's Broadway smash 'Hamilton' - Theater at the Kennedy Center for the Performing Arts in Washington, DC
A shining example of musical theater at its finest, Hamilton has reached the pinnacle of performing arts thanks to Lin-Manuel Miranda's imaginative interpretation of Alexander Hamilton's life story. The production set itself apart from other Broadway musicals thanks to an innovative score – containing songs heavily influenced by hip-hop – and its recasting of America's Founding Fathers with a diverse cast. You can bet Hamilton is the hottest ticket in town. Visit the Kennedy Center's website for more ticketing information.
02
Step inside the world's largest library and behold all things Hamilton
Fans of the musical can discover some of the play's source material in letters written by Hamilton as part of a new exhibition, Letters to Lyrics: Alexander Hamilton at the Library of Congress, opening May 18 and running through Aug. 21. Holding the world's largest collection of Hamilton papers and artifacts, totaling 12,000 items altogether, the Library of Congress has curated a selection of significant letters penned by Hamilton throughout different stages of his life. Among the ten selected items on display are writings from a 12-year-old Hamilton, a Marquis de Lafayette communication about the final battle in the Revolutionary War, a work about the formation of the U.S. Constitution and a July 4, 1804 goodbye letter to his wife shortly before the Burr duel. The Library of Congress is free to visit and is open Monday through Saturday from 8:30 a.m. to 4:30 p.m.
03
See the Original Dueling Pistols Used by Hamilton and Burr
Smithsonian's National Postal Museum presents Alexander Hamilton: Soldier, Secretary, Icon, a new exhibition opening on May 25, 2018 and running until March 3, 2019. The exhibit features a rare public display of the original dueling pistols used by Hamilton and Burr in 1804 that resulted in Hamilton's death. Through handwritten letters penned while he served as the first Secretary of Treasury, the exhibit offers insight into Hamilton's role as a central figure in Washington's first cabinet. It also shows depictions of Hamilton that wound up on postage and revenue stamps, including the famed image of him at the Surrender of Yorktown, the final battle of the Revolutionary War. Interactive displays and educational programming round out the exhibit.
04
Check Out Lin-Manuel Miranda's 'Hamilton' Costume
If you're into Hamilton and 18th century-style attire, head to the free-to-visit National Museum of American History to inspect the suit Lin-Manuel Miranda wore on stage. The emerald green silk ensemble designed by Paul Tazewell will be on view through July 29 as part of the Giving in America exhibition focused on philanthropy, running through March 2019. As you ponder the benefits of giving back, be sure to acknowledge Mrs. Alexander Hamilton (Eliza), who helped found the same orphanage that the show's actors and creators contributed to some 200 years later.
05
Glimpse Hamilton's Handwriting and Personal Records
Home to the U.S. Constitution (look for New York Delegate Alexander Hamilton's signature on the right side of the last page), the National Archives Museum will display some of Hamilton's personal records from June 7 through Sept. 19. Pore through Hamilton's Statement of My Property and Debts, with Remarks. The document calls to mind the Hamilton song Best of Wives and Best of Women, in which Eliza asks Alexander, "Why do you write like you're running out of time?" In fact, he drafted this property and debts document in 1804, the same year he died from his duel with Aaron Burr. Also on display is George Washington's Nomination of Alexander Hamilton to Be the First Secretary of the Treasury, as written on Sept. 11, 1789.
06
Get to Know Hamilton the Soldier
Well before they dueled, Aaron Burr and Alexander Hamilton were members of the same esteemed guild, the Society of the Cincinnati, which is devoted to preserving "the ideals and fellowship of officers of the Continental Army." Hamilton bested Burr, however, when he was named the second president general of the group, succeeding George Washington. The Society endures today in a free-to-visit mansion along Embassy Row in Dupont Circle. Drop by to see Alexander Hamilton's American Revolution, an exhibition running March 15 through Sept. 16 that examines the fresh-faced soldier who rose through the ranks to become an aide-de-camp of General Washington. Anderson House is open Tuesdays through Saturdays from 10 a.m. to 4 p.m., and Sundays from noon to 4 p.m. Check Anderson House's upcoming events for lectures and other programming related to Alexander Hamilton.
07
Interact with Washington's "Right-Hand Man" at Mount Vernon
Step into the shoes – well, boots – of General George Washington in Be Washington: It's Your Turn to Lead, a digital first-person experience featuring Chris Jackson, who first starred as Washington in Hamilton. The narrative features scenes with Hamilton stepping into the "right-hand man" role, advising Washington at pivotal moments in history, such as the French neutrality crisis. Check George Washington's Mount Vernon calendar for additional programming geared toward fans of the musical, such as a family-friendly "Hamiltunes" sing-a-longs in front of the mansion on Saturdays, artifacts and documents related to Alexander Hamilton and a chance to sit under Washington's "own vine and fig tree," as sung in the musical.
08
Go Back in Time in Old Town Alexandria
Once belonging to the new Federal City, Old Town Alexandria conjures up feelings of the past with its Colonial history, English street names and gas lanterns. The historic waterfront hot spot oozes with charm, and it's going all out this summer for Hamilton. Take the Telling Their Story: Hamilton BFF & Frenemies tour at Gadsby's Tavern (Saturdays from June 2 through Labor Day), which tells tales of the bar's heyday, when it entertained Hamilton's fellow statesmen Madison, Jefferson, Washington, Burr and Lafayette. Gadsby's will also host an 18th-century gaming night (July 27, 7-9 p.m.) with classics your grandparents haven't even heard of, like Shut the Box and Fox & Geese, as well as a homegrown Cards Against Humanity: Tavern Edition. Five blocks away, the Lyceum history museum will host a special evening event called Til the World Turned Upside Down – Uniforms of the American Revolutionary War (June 21, 7 p.m.), examining uniforms from the Siege of Yorktown, including French, German and American armies, and coats worn by African Americans serving with the British army.
09
Experience a guided tour and lecture on Hamilton at the National Gallery of Art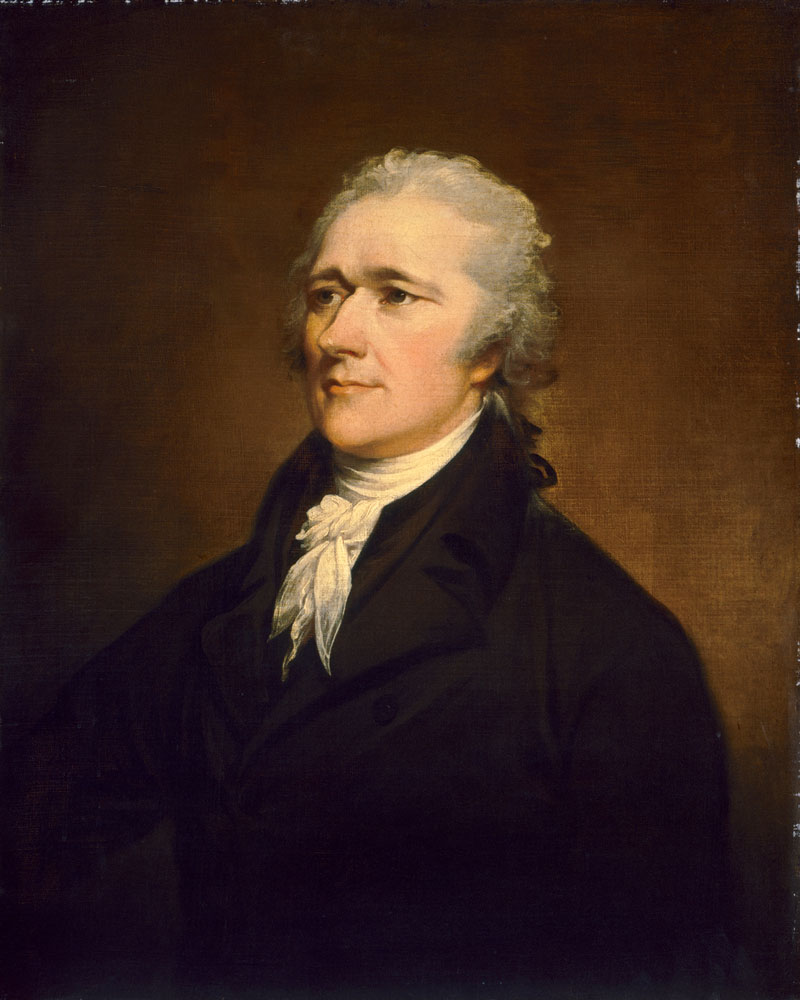 Alexander Hamilton c. 1806 by John Trumbull - Hamilton-inspired things to do in Washington, DC
The National Gallery of Art is also in the mood to celebrate Hamilton and its namesake this summer. Art historian Heidi Applegate will lead a special Sunday lecture entitled Picturing Alexander Hamilton on Aug. 5 at 2 p.m. in the East Building Auditorium. Attendees will examine a number of artworks featuring Alexander Hamilton and his family, as well as other important figures in his life. 
10
Take a Tour of the Treasury Building
If he had been tapped as the Secretary of the Treasury today, Hamilton would've operated out of the Treasury Building – which is featured on the back of the $10 bill. To take the free Treasury Building tour, you'll have to contact your representative or senator in advance of your visit to DC. Highlights include a glimpse into the Andrew Johnson suite, where then-President Johnson insisted on conducting official business instead of the White House following the assassination of President Lincoln, a courtesy to Mary Todd Lincoln. You'll also see the natural light-filled West Dome on the tour, which is decorated with 23-karat gold and bronze gilding, and features a monumental double staircase leading up to the tri-part dome. And when you glance inside the Cash Room, imagine it as the bustling bank it once was, when it supplied local banks with currency from the Treasury vaults. The one-hour tours run Saturday mornings at 9, 9:45, 10:30 and 11:15 a.m. You can also take a mobile tour.
11
Watch Money Being Made at the Bureau of Engraving and Printing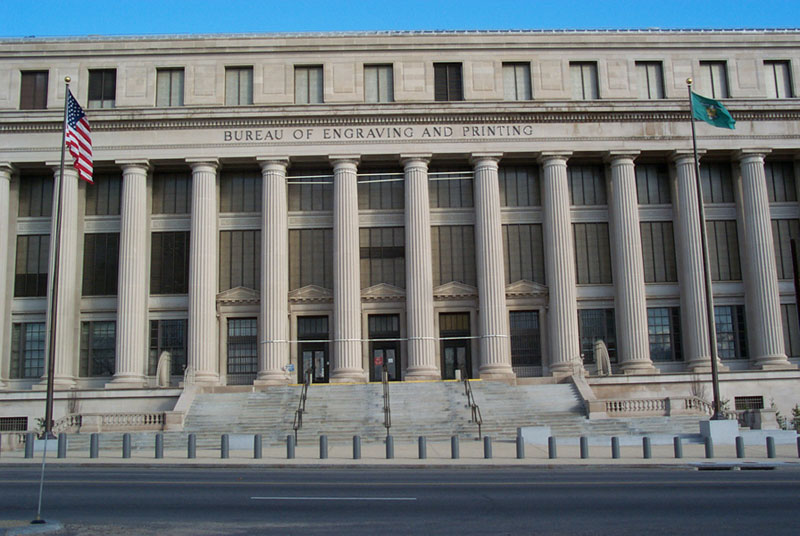 Exterior of the Bureau of Engraving and Printing in Washington, DC - Free things to do in DC
Can you imagine if Alexander Hamilton, founder of the national banking system, joined in on the free 40-minute currency production tour at the Bureau of Engraving and Printing? Then, imagine the look on his face when he'd catch a glimpse of his gorgeous mug on a $10 bill. Honor Hamilton's legacy with a tour of the Bureau of Engraving and Printing, open weekdays. Line up by 8 a.m. to get your timed tickets from the booth located at Raoul Wallenburg Place, which distributes tickets on a first-come, first-served basis. The on-site gift shop is also a great place to score some Hamilton swag, such as three generations of $10 bills from 1995, 2001 and 2009.
12
Stroll Through Hamilton's DC on a Walking Tour
The Hamilton-obsessed guides at Washington Walks host the ultimate walking tour for fans of the musical. Expect to learn about Eliza Hamilton's time spent in the nation's capital – she moved to DC as a widow and lived here until her death at age 97. You'll also find out how Hamilton's "diametric'lly opposed foes" lived, with anecdotes about Presidents Thomas Jefferson and James Madison. And at the end of the tour, sip on a Hamilton Mule at The Hamilton restaurant and bar, raise a glass to freedom.
13
Tap into DC's Thriving Theater Scene
Hamilton isn't the only production in town that you should plan to see. The nation's capital offers a full array of world-class performing arts and original plays. Don't take our word for it, playwright, director and actor Psalmayene 24 has all the details in the above video. Theaters in DC produce everything from Broadway-bound world premieres, such as Dear Evan Hansen and Mean Girls, to edgy comedies, Shakespeare interpretations and homegrown productions. Check out the latest performances during your time in the city, and look for discounted tickets via todaytix.com.
Looking for more fun things to do? Experience the presidential side of Washington, DC by becoming your own explorer-in-chief.