Discover why a hop-on, hop-off bus tour is a great way to experience the nation's capital.
When it comes to sightseeing in Washington, DC, there's a lot to see and do and often not enough time. One of the most efficient ways to cover all of your bases, while also offering an opportunity to explore museums, monuments and other points of interest, is to take an open-top sightseeing bus tour. With all new cleaning protocols and safety measures, Big Bus Tours offers customers a stress-free ride in a clean and safe environment above street and sidewalks. With a new departure point at L'Enfant Plaza, and recently added stops at Black Lives Matter Plaza, Senate Park and others, Big Bus also offers the official National Mall tour (Red Loop), and a Night Tour which includes the National Mall, Pentagon, Arlington, Va. and Georgetown.
Here's why you should take advantage of a Big Bus Tour next time you're in the nation's capital:
Get an exclusive discount and save big on your next Big Bus Tour. Just enter the promotional code VISITDC for the best available deal and start exploring the nation's capital.
01
Catch the monuments and the memorials from a unique vantage point
The Red Route is the official National Mall tour, and it goes past the major monuments, memorials and museums in DC.  The Big Bus Tours app will give you the exact location and stop times for the day you travel. With frequent and varied stops throughout the tour, you can always step off for further exploration. And if you want to capture the scene from a unique vantage point, nothing beats the photo-ops from the rooftop.
02
Get more sightseeing done in two hours than most do in two days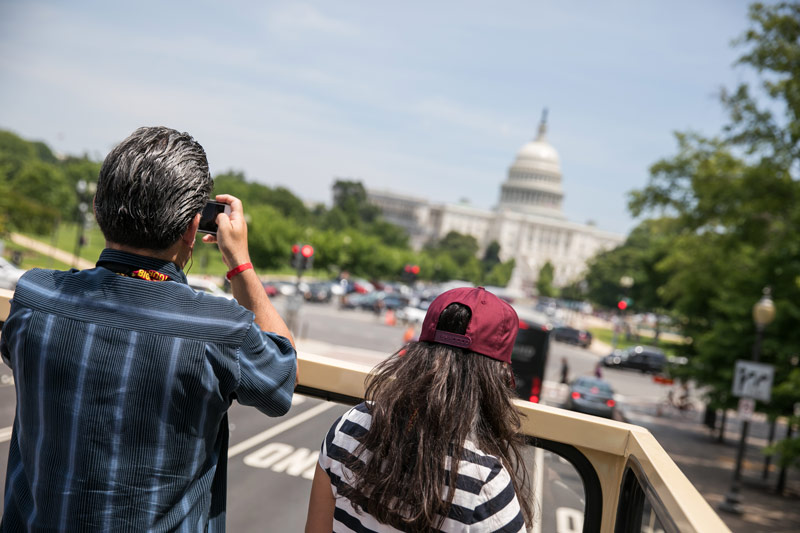 Visitors on a Big Bus sightseeing tour taking photos of the U.S. Capitol - Open-top bus tours in Washington, DC
If you want to pack in as much as you can, we recommend staying on the bus. A full route on the Red Loop lasts an hour and thirty minutes apiece.
03
The night tour on the Mall is a must
If you haven't seen the DC skyline set against a night sky, you're missing out. One of the best ways to experience the beauty of the nation's capital is during a night tour. You'll encounter fewer crowds and the monuments and memorials take on an even more awe-inspiring feeling when lit up at dusk. Note: This tour is not a hop-on, hop-off, however the tour provides photo stops at the Lincoln Memorial and the Iwo Jima Marine Corps Memorial in Arlington, Va.
04
There's a Big Bus Tour stop near you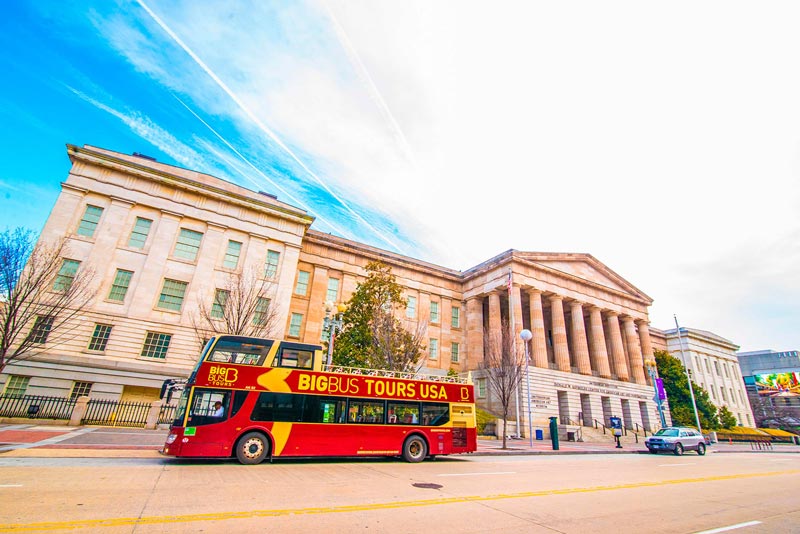 Big Bus Tour in downtown Washington, DC - Sightseeing options in DC
Convenience is key when visiting any city, and as the official tour of the National Mall, Big Bus has its advantages. With varied stops strategically placed at major locations throughout the Mall, downtown, and near hotels, you can easily find a stop near you and begin your adventures in no time.
05
You can never get lost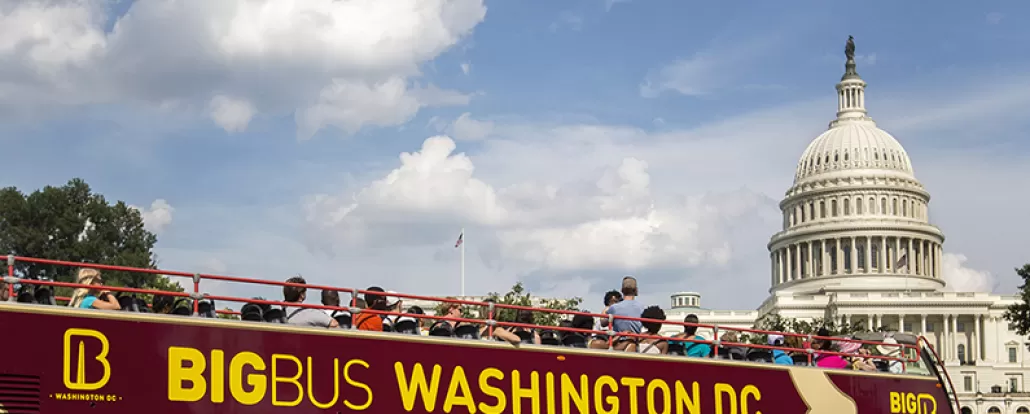 With added features like Real Time Bus Tracking and an Interactive Route Map, you can experience the Big Bus Tour without the hassle of getting lost or confused. Keep it simple. Download the Big Bus Tours app and choose Washington, DC. Someone will always be available via chat to answer questions and point you in the right direction.