Catch live sports action, tap into a hyper-local creative scene and savor signature flavors of DC.
When it comes to exploring DC, there's plenty to discover east of the Anacostia River. One popular neighborhood you'll discover is Anacostia, featuring lots to see like the landmark Big Chair, a Smithsonian museum dedicated to community and Frederick Douglass' home. Just beyond Anacostia is Congress Heights, a residential neighborhood rooted in African American history, art and culture. Congress Heights attracts DC locals and visitors at its Entertainment and Sports Arena. Part of the Saint Elizabeth's Hospital East Campus, the 4,200-seat venue is as versatile as it gets and hosts a variety of experiences. Discover more about what you can see at the arena and the arts movement in the neighborhood.
01
Catch hoops, concerts, fights and esports all in one place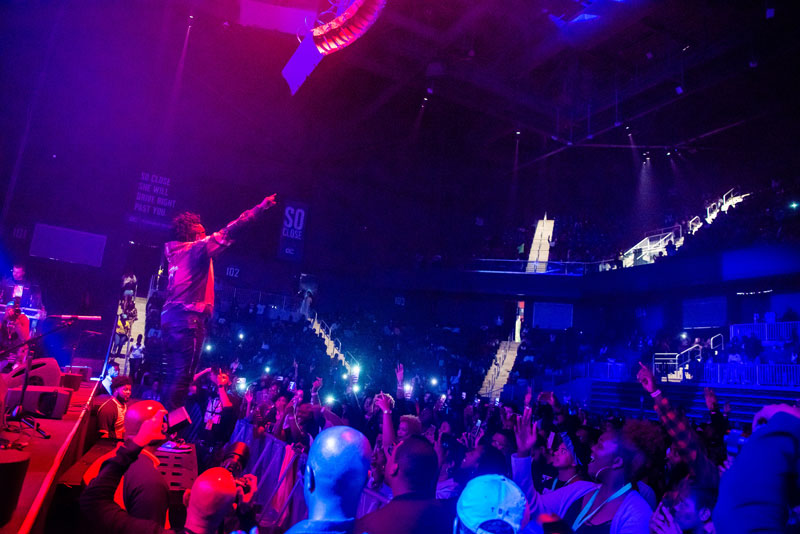 Wale concert at the Entertainment and Sports Arena in Congress Heights - Things to do in DC's Congress Heights neighborhood
The Entertainment and Sports Arena is home to a wide range of experiences you can only have in the District. The Washington Wizards practice at the arena, and while fans can't get behind-the-scenes access, they can cheer on the Wizards' G-League affiliate team, the Capital City Go-Go, who play their home games at the arena. Once the G League season ends, fans turn their attention to the WNBA's Washington Mystics, who remain one of the league's hottest teams following a Finals appearance in 2018. Best of all, you can find tickets to both teams' games for less than $15. In addition to hoops, the arena has been rocked to its core by artists like hometown hero Wale and R&B legend Mary J. Blige. It also has hosted esports events and high stakes DC Fight Nights with the Universal Boxing Federation's middleweight title on the line. Take a look at upcoming events at the Entertainment and Sports Arena. 
02
Get creative at the Congress Heights Arts & Culture Center
The artistic soul of Congress Heights operates out of this space, located on Martin Luther King, Jr. Avenue SE. With a mission "to explore arts and culture of people of the African Diaspora, specifically, communities of African Americans residing East of the Anacostia River," the center empowers local artists with gallery space and entrepreneurs with pop-up real estate. The center has exhibited a range of artworks, from noted Harlem Renaissance-inspired artist Lois Mailou Jones to Contemporary African painter Nahosenay Negussie. On any given day you may find clothes from the Soufside Creative line, yoga classes, colorful art on display and live performances. Check out what's on the events calendar.
03
Get a taste of mumbo sauce and more at MLK Deli
DC has put the half-smoke and go-go music on the map. Another hometown hero is mumbo sauce, a spicy-sweet concoction that goes well on wings, pizza and just about anything. At the MLK Deli, the signature sauce adorns Mr. Luke's fried chicken sandwich, which is served on a brioche bun. The deli also delivers on all kinds of classics, from hearty reubens to weighty crab cakes, and it serves up delicious homespun lemonades to boot. Can't wait to try mumbo sauce? You can order it online from the Capital City Co.
04
Marvel at the performing arts at THEARC
The creative and collaborative hub known as THEARC (Town Hall Education Arts Recreation Campus) immerses the local community in performing arts. The Washington Ballet's Southeast Campus operates from the space and regularly puts on ticketed performances at the on-site THEARC Theater. On stage, you'll also find an array of DC-area talent showcasing everything from big brass displays and Duke Ellington-inspired jazz numbers to dance routines and festivals. Beyond performances, any time you drop in, you can always pop by the Community Gallery at THEARC, which exhibits visual artworks from its ArtReach program participants, local artists, community organizations and schools. Check out THEARC Theater's events calendar to see what's on tap.
05
Take in the view from Gateway DC
This park and pavilion regularly serves as the site for neighborhood festivals and events, especially in summertime. Whether its hosting a concert or no event at all, it stands out thanks to its unique design, which includes a walk-up rooftop overlooking the rest of the park. We recommend getting the birds' eye view of the neighborhood from the walk-up.
06
Fall in Love-Love at the Tennis Center
The Southeast Tennis and Learning Center was created to inspire locals to discover the wonders of tennis. While the space is always looking to foster the next Arthur Ash or Venus Williams, guests are able to rent courts for $35 an hour as long as they bring their own rackets and balls. Speaking of Venus Williams, she actually contributed her interior design talents to the space, which includes bright colors reminiscent of her famed on-court ensembles. The center is open weekdays from 9 a.m. to 9 p.m., Saturdays from 10 a.m. to 4 p.m. and closed on Sundays.
After you've fully explored Congress Heights, discover the best things to see and do in the nearby Anacostia neighborhood.