Venture into this eclectic community and haven for grown-up fun and unique shopping.
The diverse neighborhood of Adams Morgan is centered at the intersection of Columbia Road and 18th Street NW, an independent streak a mile long full of restaurants, bars, shopping and more. The area might be less than 5 square miles, but there's a lot for you to explore.
01
Check out The LINE DC
You can stay or just stop by – either way, The LINE DC makes for a worthwhile stop on your exploration of the Adams Morgan neighborhood. Beyond being a DC-inspired hotel housed inside a 110-year old church, The LINE also offers restaurants from acclaimed chefs Erik Bruner-Yang and Spike Gjerde that were named to Bon Appétit's 2018 list of the best new restaurants in America, as well as a coffee shop, a community center and a community radio station broadcasting from within the hotel.
02
Eat where chef Victor Albisu eats
Spend a day full of good vibes and views in the neighborhood with Victor Albisu. Stoke your appetite and tune in to this Chefs Dish DC foodie adventure as Albisu digs in to delicious breads at the Michelin-starred Tail Up Goat, savors sushi at Perry's and bolts down brats at Roofers Union.
03
Channel your inner bookworm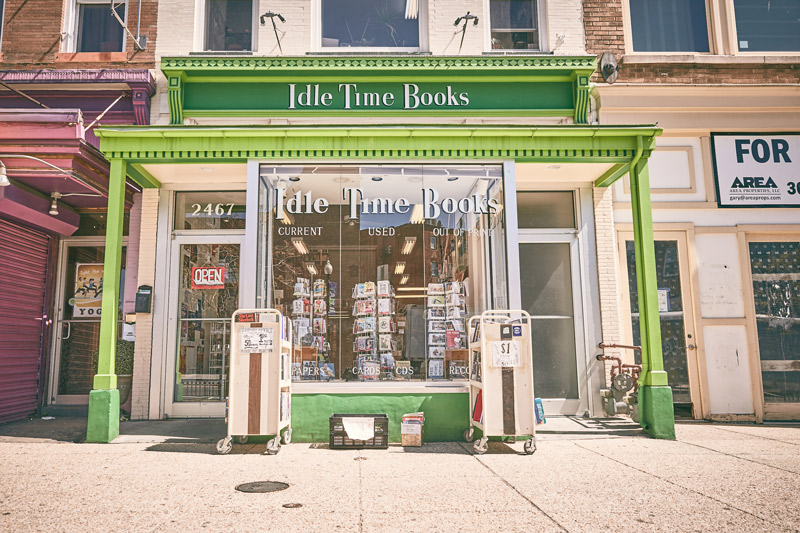 Idle Time Books in Adams Morgan - Things to See and Do in Adams Morgan - Washington, DC
Head to Idle Time Books to pick up a good read. The store has been in operation since 1981 and has over 50,000 quality used, recent and out-of-print books, as well as greeting cards, newspapers, records and CDs. Yes, CDs.
04
Check out a must-stop coffee shop
Start your day off in this eclectic DC neighborhood by grabbing a seat in any of the mismatched chairs that dot Tryst coffeehouse. The highlights of this large, laid-back cafe include animal crackers with every coffee drink and patio seating perfect for people-watching along eclectic 18th Street.
05
Shop for knick knacks and fun gifts or score some vintage threads
If you like Paper Source, Urban Dwell might just be your new favorite find. Located on Columbia Road, Urban Dwell offers "elements for home and self." Think handpicked merchandise including home decor, women's and men's accessories, kitchen and bath products, and baby gifts. We call the eclectic store a treasure trove. And forget cookie-cutter clothing at Meeps. This store has been a go-to shop for vintage clothing since 1992, housing casual vintage from the 1960s onwards as well as an extensive costume selection.
06
Delight in hot eats and brews with a view
Roofers Union serves up classic American fare that's a must-try when in AdMo. The relaxed first level highlights a cocktail-centric bar menu, while the second floor restaurant has floor to ceiling windows that face 18th Street. Climb to the uppermost perch and experience one the best rooftops in Washington, DC.
07
Dance the night away at a neighborhood institution
For more than 20 years, Madam's Organ blues bar has been an Adams Morgan nightlife anchor thanks to stiff drinks and live music every night of the week. It's hard to miss this neighborhood landmark (just look out for the larger than life mural with a redheaded woman on building's side).
08
Falafel and frites are a way of life
Take a trip to Amsterdam during your break by picking up some lunch at Amsterdam Falafelshop. Get a falafel sandwich and load it up with 20-plus toppings and sauces. The double-fried fries are also a must (especially with curried ketchup).
09
One for music lovers
All music lovers should visit Songbyrd Music House & Record Cafe and get down with some of the best DJs and bands while sipping a beer in the Music House. Pro-tip: you can also stop in during the day and grab a cappuccino and a sandwich while browsing the latest vinyl releases and reissues at Songbyrd's Record Cafe.
10
Whiskey is the star at Jack Rose Dining Saloon
At Jack Rose, you can experience over 2,600 bottles of hand-selected scotches, bourbons and whiskey, uniquely hand-crafted cocktails, wines from around the world, and nearly 20 beers on draft. The food is just as impressive. Hidden in the back of the bar is its craft cocktail-minded speakeasy, Dram & Grain (text ahead for reservations on the weekend or ask the Jack Rose host to be seated there Tuesday through Thursday).
11
Sing loud at karaoke and top the night off with an empanada or jumbo slice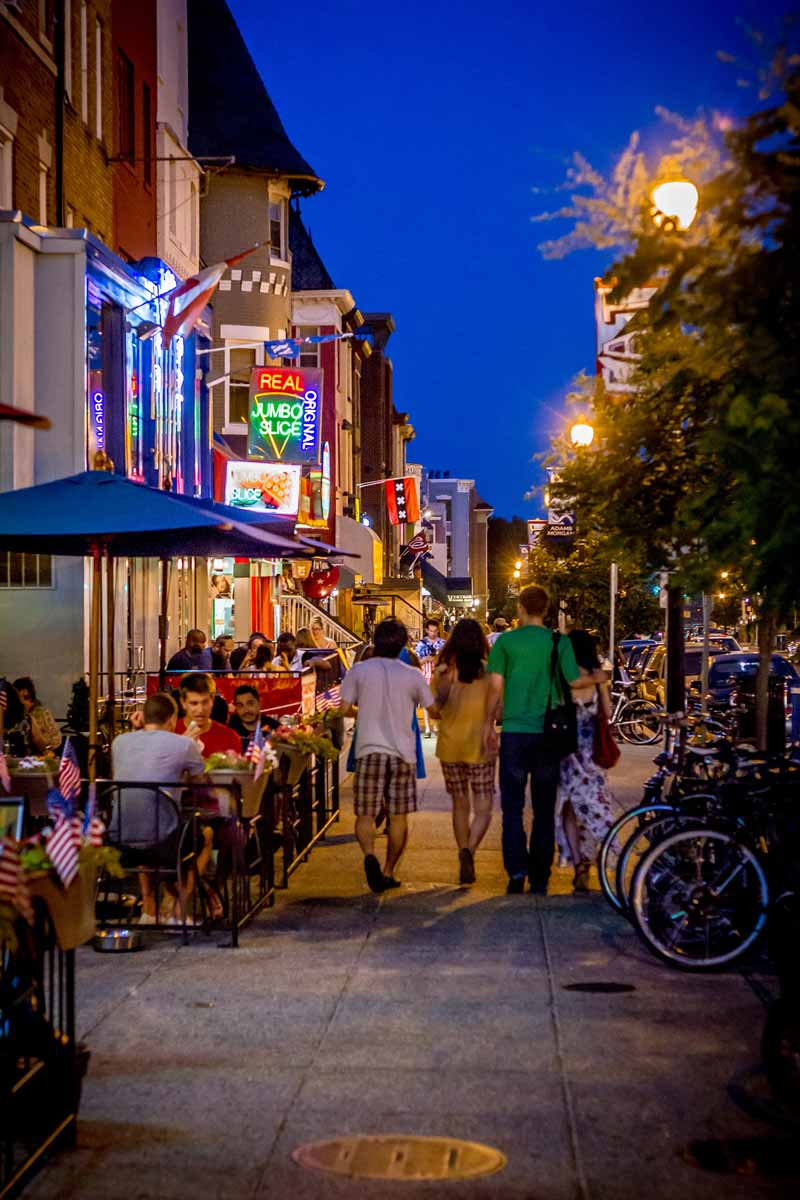 18th Street in Adams Morgan at night - Things to do in Washington, DC's Adams Morgan neighborhood
Open Tuesday through Sunday, Muzette on 18th Street has over 70,000 songs in English, Korean, Japanese, Chinese, Spanish, Thai, and Vietnamese. We suggest you order some sake or beer if you need a bit of liquid courage before picking up the microphone. When you're done belting out classic tunes, we suggest you stop at nearby Julia's Empanada's or snag some pizza at Jumbo Slice. Julia's even serves a fruit empanada with strawberry, cream cheese, blueberry and cream, peach guava, pears and apples if you have a sweet tooth.