You are here
12 Ways Washington, DC Has Gotten Cooler Since the Last Presidential Inauguration
12 Ways Washington, DC Has Gotten Cooler Since the Last Presidential Inauguration
A lot can happen in four years! Let's reflect on how the nation's capital has evolved.
Ah, 2013. The year that Robin Thicke and Pharrell's Blurred Lines topped the charts, "selfie" and "twerk" were added to the dictionary and 3-D printers went viral, among many, many other things. A lot has happened in the world since then, and the same goes for the District of Columbia.
If you were here for the last presidential inauguration, awesome! You should come again. Because DC got even cooler. Here's how.
1
The dining scene has gone to the next level.
Espita Mezcaleria
You may not have called DC a "foodie destination" in 2013. This is no longer the case. In 2016, DC has been named Restaurant City of the Year by Bon Appétit and received the Michelin Guide treatment for the first time. Beyond its award-winning gourmet restaurants, the nation's capital is still in the midst of a fast-casual boom. Any trip here should include a wealth of good eatin'.
2
The city's hotel inventory continues to grow, with no sign of stopping.
Kimpton Mason & Rook Hotel
Since DC welcomed visitors for the inauguration in January 2013, numerous high-profile hotels have opened their doors, including the Marriott Marquis Washington, DC, the renovated Watergate Hotel, the new Trump International Hotel and two new properties from Kimpton in Glover Park and the 14th Street corridor. What this means: new and improved options for your inauguration stay.
3
DC's sports teams are a blast to watch.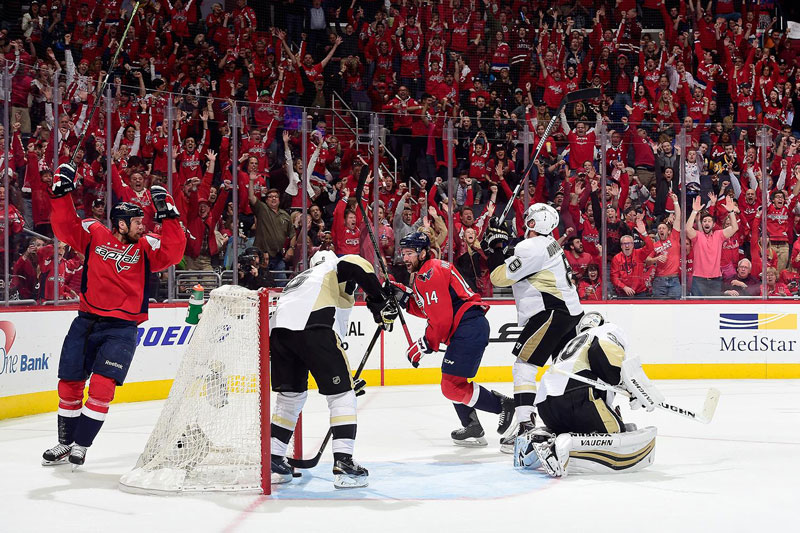 A quick rundown of accomplishments of DC sports teams since 2013: two division titles for the Nationals, three playoff appearances for the Capitals (including a record-setting 2015-16 season), a division title for the Redskins, two playoff trips for the Wizards and three playoff appearances for DC United. DC is definitely a sports city, so no matter what time of year you visit, there's exciting on-field, on-ice and on-court action to savor.
4
You can use #MyDCcool to document your favorite moments in the District.
DC was definitely cool way before 2013, but now, there's a hashtag that can be used to share your awesome experiences in the nation's capital. From beautiful monument shots to photos loaded with foodie flavor, #MyDCcool is the best way to show off your District highlights. And who knows – you may get featured in our monthly round-up of photos!
5
The District has two new museum experiences that can be enjoyed for free.
National Gallery of Art
This past September, the incredibly expansive and immediately historic National Museum of African American History and Culture opened to the public. Just six days later, the National Gallery of Art reopened its East Building with new exhibits and a jaw-dropping rooftop terrace sporting a blue rooster sculpture. Both attractions are located on the National Mall and do not cost a cent to enter (although you may want to secure timed passes for the National Museum of African American History and Culture).
6
DC neighborhoods are thriving.
DC was named America's Coolest City in 2014 by Forbes, and its distinctive neighborhood experiences are a huge reason why. There's dynamic dining on U Street and H Street. There's historical elegance in Georgetown. Adams Morgan has a fantastic bar scene, while Capitol Hill combines politics and play time perfectly. Capitol Riverfront continues to grow, while Penn Quarter shines with entertainment at the Verizon Center and CityCenterDC. If you're here for the inauguration, we recommend that you visit them all.
7
The U.S. Capitol Dome received a beautiful makeover.
One of the most recognizable landmarks in America is looking better than ever, just in time for 2017's Inauguration. The U.S. Capitol's dome underwent an extensive restoration since the last ceremony, sporting scaffolding that gave the structure a radical look for roughly a year. Now, the scaffolding is off, and the dome's iconic appearance has been restored. Book a tour of the Capitol during your trip.
8
There's a new, powerful memorial to experience.
DC's newest memorial, which opened in October 2014, honors the courage and sacrifice of those disabled in the line of duty. Located just east of the U.S. Capitol, the American Veterans Disabled for Life Memorial is the first national memorial dedicated to disabled veterans. The 2.5-acre site features a star-shaped fountain and a triangular reflecting pool with a ceremonial flame at its center, as well as glass panels that tell touching stories of American servicemen and women. Admission is free.
9
The Metro added a new line.
Thomas Hawk
The 23-mile Silver Line Metrorail extension is the largest expansion of the area's Metrorail system in more than 20 years. Phase 1, completed in 2014, included new stations in McLean, Tysons Corner and Reston, connecting locals and visitors to Northern Virginia attractions like Tysons Corner Center with ease. By the next inauguration, the Silver Line should extend all the way to Dulles International Airport.
10
You can now pose with the Obamas at Madame Tussauds.
Madam Tussauds Washington, DC
Right around the time President Obama was taking the presidential oath for a second time, Madame Tussauds debuted wax figures of Barack and the First Lady, Michelle. Visit the power couple and snap a photo in honor of their eight years in office. Of course, the presidential experience does not have to stop there: the Presidents Gallery features every Commander-in-Chief, as well as a replica of the Oval Office.
11
DC has a new streetcar!
dcstreetcar via Flickr
After taking roughly 50 years off, the DC Streetcar is back. The current route runs east starting from Union Station toward Oklahoma Avenue and west starting at the Benning Road/Oklahoma Avenue stop at 10-15 minute intervals. The streetcar is a great and innovative way to explore the vibrant H Street NE neighborhood. Future lines are planned for Georgetown, Anacostia and Woodley Park/Adams Morgan, among others.
12
Hotels are dishing out new deals and featuring incredible suites.
Willard InterContinental
Numerous DC hotels are offering special deals for an inauguration stay. Upscale abodes are also featuring lavish presidential suites and packages, including The Willard InterContinental, JW Marriott and Marriott Marquis Washington, DC. The Hay-Adams and Mandarin Oriental have renovated guest rooms in time for this epic celebration.
Interested in more 2017 Inauguration info? Check out our topic page, which includes presidential experiences, hotel deals, free things to do and more.