Ambassador Circle Spotlight: Dr. Andrew Wolff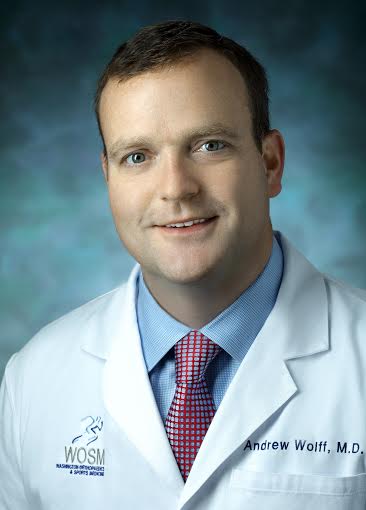 Ambassador Circle member Dr. Andrew Wolff, a board-certified, fellowship-trained orthopaedic surgeon who specializes in hip arthroscopy, hip preservation and sports medicine at Washington Orthopaedics & Sports Medicine, shares his experience working to bring an international meeting of his peers to Washington, DC. He also discusses life in DC and navigating the challenges of the pandemic.
Q: Please share a professional update. Are there any new initiatives or projects you are working on?
I am a hip surgeon at Washington Orthopaedics & Sports Medicine. Outside of the practice, I continue to push our relatively young field forward with multiple ongoing research projects all centered around optimizing the treatment of young athletes with hip problems. I present our research as well as teach courses on arthroscopic hip techniques at both the national and international level.
Q: What motivated you to pursue hosting an international conference? What was the experience like working on the bid?
It has been an honor to be involved with the International Society for Hip Arthroscopy, or ISHA. ISHA provides a forum for hip surgeons from across the globe to present their experience with treating young people with hip problems. As an international society, our annual meeting draws hip surgeons from across the globe. It is a forum to discuss shared challenges, solutions and opportunities. It also gives the host city and country an opportunity to showcase what is special about the place they call home. It may b e fashionable to denigrate Washington, DC for politics, but the DC area has so much of which to be proud. Hosting an international meeting of hundreds of my closest colleagues from every continent (save Antarctica) gives us the opportunity to show DC as a dynamic and exciting city.  
My experience working on the bid was extremely easy, all thanks to the team at Destination DC. We worked closely with Destination DC on everything from venue locations and pricing to entertainment for our conference. They jumped on all the calls with ISHA with us and were extremely knowledgeable and helpful.
Q: What makes Washington, DC, the ideal location for an international conference?
DC is an international destination for so many reasons: sensational restaurants, monuments, museums, and the walkability of the city. Not to mention, DC is made so accessible for both international and domestic travel.
Q: 2020 has been a year of challenges with the pandemic, and we are seeing lots of changes in daily life in DC and in our workplaces. Do you have any examples of a positive pivot you have experienced or implemented, and something that you anticipate will last beyond the pandemic?
Due to the pandemic, several conferences and societies had to go digital, making their conference more accessible and, in many cases, affordable. I can see several conferences now engaging with hybrid platforms to increase their reach and exposure.
Another positive pivot I have seen is the advances in telehealth platforms in medicine. As providers, we are now able to communicate and treat patients without them having to be physically in the office. I now see telehealth practices lasting way beyond the pandemic and being an integral part of patient care.
Q: Living and working in the Washington, DC area provides us with so many fun, unique and often free things to do. What is your favorite DC hidden gem?
I love to walk the monuments at night. Lapis and Maydan are two of my favorite restaurants. The Kennedy Center's rooftop gives a fantastic view of the city. For drinks, check out Whiskey Bar at the Watergate Hotel and Garden District, especially when Christmas lights were up. DC also has plentiful green space. Meridian Hill park is a favorite, especially when the fountains are on. Just outside DC is Great Falls National Park