This magical holiday marketplace in Washington, DC is worth multiple trips, thanks to a rotating cast of local vendors and performers.
Where is the Downtown Holiday Market? What's nearby?
This year's edition of the Downtown Holiday Market will be on the street, centered on 8th and F Streets, NW. Now in its 17th year, its bright lights bring Penn Quarter and Chinatown to life, providing a holiday spark to the neighborhood, complete with health and safety protocols. The spacious, open-air village is free and open to the public, and opens ahead of Thanksgiving week, on Friday, Nov. 19, and will be open daily from 12-8 p.m. through Dec. 23. The Downtown Holiday Market will be closed on Thanksgiving Day and on Nov. 25 and Dec. 6.
After you peruse the market, you can check out the free-to-enter Smithsonian American Art Museum and the National Portrait Gallery, both housed in the same building nearby. Dinner and cocktails can be enjoyed at nearby restaurants like Jaleo, Zaytinya, Clyde's of Gallery Place and Carmine's, or you can get your food to-go.
What will I find at the Downtown Holiday Market?
This year's Downtown Holiday Market will feature more than 70 exhibitors. Visitors can expect a range of family-friendly offerings including emerging artisan makers, returning favorite vendors, festive decor and lights. For a full lineup of featured artists, visit Downtown Holiday Market's exhibitor list.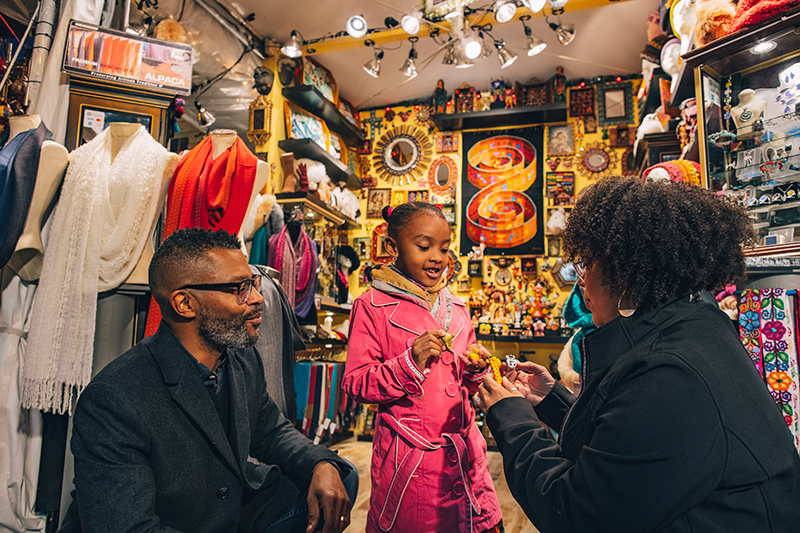 What else will I find there?
Anticipate a fresh lineup of rock, jazz, soul, country, world and contemporary artists, and of course you'll be able to hear your favorite holiday songs this season. For a full lineup of featured musicians, visit the Downtown Holiday Market's website.
What's there to eat and drink at the Downtown Holiday Market?
 Food and drink vendors included The Taste of Germany, Alexa's Empanadas, Old Blue BBQ, The Capital Candy Jar and Migue's Mini Donuts.
What COVID-19 protocols will be in place to ensure customer safety at the Downtown Holiday Market?
Streamlined, one-way, socially distanced foot traffic will be utilized to ensure safe circulation around the market's back-to-back retail vendor tents. All affiliated market workers, exhibitors and shoppers will be required to wear masks or other personal protective equipment upon entry and at all times within the market. Hand sanitizing dispensers will be widely available and easily accessible throughout.