Your guide to the best restaurants in DC's after-hours hot spot
Take a stroll down U Street and you'll find an eclectic array of entertainment options, from live music venues celebrating the neighborhood's deep roots in the African American jazz scene to up-all-night restaurants that attract U Street's social set. The neighborhood is worth exploring for foodies who want a side of music with their menu, or those who want to taste-test some only-in-DC staples.
Dance Party Dining
U Street's musical roots are reflected in some of the neighborhood's cool cat options like El Rey, a combo taqueria and Mexican beer garden.
The Gibson has a way back #tbt vibe with its Prohibition era-style cocktails and menu. The aviation-themed Café Saint-Ex serves up French fare and its basement bar, Gate 54, welcomes throngs of millennials dancing to a live DJ on weekends.
Another DJ-friendly restaurant, Lost Society, features a menu of top-notch steaks in a Victorian-style dining room and a rooftop that hosts outdoor dance parties in the warmer months.
Hip & Historic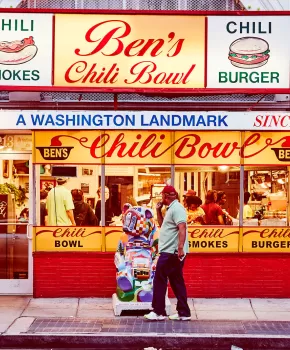 Ben's Chili Bowl - Places to Eat on U Street - Washington, DC
You can't really say you've been to U Street if you haven't been to Ben's Chili Bowl. The home of the famous half-smoke is truly a DC original. Opened in 1958, locals and visitors alike have been lining up for the tasty chili dogs for decades. Ben's Next Door provides a more upscale experience with its restaurant and bar set-up.
Restaurant Marvin pays tribute to Marvin Gaye, who was born and raised in DC. For the menu, the restaurant took inspiration from Gaye's time in Belgium and curated selections that combine soul food and Belgian favorites.
The original Busboys and Poets location resides a block north on 14th Street, a spacious coffee shop that also serves as a showcase for local artists and poetry slams. Washingtonians gather here to break bread over a delicious meal and discuss books, arts and culture.
DC features a thriving Ethiopian cuisine scene and one its best options is Dukem on U. Diners delight in the authentic menu and soak in even more culture with authentic live music.
Culinary & Cocktail Creativity
Renowned chefs and restauranteur Richard Sandoval dazzles with authentic Mexican comfort food at El Centro D.F. – 14th Street. Situated in a vibrant, open-kitchen atmosphere, the menu consists of flavor-filled tacos, shareable plates and enchiladas. The restaurant also features a wide array of tequilas.
Colada Shop, a Cuban cafe-bar hybrid is packed with pastel hues, good vibes and bold bites that bring to life diverse flavors best paired with a bold Cuban coffee by day or a cocktail by night.
Up further north set back from 14th Street is Maydan, the latest culinary adventure from Rose Previte of nearby Compass Rose that was named one of America's best new restaurants in 2018 by Bon Appétit. At Maydan, everything from the fiery flavors to the eclectic decor tells the story of the restaurant team's travels across the Middle East and North Africa. Set in the back alley of a 19th century brick building and marked only by a heavy wooden door, diners are greeted by the sizzling of turmeric-spiced whole chicken and chermoula sauce-marinated sardines roasting over the crackling oak-fired hearth. 
If you're looking for a casual, communal, bottle-driven winegarden (think: beer garden-style service, but with wine), with three lush garden patios, reimagined dinner party fare, and a fun and affordable wine list, check out Lulu's Winegarden.
If you're looking for snacks and creative cocktails at any hour, then head to Service Bar. A rotating list of seasonal cocktails and affordable drinks will keep everyone in your group happy. At chef Ryan Ratino's Michelin-starred Bresca, discover a bright-yet-earthy decor and inventive menu that melds tantalizing flavors. Think pastrami beets served with whipped feta and dill on rye, foie gras made into "PB&J" and sea urchin linguini with truffles and chili.
If you're looking for a sweet treat, make sure to check out Ice Cream Jubilee.The beloved ice cream shop is known for its unique flavors like maple rye pecan and sweet potato molasses candy.
Eat Where Chef Tim Ma Eats
Spend the day with chef Tim Ma as he drops by a few of his favorite spots on the U Street Corridor. Stoke your appetite and tune in to this Chefs Dish DC foodie adventure as Ma samples global street food at Compass Rose and so much more.