From scenic wine country to great shopping in a colonial city, the Old Dominion offers cool treks for all interests.
Colonial and Civil War history. A booming wine scene. Indie shops on bustling city blocks. There are so many reasons to visit Virginia, you might want to add a few days to your DC trip. Here are a few spots worth an afternoon or a full day.
Loudoun County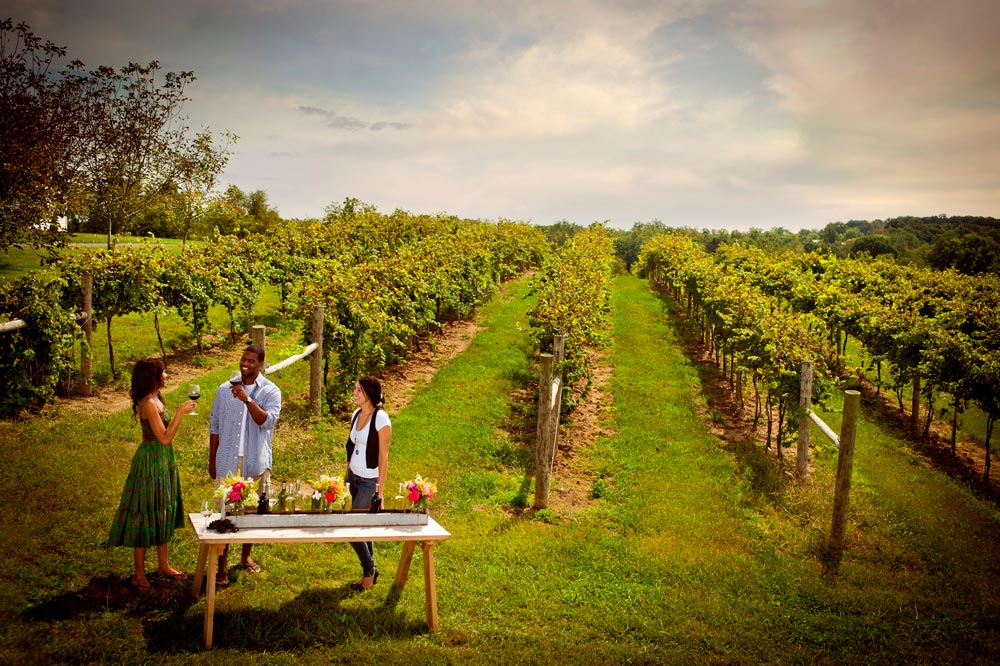 Rolling hills, horse country and Blue Ridge mountain views lend this exurban-meets-country county (just 46 miles from DC) a bucolic appeal. Start in the throwback-cool town of Leesburg, where the 18th- and 19th-century storefronts hold antique shops, hip restaurants and indie boutiques. You'll find more shopping at the nearby Leesburg Corner Premium Outlets, where stores include Coach, Saks and Restoration Hardware off-price outposts.
The historic town of Middleburg, with its old stone buildings and village vibe, acts as the center of horse country, with shops carrying hunting clothes and the atmospheric, long-running Red Fox Inn & Tavern. Outside of the major towns, several dozen wineries reside in the scenic mountain foothills, and there's also a burgeoning craft-brewery movement.
Shenandoah National Park and Luray Caverns
One of the best ways to explore the Blue Ridge Mountains is to visit the lush Shenandoah National Park, just 75 miles from DC. The 200,000-acre natural wonder boasts camping and lodge facilities, rushing rivers, miles of hiking trails (don't miss the views from the Hawksbill Canyon route) and plenty of wildlife. Not far from the park's Rockfish Gap entrance, Luray Caverns draws cave fans with cathedral-sized spaces, dazzling rock formations and family-focused attractions like a rope course and a toy museum.
Old Town Alexandria
Just eight miles from DC, Old Town Alexandria zips tourists back in time via its colonial-through-Victorian architecture (and history), redbrick sidewalks and riverside charm. George Washington, who lived nearby at Mount Vernon, was a frequent visitor, and you can walk in his footsteps at Gadsby's Tavern, a restaurant and museum hybrid where the first president once danced and dined, or at Christ Church, a circa-1773 house of worship that counted Washington and Robert E. Lee among its parishioners.
Old Town also features contemporary attractions in the form of hip restaurants and stylish shops, many of which line King Street down to the Potomac River. Along the riverbank, the Torpedo Factory Art Center houses artists' studios and galleries in a converted World War II munitions plant.
Arlington, just across the bridge from DC, offers a blend of urban attractions and history. Arlington National Cemetery is the final resting place of more than 400,000 active-duty military personnel from the Civil War through the present day. You'll also find the grave of President John F. Kennedy resting beneath an eternal flame, plus the Tomb of the Unknown Soldier, a white sarcophagus holding unidentified remains from World War I, World War II and the Korean and Vietnam wars. The Tomb is protected by a silent guard that changes every hour on the hour (and on the half hour from April through September).
Arlington also boasts lively, walkable neighborhoods like Clarendon, Shirlington and Pentagon City, where local and national shops mesh with bars and restaurants. In Shirlington, musical and drama buffs also flock to Signature Theatre, which is known for new plays and Sondheim revivals in sleek, modern digs.