DC's beloved family-run restaurant is also a civil rights landmark.
What keeps a restaurant open for more than 65 years? What is it that draws national attention to a neighborhood eatery? What magnetic force can possibly be behind the amount of love and dedication that this city (this coast, this country) feels for Ben's Chili Bowl and its half-smokes?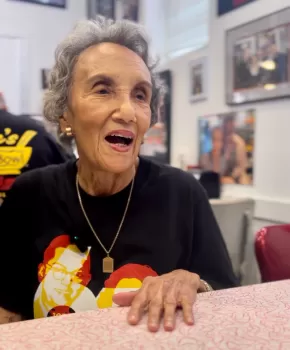 Certainly one factor is its location on U Street – once known as DC's Black Broadway – and the symbol of community Ben's became as the city prevailed through segregation, the societal upheaval of the 1960s and ensuing decades of drastic change in the neighborhood. But the leading reason Ben's has grown to be an institution in the nation's capital is its people, a wondrous list of dedicated employees and staff led by Virginia Ali, widow of Ben, with whom she cofounded the restaurant when she was just 24 years old. 
Virginia is approaching 90 years old, yet she remains a walking lesson in warmth and hospitality. She wants every customer to feel at home and thanks to her smile and a pat on the back, everyone does. It's clear that she'd give you whatever you needed to feel comfortable and cared for. 
You can begin to see why Martin Luther King, Jr., for one, chose to spend many of his DC lunchtimes at Ben's, and why the restaurant stayed open and served meals during the riots on U Street after the civil rights leader was assassinated. 
In the week leading up to the March on Washington's 60th anniversary, we had the chance to talk to Virginia about MLK and other Ben's lore: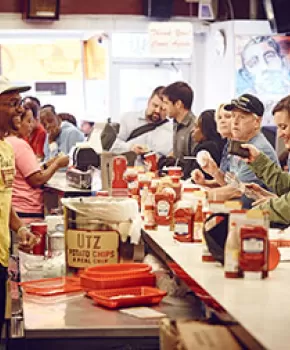 Ben's arrived on the scene, in a segregated country, five years before the March on Washington. What did DC feel like to you during those five years?
VA: In 1958, I left Industrial Bank (where I'd worked since 1952) to open the restaurant. We were going through the civil rights movement down south. Washington had begun to open up a few places to be integrated. And it was after the March that we passed the Civil Rights Bill. The March was on August 28, 1963. And the Uprising [the assassination of Dr. King] took place five years later.
Has Ben's been integrated since it opened?
VA: Of course! We were never the prejudiced people. White people could go wherever they wanted. If they'd gone to the Howard Theatre to see one of our big entertainers, there'd be a whole bunch of white people [in the restaurant after]. To put it in perspective, behind me, if you walk to the end of this alley, around that circle where those beautiful townhouses are, it was Children's Hospital. Children's Hospital! Which had all kinds of doctors and lawyers and everybody running down here for lunch. You know what I mean? Thompson's Dairy was one of the big businesses in the community that delivered milk to my house every day. … Smith's Storage right up the street; C & P [Chesapeake and Potomac] Telephone Company was in the area … so there were large businesses here.
That brought everyone together?
VA: Yeah. We all lived together.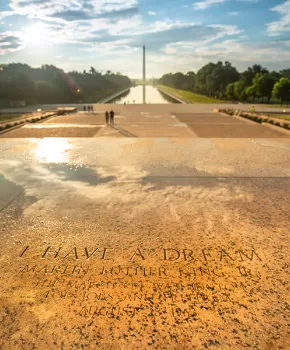 Do you remember any specifics from interactions with MLK?
VA: Well, I do remember one: one day we were talking and he said he'd had a meeting with President Kennedy. And with Bayard Rustin, A. Philip Randolph and young John Lewis, and I don't remember who else. And he had told President Kennedy, in order to bring attention to these injustices to Black people, he was going to bring a large group of protestors here. And he told me President Kennedy said to him, "I don't think that's a good idea. Because if you bring a large group of people here, and there's an incident, it will set your movement back, Dr. King." Dr. King said, "There will be. No. Incident."
Wow.
VA: He brought 250,000 people. A sea of people.
Did you attend the March?
VA: Ben and I were there. A sea of people. And not a single incident. Just a very inspiring, beautiful day. And the very next year, guess what happened? They passed the Civil Rights Bill. The very next year.
Do you have ideas about making more progress in America?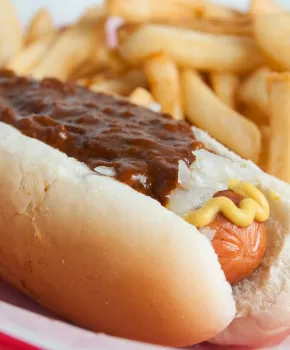 VA: You know, the way I've operated my business certainly came from the teachings of my dad, my mom, from my home growing up. The way we lived. And that philosophy was: always, always, treat people the way you want to be treated. All people. Whether it's the president, the judge, the guy on the corner, whatever it is – just treat all people the way you would like to be treated. And if you do that, you don't have a problem. It's that simple.
It's not rocket science at all. And it doesn't take anything to do it but kindness.
Ben's is celebrating its 65th anniversary. It's amazing to see such a happy story has lasted for so long. Do you ever think about what you would have done if there had never been Ben's Chili Bowl?
VA: No. And I do know that I love what I do. And when people came to me and said, "Are you going to stay here? Why didn't you open someplace else?" I said, "This is the nation's capital! It's got to get better, right?" It's got to get better. We are the nation's capital.
Check out Ben's Chili Bowl next time you're in DC. And if you want a taste of Ben's at home, order nationwide today.