You are here
20+ Must-See Fall Plays, Musicals & More in Washington, DC
20+ Must-See Fall Plays, Musicals & More in Washington, DC
A new season of critically acclaimed theater, including Broadway-bound musicals and cutting-edge dramas, comes to the District.
Each fall, Washington, DC and its incredible performing arts scene offers up can't-miss theater productions, from acclaimed Broadway plays to exciting new shows from local dance companies. Read on for highlights of the fall theater season.
• • •
The National Theatre
1321 Pennsylvania Avenue NW, Washington, DC 20004
'Beetlejuice' – Oct. 14 – Nov. 18
Based on the beloved Tim Burton film, the National Theatre production of Beetlejuice is going to take the zaniness (and the vulgarity) to an all-new level this October. We highly recommend that you leave the kids at home for this hilarious excursion into the dead and demented. Lydia Deetz is an outcast, obsessed with death. In a twist of fortune, she has a ghostly couple living in her house, as well as a psychotic demon who has the perfect plan to scare off Lydia's cruel parents. Singing, dancing and belly laughs are on the docket for this one.
Tickets
• • •
'Beautiful – The Carole King Musical' – Nov. 27 – Dec. 30
The rise of Carole King to one of the most successful songwriters of all-time is beautifully depicted in this musical written by Douglas McGrath, a Tony Award and Academy Award nominee. Follow King as she progresses from being part of a songwriting team with her husband to a solo act that would define a generation, enjoying classic songs like "I Feel The Earth Move" and "(You Make Me Feel Like) A Natural Woman" along the way.
Tickets
• • •
'The Comedy of Errors' – Sept. 25 – Nov. 4
Mistaken identities are at the center of this beloved Shakespearean comedy, a farce kicked off by confusion over two sets of twins that bear the same name. Chaos reigns as servants can't find their masters, wives overlook husbands and sons can't remember their fathers. Shakespeare Theatre Company and director Alan Paul will stage this classic with all of the hilarity and pure glee that it deserves.
Tickets
Lansburgh Theatre, 450 7th Street NW, Washington, DC 20004
• • •
'An Inspector Calls' – Nov. 20 – Dec. 23
One of modern British theatre's greatest accomplishments comes to Sidney Harman Hall. Director Stephen Daldry initially adapted J.B. Priestley's An Inspector Calls for the stage in 1992, eventually garnering 19 major awards in Great Britain. Now, Daldry brings this spellbinding tale of a wealthy British family, a deceased young woman and the intense inspector investigating her death to one of the District's premier stages.
Tickets
Sidney Harman Hall, 610 F Street NW, Washington, DC 20004
• • •
'Gloria' – Sept. 3 – Oct. 7
A day at the office becomes much more than that in this Woolly Mammoth Theatre Company production written by 2016 Pulitzer Prize finalist Branden Jacobs-Jenkins. Two editorial assistants at a popular magazine are both vociferously looking for their big break – a book deal. When a seemingly normal day descends into chaos and violence, only one of them can write the tell-all. Content warning: Gloria features realistic depictions and discussions of violence.
Tickets
• • •
The Second City's 'She the People' – Dec. 3 – Jan. 6, 2019
The Second City celebrates the 10th anniversary of its first trip to Woolly Mammoth Theatre with this all-female production that will have you rolling in the aisles. Laugh out loud as one of the country's top comedic troupes takes on the patriarchy, discusses having each other's backs and fearlessly skewers the powers that be, all motivated by mimosas and madness.
Tickets
• • •
Go behind the scenes of DC's performing arts world with director, actor and playwright Psalmayene 24, who brings his vision from paper to stage in a city with boundless playhouse possibilities.

• • •
Folger Theatre
201 East Capitol Street SE, Washington, DC 20003
'Macbeth' – Sept. 4-23
Shakespeare's epic tragedy is staged anew at the Folger Theatre. However, the production will not be staged based on the original source material, but on William Davenant's Restoration-era adaptation, commonly used for renditions of Macbeth in the 1800s. In addition to this unique approach, the play will also feature two Helen Hayes Award-winners in the lead roles: Ian Merrill Peakes and Kate Eastwood Norris. See Macbeth in a whole new light this fall.
Tickets
• • •
'King John' – Oct. 23 – Dec. 2
After the death of King Richard the Lionheart, younger brother John is elevated to the throne as King of England. Unfortunately for John, this inheritance is immediately challenged by the King of France. John faces numerous challenges as war is waged, including political battles, corruption and a murder plot that threatens to bring his empire crashing down.
Tickets
• • •
Signature Theatre
4200 Campbell Avenue, Arlington, VA 22206
'Passion' – Through Sept. 23
This Tony Award-winning musical from Stephen Sondheim is set in 1860s Italy. An army captain is transferred to a remote military post where he begins a torrid love affair with his superior's cousin, Fosca. Their infatuation threatens to ruin the soldier's career while also untangling a powerful love triangle.
Tickets
• • •
'Heisenberg' – Sept. 18 – Nov. 11
Tony Award-winning playwright Simon Stephens penned this Broadway smash that will make Signature Theatre in Arlington, Va. its home for nearly two months. Heisenberg concerns Georgie and Alex, who happen to meet in a chance encounter at a London train station. Their journey is filled with humor, tenderness and romance, making for a love story you won't soon forget.
Tickets
• • •
'Billy Elliot' – Oct. 30 – Jan. 6, 2019
The 11-year old Billy Elliot wants to be a ballet dancer, social norms be damned. Situated in a small town devastated by a miners' strike, this touching tale details Billy's trials and tribulations as he attempts to master ballet. The 2000 film was one of the most acclaimed of the year and this musical, first staged in Britain, has received widespread acclaim. With music composed by Elton John, this production promises to light up every family that sees it at Signature Theatre this fall.
Tickets
• • •
Dance Place
3225 8th Street NE, Washington, DC 20017
Culture Shock DC – Sept. 29-30
Local dance company Culture Shock DC brings this impressive and varied set of performances to Dance Place. With enlightenment as a theme, both nights will feature an array of dance renditions, all choreographed and performed by members of Culture Shock DC. The 150-member group will utilize hip-hop, dance, spoken word and live music to highlight their community and how it can be improved…and enlightened.
Tickets
• • •
Words Beats & Life – Oct. 13-14
Words Beats & Life, a hip-hop dance company, offers this stunning performance that features movements choreographed and performed by both American and international Muslim dancers. You'll learn of the Muslim community and its relation to hip-hop, showcasing an intersection that is often seen as taboo, but is instead transformative.
Tickets
• • •
Global Perspectives Festival – Oct. 27-28
International dance takes center stage at Dance Place during this two-day festival. Global Perspectives will show how impactful dance can be for communities around the world. Performers from across the DMV area will take on numerous styles and techniques, showcasing the true power of dance along the way. A full schedule will be available in September.
Tickets
• • •
UrbanArias: 'The Last American Hammer' – Sept. 22-29
Current events echo through this production from UrbanArias, to be staged at the impressive Atlas Performing Arts Center. A conspiracy theorist who espouses his findings on YouTube is secluded in a basement on a vacant American Main Street awaiting the FBI. He has a theory about the "original" 13th Amendment and corresponding justice, and when his strongest piece of evidence is unveiled, the story takes on an entirely new element.
Tickets
• • •
Mosaic Theater Company: 'The Agitators' – Oct. 24 – Nov. 25
The stirring friendship between Frederick Douglass and Susan B. Anthony is the subject of this new play from Mosaic Theater Company. Across 45 years, Douglass and Anthony, two staunch abolitionists, forged a relationship built on ideals that would come to impact the entire nation. At times, the two clashed as their movements collided. In the end, each had a profound impact on the America we know today. Experience their fascinating stories and take in a profound portrait of each in this production.
Tickets
• • •
Theater J Presents 'The Pianist of Willesden Lane' – Sept. 12-30
The Kennedy Center welcomes this Theater J production that weaves the enthralling true tale of Lisa Jura, an aspiring Jewish pianist forced to flee her home during World War II. Lisa struggles with separation from her family, but her love of music and determination to succeed keeps her going. Jura's daughter, Mona Golabek, will perform compositions by Bach, Beethoven and Chopin live during the show.
Tickets
• • •
The Washington Ballet Presents 'TWB Welcomes' – Sept. 26-30
The Washington Ballet and its artistic director, Julie Kent, invite acclaimed dance artists from around the world to celebrate a new season and the wonder of their craft. Thus far, four pieces have been confirmed for the repertoire, including Serenade, which features choreography by George Balanchine and music by Tchaikovsky. Tickets go on sale on Aug. 24.
Tickets
• • •
WORLD STAGES: 'Measure for Measure' – Oct. 10-13
Director Declan Donnelan, designer Nick Ormerod, English company Cheek by Jowl and the Pushkin Theatre Moscow collaborate for this avant-garde interpretation of a classic Shakespeare play. The subjects of justice, power and government are handled with both seriousness and humor, making for a thought-provoking, idiosyncratic production. Recommended for ages 16 and up.
Tickets
• • •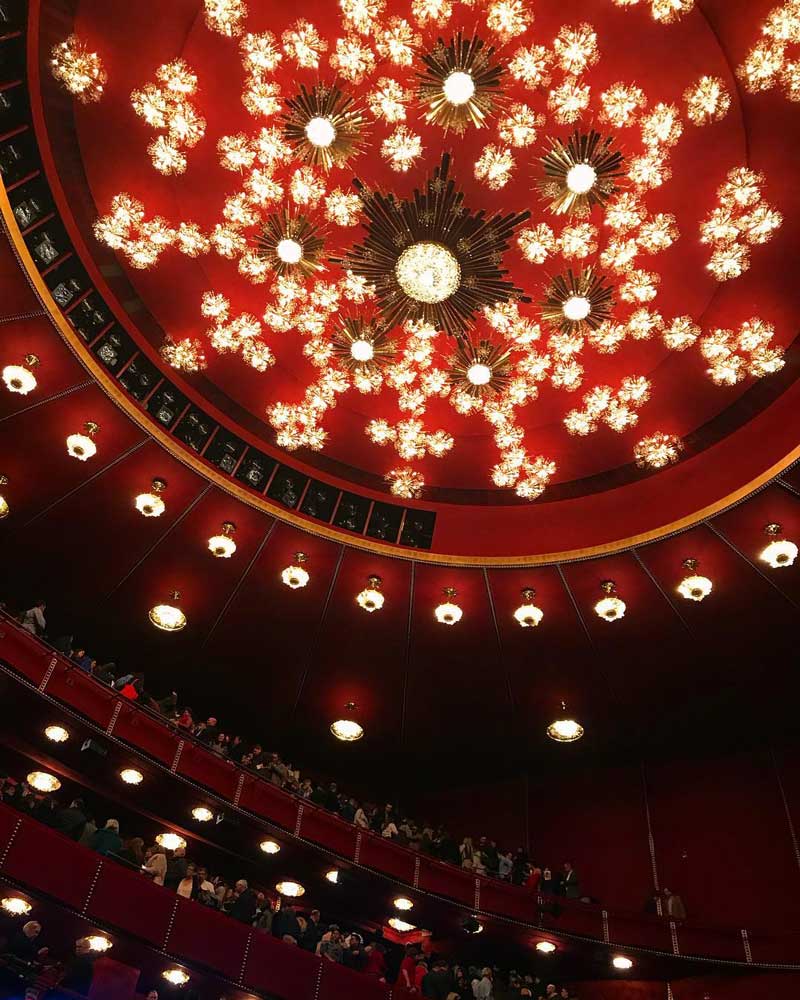 Broadway Center Stage: 'Little Shop of Horrors' – Oct. 24-28
Originally a horror comedy film released in 1960, Little Shop of Horrors then became an off-Broadway musical in the early 1980s. Yet another film adaptation followed a few years later, showing how this timeless story of a floral shop assistant and his singing, deadly plant will always dazzle audiences. The Kennedy Center welcomes this production straight from Broadway, where the play was revived back in 2003. Expect plenty of laughs, a few scares and unforgettable music in this staging that arrives just before Halloween.
Tickets
• • •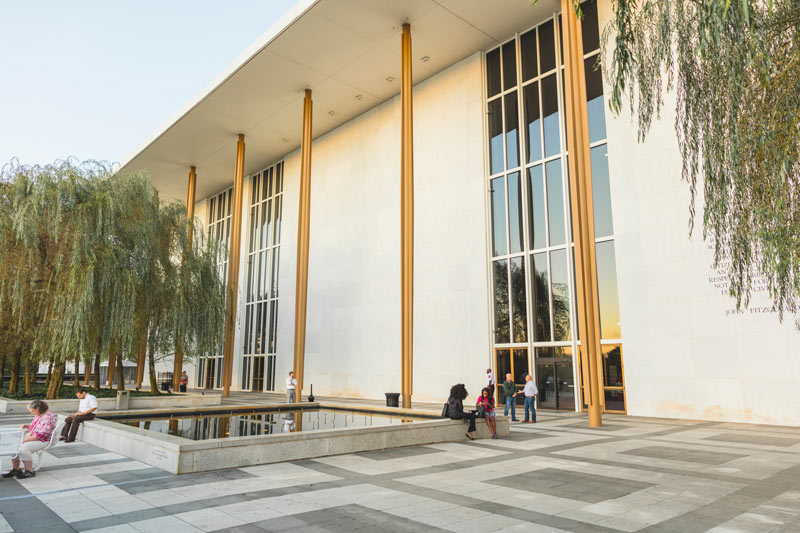 'Long Way Down' – Oct. 27 – Nov. 4
DC native Jason Reynolds' best-selling book receives a world premiere Kennedy Center commission this fall. Using free-form poetry throughout, the production of Long Way Down will tell the story of Will, a 15-year old whose brother has been shot. Will immediately seeks revenge, but when he hops on his building's elevator, his plans are interrupted by unexpected visitors. Part-mystery, part-coming-of-age tale, Long Way Down is a captivating tale sure to leave a mark. Recommended for ages 12 and up.
Tickets
• • •
'Anastasia' – Oct. 30 – Nov. 25
Drawing on the classic films, this musical has the Tony Award-winning creators of Ragtime at the helm, making for a can't-miss production this fall. Anastasia begins with the downfall of the Russian Empire then moves to the lively Paris of the 1920s, following a young woman as she attempts to uncover her past. Adventure, romance and riveting music will have the entire family jumping for joy inside the Kennedy Center's Opera House.
Tickets
• • •
'The Choir of Man' – Nov. 23-25
The Choir of Man will visit the Kennedy Center during its first U.S. tour. This uplifting, party-like production has been a massive hit internationally, providing good vibes and plenty of memories along the way. Set in a pub, you'll hear folk, opera and classic rock songs while witnessing live percussion, vibrant dance and jaw-dropping choreography. Expect to leave the theater on cloud nine. Tickets go on sale to the general public on Sept. 12, while Kennedy Center members can purchase starting Sept. 4.
Tickets
• • •
Arena Stage
1101 6th Street SW, Washington, DC 20024
'Turn Me Loose' – Sept. 6 – Oct. 21
The story of comedian Dick Gregory comes to Arena Stage, the first black artist to expose a national audience to racial comedy. This John Legend-produced show will showcase Gregory's incredible bravery in facing bigotry and how he was able to turn his activism into art. Gregory was unafraid of any challenger, even when his safety was in question. Turn Me Loose tackles his career in a raw portrait that promises to leave a mark.
Tickets
• • •
'Anything Goes' – Nov. 2 – Dec. 23
This gold standard musical features music and lyrics by the legendary Cole Porter. Anything Goes follows the SS American on its journey from New York to London. On board, Billy is attempting to halt the marriage of countess Hope Harcourt to the millionaire Lord Evelyn Oakleigh. With the assistance of a merry band of characters, Billy embarks on wooing the love of his life, while you get to enjoy musical comedy of the highest order along the way.
Tickets
• • •
Ford's Theatre
511 10th Street NW, Washington, DC 20004
'Born Yesterday' – Sept. 21 – Oct. 21
Ford's Theatre stages this screwball comedy that has the politics of Washington, DC at its center. Harry Brock, a tycoon, brings his girlfriend, Billie Dawn, to the nation's capital to run roughshod over the political system. Billie picks up on the scheming and with the help of a reporter, works to fight back against corruption. Prepare for a healthy dose of laughter when you check out this sharp satire set in the 1940s.
Tickets
• • •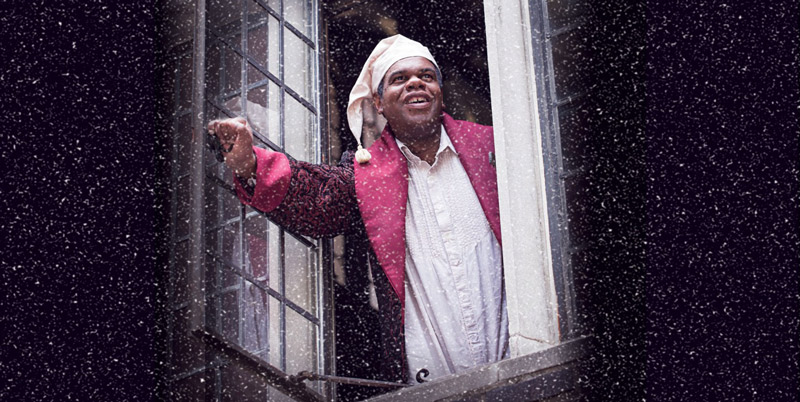 'A Christmas Carol' – Nov. 15 – Dec. 30
Acclaimed actor Craig Wallace assumes the role of Ebenezer Scrooge in a lavish Victorian-style musical production of Charles Dickens' timeless classic, the staging of which is a time-honored holiday tradition in the nation's capital. Scrooge's riveting journey alongside the ghosts of Christmas Past, Present and Future is a joy even if you've experienced it a hundred times before – especially in one of the world's most historic theaters.
Tickets
• • •
Studio Theatre
1501 14th Street NW, Washington, DC 20005
'If I Forget' – Sept. 12 – Oct. 14
Set in the nation's capital and written by Bethesda, Md. native Steven Levenson, If I Forget brings local flavor to the DC theater scene this fall. A modern Jewish family is contemplating what to do with their 14th Street property in July of 2000, with their mother dead and their father in need of constant medical attention. Levenson's powerful and personal portrait of the family covers a range of topics, from inheritance to history to Israel to parenting. Don't be surprised if you laugh and cry during this one.
Tickets
• • •
'Cry It Out' – Nov. 14 – Dec. 16
Jessie and Lina are neighbors, each on maternity leave. Jessie works as a lawyer on Manhattan, while Lina dropped out of community college after being raised in Long Island. The two bond over a lack of sleep, childcare issues and any number of other parental concerns. This Studio Theatre comedy will have you pondering parenthood, class and who gets to make choices in modern-day America.
Tickets