These hidden bars, speakeasies and "secret" lounges pair imaginative cocktails with 1920s vibes in some of DC's most unique places to drink.
Within the same 68-square-mile city that saw Congress ratify the 18th Amendment in 1919 (the law went into effect on Jan. 17, 1920), you'll find a thriving craft cocktail scene (and even distilling scene). Speakeasy-style bars abound in the District, many with unmarked entrances, hidden doors and dimly lit lounges that will add to your evening of intrigue.
01
Silver Lyan
Silver Lyan is the downstairs cocktail bar at Riggs Washington DC, lovingly crafted by London-based bartender Ryan Chetiyawardana (commonly known as Mr. Lyan). The bar is the mastermind's first U.S. venture, and the menu and design of the space give a nod to the history of cultural exchange in America. Lyan is best known for several cocktail bars across London, most famously Dandelyan - which was named best bar in the world in 2018. At Silver Lyan, expect internationally infused drinks like the Japanese Saddle (sakura sour, Roku Japanese Gin, Pierre Ferrand cognac, leather bitters and cereal orgeat), classic cocktails and even flights of fancy like the Jello Fruit Basket (pictured above), presented with four shots of Gosset Grande Reserve Brut Champagne.
02
Allegory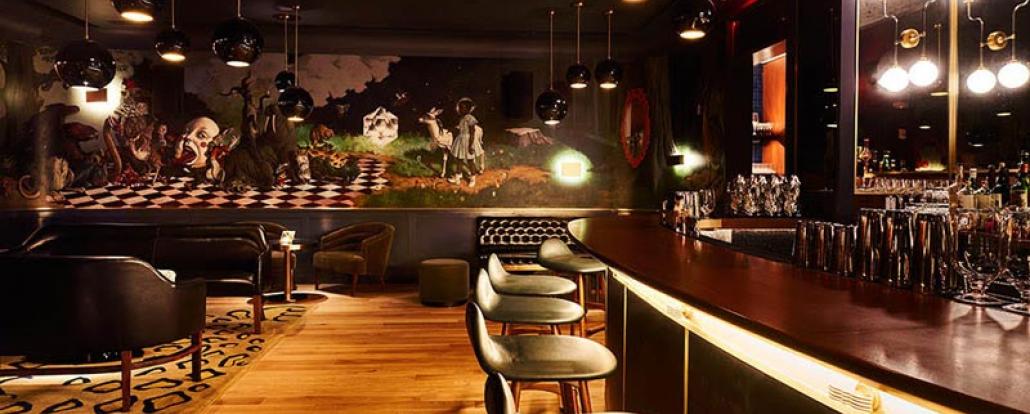 Inside Downtown DC's Eaton Workshop visitors will find a 200-plus room hotel that houses a progressive-minded co-working space and four unique food and drink concepts. Make your way toward the back of the hotel, peer behind a wall of books and you'll happen upon Allegory, a sleek, shadowy cocktail bar with an extensive drink list. Settle down on a leather couch, admire the mural that pays homage to civil rights activist Ruby Bridges, along with a whimsical Alice in Wonderland theme and imbibe literary-themed concoctions.
03
Left Door
Walk just beyond the resounding cacophony of young professionals on benches at a bustling beer garden and you'll see two doors at 1345 S Street NW. The door on the right will lead you to a dry cleaning business, while the door on the left will lead you up a staircase to the aptly named Left Door, a DC cocktail haven slinging drinks in a no-frills environment. Be on the lookout for fun seasonal beverages.
04
The Gibson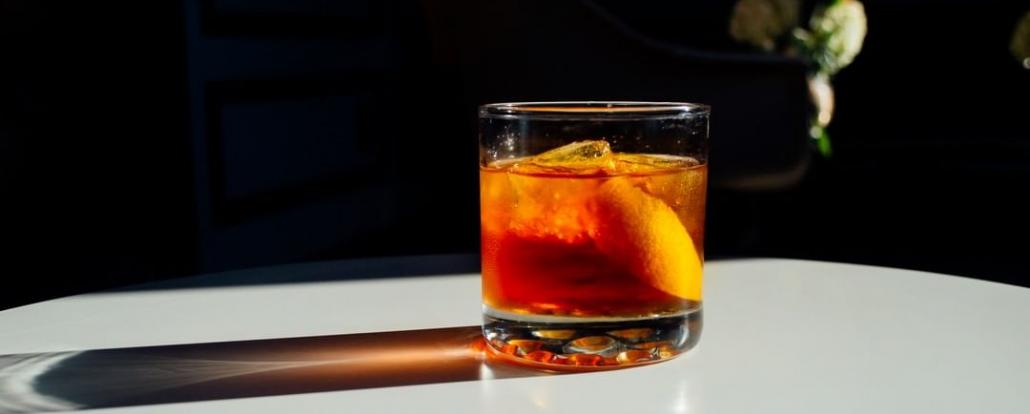 The corner of U and 14th streets may be one of the most well-known and crowded intersections in the city, but the Gibson remains inconspicuous, and for good reason. Accessible only through an unmarked door, the speakeasy makes good on faint lighting, reservable tables in secluded enclaves, a back patio to spread out and, most importantly, bespoke drinks that call your name. Despite floating under the radar, the Gibson has staying power – it's been open since 2008, when cocktail expert Derek Brown, of Drink Company fame, once manned the bar. Look for the Literary Cocktails series and special tasting events curated by bartender-sommelier Chantal Tsen.
05
Chicken + Whiskey
Affordable, succulent South American–style chicken in the front and 99 whiskeys in the back – that's the name of the game at Chicken + Whiskey, the fast-casual chicken joint-whiskey bar hybrid on always-exciting 14th Street. Après dinner, walk through the rear refrigerator door (seriously!) and you'll stumble upon a not-so-secret, wood-paneled bar touting two-ounce pours and reasonably priced cocktails, not to mention an impressive vinyl collection with DJs spinning on select nights. With an impressive collection of international whiskeys as well as domestic favorites, pick your pour or order a handcrafted cocktail.
06
600t
Calling the wood-and-brick-lined 600t "cozy" might, in fact, be an understatement. With its moody lighting and crackling fireplace, this unmarked basement bar at 600 T Street NW (hence the name) in Shaw is the definition of intimate. Relying almost entirely on word of mouth, the sanctuary draws speakeasy seekers from the District and beyond with drinks named solely for their spirit. Case in point: If you order the Bourbon, you'll get Buffalo Trace whiskey, but mixed with strawberry-infused Campari, Amaro di Angostura and chocolate bitters, and one large ice cube.
07
O.K.P.B.
After shutting the Dupont Circle doors of The Sheppard, mixologist David Strauss has reemerged in Mount Pleasant. The 900-square-foot space, located above a dentist's office,  retains some of the previous speakeasy's elements, including an ever-changing, handwritten cocktail menu attached  to a clipboard. Grab a seat in the dreamy candlelit space and take advantage of happy hour classics at half price. 
08
Tilt Side Bar
After you've had your fill of bivalves and po' boys at Pearl Dive Oyster Palace, continue your 14th Street adventure upstairs with tantalizing cocktails at TILT Side Bar. This neon-lit bar channeling throwback vibes is housed in the rear portion of Black Jack behind an unmarked door. You'll feel as if you're in an '80s-themed pinball machine as you sip shareable cocktails from the Tilt Tiki menu.
09
Denson Liquor Bar
Brought to you by the same team behind the popular Ghibellina and Acqua Al 2 restaurants, Denson Liquor Bar is a subterranean Art Deco masterpiece in Penn Quarter inspired by hotel bars of yore. Small plates and a caviar menu pair well with a range of seasonal drinks that come with detailed flavor profile notes.
10
The Alex Craft Cocktail Cellar & Speakeasy
Tucked inside Georgetown's luxurious-yet-boutique The Graham Georgetown hotel is the Alex, which harkens to a bygone era, melding Victorian aesthetics with "farm-to-glass" cocktails and live jazz music on certain nights of the week. Telephone-themed details pay homage to the bar's eponym, Alexander Graham Bell. Only accessible by keyless entry using a special code, it features an extensive menu of shareable bites and large plates, making it the ideal destination to mosey up to the bar and spend the evening partying like it's 1899.
11
Off the Record
Just across Lafayette Square from the White House, The Hay-Adams started as a residential hotel in the 1920s. Its clubby, lower-level drinking hole, Off the Record, feels like a secret hideaway, known as "the place to be seen and not heard." Think red, tufted banquettes, political caricatures on the walls and coasters, crowds of lobbyists, locals and smartly dressed tourists who can fit in. Sample the spot's long Scotch list, or try a classic highball like a Manhattan.
12
The Backroom at Capo Deli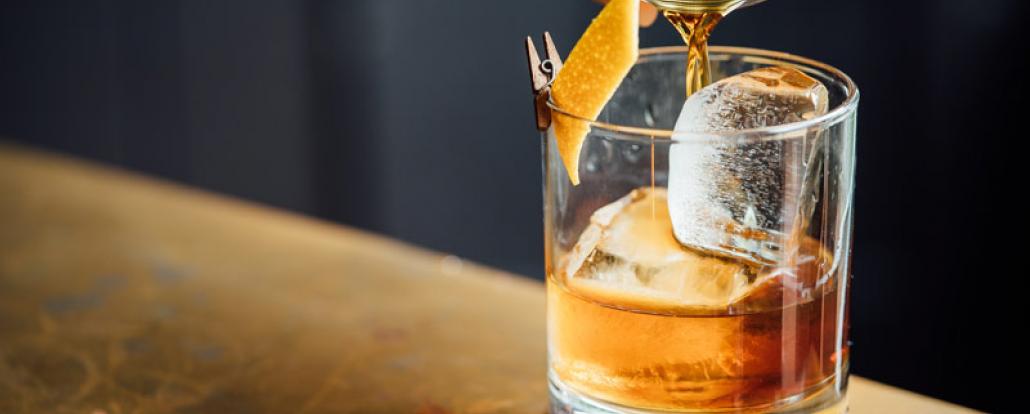 There's more than meets the eye at Capo Deli, a Jersey-style import from South Florida. On the surface, it's your favorite deli from home recreated in Shaw, complete with freshly sliced meats stacked on crispy-on-the-outside seeded sub rolls, and prepared home-style Italian dishes. But unlike your hometown deli, this one stays open until 3 a.m. or later on the weekends. And that large freezer door in the back? It's actually the entrance to The Backroom, a comfy, candlelit hidden bar where those in the know can savor a delightfully stuffed Italian combo with a house cocktail.
13
Serenata
Tucked within La Cosecha Market, Serenata was born from DC powerhouses: Daniella Senior, a certified sommelier who is also a partner at the Michelin-starred Bresca; cocktail expert Juan Coronado, known as the "cocktail innovator" for José Andrés; and Andra "AJ" Johnson, author of "White Plates, Black Faces." Celebrating Latin-inspired drinks, these creative concoctions are crafted from tropical juices and origin spirits. Look out for the new open-air Spritz mobile bar, featuring Latin-leaning sparkling cocktails and wines.
14
The Mirror
Named one of the top five speakeasies in DC by USA Today, The Mirror is tucked away at the bottom of a flight of stairs on K Street NW, where you will be greeted by – you guessed it – a full-length mirror. Ignore the "For Rent" sign next to it; you will find the cocktail den behind the mirror. Inside, the Prohibition-era vibes are strong, creating a we-can't-be-caught-here atmosphere much like the speakeasies of the 1920s. The cocktail selection isn't overly complicated, but expect classic drinks like the Tom Collins and an Old Fashioned to be marvelously executed.