The founder of local favorite Hank's restaurants dishes on the District and seafood.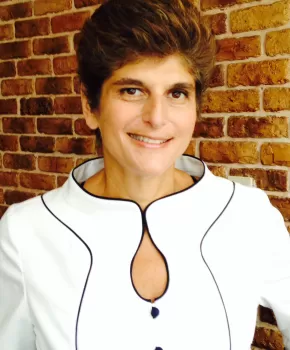 Ten years ago, the crab cake was king of local menus, then Jamie Leeds opened a niche market: oysters. Thanks to her, the capital is enjoying oyster-centric gastropubs, but her baby, Hank's Oyster Bar in Dupont Circle, stands tall above them all. Leeds sat down with us to answer a few of our most burning questions:
You're someone who has really made a commitment to DC's neighborhoods. You could have put your restaurants anywhere and you chose four DC-area neighborhoods: Dupont Circle, Petworth, Capitol Hill and Old Town Alexandria. How did you come to get started in Dupont?
JL: I wanted to be in a neighborhood, and of course it always depends on the space and the location. I was actually looking for a bigger space but I came across the space that I have now. It was Trio's Pizza on 17th Street in Dupont where everybody went at 3 a.m. It was a four-seat restaurant when I walked in, but it kept going back and back and back, and I saw a lot of potential for more seats there. There was a six-foot drop ceiling. I lifted it up and shined a flashlight and saw 17-foot ceiling with the original pressed tin. And I thought about what this place could be.
It was a diamond in the rough. So I wanted to explore the possibilities of putting in a financially successful restaurant. The landlord gutted it for me and I figured I could put 60 seats in there. I like being in old townhouses or places that you have to renovate. DC reminds be a lot of Brooklyn, especially Dupont Circle, it reminds me of Brooklyn Heights. I used to live in Park Slope so it really reminded me of home. I wanted to be in that area. It was perfect.
What's the difference between your restaurant in Dupont and your Capitol Hill location?
JL: They are very different. The Dupont location was my first restaurant so it's kind of like my baby. And it is much bigger, like double the size. The menus are very similar but the drinks and mixology programs are different. Gina Chersevani (aka Mixtress DC) designed the mixology program for the Hill location. She does her magic with the cocktails and there's a mixology program over at Dupont as well. We have a private dining room at Dupont too so we can have large parties of 12-14.
Have you had a coolest all-time customer?
JL: James Carville comes in all the time.
There are a lot of oyster joints but you were really the pioneer in the District. How have you taught DC to love oysters?
JL: We get a lot of "oyster virgins." So yeah, we have oysters from all over the country. We have our milder oysters and we have our saltier, brinier ones. So we try to start people off on the milder ones and work them up to the complex ones.
How did you know the oyster would catch on in DC?
JL: Well I've always loved oysters and I wanted to do a seafood restaurant as an homage to my dad who loved to fish and loved to eat seafood. He died when I was young so I really wanted to do something for him. When I lived in New York, one of my favorite restaurants was Pearl Oyster Bar so that was an inspiration for me: also a place with a female chef/owner, Rebecca Charles. I credit her a lot, she inspired me.
When I came here there were no neighborhood restaurants, there were only big boxes, and they were all downtown: DC Coast, Kinkead's. There were no little neighborhood seafood restaurants. I was so surprised especially as we're right on the water. I've been able to capitalize on a lot of the local oystermen. I buy oysters from oyster farmers who grow only one kind of oysters.
What are those local oysters? What should we look for if we want to taste the Chesapeake Bay?
JL: East Coast oysters, their shells are a little flatter, they're not as as fluted as West Coast oysters. They are more briny and have a bit more liquor to them. West coast oysters are sweeter.
You have four businesses, so your free time is precious. When you get a night off, where do you like to go with your family?
JL: We always go out to eat. I love Japanese food. It's my big thing so I have a couple of options: Izakaya Seki.  I love it there. I like to go to Daikaya. I think their ramen noodle shop is to die for.
What do you make of all this change in DC?
JL: I think it's good for the city. 14th Street is just booming. We'll see what happens. Another beautiful thing, aside from the restaurant scene is Rock Creek Park. We go there a lot. It's really a hidden gem. A lot of people don't explore it the way we do.
How do you use Rock Creek Park?
JL: We always bike. They close off the streets to traffic on the weekends and we bike along the water. You're ten minutes away from the city and you're out in the wilderness. And there are skate parks too. My son loves to rollerblade so we go to Shaw's skate park. He's been asking me to take him to the Maloof Skatepark, too.
What makes living in DC so cool?
JL: The people are surprising. You think everyone is so conservative and everything so political, but there are so many not-for-profit organizations here. There are a lot of really down-to-earth and interesting people, people who are really into food and they challenge us to create better food and use local ingredients and use sustainable fish.
You have an "oyster virgin" coming to Hank's for dinner tonight. What are you going to serve them?
JL: Tonight, the Chincoteague oysters from Virginia or maybe the Totten Inlets from Washington, and grilled local blue fish from Virginia. I would eat that in a minute.
You can visit Hank's Oyster Bar at its Dupont Circle location, or venture to its other two locations in Capitol Hill and Old Town Alexandria. Still hungry? Check out more places to eat in Dupont Circle.