Museums throughout DC honor the 100th anniversary of the landmark passage of the 19th amendment, which granted women the right to vote.
A major moment in the women's suffrage movement occurred right here in Washington, DC when the 1913 Women's Suffrage Procession took place on Pennsylvania Avenue. Thousands joined in protest to march for the right to vote, including speakers like Helen Keller, as well as both male and female African American students from Howard University. The march built the momentum that would eventually culminate in earning women the right to vote.
This year, numerous DC museums and institutions are celebrating the 100th anniversary of the passing of the 19th Amendment by Congress on June 4, 1919, which gave women the right to vote in the United States for the first time. Although it was not ratified until Aug. 18, 1920 and African American women were denied voting rights in many Southern states until 1965, this centennial remains a monumental moment in the history of women's rights.
As the center of democracy, the nation's capital played a major role in helping to advance the freedoms of women then, and it continues to serve as the site where citizens can exercise their freedom of speech today. 
Commemorate the women's suffrage centennial in Washington, DC with these pivotal, exciting (and free) exhibits and events below, and check out other great ways to celebrate the contributions of women in DC.
Belmont-Paul Women's Equality National Monument
The National Park Service conducts tours of the Belmont-Paul Women's Equality National Monument, a 200-year-old historic house in Capitol Hill that has been at the center of the fight for women's rights since the National Woman's Party became the owner in 1929. Guests can learn about the origins of the suffrage and women's rights movements, as well as the women who earned the right to vote and introduced the Equal Rights Amendment. The museum is closed currently due to the coronavirus crisis, but you can walk up to the house and take a picture. When it is operating, the monument runs hour-long tours at 9:30 and 11 a.m. and 2 and 3:30 p.m. The museum is usually closed on Mondays and Tuesdays. 
144 Constitution Ave NE 900 Ohio Drive SW Washington, DC 20002
Portrait Monument to Pioneers of Suffrage Movement
Among the most hallowed ground in our democracy, the U.S. Capitol Rotunda displays statues depicting past presidents like Washington and Lincoln, as well as a trio of significant women suffragists. This 14,000-pound monument immortalizes Elizabeth Cady Stanton, one of the first women to demand the right to vote, Susan B. Anthony, who proposed the Amendment that would pass after her death, and Lucretia Mott, a Quaker preacher who fought for women's equality in the 1800s. The National Woman's Party presented the monument as a gift to the Capitol, which was accepted and unveiled during what would've been Anthony's 101st birthday in 1921. While the Capitol Visitor Center has suspended all tours, including the Votes For Women Tour usually running Monday through Saturday at 1 p.m., guests are able to listen in to the Votes for Women Tour Podcast, in which guests can discover stories of the women who set the stage for equality, the many voices of the Women's Suffrage Movement, and the voices of the generations of women who followed​. 
First Street NE, Washington, DC 20515
Discover the National Museum of American History's 'Votes For Women' Online
The National Museum of American History showcases women's experiences through powerful artifacts and storytelling, and has multiple artifacts commemorating the women's right to vote. While you can't do so in person, you can visit American Democracy: A Great Leap of Faith exhibit, which features Susan B. Anthony's red shawl, suffrage buttons, the table on which Elizabeth Stanton drafted the Declaration of Sentiments for the famous Seneca Falls Convention and a women's suffrage wagon.
National Museum of American History, 1300 Constitution Avenue NW, Washington, DC 20560

Rightfully Hers: American Women and the Vote - Free women's suffrage exhibit at the National Archives in Washington, DC
Explore the National Archives' Now-Virtual Exhibition 'Rightfully Hers: American Women and the Vote'
This 3,000-square-foot exhibit in the Lawrence F. O'Brien Gallery at the National Archives uses more than 90 items, including records, artifacts and photographs, to tell the complex story of diverse suffragists in securing women's voting rights. The exhibit also goes well beyond 1920 to show the relentless struggle that occurred throughout U.S. history to win voting rights for all women. Although the museum is currently closed, you can commemorate the initiative and the exhibit online.
10 a.m. – 5:30 p.m. |  Free admission
National Archives, 701 Constitution Avenue NW, Washington, DC 20408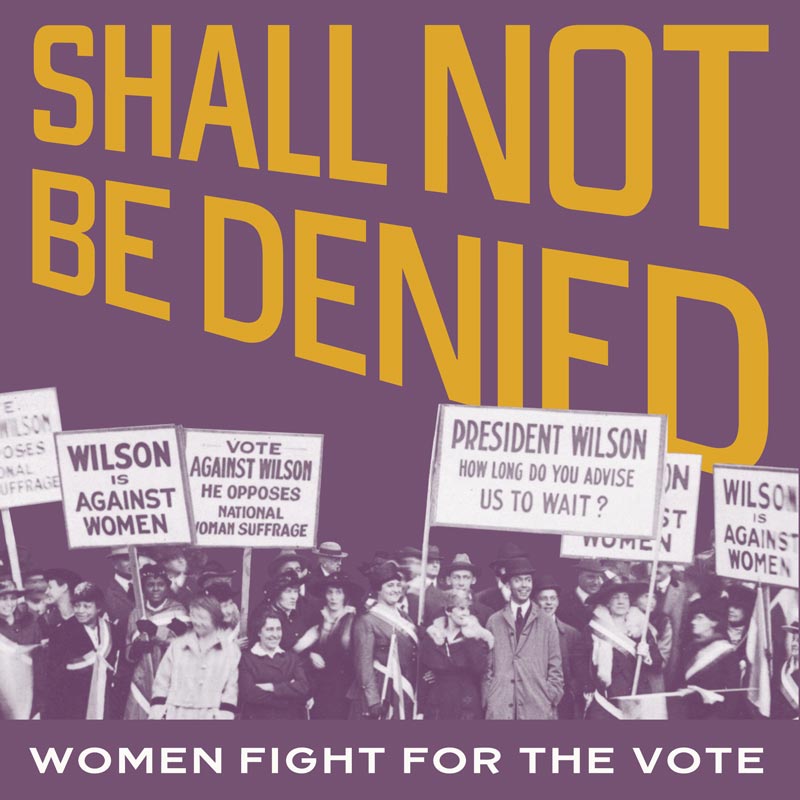 Shall Not Be Denied: Women Fight for the Vote - Free exhibit at the Library of Congress in Washington, DC
Visit the 'Shall Not Be Denied: Women Fight for the Vote' on the Library of Congress Website
The seven-decade struggle for women's suffrage is illuminated in striking detail in this virtual exhibit by the Library of Congress. Visitors can retrace stories of diverse women who changed America. The exhibition draws from the collections of Susan B. Anthony, Elizabeth Cady Stanton, Lucy Stone, Mary Church Terrell and other suffragists – in their own words. Photographs, film footage and rare manuscripts will transport visitors back in time as women took their place in the public square. Use #ShallNotBeDenied to share your experiences.
Library of Congress, 101 Independence Avenue SE, Washington, DC 20540

Read About 'Ordinary Equality: DAR Members and the Road to Women's Suffrage, 1890-1920'
The Daughters of the American Revolution (DAR) Museum & Archives invites you to observe how members of the organization took advantage of increased opportunities for women to participate in social reform activities, in turn helping to make the dream of women's voting rights a reality. Discover biographies, correspondence and photographs from the DAR archives that highlight the tremendous accomplishments of more than 40 women.
DAR Museum & Archives, 1776 D Street NW, Washington, DC 20006