Chinese tourists hold the top spot for inbound visitors to Washington, DC, with almost double the number of visitors of any other international market.
In order for local attractions and destinations to maximize the potential of these travelers, it's important to look beyond traditional B2B marketing such as sales missions, exhibitions and road shows to understand China's digital landscape. Facebook and Instagram, two of the greatest vehicles for advertising in the U.S., are banned in China, along with Google. Brands must therefore navigate the world of Chinese social media, including WeChat and Weibo, in order to market to travelers directly. In this post, we will dig into WeChat, the biggest platform and phenomenon in the Chinese market, as well as look at how you can leverage it to promote your brand.
WeChat
Though only launched in 2013 by Chinese internet company Tencent, WeChat has already grown to become an indispensable tool in China. In simple terms, WeChat can be thought of as a mix of WhatsApp, Google, Facebook and Apple Pay. Through this all-in-one platform, users can do almost everything they need, including pay their bills, call a cab, read a novel, get takeout, conduct business and share memories with their friends, all without ever leaving the app.
Let's break it down for you in numbers*:
Over 1 billion monthly active users worldwide
800 million monthly active WeChat Pay users
50% of users spend 90 minutes per day on WeChat
Typical user born in the 1980s and 1990s, living in urban areas
Average user reads seven articles per day
36% of users open WeChat 30 times or more per day
35% of total time on mobile devices is spent on WeChat
*Based on Tencent's most recent numbers. (2016 and 2018 reports)
This diverse app offers a range of services, including but not limited to:
Text messaging
Video and voice calling
Group messaging and calling
WeChat moments

This feature functions like the Facebook Wall and allows users to share their thoughts and photos in a social media feed.

WeChat Pay

WeChat Pay is extremely popular throughout China and is essentially a mixture of Apple Pay and Venmo. Users can link their bank cards to the system and scan barcodes to complete transactions within a second. They can also send and receive money from friends in their chats. WeChat Pay has completely penetrated the Chinese market, so much so that it is rare to find a store or restaurant, even makeshift ones on roadsides, that doesn't accept it. Accepting WeChat Pay here in the U.S. can help facilitate transactions with Chinese consumers and encourage spending. We will provide a separate tutorial on this topic at a later date.

Coupons and membership cards

Users can store their coupons and membership cards easily through their "Card Wallet" in the app. Coupons can also be sent and exchanged through messages. When WeChat Pay is available, consumers can directly purchase their goods through the app, making for a smooth transaction.

Translation services

WeChat provides translation services from Chinese to English and vice-versa. Users can activate by pressing and holding text messages and use as a means of easy communication with Chinese friends and clients.

Mini program

Mini programs are a more recent phenomenon and are essentially mini apps within WeChat that can be instantly launched without pre-installation. DDC is a pioneer among destination marketing organizations in this field. See details of our own mini program below for examples of how they work, as well as how your brand can get involved.
WeChat is also compatible with the following operating system platforms:
iOS (iPhone/iPad)
Android
Windows
MacOS
Web browsers
How you can promote your business on WeChat
As WeChat becomes an inseparable part of people's lives, how can companies leverage its resources to connect to their customers?
The easiest and most affordable way to promote your DC brand in the Chinese market is to join DDC's WeChat City Experience Mini Program. The program is FREE for DDC members and can help Chinese travelers discover your brand!
DDC is proud to be the first city in the U.S. to launch its own mini program in conjunction with the WeChat team. Our mini program is designed to be an interactive guide that helps tourists make the most of their visit. The map-driven layout highlights the top attractions, restaurants, shopping experiences, etc. and helps travelers explore the city. Our mini program is unique among destinations in that it also includes a coupon section, which drives visitors to specific destinations using coupon codes exclusive to WeChat users.
Key features of DDC's WeChat mini program:
General information for restaurant, attraction and shopping destinations in and around Washington, DC, including opening hours, fees, contact information, etc.
Information in both Mandarin and English
City map and walking directions
Coupons
See the screenshots below to get an idea of how the mini program looks and be sure to add it to your phone.
Image 1. DDC WeChat account QR code
Each account has its own unique QR code. Users can scan these codes to easily add friends and follow accounts. To find our account, 1) you can download the app in your device's app store, or go to: http://www.wechat.com/en/; 2) create your own personal account; 3) log into your WeChat and scan this QR Code, which will take you directly to the DDC official WeChat City Experience mini program landing page (image 2).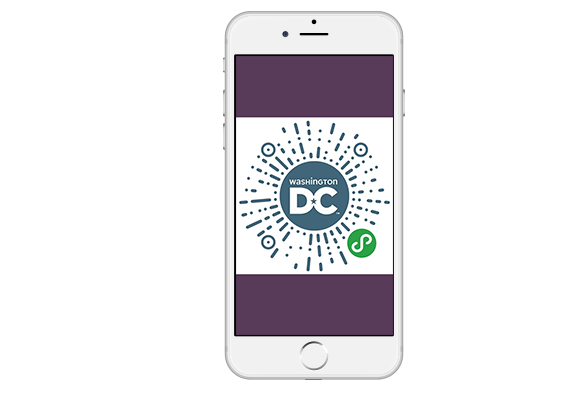 WeChat QR Code
Image 2. DDC WeChat landing page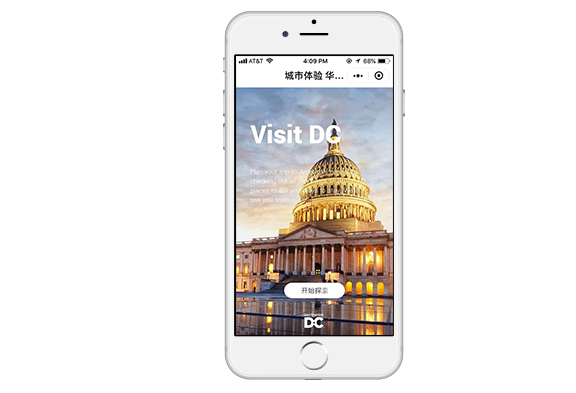 DDC WeChat landing page
Image 3. Map-driven page
Ready to explore! The map-driven layout highlights the top attractions, restaurants, shopping experiences and more.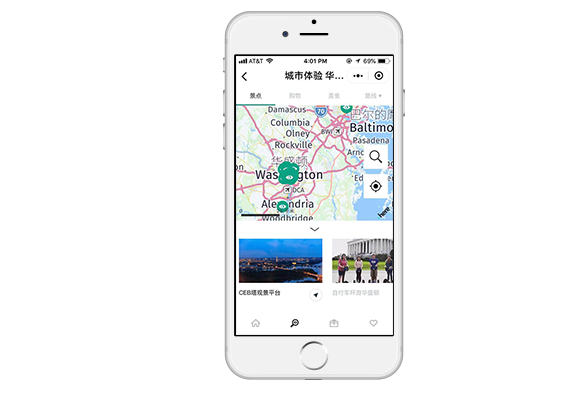 Map-driven page
Image 4. Sample attraction page on map-driven page
This personalized attraction page lays out all information specific to your business, including an introduction, opening hours, address and navigation features.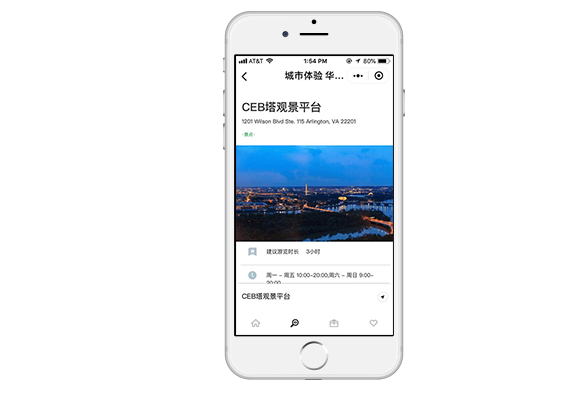 Sample attraction page on map-driven page
Image 5. Coupon master page
Click the bottom tab on the right (the one resembling a giftbox) to see the coupon page. All available offers are listed.
Coupon master page
Image 6. Coupon sample page
Click any of the available coupons on image 5 and each one will lead you to this personalized coupon page, which includes valid dates, the discount offer and the redemption method. See screenshot of Bike and Roll DC page as an example.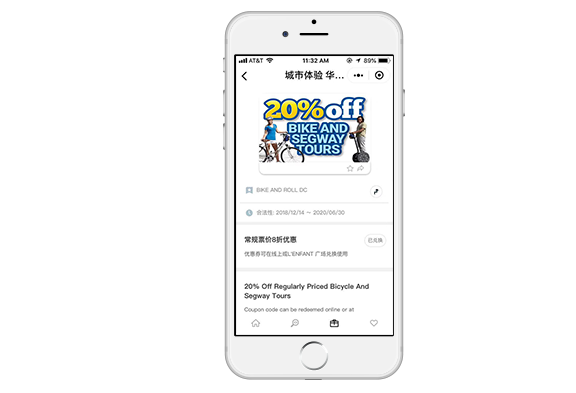 Coupon sample page
How do I get involved with the DDC WeChat?
There are two ways for DDC members to promote their brand through our WeChat, both FREE of charge:
Create a brand page for our Map Page

The map page, seen above in image 3, displays the map of DC and nearby attractions. By creating a page here, you can educate the Chinese market on your business, including an introduction, operating times, location, photos, etc. Translation services are provided by our team for free to ensure the page is effective. 

Add a coupon to our Coupon Program

Once your Map Page is setup, we recommend joining our Coupon Program (see image 5 and 6). Based on our WeChat monthly metrics report, our program is rapidly gaining momentum.
To set up these pages, contact me at [email protected]
I hope you enjoyed this WeChat overview and now feel better equipped to join Chinese social media marketing with DDC. Be sure to look out for our next blog, where we'll discuss another Chinese digital giant, Weibo.
Connect with me on WeChat by scanning this QR code: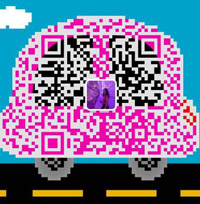 Ang Li WeChat QR code
References: