The U.S. Marine Corps War Memorial (more commonly known as the Iwo Jima Memorial) is perhaps one of the most moving memorials in the DC region.
The U.S. Marine Corps War Memorial's world-famous statue, which is based on the iconic photograph taken by Associated Press photographer Joe Rosenthal, depicts the six Marines who raised of the second American flag at Iwo Jima in the Japanese Volcano Islands on February 23, 1945, signifying the conclusion of the American campaign in the Pacific during World War II. The memorial is dedicated to "the Marine dead of all wars and their comrades of other services who fell fighting beside them." The memorial was dedicated on November 10, 1954 by President Dwight D. Eisenhower and the American flag has flown from the statue 24 hours a day, 365 days a year by presidential proclamation ever since.
The bronze statue was made by sculptor Felix W. de Weldon. He worked with the three surviving Marines from the battle, Rene A. Gagnon, Ira Hayes and John H. Bradley, to model their faces in clay. The base of the memorial is engraved with every major battle involving the U.S. Marine Corps since 1775.
Getting to the Marine Corps War Memorial
The Iwo Jima Memorial is located outside of Arlington National Cemetery in Arlington Ridge Park in Virginia, just across the Potomac River from Washington, DC. The memorial can be accessed by car via the VA-110 South route or US-50 East or West routes. Parking is available at the memorial. If you take Metro, get off at either the Rosslyn station (Orange, Silver or Blue lines) or Arlington National Cemetery station (Blue Line). It is a 10-15 minute walk from either of these stations.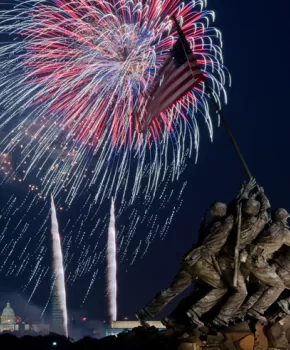 Fourth of July Fireworks from the Marine Corps Iwo Jima Memorial in Virginia - Where to Watch the Independence Day Fireworks
What to do at the Marine Corps Memorial
The grounds of the Marine Corps War Memorial are open from 6 a.m. until midnight, year-round. National Park Ranger-led programs can be requested in advance by calling 703-235-1530.
During the summer on Tuesday evenings, the U.S. Marine Corps band performs free hour-long drum and bugle concerts called Sunset Parades. During the Sunset Parades, parking is not permitted on the memorial grounds, but visitors may park at Arlington National Cemetery Visitors Center and take a shuttle to the grounds.
The view from the Iwo Jima Memorial is also one of the best spots to snap a photo of the iconic panorama of the Lincoln Memorial, Washington Monument and U.S. Capitol.