Tourism News & Events
See what the Destination DC tourism team has been up to.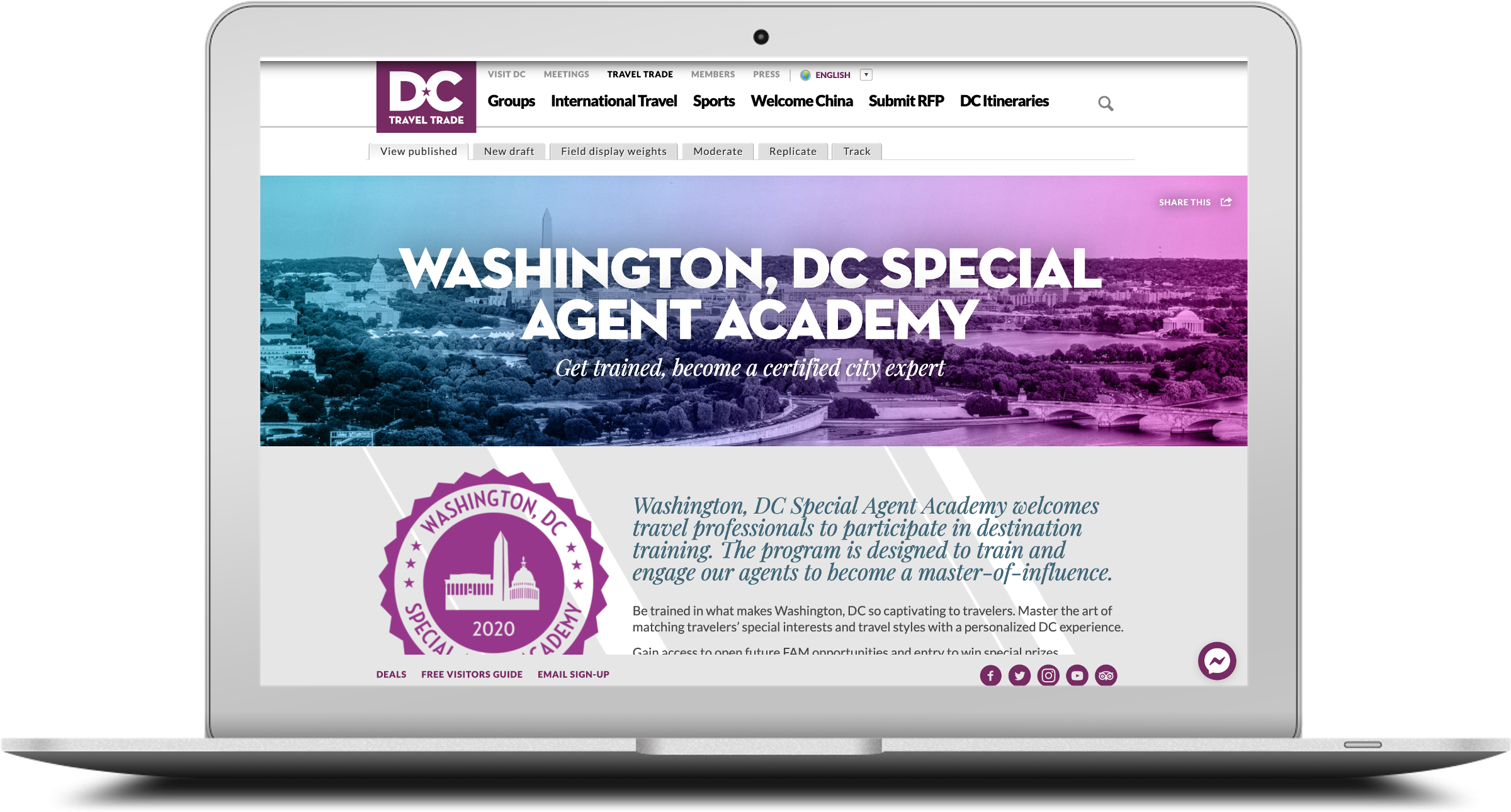 DC Special Agent Academy
Destination DC launched its global travel agent training program titled Washington, DC Special Agent Academy on April 28. The online program is designed to train and engage with travel agents around the world who are interested in becoming Washington, DC experts. The program's initial rollout consists of three courses, or "operations," with several missions covering a variety of topics. The first operation covers the city's captivating monuments, memorials, museums and DC's historic neighborhoods. Later operations dive deeper in covering sports, restaurants and educational tours. Certified agents will receive a digital certificate and badge, be entered in monthly giveaways for DC memorabilia and can enter to win a slot on an upcoming familiarization tour. Currently, the Academy is only available in English and it has over 300 travel consultants registered from 24 countries, with India and Australia and New Zealand showing the largest number of registrations.
For more information about the Washington, DC Special Agent Academy, travel professionals can visit washington.org/special-agent-academy.
International office updates
China: With China reopening its businesses daily, our team continues to keep DC top of mind for our clients, by scheduling live streaming trainings for tour operators and MICE agencies throughout May. They are also working on virtual wine tasting and tea tasting/coffee appointments with corporate clients and media to keep them engaged with our destination.
India: In view of the current COVID-19 lockdown in India, effective until May 18, the sales team is focusing efforts on social media platforms that are garnering the attention of the Indian agents and digital platforms like WhatsApp and Emailers to share ways of experiencing DC virtually. The platforms have reached about 7,000 qualified agents around India.
DDC is also scheduling destination webinars for selected tour operators and their reservation teams.
Virtual sales mission
The team is launching its first pilot virtual sales mission program. Lindsay Hill, Sr. Manager Tourism Sales, will be conducting virtual meetings and trainings with four key group tour operators based in Florida from May 13-15. She will share new itinerary ideas and assist in programming trips for 2021 and beyond.
Check out the full Destination DC Member eNews to learn more about what's going on this month.