From the National Gallery of Art and free Smithsonian museums to Instagram-worthy sites and funky festivals, the District is the capital of free arts and culture.
Washington, DC has so many free things to do for those who love to admire creativity, from art museums to cultural events and so much more. Explore the free activities and locations below and you will be amazed at the incredible arts and culture scene in the nation's capital.
01
Explore the Hirshhorn Museum and Sculpture Garden
Cutting-edge architecture and contemporary art displays mean the Hirshhorn Museum & Sculpture Garden is always ripe for a jaw-dropping visit. Its rotating installations are often thought-provoking, showcasing alternative art and perspectives. Check out the Lerner Room on the third floor, which provides stunning views of the DC skyline. And of course, the stunning Sculpture Garden is not to be missed.
02
Instagram the Blind Whino
This 19th century church is the current home of Blind Whino SW Arts Club, situated in the Southwest Waterfront neighborhood. The church's beautiful architecture and eye-opening color scheme makes for an awesome Instagram shot. The building is also a popular events space and the inside is just as eclectic, with plenty to admire and photograph. Read up on other great Instagrammable spots in DC.
03
Step through a fascinating installation at the National Gallery of Art
Trip the light fantastic to Leo Villareal's dynamic light sculpture Multiverse while riding the moving walkway between the National Gallery of Art's East and West Buildings. The installation contains more than 40,000 LEDs, creating random patterns that will dazzle the eyes and create a true sense of wonder.
04
Enjoy (or join in) the drum circle at Meridian Hill Park
Feel the beat of a local tradition: Head to Meridian Hill Park near U Street and Columbia Heights on Sunday afternoons (weather-permitting) to witness the famous drum circle, a fixture in the park for more than 40 years. People from a range of backgrounds flock to this gathering to hear thudding drum beats and dancing. You're free to join in, too!
05
Satisfy your bookworm at an event hosted by Politics & Prose
Attend an author's reading and book signing at either Politics & Prose Bookstore location (the newest is at the exciting Wharf development), free of charge. This literary institution is DC's favorite place for discourse, to peruse political tomes and hobnob with locals. The calendar is packed with free events and a variety of voices from all walks of life. Grab some coffee and prepare to be inspired.
06
See the wonders of American art at the Renwick Gallery
Interested in artistic innovation? The Renwick Gallery, located just steps from the White House, features craft and decorative art fit to spark the senses, from the 19th century to today. The museum hosts captivating exhibits and installations every year, so be sure to check out what's on display during your visit.
07
Stroll down the Hall of States at the Kennedy Center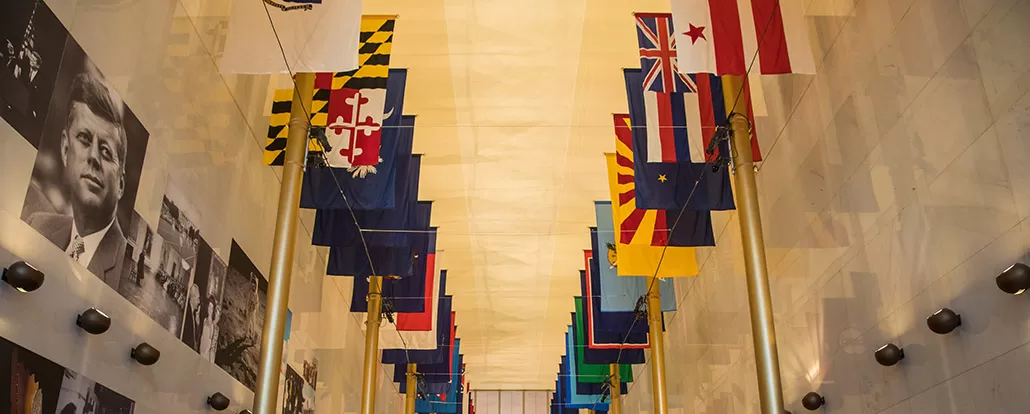 The Kennedy Center's Hall of States greets you upon your entrance. The display features flags from all 50 states, the five U.S. territories and the District of Columbia. The flags are hung in order in the states entered the Union, beginning with Delaware. Remember that you can book a free guided tour of the Kennedy Center, and its Millennium Stage hosts free performances every day at 6 p.m.
08
Visit the National Portrait Gallery
Painting a picture of the many influential people throughout America's history, the National Portrait Gallery is a must-see for pop culture fans, history buffs and art lovers alike. From activists and actors to presidents and poets, the museum displays paintings, photographs and sculptures of the people that have come to define America as we know it.
09
Attend an all-night arts festival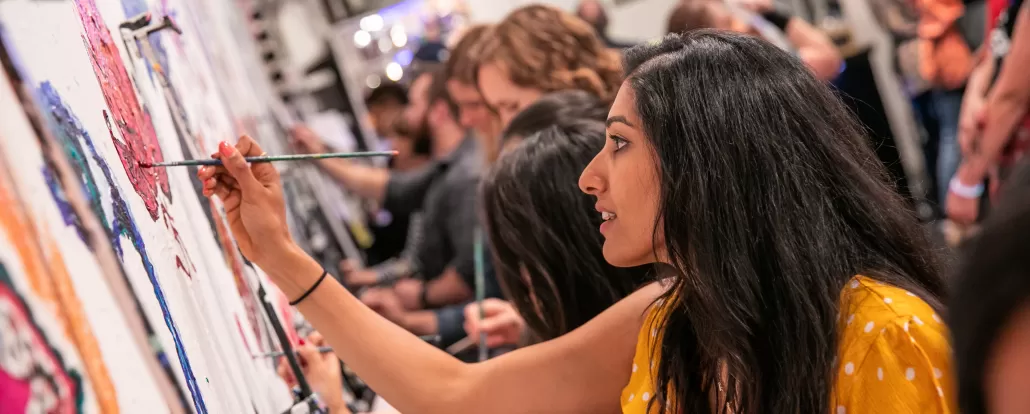 An all-night arts festival? Sign us up. Yes, DC has that with Art All Night: Made in DC, which is spread over six neighborhoods. Art experiences don't get much more lavish or expansive than this: Everything from painting to performing arts to music to sculpture are showcased in both public and private spaces, indoors and outdoors. Find out more about artists, schedules and neighborhood details.
10
Groove to the Funk Parade on U Street
In honor of U Street's diverse cultural history, people from all over the District come together to celebrate the spirit of funk at this free, one-of-a-kind parade, street fair and music festival. Watch the street (and side streets) come to life with live musical performances and entertainment from a variety of vibrant dancers, marching bands and visual artists. Get an education on go-go music, made famous by DC's own Chuck Brown, and then groove to Latin hip-hop, funk brass and frenetic DJ sets, among many activations. This year's edition will be held on Saturday, May 12.
11
Take a free art walk
Art lovers, check the date. If you're visiting on a first Friday of the month and you happen to be in Dupont Circle, you're in luck. First Friday Dupont is the ultimate neighborhood gallery night, with numerous art houses open to the public for free. It's the ideal reason to brave the cold for a little wine, cheese and art in the wintertime.