The revitalization of DC's historic Southwest & The Wharf neighborhood has led to one of the city's hottest destinations for dining, shopping and entertainment – all on the water.
Home to the nation's longest continually operating open-air fish market, The Wharf has transformed into one of DC's most exciting waterfront destination. The sustainable entertainment, dining and retail connects the rest of the District to Southwest & The Wharf and features an accessible riverfront, including four different piers, each with their own theme and activities. Make your way down by water, shuttle bus or bike and enjoy public piers and parks, locally grown dining concepts and a show at the city's newest music venues. The Wharf is conveniently located only four blocks from the National Mall and nearby parking can be reserved with SpotHero.
01
Catch a show at The Anthem (Just get your tickets in advance!)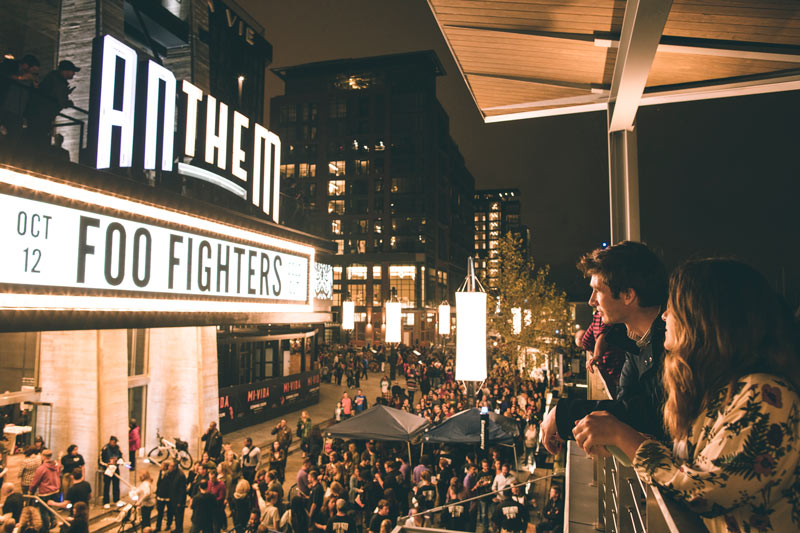 The Anthem at The Wharf on the Southwest Waterfront - Dining, Shopping and Entertainment Destination in Washington, DC
The Anthem solves the age-old problem prominent rockers and hot hip-hop stars face when performing in DC: What's bigger than the legendary 9:30 Club but more intimate than an arena? The answer is the acoustically optimized, 6,000-seat concert hall operated by I.M.P. (of 9:30 Club fame). We urge you to find tickets early, as the venue's first show, Foo Fighters, sold out in about three minutes. See who's coming soon. 
02
Eat all the food!
The Wharf brings more than 20 restaurants and bars to DC, including new concepts from award-winning and Michelin-starred chefs, fast-casual favorites and even a distillery. The culinary creations of Fabio Trabocchi are no secret, but the Michelin-starred toque behind Fiola brings Spanish fare – specifically coastal dishes native to Mallorca – to DC's waterfront with Del Mar. Kith/Kin features flavors from West Africa, the Caribbean, New Orleans and New York in one menu.
There's also La Vie, a stunning and sleek restaurant with fantastic waterfront views from its alfresco terrace. Sophisticated Mediterranean vibes abound and mains like the handmade lobster ravioli are an immediate fan favorite. If you're looking to pair a guacamole and margarita-fueled fiesta with Instagram-worthy waterfront views, then the 400-seat Mi Vida is the place for you. Nearby, chef Cathal Armstrong and his wife, Meshelle specialize in Filipino, Thai and Korean cuisines at Kaliwa, a lively 185-seat restaurant that pairs river views with eclectic Asian cooking.
And what would waterfront dining be without oysters? Slurp down bivalves at local favorites Hank's Oyster Bar and Rappahannock Oyster Bar. But that's not all – there are plenty more dining destinations you can expect to find at The Wharf.
03
Pay homage to an original: the Maine Avenue Fish Market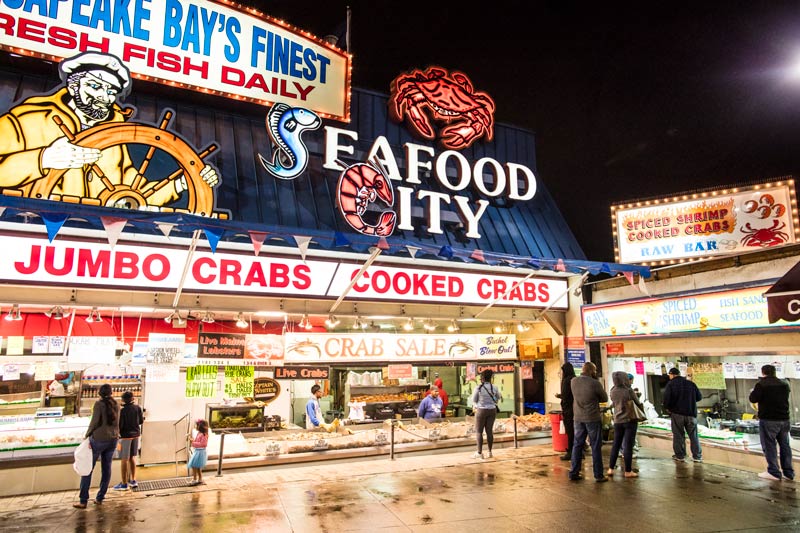 Maine Avenue Fish Market at The Wharf on the Southwest Waterfront - Historic fish market in Washington, DC
Without the Maine Avenue Fish Market, there would be no Wharf. Crab- and oyster-stocked barges have been serving up fine seafood here since 1805, making it one of the Southwest quadrant's most revered landmarks. Make your way to Jessie Taylor Seafood, The Virgo Fish House or Captain White's Seafood City for ready-to-eat delights. All vendors are open while their spaces are being upgraded with modern fish-cleaning facilities and a restored oyster shed, plus the new Market Square, rum distillery, coffee and doughnut shops, and more.
04
Jam out at Pearl Street Warehouse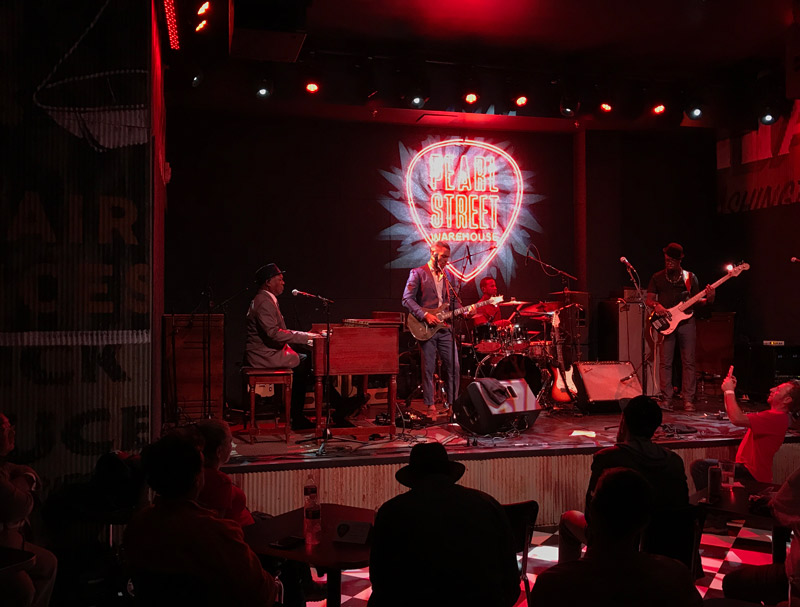 Booker T. Jones at Pearl Street Warehouse on The Wharf - Live Music Venue in Washington, DC
A stroll down the cobblestone-lined Pearl Street will lead you straight to Pearl Street Warehouse, The Wharf's cozy venue channeling the Americana vibes of legendary music halls around the country. Get up close and personal with your favorite rock, country or blues artist, where every seat is a front-row seat and you're never more 25 feet from the stage. The harmonious pairings of classic all-American diner fare, craft brews and cocktails make a trip to The Pearl a musical experience you won't soon forget. Check out the lineup and plan your visit.
05
Can't stop, won't stop at Recreation Pier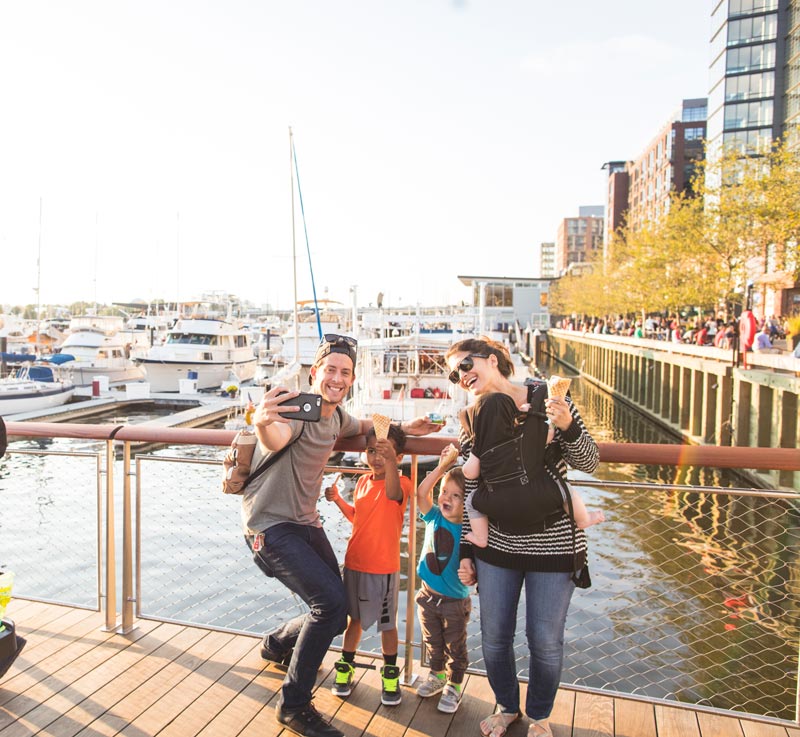 Family at The Wharf on the Southwest Waterfront - Dining and Shopping Destination in Washington, DC
On Recreation Pier you can catch some rays in lounge chairs, take a seat at any of the outdoor desks or swoop back and forth on a modern swing sets, all while marveling at gorgeous views of the Washington Channel. For even more adventure, head over to The Wharf Boathouse and rent a kayak or stand-up paddleboard to get out on the water. 
06
Pick up something from local businesses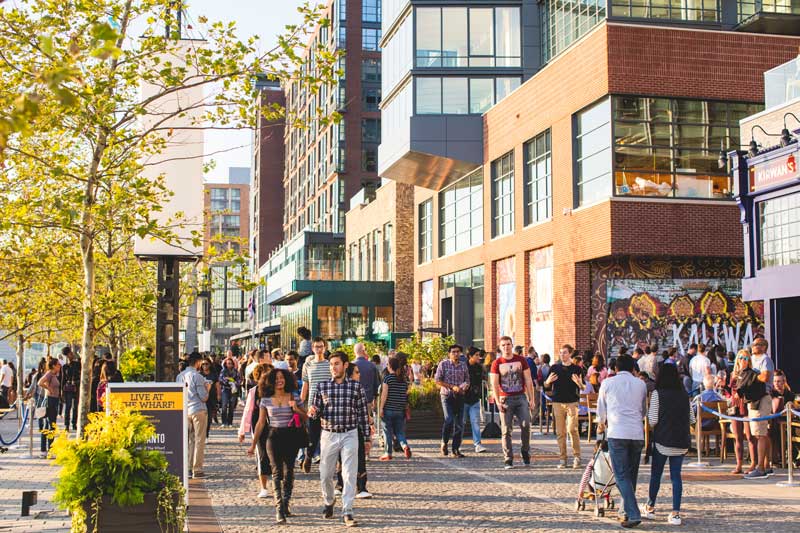 Visitors at The Wharf on the Southwest Waterfront - Where to eat, shop and play at The Wharf in Washington, DC
In addition to a cadre of dining destinations, The Wharf is home to a wide variety of shopping options, from local artisans to global name brands. Head to Ligne Roset for contemporary home designs, Harper Macaw for delectable chocolates with a mission to assist in tropical reforestation or Anchor, a boaters' one-stop-shop for everything from snacks and gear to sailing advice. Then continue your shopping excursion at these shops at The Wharf.
07
Transport yourself to Transit Pier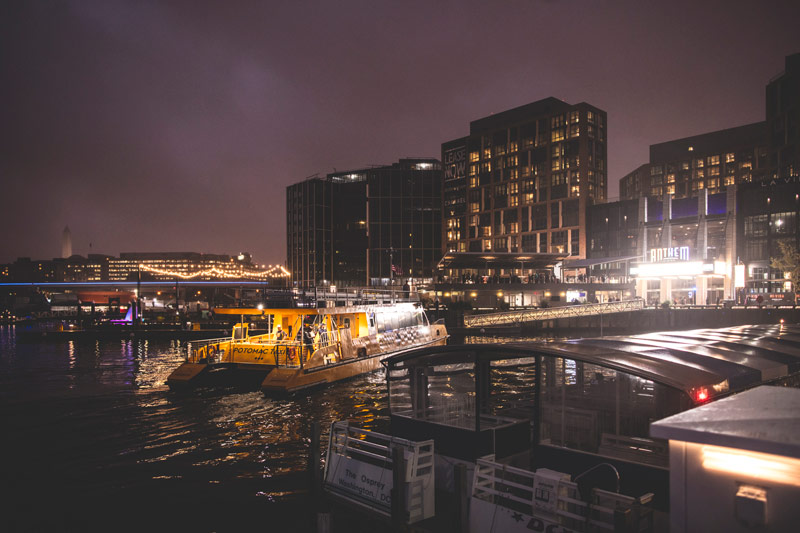 Water Taxi at The Wharf's Transit Pier in Front of The Anthem - Southwest Waterfront in Washington, DC
Water taxis pull up to this pier, but it's also got plenty of fun and games. In summertime, the pier features a mini-golf course, which becomes a skating rink in winter. Grab a seat in the built-in steps of the pier and rock out to entertainment on the Floating Barge. If you're looking for even more great tunes, Transit Pier leads right to The Anthem, one of DC's rocking music venues.
08
Check out The Wharf's events calendar and see what's coming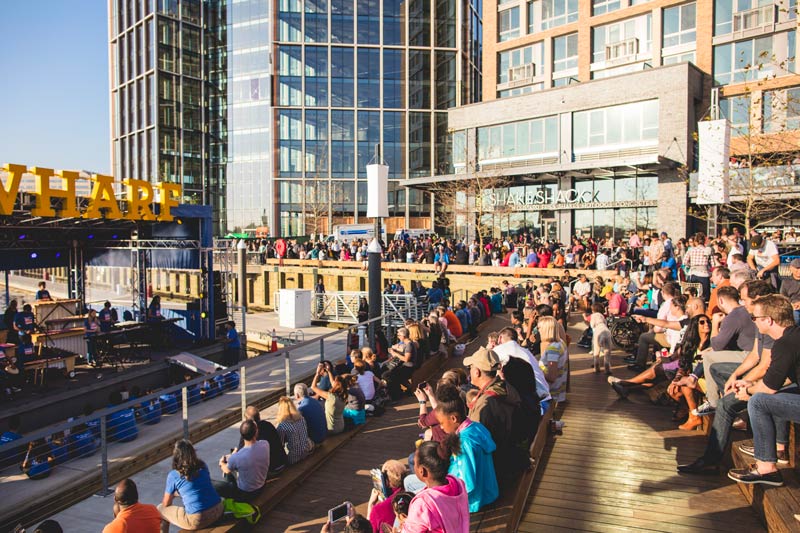 Family friendly daytime concert at The Wharf on the Southwest Waterfront - Family friendly activities in Washington, DC
Southwest & The Wharf has a track record for hosting unique, one-of-a-kind events. Well, The Wharf enhances the calendar with everything from Pumpkin Palooza and Zombie Rides to the District's Holiday Boat Parade and the Running of the Chihuahuas on Cinco de Mayo. Check out the latest upcoming events at The Wharf.
09
Cozy up to 'The Torch,' The Wharf's take on a lighthouse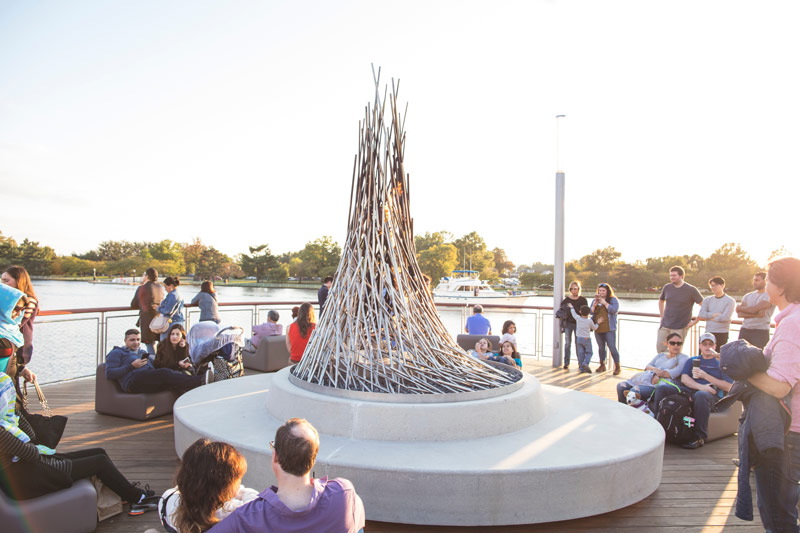 The Torch at The Wharf on the Southwest Waterfront - Where to eat, shop and play at The Wharf in Washington, DC
The Wharf's official beacon greets vessels slowly passing through the no-wake zone. But it's also good for pier-goers, too, who can crowd around The Torch and marvel at the 14-foot gas-powered flame. 
10
Catch up on your reading at Politics & Prose
Politics and Prose at The Wharf on the Southwest Waterfront - Independent bookstore in Washington, DC
DC's famed indie bookstore couldn't have found a more exciting spot to open its second brick-and-mortar location. P&P devotees can expect more of the same from this on-the-water locale, including frequent author visits, book signings and an on-site coffeehouse.
11
RSVP 'yes' to any event at District Pier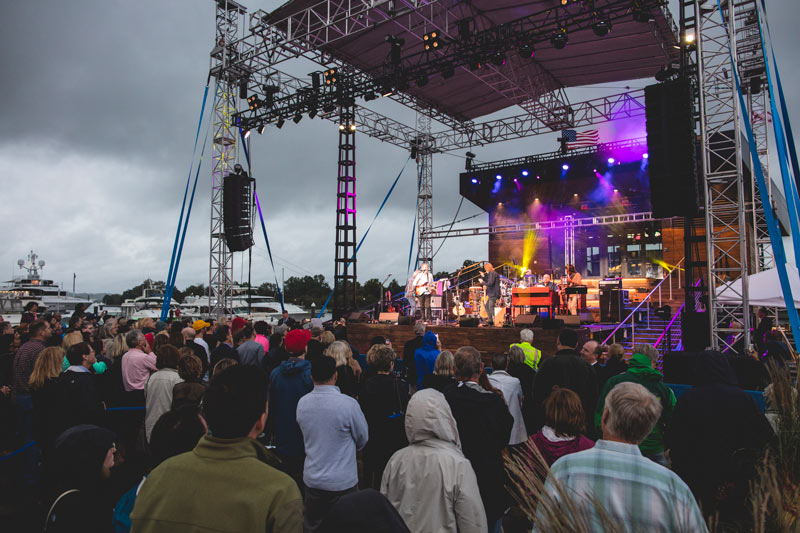 Concert at The Wharf's District Pier on the Southwest Waterfront - Entertainment and dining destination in Washington, DC
Jutting out 450 feet, The Wharf's largest pier was designed to be a photo-friendly, awe-inspiring open space for hosting events. Driving this point home is its Dockmaster Building found at the end of the pier, which boasts floor-to-ceiling windows and hosts weddings and other private functions. The pier serves as The Wharf's most brilliant backdrop for public festivals and private events, and it hosts large galas as well as outdoor performances. 
12
Chillax at 7th Street Park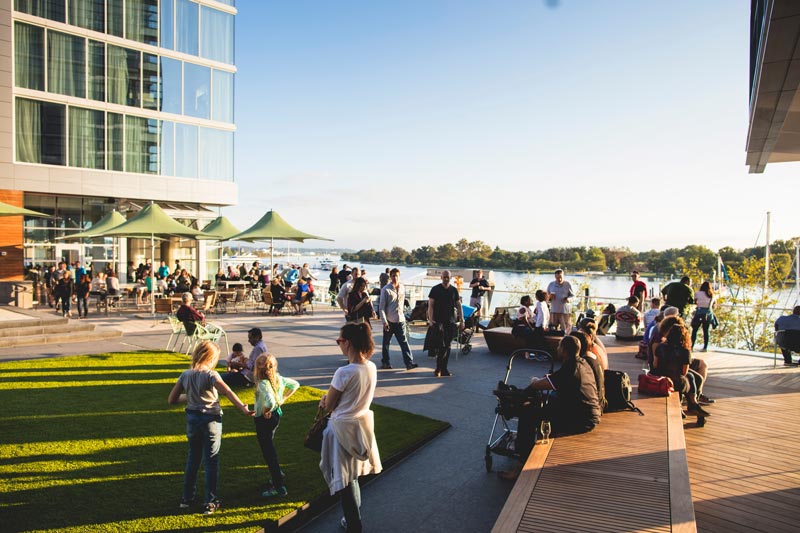 Green space at The Wharf on the Southwest Waterfront - The best things to do at The Wharf in Washington, DC
Kick back in the verdant environs of this natural riverside park. Walking trails and picnic-friendly plots are some of the features at 7th Street Park, but the coolest thing might be the waterworks: an interactive fountain features spouts, cooling misters and multi-color LED lights.
13
Take the Southwest Shuttle to The Wharf ...
Set to run daily every 10 minutes, the free, open-to-the-public shuttle bus seats 50+ passengers and makes four stops. The bus is outfitted in a sleek, all-water wrap, and picks up and drops off at the L'Enfant Plaza Metro/VRE station, the National Mall at 7th Street and Independence Avenue SW, L'Enfant Plaza on 10th Street SW and The Wharf.
14
Or hail a water taxi from Georgetown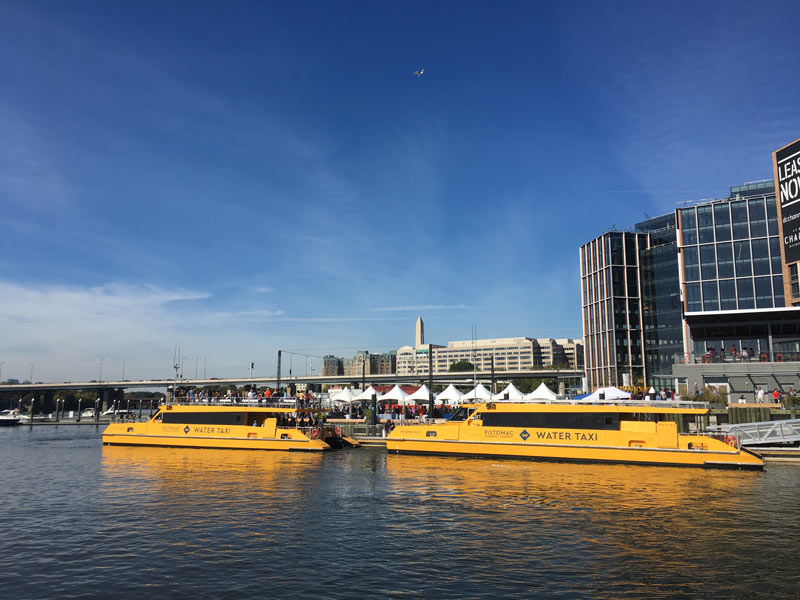 Water Taxi at The Wharf on the Southwest Waterfront - How to get to The Wharf in Washington, DC
What's cooler than a free shuttle? Rolling up to Transit Pier in a water taxi. The Wharf currently services water taxis from Georgetown, Old Town Alexandria in Virginia and National Harbor in Maryland with one-way fares of $10 for adults, $7 for children (ages 2-11); roundtrip fares are $18 for adults and $12.60 for children.
15
Take the free-to-ride Wharf Jitney to East Potomac Park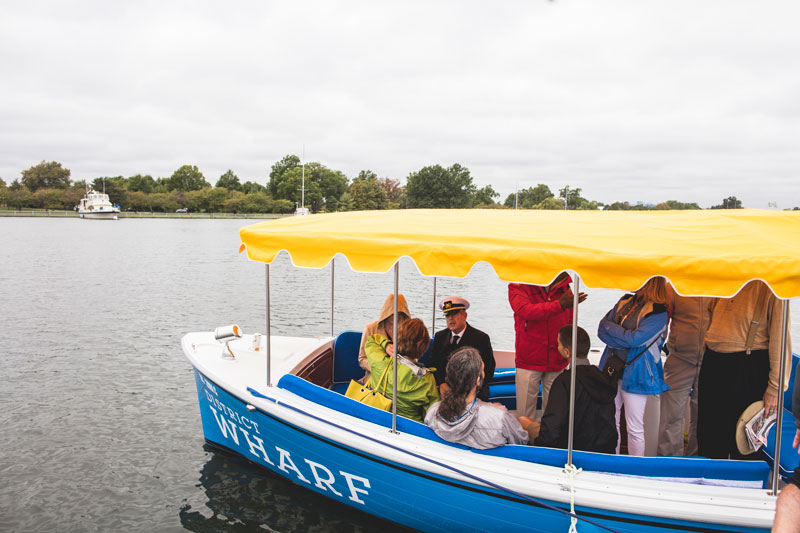 Free Jitney Boat at The Wharf on the Southwest Waterfront - Dining and Shopping Destination in Washington, DC
Hop aboard the dog-friendly, 12-seat motorized ferry and marvel at natural wonders – such as the cherry blossom trees lining the water's edge. You can catch the Jitney from Recreation Pier and end up in wide-open East Potomac Park, where you can make a day of it golfing any of three ways: regular golf, mini-golf or foot-golf (think: soccer, but on a golf course with huge holes). Tennis, bicycling, running and swimming round out the array of activities you can have before its time to voyage back to The Wharf – for free.
16
Stay at any of The Wharf's three hotels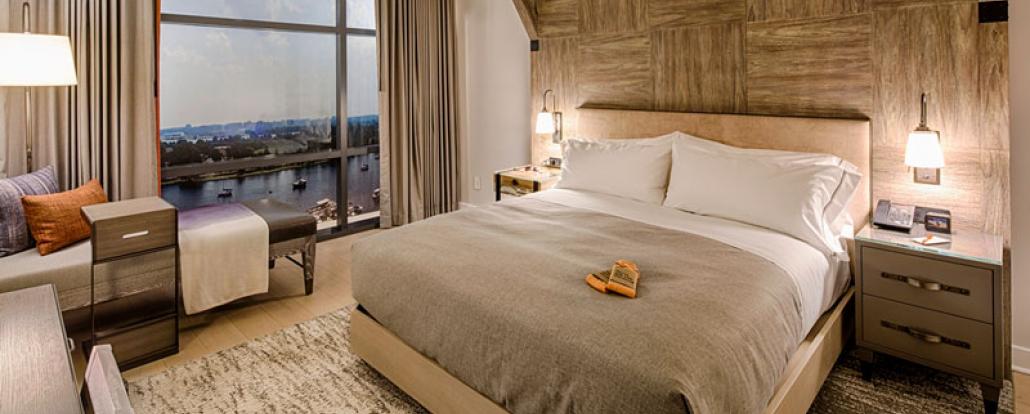 17
See live music at Union Stage
The Anthem and Pearl Street Warehouse aren't your only options for concerts at The Wharf. Union Stage offers a packed calendar that includes a wide range of independent acts. The intimate setting means you'll get to enjoy a healthy dose of sound, and you can also order up beers and pizza from their Tap Room. We highly advise getting well-acquainted with this dynamic spot, as it's set to become a popular Wharf destination.
18
Eat and drink your way through Nicholas Stefanelli's Officina
Officina – "workshop" in Italian – is Michelin-starred chef Nicholas Stefanelli's masterpiece and the place to be for all things Italian cuisine. The first floor of this extraordinary complex is home to a gourmet market and an elevated no-reservations cafe starring housemade pastries and espresso by day and Italian classics paired with cocktails by night. Venture upstairs and you'll find the casual Trattoria (think handmade pasta and prime meats from the downstairs market), a "library" devoted entirely to amaro and Terrazza, a year-round rooftop bar. Eat your way through this culinary playground and cap off your night with views of the Potomac River and a cocktail by the cozy fire pits at Terrazza.
19
Say 'namaste' on the pier
When the weather is nice, look for outdoor yoga classes on the piers. So bring your mat and take in the vibes at this scenic waterfront spot.