Head to this up-and-coming area in Northeast DC for distilleries and breweries, Michelin-certified dining and the National Arboretum.
Just a few blocks north of bustling food hall Union Market lies Ivy City, a small neighborhood off of New York Avenue NE that's experienced a renaissance in recent years. This historic area was conceived in the mid- to late-1800s as an African American community and later a manufacturing and warehouse-filled zone. The recent development of the historic Hecht Warehouse has brought with it a number of local businesses, making for plenty of great places to eat and drink and industrial vibes galore. And no visit to Ivy City is complete without a visit to the U.S. National Arboretum, a 446-acre living museum and every Instagrammer's dream.
01
Dig in to Michelin-approved fare at Ivy City Smokehouse
The mouthwatering scent of savory smoked fish and meat emanates at all hours from the Tavern at Ivy City Smokehouse, making this Michelin Guide Bib Gourmand recipient – awarded for great food at a good value – a must-visit. Signature dishes include Salmon Candy, hot smoked salmon with honey, and the delightful smokehouse fish board topped with five different smoked fishes, two bagels and all the fixin's. The neighborhood restaurant and bar also features a regular lineup of concerts and a great patio complete with fire pits.
02
Knock back local ciders brewed with beer drinkers in mind
Supreme Core Cider was started by two buddies who left their consulting gigs to start a cidery with the mission of reshaping the perception of their namesake beverage. Their unfiltered, dry ciders are brewed to look and feel more like a craft beer than the sweet, commercial options you're likely used to and all apples are sourced from three farms in Virginia. Not-your-average ciders include a crisp, oaky brew aged in Sagamore Rye Whiskey barrels and the Ivy City Rosé, a collaboration with City Winery where the cider is aged in red and white wine pomace (the pulpy residue that remains after grapes are crushed). Supreme Core's taproom is kid- and dog-friendly and is open from 2-6 p.m. on weekends.
03
Raise your hands up high at Echostage
Let out your inner raver and embrace PLUR (that's peace, love, unity and respect) at this 30,000 square food indoor concert venue. The space is no match, however, for the state-of-the-art German sound system, perfect for DJs at the top of their game like Calvin Harris, Galantis and Alesso. While a pumped-up dance party is a regular occurrence at the venue, it also attracts artists like Sam Smith and Gucci Mane.
04
If it's traditional Mexican eats you seek, head to La Puerta Verde
Step through this restaurant's namesake – "la puerta verde" means "green door" in Spanish – and you're transported into a space that melds a warehouse-chic atmosphere with the vibrant colors of Mexico. Start your culinary adventure with grilled avocado guacamole and wash it down with cocktails refreshingly priced at $10 and under. Round out your experience with plenty of tacos, standout sweet-and-savory street corn or one of the stellar spicy seafood dishes like the jumbo grilled shrimp, a.k.a. camarones a la diabla.
05
Learn about the Man in the Green Hat at New Columbia Distillers
Local legend has it that "Man in the Green Hat" was a sly bootlegger in the District during Prohibition. While he was arrested on several occasions, visitors to New Columbia Distillers will not be subjected to drinking moonshine or harsh penalties. Instead, they can join a free tour and tasting on Saturdays from 1-4 p.m. to learn more about the artisanal Green Hat Gin and the man who inspired its name.
06
Sip local suds at Atlas Brew Works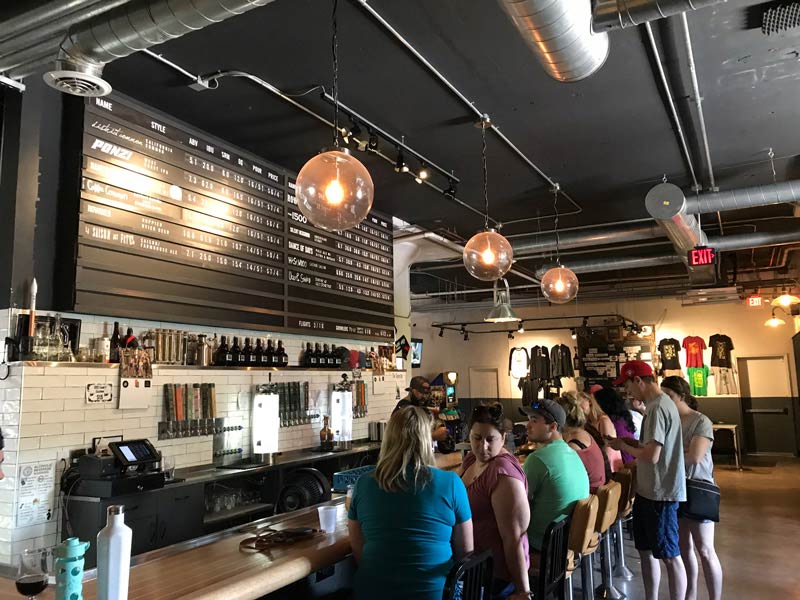 Atlas Brew Works - Brewery in Ivy City - Breweries in Washington, DC
Founded by two thirsty engineering scholars with a discerning taste for beer, Atlas Brew Works sought to bring craft brewing back to the Ivy City community. They've succeeded, so make sure you check out the often-rotating stable of sours, IPAs and lagers. The kid- and dog-friendly tap room is open daily and tours are available on Saturdays on the even-numbered hours from 2-6 p.m.
07
Enjoy the agricultural wonder that is the U.S. National Arboretum
The free-to-enter 446-acre park and living museum in Ivy City is home to the historic National Capitol Columns, which supported the East Portico of the U.S. Capitol from 1828-1958, as well as miles of trails and one of North America's largest collections of bonsai trees. At the National Bonsai & Penjing Museum, discover a fascinating collection of miniature Japanese and Chinese trees and learn about these centuries-old practices.
08
Try all the spirits at One Eight Distilling
Whether you're in want of whiskey, long for gin or hanker for vodka, One Eight Distilling has all tastes covered. Most of the spirits are named after DC locales and even the distillery's name pays homage to the district – Article One, Section Eight of the Constitution is responsible for the establishment of the nation's capital. Guests can take a behind-the-scenes tour of the warehouse before visiting the tasting room.
09
See how craft spirits are made at Republic Restoratives
The two longtime friends who founded this crowd-funded distillery join our list of exciting DC experiences that celebrate amazing women, and with good reason. They had a vision that the power of a cocktail could bring communities together, and that's just what they've done. Visitors can join that community by doing a distillery tour and private tasting or having a craft cocktail at The Ivy Room bar. You can't go wrong with any of the distillery's homemade spirits: Civic Vodka, Borough Bourbon and Rodham Rye.
10
Hop on the Whiskey Rebellion Trail
Did you know that the Mid-Atlantic region serves as the birthplace of American whiskey? While the story is as complex as the distilled rye the area has produced, the Whiskey Rebellion Trail lets you delve into George Washington's role in the Whiskey Rebellion or mix it up with the District's crop of craft distillers. And when it comes to spirit-making, Ivy City is the city's distilling hub. Check out the Ivy City One-Day Passport for a quartet of tastings, tours and cocktails, which you can comfortably pack into a day.