One of America's heroes, Tubman is remembered and celebrated throughout the District with museum exhibits, murals and more.
Not far from Washington, DC, along the Eastern Shore of Maryland, you can follow the trail that Harriet Tubman blazed helping enslaved people escape to freedom on the Harriet Tubman Byway. The courageous Tubman spent years making secret trips to Maryland along the Underground Railroad and her legacy is cemented in American history throughout the region. Tubman also made her mark on history as a spy for the Union Army during the Civil War, which means she made several visits to Washington, DC. Here's where you can commemorate the extraordinary life of Harriet Tubman – the abolitionist, freedom fighter and army scout – in DC museums, in front of murals and at attractions. There's no better time to do so than in 2022, which will feature an array of celebrations in honor of Tubman's 200th birthday.
01
Smithsonian American Art Museum
The Smithsonian American Art Museum features the above oil painting – inspired by a famous woodcut portrait – in its south wing on the first floor. Artist William H. Johnson's work that commemorates Tubman is part of the artist's 1945 series, Fighter for Freedom, which illustrated American heroes who fought for equal rights.
02
National Museum of African American History and Culture
04
International Spy Museum
Recently reopened in L'Enfant Plaza, the International Spy Museum tells the unexpected story of Tubman as a Civil War spy in Who Would Have Guessed?, a permanent exhibit about unexpected spies. Women of color were seldom suspected of carrying secretive information during the war, which Civil War spies like Tubman used to their advantage. When you're there, you can also learn more about how Tubman helped a Union Army raid and rescued 750 enslaved individuals.
05
DC Street Murals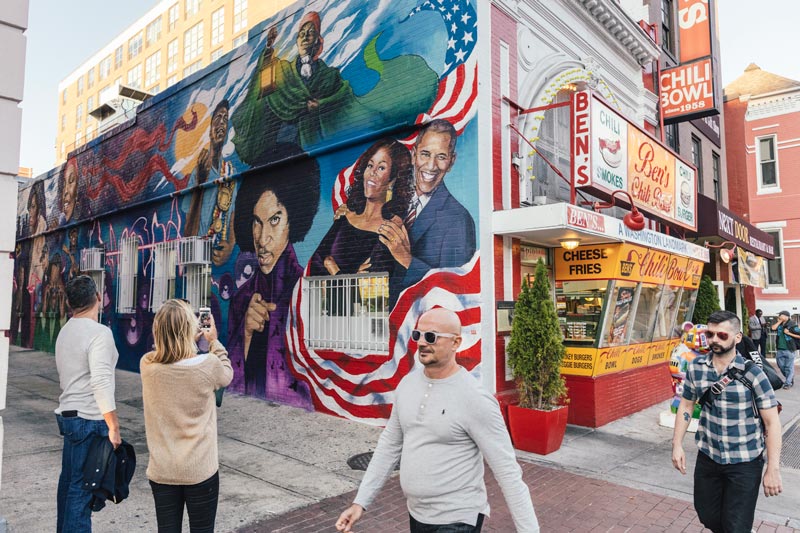 Local artists, like Aniekan Udofia, add contemplative and colorful murals throughout the city. One of the most popular is the mural on the side of historic Ben's Chili Bowl, painted by Udofia himself. Tubman overlooks a panoply of African American icons on the side of the restaurant, which is also a landmark for its role during the Civil Rights Movement. In the NoMa neighborhood, DC-based artist Naturel created an iconic artwork of a $20 bill featuring Tubman in support of a movement to feature women on U.S. currency.