Connected to Washington, DC by five bridges, Arlington has wonderful waterfront views and experiences on the Potomac River's western shore in Virginia.
Home to national treasures like Arlington National Cemetery, the Marine Corps War Memorial and the National 9/11 Pentagon Memorial, Arlington has lively neighborhoods and several great spots to access the riverfront. Make your way to the water by bike or trail, just minutes away from great restaurants featuring tastes from around the globe. A go-to area for locals enjoying happy hours, dates and more, Arlington is known for its chill vibe and postcard view of the capital skyline.
01
Snap a postcard-worthy pic from Theodore Roosevelt Island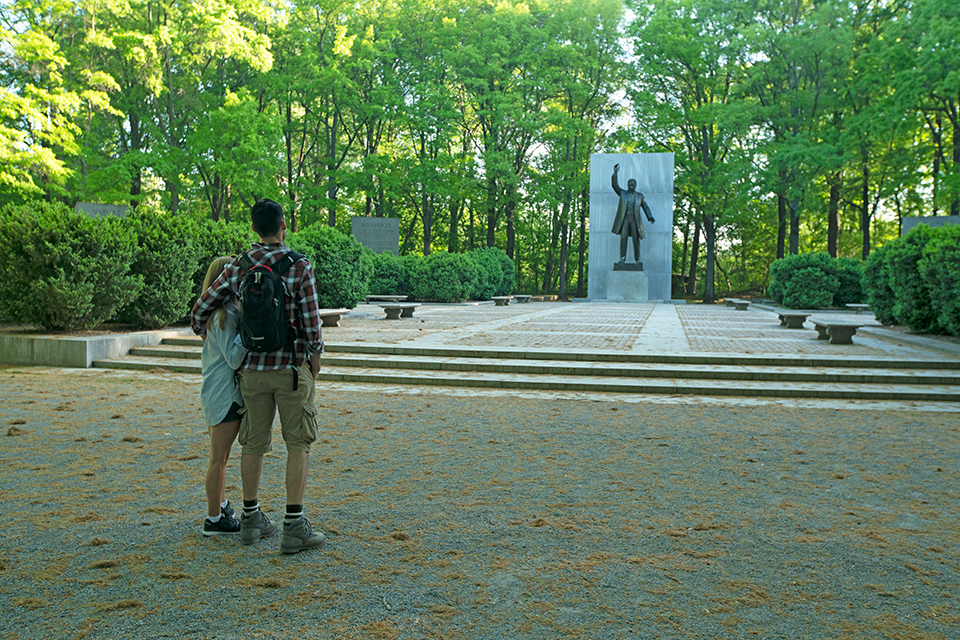 Discover Theodore Roosevelt Island, a memorial to America's 26th president and a true oasis in the middle of the bustle of city life. The island, in the middle of the Potomac, consists of miles of trails through wooded uplands and swampy bottomlands, all designed to honor Roosevelt's legacy as a great outdoorsman and conservationist. Hike your way through the brush and emerge on the memorial plaza, where a 17-foot-tall statue of Roosevelt awaits. There's no other national park that's as much of a hidden gem as this one.
02
Watch the planes (duck!) at Gravelly Point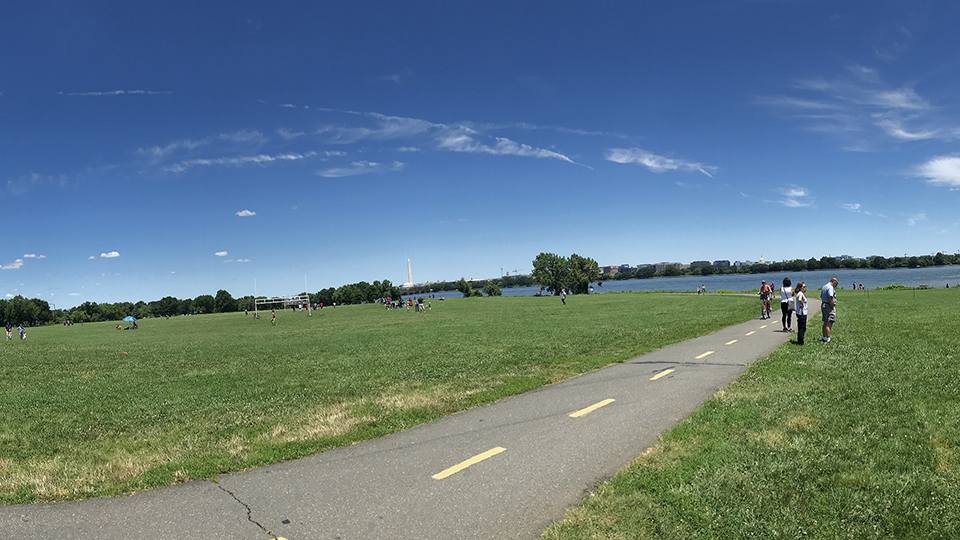 For simple thrills by yourself or with friends and family, visit Gravelly Point Park. Located just outside of Reagan National Airport, the park lies adjacent to the Potomac River. From this strategic vantage point, you can watch planes take off up close and personal. Bring a picnic lunch, Frisbee or a bike and discover beautiful views.
03
Walk, run, bike along the Mount Vernon Trail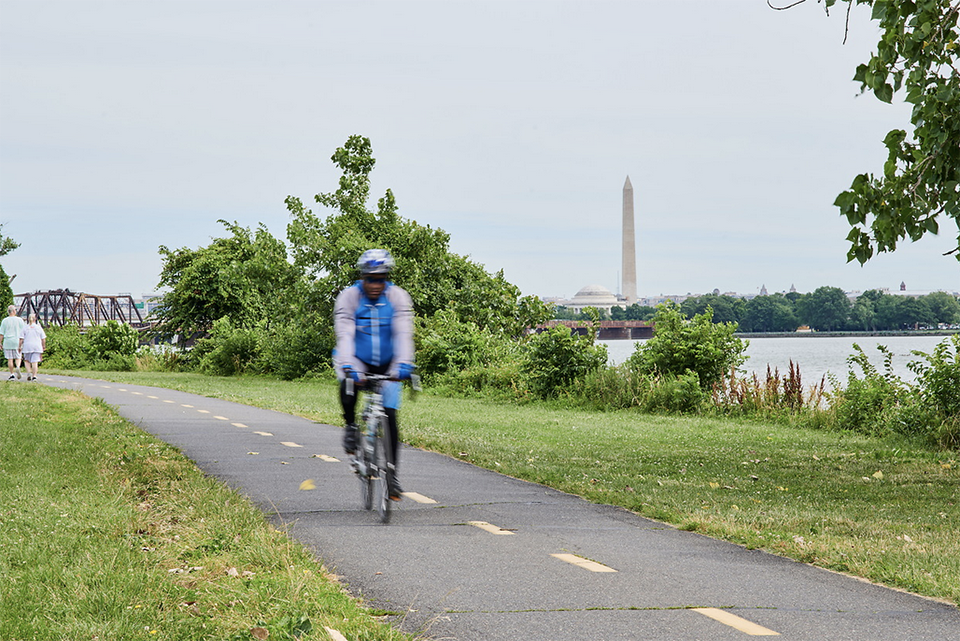 This paved trail along the Potomac River is large, wide open and has stunning views of the Washington Monument, Lincoln Memorial and U.S. Capitol running south from Key Bridge to George Washington's famed estate, Mount Vernon. Popular with runners, bikers and commuters, it's mostly flat and offers picnic spots along the way. Jog for miles along the path's shady, winding paths, take a leisurely walk or ride on a Capital Bikeshare cruiser.
04
Stroll the gardens at Potomac Overlook Regional Park
Spend some time deep in the forest of Potomac Overlook Regional Park, where you can explore 70 acres of woods, trails and educational gardens. Hike miles of trails while following interpretive displays to learn about Northern Virginia's flora and fauna.
05
Go birding within view of the Washington Monument
Birdwatchers flock to the Roaches Run Waterfowl Sanctuary, a popular spot to spy osprey, green heron, red-winged blackbirds and mallards in summer or watch wintering waterfowl make a glorious appearance in cooler months. Birders also flock to Theodore Roosevelt Island with their checklist to discover many of the nearly 200 species of birds that have been documented within its 88 acres.
06
Unlock serenity in a field of flowers
Thousands of bright yellow daffodils and hundreds of tulips herald the arrival of spring at Lady Bird Johnson Park. This floral scene will stop you in your tracks, so make sure to stop here for great photos, picnics and quiet contemplation.
07
Head to the Columbia Island Marina for boating and fun events
08
Honor American heroes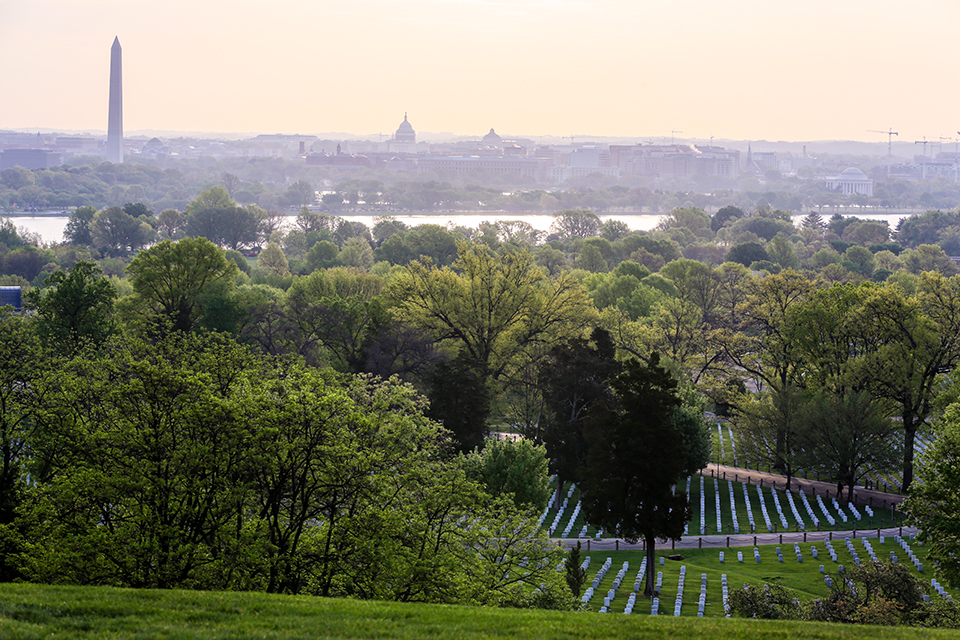 Walk across Arlington Memorial Bridge and Avenue with glorious views of the Potomac River, providing a ceremonial entrance from Virginia. Designed as an "Avenue of Heroes," the bridge is lined with memorials to Admiral Byrd, the Seabees, Valor and Sacrifice. Symbolically, the bridge was designed to show the strength of a united nation by joining north and south and connecting the capital to Arlington National Cemetery. More than 400,000 servicemen and women are buried there, including presidents John F. Kennedy and William H. Taft, civil rights icons Medgar Evers and Thurgood Marshall and the architect who planned the layout of DC, Pierre Charles L'Enfant.
09
Drink in the view (and eat dinner too)