Find the best options for hiking, biking, boating and picnicking your way through the nation's capital.
Walk your way through DC and beyond
With its ample sidewalks, abundant national parks and miles of panoramic trails, Washington, DC is an extremely exercise-friendly destination. Want to take advantage of all your fitness options? We suggest you start by exploring Rock Creek Park. The 2,000-acre park in Northwest DC is an urban oasis with 32 miles of trails for hiking and plenty of paved roads (closed to cars) for biking. You can even go horseback riding in the National Park Service-run outdoor destination.
The Capital Crescent Trail, which runs from Georgetown all the way up to Silver Spring, Md., also offers scenic pathways for hikers, bikers and joggers, while the 185-mile C&O Canal trail, which also runs through Georgetown, boasts beautiful views of DC's oldest neighborhood.
Pedal and paddle past the city's iconic sights
Sure you can see DC by tour bus, but for those wanting to take advantage of our bicycle-friendly city, Capital Bikeshare, Unlimited Biking or DC Cycling Concierge are great ways to check out DC's must-see sights.
There are dozens of Capital Bikeshare racks across the city where you can borrow a bike with a day pass, or book a tour to see the sights via bicycle (or even a Segway!) with Unlimited Biking. Miles of bike paths and bike lanes mean you can peddle past everything from the monuments and memorials to quaint neighborhoods in all four quadrants of the city.
If you want a new view of the monuments, you can rent a paddle boat in the warmer months and make your way around the Tidal Basin, or get out on the glorious Potomac River by renting a canoe, kayak or even a standup paddleboard from Boating in DC's Key Bridge Boathouse in Georgetown or Ballpark Boathouse on the Capitol Riverfront.
Relax with a picnic in the city
If you simply want to relax outdoors, pack a picnic and head to one of DC's lovely public or private parks.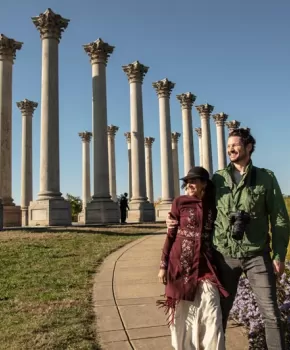 Hillwood Estate, Museum and Gardens in Upper Northwest allows guests to picnic in the historic home's gorgeous gardens. Meridian Hill Park, which was once a part of John Quincy Adams' private estate, is run by the National Park Service today. The park still features the original cascading fountain and on Sundays, locals get together for a boisterous drum circle. It's also a lovely place for a picnic.
The National Arboretum, a 446-acre park with a diversity of flora and fauna (bonsai trees, azaleas, flowering cherry trees to name a few) is also home to the Instagram-worthy original Capitol Columns. The park has designated areas for picnicking, as does Kenilworth Aquatic Gardens, another outdoor oasis featuring waterlilies, lotuses, bamboo and more on the banks of the Anacostia River.