These paths, all part of the Capital Trails Coalition, are fit for adventure this season in the District
When DC starts heating up in the summer, it's time to strap on your helmet, put air in the tires and embark on a two-wheeled adventure or set out on a peaceful trot beneath the shade. Below, we've detailed four must-ride/must-run/must-walk trails in the DC area, with the help of our friends at the Capital Trails Coalition.
Klingle Valley Trail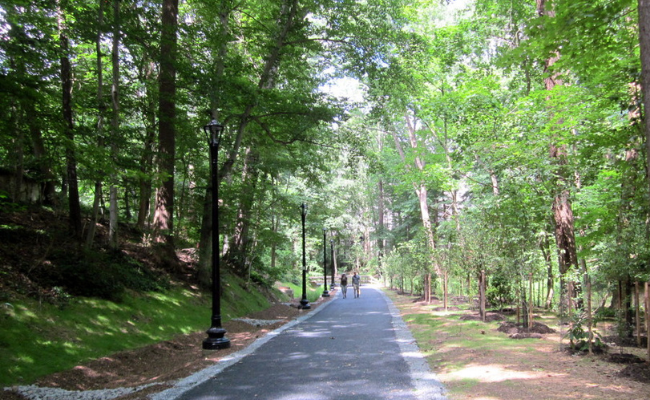 This hidden gem of a trail is just under a mile in length, but makes for a scenic ride or walk at any time of year. The Klingle Valley Trail was completed in 2017, now serving as a little oasis for nature lovers in the District.  Some notable features of the trail include its permeable pavement, which prevents stormwater runoff; its connection to the spectacular Tregaron Conservancy paths and trail network; and its gorgeous view of the Connecticut Avenue NW bridge.
The eastern end of the Klingle Valley Trail starts at the intersection of Klingle Road NW and Porter Street NW. Trail users can connect to the city's Rock Creek Park trail system to extend their journey. The western end of the trail ends near the intersection of Cortland Place and Klingle Road NW.
 
If you're looking for a place to grab a bite after your walk or ride, Duke's Counter and Open City are outstanding options – just make sure to wear a mask and follow social distancing guidelines.
 
Mount Vernon Trail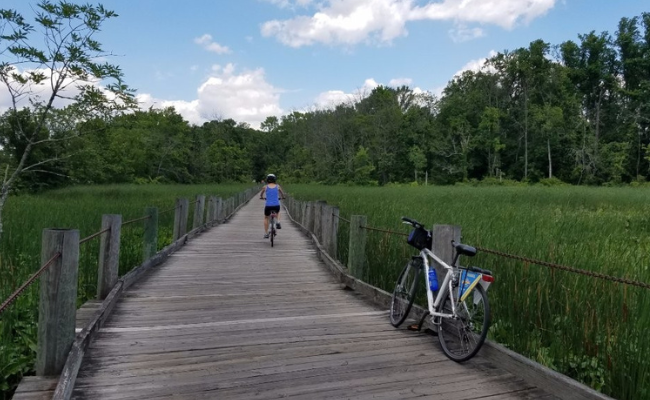 This 18-mile trail is perfect for an extended ride, especially due to the fact that it provides jaw-dropping views of DC. The stretch across the Arlington Memorial Bridge is particularly scenic.
The mostly flat trail follows along the Potomac River can take you to some truly iconic destinations, including Theodore Roosevelt Island and of course, George Washington's Mount Vernon. We highly recommend a stop at Gravelly Point, too; you'll be able to watch planes take off and land at Reagan National Airport.
 
Metropolitan Branch Trail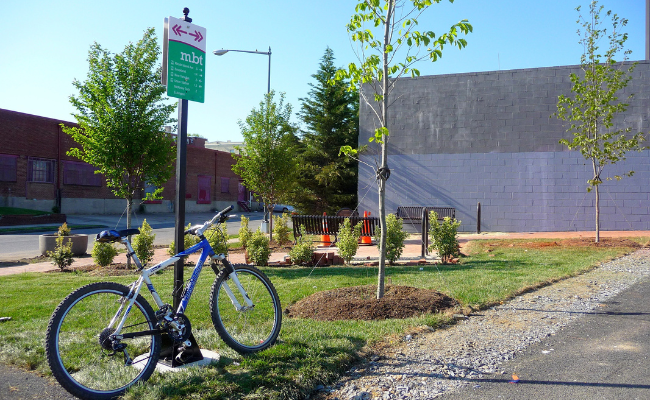 Known as "MBT" to locals, this trail is known for eye-catching murals that run parallel to you as you ride, especially in NoMa.
Additional sites to check out while traveling on the MBT include The Dew Drop Inn, which is housed in a rustic building that used to be a workspace for stonemasons and metal workers and features plenty of bike parking. Indigo DC, located right off the trail, offers delicious Indian food.
 
Capital Crescent Trail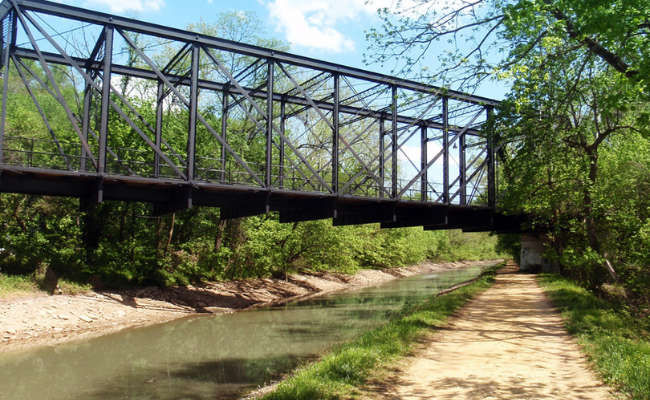 One of the most trafficked trails in the nation, the Capital Crescent is a major commuter route for many traveling between Bethesda, Md. and Washington, DC. The 11-mile jaunt stretches from the intersection of Bethesda and Woodmont avenues in Bethesda to 30th and K Streets NW in Georgetown. Potomac River views are plentiful; we highly suggest a few stops for photo-taking.
Georgetown Waterfront Park is another option for a stop; you can enjoy vistas of the John F. Kennedy Center for the Performing Arts and the Francis Scott Key Memorial Bridge. The park even has a labyrinth at its western end. For a bite after your ride, check out Washington Harbour, which offers restaurants such as Sequoia, Farmers Fishers Bakers and Tony & Joe's Seafood Place. If you really want to treat yourself, walk up Thomas Jefferson Street to Baked and Wired, known for delicious cupcakes.
 
About the Capital Trails Coalition
The Capital Trails Coalition is a collaboration of public and private organizations, agencies and citizen volunteers working to advance completion of an interconnected network of multi-use trails for metropolitan Washington, DC, equally distributed throughout the region, with a goal of transforming public life by providing healthy, low-stress access to open space and reliable transportation for people of all ages and abilities.