Join NMWA and the Gadsden Arts Center & Museum to chat about the life and work of Elizabeth Catlett.
Apr 06, 2023. From: 05:30 PM to 06:30 PM
Join staff from NMWA and the Gadsden Arts Center & Museum (GACM) to explore connections between GACM's exhibition The Art of Elizabeth Catlett: From the Collection of Samella Lewis and NMWA's collection. This exhibition comes from the collection of Samella Lewis (1924–2022), a student of Catlett and an accomplished artist, professor, and author. It features 30 works by Catlett; a few by her husband, Francisco Mora; and others by Lewis herself. The conversation will extend to artists with ties to Catlett past and present, such as Loïs Mailou Jones, one of Catlett's teachers at Howard University.
About our partner:
This event is presented in collaboration with the Gadsden Arts Center & Museum, an American Alliance of Museums Accredited Museum located in Quincy, FL. Gadsden Arts inspires exploration of the visual arts to enrich life for everyone, bringing people together and contributing to the cultural and economic vitality of our community. With support from 100+ volunteers each year, Gadsden Arts brings historically important art exhibitions to our region, hosts cultural events, presents work by hundreds of local artists, and offers education programs for all ages. Gadsden Arts is a unique provider of major exhibitions in the region, and is known for its innovative Art for Children outreach programs. For more information, visit www.gadsdenarts.org.
Image: Elizabeth Catlett, Two Generations, 1979; Lithograph on paper, 17 x 20 1/4 in.; National Museum of Women in the Arts, Gift of Dorothy Stauffer Lyddon; © Mora-Catlett Family/Licensed by VAGA at Artists Rights Society (ARS), New York
CONTACT
1250 New York Ave. NW
Washington, DC 20005
United States
Free
Nearby Favorites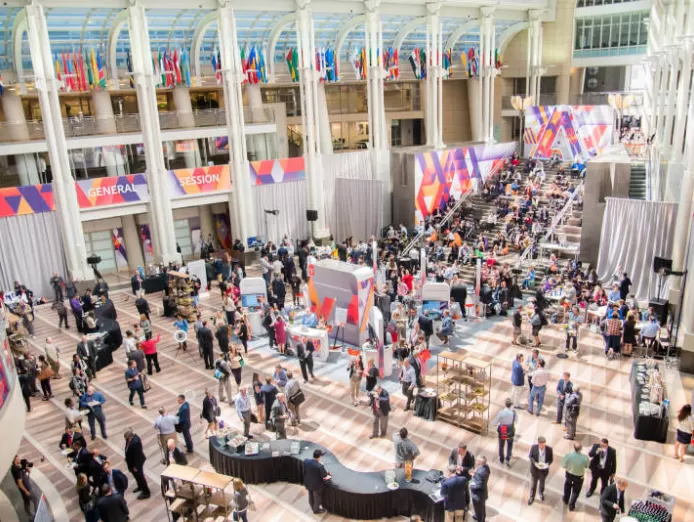 ---
Ronald Reagan Building and International Trade Center
Ronald Reagan Building and International Trade Center
SPONSORED