Washington, DC is more than the nation's capital: It's also a sports capital. We've laid out a three-day itinerary that is sure to make you a fan of our city!
Day 1
Morning
To begin your DC sports experience, find a tour that will get your heart pumping! There are bike and Segway tour options that will take you throughout downtown and through the monuments and memorials on the National Mall. These expert-led tours will illuminate the most iconic sites in DC.
Afternoon
After you've gotten the lay of the land and visited all the monuments and memorials, relax with a scenic waterfront meal at The Wharf. Make sure to take your group to the Maine Avenue Fish Market, the longest running of its kind in the U.S. Mi Vida Restaurante has you covered with delicious Mexican inspired dishes. After lunch, enjoy recreational activities like kayaking or paddleboarding.
Evening
Get up close and personal with the teams who make DC a true sports capital. From our Stanley Cup winning Washington Capitals, to our WNBA champions, the Washington Mystics, to our World Series Champion Washington Nationals, DC has it all and has all the titles. When you book your tickets for a game reach out to the stadium staff to request some special experiences like a behind the scenes stadium tour. Your meals can be often be included with your ticket price as well. Stadiums like Nationals Park and Capitol One offer deals to include meals with your tickets. Take a look at this page to get all the details on their schedules and on purchasing tickets.
Day 2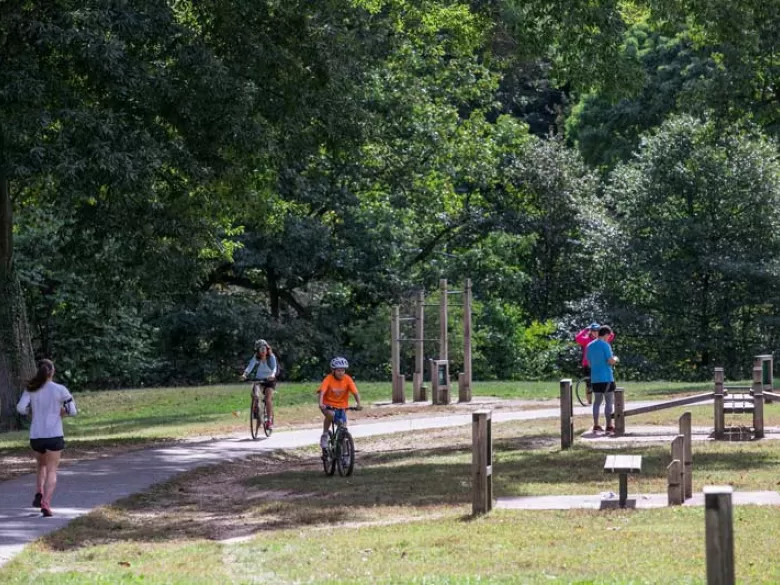 Exercising in Rock Creek Park - Free outdoor activities in Washington, DC
Morning
Start your day with a visit to the wide-open spaces of the National Arboretum in northeast DC. Next, head to northwest and hike inside Rock Creek Park, a large urban national park conveniently located inside the city limits. After the hike, check out the National Zoo and visit with some of the world's most exotic animals. Make the journey to Theodore Roosevelt Island, a little-known natural gem situated directly between DC and Virginia. If you are visiting on a weekend, join a National Park Ranger-led Island Safari Tour to channel your adventurous spirit.
Afternoon
After you've worked up an appetite, find a spot for lunch in Georgetown. Locals love Filomena and Tony and Joe's Seafood. Once you're fueled up, start an afternoon of exploration. Visit one of the many Smithsonian Institution museums that are situated along the National Mall, including the National Museum of American History, which has a collection of sport and leisure gear . Just off the Mall at the National Portrait Gallery, you can check out the Champions exhibit, which highlights sport icons from past and present.
Evening
Swing into the end of your second day with sunset golfing. Choose from three historic public golf courses in DC: East Potomac Park, Langston or Rock Creek Park. East Potomac offers a mini-golf course as well. Just outside the city limits in National Harbor, Maryland, Topgolf allows for all skill levels to gather to play point-scoring golf games and enjoy dinner and drinks.
Day 3
Morning
As you wake up for your final morning in DC, throw on your running shoes! Explore the routes of one of many specialty events that come to Washington, DC throughout the year. If your trip was planned around one of these events, take the morning to complete your race. A few of the biggest events include the Marine Corps Marathon; Rock & Roll Marathon; The Cherry Blossom 10-miler; and DC Bike Ride. Build your itinerary around any of these to pique the niche interests of some of your customers.
Afternoon
Choose your team and accept your next mission: Visiting the International Spy Museum. This new museum boasts several floors full of interactive and educational exhibits. Channel your inner spy and compete with your group to see who has what it takes to go undercover. Plan plenty of time into your afternoon to explore the permanent and rotating attractions inside the building.
Evening
We have no shortage of fun activities to choose from to end your trip to DC. Channel your inner bowling professional while you eat dinner at Pinstripes Georgetown, where you can order food and drinks directly to your lane! You can also head across town to Ivy City and visit Kraken Axes to test your axe throwing skills. If your interest lies more in the virtual world of games, rest assured, you are taken care of as well. In the U Street neighborhood, Augment VR Arcade lies waiting to host you in your own virtual video game world.