Your guide to DC dining with a riverfront view in this evolving neighborhood
Southwest & The Wharf has long been a place where local seafood lovers visited on weekends to snap up fresh fish and other seafood at the neighborhood's open-air seafood market. While that tradition continues, the neighborhood has become a whole new destination with the opening of The Wharf, a huge dining, entertainment and retail complex.
Riverfront Dining at The Wharf
Grab Lunch or Dinner from a Barge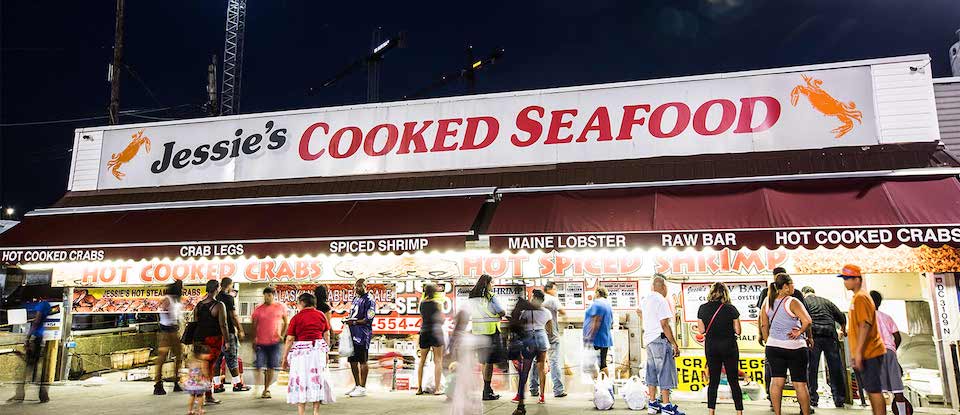 The neighborhood holds the distinction of being home to the country's oldest, continually operating fish market. The Municipal Fish Market is a rite of passage for any local or visitor, and it's worth dropping by its barges that carry pre-steamed and shucked edibles. Snag some ready-to-eat blue crabs at Jessie Taylor Seafood, it's one of the most DC experiences you can have. And if you have access to a kitchen, you can pick up today's fresh catch to cook at home. And if you want to get out on the water, consider the City Cruises by Hornblower fleet. 
Hotels with a View
Southwest & The Wharf is home to the uber luxurious Salamander DC, which features gorgeous waterfront views and an extravagant spa. If you're looking for something more hip than posh, head over to the Capitol Skyline Hotel. The hotel's interiors, including its restaurant Lapidus, are modern and chic. Named for 1960s designer Morris Lapidus, the restaurant serves American fare in a mod setting. Don Draper would surely be at home here. Or, in the summer, head outside for poolside service.
All the World's an [Arena] Stage
If you're near Southwest & The Wharf, it's hard to miss Arena Stage. The glittering, glass theater mounts productions by American playwrights under the direction of artistic director Molly Smith. Options for pre- or post-theater dining including Station 4. Helmed by chef Orlando Amaro of Venezuela, Station 4 serves creative American fare (including a pre-theater prix-fixe menu) and, on Wednesdays, paella night inspired by chef Orlando Amaro's Venezuelan roots. Masala Art is another Arena Stage option. The Indian restaurant serves authentic dishes and also offers a pre-theater, prix-fixe menu. If you're looking for a quick bite even closer to Arena, enjoy the theater's in-house menu at Richard's Place.