11 Things to Do This Weekend in Washington, DC
Our end-of-the-week picks for March 22-24 include the National Cherry Blossom Festival opening festivities, new museum exhibits and so much more.
Check out our end-of-the-week picks and discover all of the best events, festivals, museum exhibits, concerts and more happening in the nation's capital.
Friday
National Cherry Blossom Festival
Starting this Wednesday, the nation's greatest springtime celebration returns to fill four weeks with free family events, many with Japanese influences, a nod to the gift of the trees in 1912 from the Mayor of Tokyo to the citizens of Washington, DC. Among the signature events: the Pink Tie Party (March 22); the Opening Ceremony (March 23); the Blossom Kite Festival (March 30); Petalpalooza (April 6) at The Wharf and the National Cherry Blossom Festival Parade (April 13).
• • •
Washington Capitals vs. Minnesota Wild
March is an action-packed month for the Capitals, with the defending Stanley Cup champions playing six games at Capital One Arena. Alex Ovechkin and the Caps are in dogged pursuit of prime playoff position in the hopes of bringing another championship to the nation's capital. This Friday night tilt will see the boys square off against the Minnesota Wild, who are fighting for their own playoff lives under head coach (and former Caps bench boss) Bruce Boudreau.
7 p.m. | Tickets
Capital One Arena, 601 F Street NW, Washington, DC 20004
• • •
Pink Tie Party
This springtime affair in Washington signifies the beginning of blossom season. The Pink Tie Party raises funds for the National Cherry Blossom Festival, and the elaborate cocktail party brings on the fun with lots of features: spring-inspired cuisine, a silent auction, live music, dancing and other distinctive entertainment. Guests must be 21 and over to attend.
7-11 p.m. | Tickets
Ronald Reagan Building and International Trade Center, 1300 Pennsylvania Avenue NW, Washington, DC 20004
Saturday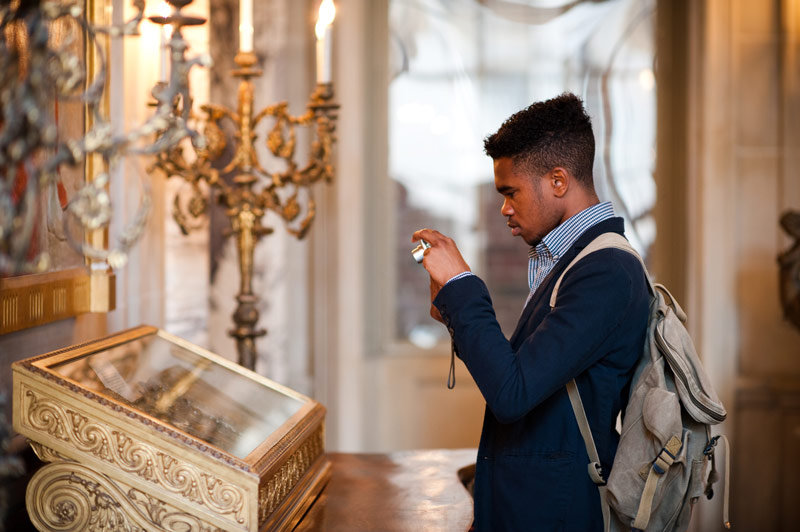 'A Revolution in Arms' – Final Weekend
Anderson House will dive into an essential element in America's fight for its independence during the Revolutionary War in this new exhibit. When the war began in 1775, there were not many shops or factories producing weapons in America. In order to battle the well-armed British, the Continental Army had to resort to numerous resources in order to procure firearms and swords. A Revolution in Arms will showcase muskets, pistols, swords and other weapons used by American troops during the effort. The exhibit closes on Sunday.
10 a.m. – 4 p.m. | Free admission
Anderson House, 2118 Massachusetts Avenue NW, Washington, DC 20008
• • •
ShamrockFest
America's largest St. Paddy's Day festival will green out RFK Stadium again this year. The Mighty Mighty Bosstones, The Mahones and Andrew W.K. highlight this year's lineup of performers. Plan on plenty of brews, Irish dancers and bagpipes, DJs and contests. General admission and VIP tickets are available to this Irish-themed extravaganza.
12 – 8 p.m. | Tickets
RFK Stadium Festival Grounds, 2400 East Capitol Street SE, Washington, DC 20003
• • •
'The Watsons Go to Birmingham – 1963' – Final Weekend
Christopher Paul Curtis' award-winning book is given a powerful, staged concert adaptation written by Christina Ham. The Watsons of Flint, Michigan plan a visit to their Grandma Sands in America's deep south in the midst of one of the most turbulent times in American history. While traveling in their "Brown Bomber," the family will witness a vital moment in the Civil Rights Movement. Filled with familial bonding, live music and essential history, this world premiere show is recommended for ages 9 and up. Its final performance comes on Sunday.
2 p.m. & 7:30 p.m. | Tickets
The John F. Kennedy Center for the Performing Arts, 2700 F Street NW, Washington, DC 20566
• • •
National Cherry Blossom Festival Opening Ceremony
Diehard blossom-goers make a point to be official about their visit by reserving tickets to this free event. Experience the festival on stage through traditional and contemporary performances at the Warner Theatre, with a lineup that features the cast members of "Pretty Guardian Sailor Moon" The Super Live making their North American debut and an original interpretation from violinist Ikuko Kawai. Note that there will be a $5 registration fee when tickets are claimed.
5-6:30 p.m. | Tickets
Warner Theatre, 513 13th Street NW, Washington, DC 20004
• • •
Spring Wine Fling – Final Weekend
Oenophiles, listen up, RAMW's Spring Wine Fling is afoot and the theme this year is sangria. The celebration, which concludes this Sunday, calls on restaurants and bars throughout the DC metro area to offer at least one sangria at the bar and tables. We highly encourage you to tune up your taste buds with some of DC's best wine bars.
Citywide
• • •
Environmental Film Festival in the Nation's Capital – Final Weekend
The longest-running and largest environmental film festival in the U.S. enlightens viewers on the state of our environment and what we can do to maintain its health. More than 100 movies will be screened at venues all over the District. The festival will also include informative discussions and social events that will inspire dialogue surrounding these wonderful films and their important themes. Many of the events are free and all are open to the public. Check the website for a full schedule. Screenings and events continue through this weekend, with the festival drawing to a close on Sunday.
Donate
Sunday
'Ursula von Rydingsvard: The Contour of Feeling'
German artist Ursula von Rydingsvard, who spent years in refugee camps at the end of World War II, composes monumental sculptures that incorporate cedar, leather, linen and other materials, crafted through labor-intensive (and at times dangerous) processes. The Contour of Feeling, which opens Friday and runs through July 28, marks the grandest exhibition of von Rydingsvard's work in the U.S. and her first solo exhibition in DC at the National Museum of Women in the Arts. The abstract pieces evoke biographical, religious and cultural connotations, but all the while maintain a sense of mystery that only von Rydingsvard can provide.
12-5 p.m. | Admission
National Museum of Women in the Arts, 1250 New York Avenue NW, Washington, DC 20005
• • •
DIRECT CURRENT
A two-week festival of contemporary American art, music, film, dance, drag and activism converges at the Kennedy Center with fascinating presentations that will be new to Washington audiences. The programming taps creative luminaries such as Bon Iver, Roscoe Mitchell, Philip Glass, Phantom Limb Company, sjDANCEco and many more. The festival begins Sunday and runs through April 7.​
Learn more
The John F. Kennedy Center for the Performing Arts, 2700 F Street NW, Washington, DC 20566
• • •
#MyDCcool Photo of the Week
Make sure to share your scenic photos with us using #MyDCcool, and we may feature yours next week!