Things to Do This Holiday Weekend in Washington, DC
Our end-of-the-week picks for Memorial Day Weekend, May 26-29
Memorial Day Weekend Festivities
The nation's capital knows how to kick off summer. Memorial Day weekend is packed with fun in the District, with a parade, a motorcycle rally, a concert, Major League Baseball, a choral festival, live music and much, much more all on the docket for the long weekend. Check out all the things to do and prepare to celebrate the holiday in style.
Friday
Washington Jewish Film Festival
This exhibition of films from around the world is one of the most revered Jewish film festivals in North America. Across its 11 days, Jewish history, culture and experiences will be celebrated with more than 80 screenings at numerous DC theatres, many of which are regional, U.S. or world premieres. There will also be discussions with filmmakers and experts after screenings. Make sure to check out the full film roster to plan your movie-going experience. The festival concludes on Sunday.
Tickets
Various locations in DC
• • •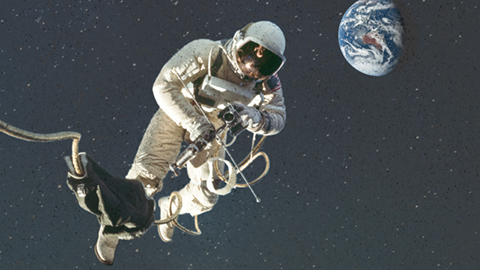 The Washington Ballet Presents 'Frontier'
The Washington Ballet's Artistic Director, Julie Kent, will present her first-ever commissioned work during this Kennedy Center production. Kent's piece is heavily inspired by President Kennedy and his desire to make America an artistic, cultural and intellectual power, including his determination for the U.S. to be the first country to put a man on the moon. Choreographer Ethan Stiefel actually met with members of NASA to discuss space travel, so movements will be inspired by the concept of "zero gravity." Another unique aspect: the lead astronauts will be played by women. This production will also feature pieces choreographed by Antony Tudor and Sir Frederick Ashton.
7:30 p.m. | Tickets
John F. Kennedy Center for the Performing Arts, 2700 F Street NW, Washington, DC 20566
Saturday
'Sharks'
One of the season's most anticipated exhibits comes to the National Geographic Museum. More than 100 million sharks are killed each year, endangering the species. Photographer Brian Skerry's work shows how integral sharks are to our ecosystem and that humans should do whatever it takes to preserve and appreciate the creatures. The immersive display also includes interactive experiences, artifacts, videos and models.
10 a.m. – 6 p.m. | Tickets
National Geographic Museum, 1145 17th Street NW, Washington, DC 20036
• • •
Kennedy Center Open House: Celebrating JFK at 100
The Kennedy Center's doors open wide for this day full of free performances that will feature street art, hip-hop, skateboard culture and the classic and contemporary arts, all in one place. Dance troupes will show off their skills, a skate park and music stage will be open on the plaza and a UK spoken word artist will perform. The National Memorial Day Choral Festival will also take place in the Concert Hall.
12 p.m. | Free admission
John F. Kennedy Center for the Performing Arts, 2700 F Street NW, Washington, DC 20566
• • •
'Hir'
The politics of gender take center stage in this dark comedy from Woolly Mammoth Theatre Company. Isaac returns home from war to find his parents have split, with his mother fighting patriarchy in full force and his father wearing clown makeup while being force-fed estrogen pills. Meanwhile, his sister is now a genderqueer anarchist, adding to the upside-down world he has returned to. Humor abounds in this zany tale that asks how families handle political divisions of the most extreme order. The play runs through June 18.
8 p.m. | Tickets
Woolly Mammoth Theatre, 641 D Street NW, Washington, DC 20004
Sunday
'Markus Lüpertz'
The famous German artist Markus Lüpertz is given a comprehensive exhibit consisting of more than 40 works inside America's first museum of modern art. The exhibition will trace the artist's career from the 1960s to the present, showcasing his innovative "dithyrambic" picture style and innovative paintings of German motifs. Also be sure to check out the Hirshhorn's corresponding exhibit on Lüpertz, which opens May 24.
12 – 7 p.m. | Admission
The Phillips Collection, 1600 21st Street NW, Washington, DC 20009
• • •
'Donald Sultan: The Disaster Paintings'
In the first exhibition to focus on the most respected works of Donald Sultan's career, visitors can experience the mind-bending dichotomies shown in Disaster Paintings. Sultan used images from the daily newspaper, as well as materials like tar and Masonite tiles, to create works that highlight just how fragile man-made structures such as industrial plants and cars truly are. You will be struck by the detailed darkness of Sultan's pieces while also contemplating exactly what Sultan wanted you to: the cycle of life and death. The exhibit runs through Sept. 4.
11:30 a.m. – 7 p.m. | Free admission
Smithsonian American Art Museum, 8th and F Streets NW, Washington, DC 20001
Monday
Enjoy some rooftop or on-the-water revelry
If the weather permits, Memorial Day is a perfect time to savor all of DC's outdoor offerings. Awesome rooftop bars that feature delicious cocktails and by-the-pool lounging can be experienced all over the city. There are also plenty of places to take in beautiful views of the Potomac River, whether you are actually on the water or hanging out near it.
• • •
JFK Centennial Celebration
The Opera House at the Kennedy Center plays host to this grand finale celebration, held on the actual day of JFK's 100th birthday. The large-scale show will honor the ideals of President Kennedy in spectacular fashion, with stars of stage and screen on hand to pay tribute to the 35th commander-in-chief.
7:30 p.m. | Tickets
John F. Kennedy Center for the Performing Arts, 2700 F Street NW, Washington, DC 20566
• • •
#MyDCcool Photo of the Week
Make sure to share your scenic photos with us using #MyDCcool, and we may feature yours next week!
For more events, festivals and things to do in Washington, DC, check out our events calendar.