11 Things to Do This Weekend in Washington, DC
Our end-of-the-week picks for June 23-25
Friday
Metropolitan Washington BBQ & Grilling Week
The Restaurant Association Metropolitan Washington hosts BBQ & Grilling Week for the first time this year, which culminates with the 25th annual Giant National Capital Barbeque Battle. Restaurants in DC, Maryland and Virginia are offering two-course menus and two-item specials at $11, $22 and $33 throughout the week of June 19-25. Check out the full list of participants, menus and specials – then it's time to dig in.
Citywide
• • •
NSO Pops: The Music of John Williams
You may not know his name off the top of your head, but you definitely know his work, which has soundtracked millions of imaginations. John Williams has created unforgettable scores for some of the most popular movies in cinematic history, including the Star Wars films, the Harry Potter series, E.T., Saving Private Ryan and many, many more. The NSO Pops pay tribute to the 50-time Academy Award nominee (you read that right) with a night filled with his music, including an entire segment dedicated to Star Wars in honor of the series' 40-year anniversary. There are performances on Thursday and Saturday as well.
8 p.m. | Tickets
The John F. Kennedy Center for the Performing Arts, 2700 F Street NW, Washington, DC 20566
• • •
'Rent': 20th Anniversary Tour
Jonathan Larson's classic play celebrates 20 years since its first run on Broadway with a new touring production that will touch down at National Theatre this month. The rock musical tells the tale of seven artists working towards their dreams without compromise. The Pulitzer Prize and Tony Award-winning play deals with friendship, love, creativity and facing seemingly insurmountable obstacles. Don't miss your chance to catch one of the most important and influential plays of the last two decades, as it runs through Sunday.
8 p.m. | Tickets
National Theatre, 1321 Pennsylvania Avenue NW, Washington, DC 20004
Saturday
Giant National Capital Barbecue Battle
Rib roasters and sauce bosses show off their delicious wares during the Giant National Capital Barbecue Battle. Pit masters from all 50 states, local restaurants and live music shut down Pennsylvania Avenue between 3rd and 7th streets NW for a lively street party. Cooking demos and free tastings make for a delicious (and filling) experience. The battle continues into Sunday.
11 a.m. – 9 p.m. | Tickets
Pennsylvania Avenue between 3rd and 7th Streets NW, Washington, DC 20001
• • •
'One Life: Sylvia Plath'
The life of one of the mid-20th century's most prominent writers is explored in an art and history museum for the first time. Sylvia Plath, author of such seminal works as The Bell Jar and Ariel, and her fascinating story are the focus of this National Portrait Gallery exhibit. Visitors will learn of the dual personalities that Plath created for herself through her poetry and story writing, with personal letters, images, objects serving as essential artifacts. The exhibit runs through May 20, 2018.
11:30 a.m. – 7 p.m. | Free admission
National Portrait Gallery, 8th and F Streets NW, Washington, DC 20001
• • •
WMZQFest 2017
Jiffy Lube Live in Bristow, VA hosts the area's biggest country music party of the year this Saturday. WMZQ 98.7 is DC's go-to country station, so it's no surprise that they're responsible for curating this collection of the genre's stars. Lady Antebellum headlines, while stars like Brett Young, Kelsea Ballerini, Jackie Lee, Midland and Brooke Eden will also perform.
5 p.m. | Tickets
Jiffy Lube Live, 7800 Cellar Door Drive, Bristow, VA 20136
• • •
Azizi Gibson
Azizi Gibson is known for his distinctive take on rap music, and it's no surprise. Gibson spent his childhood absorbing cultures around the world, as he spent time in Germany, Thailand, Singapore, Cambodia and Zaire before finally settling in Maryland. When he moved out to L.A., he met producer Flying Lotus, and the rest is history. Gibson established a style all his own, and now releases music on his own imprint, preHISTORIC. His unique approach to rap music will be on full display at the U Street Music Hall this Saturday night.
7 p.m. | Tickets
U Street Music Hall, 1115 U Street NW, Washington, DC 20009
• • •
'When We Were Young and Unafraid'
The Keegan Theatre presents this unflinching tale based in the early 1970s. Agnes' bed and breakfast serves as a sanctuary for victims of domestic violence. However, her latest inhabitant, Mary Anne, begins to influence Agnes' daughter, Penny, as she is about to head off to college. With a feminist revolution gaining steam, Agnes is forced to face new realities regarding the women she's worked to support. This play runs through July 8.
8 p.m. | Tickets
The Keegan Theatre, 1742 Church Street NW, Washington, DC 20036
Sunday
'Revival'
The National Museum of Women in the Arts presents this new exhibit that features stunning work from contemporary female photographers and sculptors. The pieces inside use human and animal bodies to create a wide range of expressions, translated through video projections, photos and hanging sculptures. Your memories and emotions will be triggered by these powerful depictions. The exhibit runs through Sept. 10.
12 – 5 p.m. | Tickets
National Museum of Women in the Arts, 1250 New York Avenue NW, Washington, DC 20005
• • •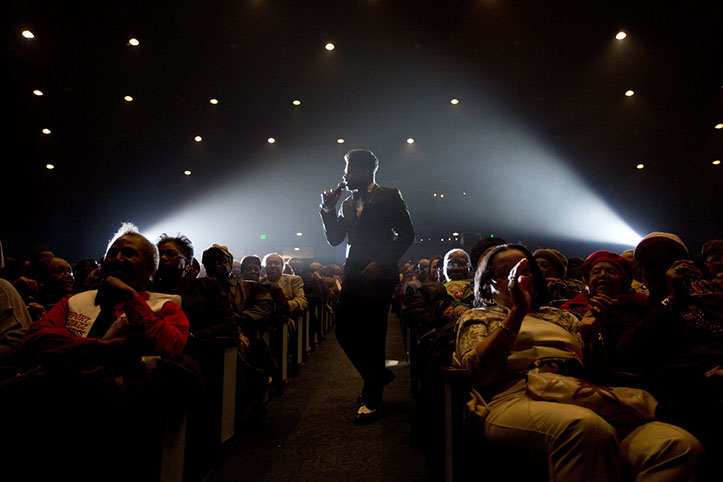 DC Black Theatre & Arts Festival
The seventh annual DC Black Theatre & Arts Festival celebrates contributions by African American artists in the realms of theatre, film, dance, music and art. Choreographers, performers, educators and students from around the world will gather to attend shows, exchange ideas and create new works. Visit the festival's website and Facebook for more details and scheduling.
• • •
'The Second City's Almost Accurate Guide to America: Divided We Stand'
The country's current political climate is ripe for comedy, so The Second City comes to the District to rain laughs down on everyone. One of the finest comic troupes around will enlighten you to the many different versions of America that exist at the moment, detailing events of the last year in a hilarious light. Recommended for ages 16 and up. The production runs through Aug. 13.
3 p.m. & 7 p.m. | Tickets
The John F. Kennedy Center for the Performing Arts, 2700 F Street NW, Washington, DC 20566
• • •
#MyDCcool Photo of the Week
Make sure to share your scenic photos with us using #MyDCcool, and we may feature yours next week!
For more events, festivals and things to do in Washington, DC, check out our events calendar.