Things to Do This Weekend in Washington, DC
Live and virtual events, plus a stay-inside guide for DC music, videos and more for Aug. 14-16
We've got the latest info about what's open and safety guidelines for dining out. As you continue social distancing, we've gathered up some live virtual events and other fun things to do that are going on this weekend. As always, you can also check out tons of on-demand virtual museum tours, neighborhood tours, TV and movies streaming ideas with a DC bent, DC-inspired music playlists, Washington, DC Zoom meeting backgrounds and much more.
Looking for things to do Monday through Thursday? Don't miss things to do this week.
Friday

Dumbarton House's Pick Your Poison: Curator Talk and Cocktails
Virtually discover Dumbarton House's current exhibition, Pick Your Poison, an exploration of drinking in the Federal period, with guest curator Kelly Bresnowitz. After the discussion and a Q&A session, a local bartender will reimagine a classic colonial cocktail for you to remake. No secret password required.
7-8:30 p.m. | Register
• • •

Park Up DC
Now would be an ideal time to enjoy a drive-in movie, right? Events DC and Broccoli City have teamed up to bring you this pop-up event at RFK Campus Lot 5 on weekends through Oct. 31. Enjoy a 45-foot HD LED digital screen and pre-paid delivery food from local food trucks. The event will follow all social distancing guidelines, including the necessity of facial coverings – make sure to visit the event's FAQ page for full clarity on the policies. Peruse the movie lineup and purchase your tickets online – each evening features multiple showings. Note that double features are encouraged and you will not be required to leave your designated 15 ft. x 20 ft. parking space in between screenings.
More Info | Tickets
Screenings begin at 7 p.m.
RFK Campus Lot 5
• • •

Stanley Cup Playoffs: Washington Capitals vs. New York Islanders (Game 2)
Alex Ovechkin and the Caps begin their quest for a second Stanley Cup in three years this week. After playing a set of round robin games inside the NHL's "bubble" at Scotiabank Arena in Toronto and earning the third seed in the Eastern Conference, the boys are set to take on an old friend: former head coach Barry Trotz and his New York Islanders. Game 1 goes down at Scotiabank on Wednesday afternoon at 3 p.m., with Game 2 coming Friday night and Game 3 taking place on Sunday at noon. Prepare yourself for intensity on the ice, as Stanley Cup Playoff action is some of the most fast-paced and unpredictable in sports.
Puck drop: 8 p.m. on NBC Sports Washington (NBC Sports Network nationally)
• • •
Saturday

AP x Delikatessen
All-Purpose Shaw has diversified its portfolio by opening up a Jewish deli. The pop-up is open from 10 a.m. - 3 p.m., every Friday, Saturday and Sunday. CHef Mike Friedman has crafted a delicious menu that features bagel platters with house-cured lox, bagel sandwiches, deli classics (think a Reuben and tuna melt), latkes, black and white cookies, Brooklyn Egg Creams and much more. Meals are available for pre-order and can be picked up as early as 8 a.m.
Pop-up: 10 a.m. - 3 p.m. | Pick-up available beginning at 8 a.m. | Order
• • •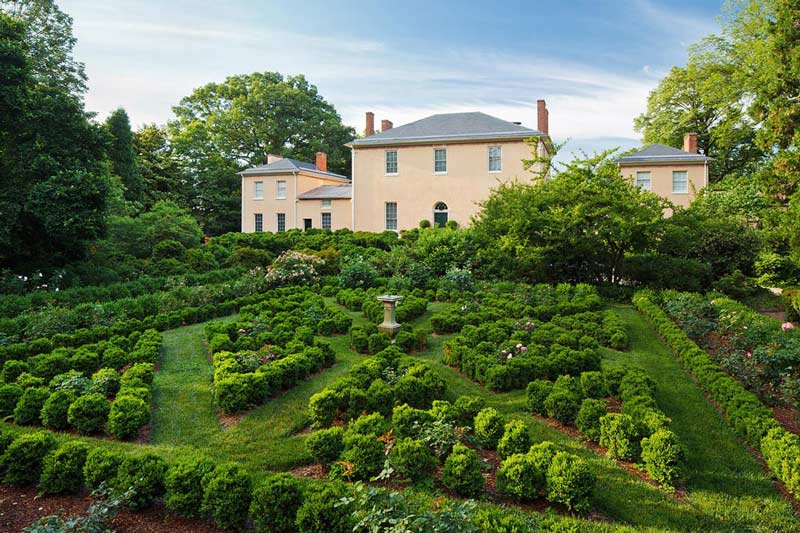 Tudor Place Gardens Re-opening
Visit Tudor Place's gardens and grounds for free with timed tickets that allow up to two hours of wandering. Make sure to read through Tudor Place's health and safety guidelines before booking your visit. The gorgeous grounds can serve as the perfect oasis from the stress of 2020. Note that donations are welcomed and that the grounds will be open from 12-4 p.m., Thursday-Sunday.
12-4 p.m. | Timed Tickets
Tudor Place, 1644 31st Street NW, Washington, DC 20007
• • •

Take a summer road trip with Smithsonian
Smithsonian offers this new 40-page activity guide that will allow kids to take their own summer trip of discovery. Inside, you'll find puzzles, games and hands-on activities that connect kids to history, STEM and the arts. The Smithsonian's collections inform the content inside, which guides learners on a trip to the museums in DC, but not without stops to engage with an artist's gallery and local wildlife and cuisine.
• • •
Sunday

National Museum of Women in the Arts Free Community Day
The National Museum of Women in the Arts is welcoming visitors again, and doing so for free this Sunday! Timed tickets are required to maintain social distancing; masks must also be worn upon entering the building. Read more regarding the museum's safety protocols before reserving a ticket, which will be valid for free entry from 12-5 p.m. A new exhibit to look forward to: Return to Nature, which will present 20 breathtaking photographs from 11 artists through Aug. 30. More than half of the works in the exhibit are being exhibited for the first time.
12-5 p.m. | Timed Tickets
National Museum of Women in the Arts, 1250 New York Avenue NW, Washington, DC 20005
• • •

Smithsonian's Steven F. Udvar-Hazy Center is Open
The Steven F. Udvar-Hazy Center is open during normal operating hours, but tickets must be reserved before going and masks are required for entry. Some artifacts will not be on view due to some planned construction. Food trucks will be available to you and your family if you get hungry outside of the Center.
10 a.m. - 5 p.m. | Tickets
Smithsonian's Steven F. Udvar-Hazy Center, 14390 Air and Space Museum Parkway, Chantilly, VA 20151
• • •​

Dumbarton House's Tea Party in the Pandemic
Don your best at-home attire (you know, pajamas on bottom) and join Dumbarton House for a virtual tea party. Participants should be prepared to bake a Federal period tea-time snack, make tea sandwiches and learn about proper table settings and etiquette. Ingredient and material lists will be sent out in advance.
1-3 p.m. | Register
• • •​
#DCtogether Photo of the Week
Make sure to share your DC photos with us using #DCtogether, and we may feature yours next month!