Live and virtual events, plus a stay-inside guide for DC music, videos and more for April 16-18
Friday
National WWI Memorial First Colors Ceremony
Celebrate the inaugural raising of the flag over the new National World War I Memorial site in the nation's capital. The virtual event aims to "bring our history home," with the American flag that first flew over the U.S. Capitol four years ago returning to its final destination of Washington, DC, except this time, it will fly high above DC's newest memorial. The commemorative flag's journey recalls the epic voyage to Europe by the Doughboys and honors those who made the ultimate sacrifice. The event is free to attend.
10 a.m. |  Register
 
Rich Kids: A History of Shopping Malls in Tehran – Final Weekend
Social media's addictive power is addressed in this new play from Woolly Mammoth Theatre Company, which will be broadcast live on afternoons and evenings through this Sunday. Rich Kids offers a darkly comedic tale of Iran's elite, who are consumed by their phones and their privilege. The play, which won the 2019 Scotsman Fringe First Award, uses an Instagram filter to examine the massive societal change of the time.
Tickets
 
Experience The Capital Wheel
Soar 180 feet in the air on the area's only observation wheel, which spins right on the National Harbor's majestic waterfront. The Capital Wheel features 42 climate-controlled gondola cars that seat up to eight and circle every day and night of the year, providing stunning views of Alexandria, Va., DC's monuments and the Potomac River. Sunset rides are particularly scenic. Use code VISITDC for a 10% discount on tickets through Dec. 31, 2021.
Monday – Thursday, 4-8 p.m. |  Friday – Sunday, 12-8 p.m. |  Tickets
The Capital Wheel at National Harbor, 141 American Way, National Harbor, MD 20745
 
Visit the reopened Tudor Place
You can now visit this scenic estate again on weekends. Tudor Place offers self-guided visits to the historic house and its gorgeous gardens with free timed tickets. Make sure to review its health and safety guidelines as you plan your visit.
Saturday & Sunday, 12-4 p.m. |  Tickets
Tudor Place, 1644 31st Street NW, Washington, DC 20007
 
Saturday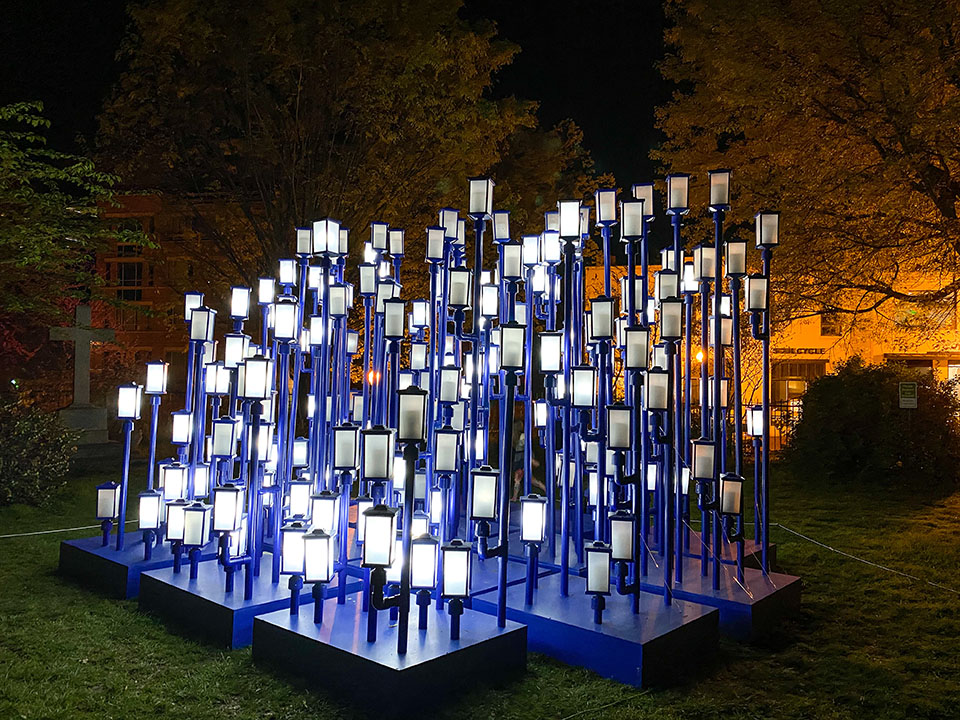 Georgetown GLOW: Spring Edition
After the 2020 edition was postponed due to the COVID-19 crisis, Georgetown GLOW is returning with a two-part series of outdoor installations, with the first lighting up DC's most historic neighborhood through June 27. The region's only free, curated, outdoor public light experience will be open to all both day and night, and you can read up on the spring edition's artists and installations (there are five in total) on Georgetown GLOW's official website. Mark your calendar of the summer edition as well, slated to run from July 2 – Sept. 26.
More info
 
A Boy and His Soul– Final Weekend
Round House Theatre is streaming this captivating production that sees Jay, in the process of cleaning out his family West Philadelphia home, reconnect with his family through the power of music. Upon discovering a robust record collection featuring R&B, classic soul and disco from the 1970s and 80s, Jay is reminded of a quote from his mother: "Keep a song in your heart, and you will always find your way." This one-man show is funny and heartwarming, and serves as perfect comfort food while you're relaxing at home. Upon purchasing a ticket, you can watch A Boy and His Soul on-demand through this Sunday.
Tickets
 
Visit the reopened National Building Museum
After a 16-month hiatus, the National Building Museum, including its Great Hall and gift shop, will reopen to the public this Friday. You will be able to check out new and timely exhibits when you re-enter the museum, including Justice is Beauty: The Work of MASS Design Group and Alan Karchmer: The Architects' Photographer, as well as the museum's Gun Violence Memorial Project. Public programs will still be held virtually and the PLAY WORK BUILD exhibit will remain temporarily closed. The museum will follow all of DC's COVID-19 safety guidelines.
Friday - Sunday, 11 a.m. - 4 p.m. |  Tickets & Safety Information
National Building Museum, 401 F Street NW, Washington, DC 20001
 
Sunday
Teddy Bear and Doll Tea
Dumbarton House hosts this outdoor tea experience meant for the entire family to enjoy. Pack a picnic blanket and a favorite doll or teddy bear to enjoy individually packaged tea boxes on Dumbarton House's grounds. Afterwards, a tour of the estate will be offered and socially distanced games will be available for play. Please remember that masks are required at all times when not enjoying tea. Families will be spaced throughout the grounds.
11 a.m. – 1 p.m. |  Register
Dumbarton House, 2715 Q Street NW, Washington, DC 20007
 
Order a Cinco de Mayo Party Box from Brewvana – Through April 22
Brewvana, an e-commerce brand from the folks at City Brew Tours, has a Cinco de Mayo party planned out for you, complete with a box of goodies sure to send your celebration of Mexican beer to the next level. The curated selection of Mexican flavors includes six craft beers of various styles, a beer cocktail making kit for two, chops and sala, Taza Mexican stone-ground chocolate, coasters, limited-edition beer glasses and more. Order up your box and join beer lovers from all over the country for a virtual event on May 5 from 8-9:30 p.m. that will feature tutorials, pairings and much more. Boxes are available for ordering through April 22. A portion of proceeds go to VAMOS!, a non-profit organization that empowers people in Morelos, Mexico with job opportunities and basic human services.
Order |  Virtual event on May 5: 8-9:30 p.m.
 
Victura Park at The REACH
The John F. Kennedy Center for the Performing Arts' grand expansion, The REACH, hosts this outdoor pop-up wine garden and cafe from Friday through Sunday, just in time for spring. The Hilton Brothers and Chef Erik Bruner-Yang have collaborated on this winery-inspired setting, which offers charcuterie boards and light snacks, as well as beer, wine, adult seltzers and other beverages. Check out the full menu. Note that guests are required to maintain social distance and wear a mask when not sitting down. No more than 10 guests are allowed inside the Pavilion for ordering and payment. You can read about the safety protocols before attending this free pop-up event.
Friday: 4-9 p.m. | Saturday & Sunday: 12-9 p.m.
The REACH at The John F. Kennedy Center for the Performing Arts, 2700 F Street NW, Washington, DC 20566
 
Renewal 2121
In the face of the COVID-19 pandemic and rising concerns over climate change, this installation at ARTECHOUSE will transport you 100 years in the future. You'll be immersed in an industrial city where nature is combating the onslaught of an overreaching metropolis, a stark warning if mankind continues at its current pace. Hope is found through cherry blossoms peeking through neon lights, showing the way for those ready to take action. Renewal 2121 is an original ARTECHOUSE production and was inspired by DC's illustrious cherry blossom season. The exhibit runs through Sept. 6.
Monday – Thursday: 12-8 p.m. |  Friday – Sunday: 10 a.m. – 10 p.m. | Tickets
Safety guidelines
ARTECHOUSE, 1238 Maryland Avenue SW, Washington, DC 20024
 
#DCtogether Photo of the Week
 

Make sure to share your DC photos with us using #DCtogether, and we may feature yours next month!