Our end-of-the-week picks for Oct. 22-24
We've gathered up some live virtual events and other fun things to do that are going on this weekend. You can also read the latest info regarding what's open and reopening in the District, as well as things to do during the week and throughout the month.

Looking for a local perspective delivered directly to your inbox every two weeks? Sign up for our "DC on the Go-Go" Local Newsletter to stay in the know.
Friday
David Driskell: Icons of Nature and History
Along with fellow Howard University graduate Alma Thomas, David Driskell showed that the art of Black people is essential to the story of American art. In this new exhibition at The Phillips Collection, which marks the first comprehensive look at Driskell's collages, paintings, drawings and prints, you can observe more than 50 works and marvel at the legacy of this titanic figure who also worked as a curator, teacher and writer. Driskell's connection to American history and the African diaspora make for timeless pieces that will strongly resonate in 2021.
Tuesday – Sunday, 11 a.m. – 6 p.m. |  Tickets & safety guidelines
The Phillips Collection, 1600 21st Street NW, Washington, DC
 
Hadestown
Winner of eight 2019 Tony Awards (including Best Musical) and the 2020 Grammy Award for Best Musical Theater Album, Hadestown combines the tales of Orpheus and Eurydice and King Hades and his wife, Persephone, into an epic musical love story. Acclaimed singer-songwriter Anaïs Mitchell and director Rachel Chavkin have created a masterpiece that must be seen at the Kennedy Center to be believed. Please note that proof of a negative COVID-19 test within in the last 72 hours or proof of full vaccination is required to enter the venue.
Tickets
The John F. Kennedy Center for the Performing Arts, 2700 F Street NW, Washington, DC 20566
 
The Washington Ballet's Season Opening Performance
The National Building Museum hosts the Washington Ballet's (TWB) first performance of the season inside its illustrious walls. You can enjoy artists from the ballet in classical and celebrated roles as well as original works from TWB. This return to the stage for the company will feature an hour's worth of performances.
7 p.m. |  Tickets
National Building Museum, 401 F Street NW, Washington, DC 20001
 
My Lord, What a Night – Final Weekend
A drama based on the real-life friendship between Marian Anderson and Albert Einstein will light up the stage at Ford's Theatre this October. Based on true events, My Lord, What a Night details the impetus of a kinship between a legendary contralto and perhaps the most famous physicist to ever live. After a performance in Princeton, New Jersey, Anderson is denied lodging because she is Black. Einstein invites her to his home, and the narrative imagines conversations that led to Anderson's historic concert on the steps of the Lincoln Memorial. Please note that proof of a negative COVID-19 test within in the last 72 hours or proof of full vaccination is required to enter the venue.
Tickets
Ford's Theatre, 511 10th Street NW, Washington, DC 20004
 
Saturday
1874 Cup
Rugby history will be made at FedExField when the New Zealand All-Blacks, one of the most successful sports teams on the planet, takes on the U.S. Men's National Rugby Team, The Eagles. The match marks the first time that the All-Blacks have played in DC since 2016. Why is it called the 1874 Cup? That year saw the first organized rugby match in U.S. history, when teams from McGill and Harvard University squared off. Tickets are going fast for this unique sporting event, so make sure to grab yours and get ready for some world-class rugby.
3 p.m. |  Tickets
FedExField, 1600 FedEx Way, Greater Landover, MD 20785
 
Fall Harvest Festival
'Tis the season at Mount Vernon, where fall truly shines across the estate's beautiful grounds. Head to George Washington's former abode for this Fall Harvest Festival, held this Saturday and Sunday. Among the activities: cooking and spinning demonstrations, visits with colonial surveyors, horseshoeing, textile dying and much more. A beer tasting event is also offered.
9 a.m. – 5 p.m. |  Tickets
George Washington's Mount Vernon, 3200 Mount Vernon Memorial Highway, Mount Vernon, VA 22121
 
Smithsonian Craft Show
This year's Smithsonian Craft Show is a free and virtual nine-day (Oct. 23-31) celebration of fine American crafts to benefit the Smithsonian Institution. This event will feature more than 100 artists in individual online shops, allowing consumers to search for treasures across wearable art, basketry, furniture, glass, jewelry and much, much more.
More info
 
New Glass Now
The Renwick Gallery showcases the creativity and dexterity of architects, artists and designers who work in one of the world's most challenging materials: glass. New Glass Now will consist of objects, videos, installations and performances from 50 different artists in 23 countries, allowing visitors to marvel at the tremendous skill of contemporary glass-making.
Wednesday – Sunday, 10 a.m. – 5:30 p.m. |  Free admission |  Safety guidelines
Renwick Gallery, Pennsylvania Avenue at 17th Street NW, Washington, DC 20006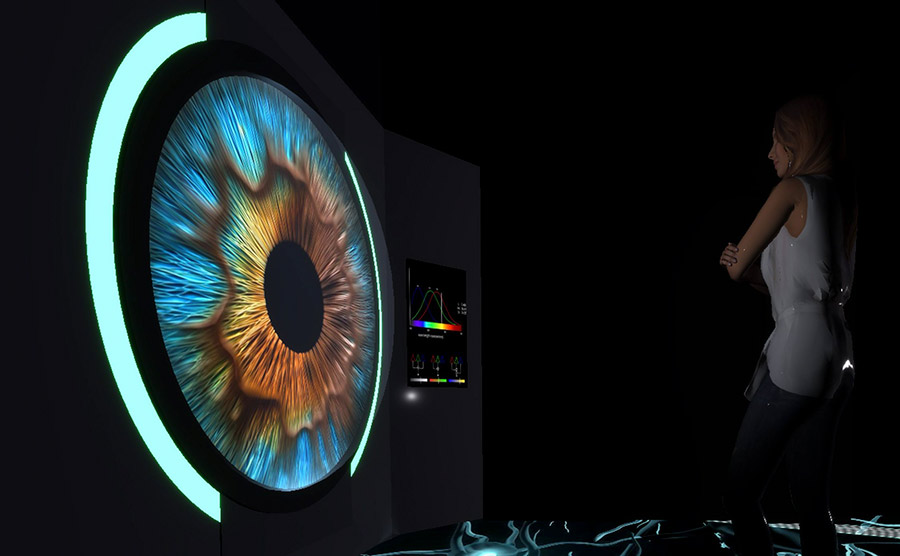 Artechouse
Life of a Neuron
This new exhibit at ARTECHOUSE will take you through the thinking cells of the brain, diving into one of the world's greatest mysteries. Artists and scientists collaborated on this fascinating experience that will showcase how the brain shapes our experiences. Thanks to the Society for Neuroscience, ARTECHOUSE allows you to see a neuron from pre-birth to death, allowing for an immersive journey to the center of the mind. Book a discounted trip through the museum at the link for 'Tickets' below. The exhibit runs through Nov. 28.
Monday – Thursday: 12-8 p.m. |  Friday – Sunday: 10 a.m. – 10 p.m. |  Tickets
Safety guidelines
ARTECHOUSE, 1238 Maryland Avenue SW, Washington, DC 20024
 
Ronald K. Brown/EVIDENCE and Meshell Ndegeocello
Visionary choreographer Ronald K. Brown teams up with vocalist, composer and bassist Meshell Ndegeocello to bring this cutting edge production to Kennedy Center's Eisenhower Theater. This performance will feature three works, including a co-commission with the Kennedy Center, a rendition of a masterful 1999 piece for the Alvin Ailey American Dance Theater and a new work by Brown. Please note that proof of a negative COVID-19 test within in the last 72 hours or proof of full vaccination is required to enter the venue.
Tickets
The John F. Kennedy Center for the Performing Arts, 2700 F Street NW, Washington, DC 20566
 
Sunday
Aquatint: From Its Origins to Goya
More than 100 exceptional examples of the aquatint technique recently acquired by the National Gallery of Art constitute the first American exhibition to highlight the medium's development across Europe. The artistic range of aquatint led to striking images, including tombs, volcanoes,  moonlit vistas and caricatures, from French, British, Italian, German, Dutch and Spanish printmakers in the 18th century. 
Open 10 a.m. – 5 p.m. daily |  Free admission |  Safety guidelines
National Gallery of Art, 6th Street & Constitution Avenue NW, Washington, DC
 
Día de los Muertos at the Wharf
The Wharf, Mi Vida Restaurant, Modelo and Fiesta DC turn the District Pier into a tribute to the Day of the Dead on Sunday from 2-5 p.m. Expect vibrant live music, delicious street food, a wondrous beer garden, sugar-skull decorating, face-painting and prizes for the most authentic outfit.
2-5 p.m. |  Free admission
District Pier at The Wharf, 101 District Square SW, Washington, DC 20024
 
N
The Keegan Theatre hosts the regional premiere of this fascinating historical drama by Adrienne Pender. Based on a true story, N takes you back to 1921, when Eugene O'Neill's The Emperor Jones became the first American play to feature a Black actor in the lead role on Broadway. That actor, Charles S. Gilpin, rose to stardom, along with O'Neill. Just five years later, the latter was a legend, while the former was lost to history. Gilpin wanted O'Neill to remove the n-word from the play; O'Neill refused, leading to Gilpin's removal from the role. Don't miss this thought-provoking look at the history of racism in American theater. Please note that proof of a negative COVID-19 test within in the last 72 hours or proof of full vaccination is required to enter the venue.
Tickets
Keegan Theatre, 1742 Church Street NW, Washington, DC 20036
 
Café Flamenco
Celebrate Hispanic Heritage Month at the Atlas Performing Arts Center with Café Flamenco. This popular, cabaret-style event features traditional flamenco dance and live music performed by dancers from Furia Flamenca Dance Company and guitarists Maestro Torcuato Zamora and Juan L. Romero. Make sure to review the Center's health and safety protocols before attending this vibrant event.
4 p.m. & 7 p.m. |  Tickets
Atlas Performing Arts Center, 1333 H Street NE, Washington, DC 20002
 
#MyDCcool Photo of the Week

Make sure to share your DC photos with us using #MyDCcool, and we may feature yours next month!