16 Things to Do This Weekend in Washington, DC
Our end-of-the-week picks for Dec. 6-8 include holiday celebrations, shows, displays and markets, as well as can't-miss concerts and museum exhibits.
Check out our end-of-the-week picks and discover all of the best events, festivals, museum exhibits, concerts and more happening in the nation's capital.
Friday

Rosa Parks: In Her Own Words
You may know Rosa Parks thanks to her incredibly courageous act on a bus in Montgomery, Ala. on Dec. 1, 1955, when she refused to give up her seat to a white man in the midst of Jim Crow segregation in the South. However, Parks' life and contributions to the Civil Rights movement went well beyond that incident, as she helped free the Scottsboro Boys in the 1930s and assisted in operating the office of the NAACP in Montgomery in the 1940s and 50s. This exhibit at the Library of Congress, which opens Thursday, will provide an in-depth look at Parks' life and activism through rare materials, illuminating one of the most important figures in American history.
8:30 a.m. – 4:30 p.m. | Free admission
Library of Congress, 101 Independence Avenue SE, Washington, DC 20540
• • •

The National Christmas Tree
While this lighting ceremony is sold out on Thursday, the National Christmas Tree display can be visited for free from 10 a.m. to 10 p.m. daily throughout the holiday season (through New Year's Day). The tree itself is lit each day from 4:30-10 p.m. The National Christmas Tree is DC's claim to fame during the holidays, and for good reason. The gorgeous conifer lives in President's Park on the White House Ellipse, where it's surrounded by trees decorated with handmade ornaments from 56 U.S. states and territories and is accompanied by nightly musical performances throughout the holiday season.
10 a.m. – 10 p.m., tree lit from 4:30-10 p.m. | Free admission
The Ellipse, 15th & E Streets NW, Washington, DC 20500
• • •

Christkindlmarkt
Heurich House Museum's famed Castle Garden will host the Christkindlmarkt throughout the weekend. Tickets grant you access to the arts and crafts-laden market featuring goods from more than 40 vendors and the historic mansion, which will be decorated to the nines.
4-6 p.m. | Tickets
Heurich House Museum, 1307 New Hampshire Avenue NW, Washington, DC 20036
• • •

GRUMP Holiday Market
Smithsonian's National Zoo adds an alternative arts and crafts show to its ZooLights celebration. Local artists and makers will showcase their creations in a European-style outdoor market. GRUMP will be centrally located at the Zoo's Connecticut Avenue entrance throughout the weekend. Expect handmade jewelry, clothing, prints, toys, home decor and much more across the three-day showcase. Admission is free.
5-9 p.m. | Free admission
Smithsonian's National Zoo, 3001 Connecticut Avenue NW, Washington, DC 20008
• • •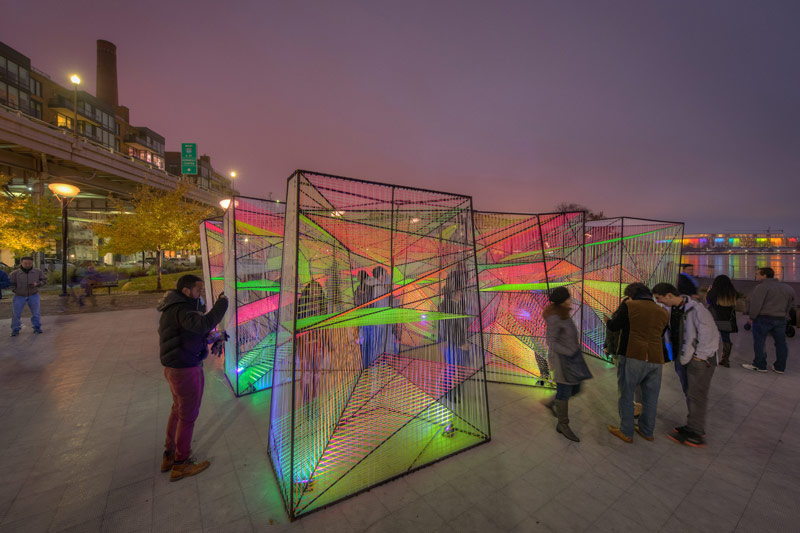 Georgetown GLOW
This stroll through DC's most historic neighborhood will certainly make you light up as you pass by unique, illuminated artworks. Georgetown GLOW has proven to be such a hit that it's now a month-long celebration that begins Friday and runs through Jan. 5, 2020. A group of artists, from locally renowned to internationally celebrated, will display works in outdoor spaces throughout the neighborhood. Afterwards, wander through a winter wonderland at The Washington Harbour, one of our favorite places to ice skate in the District.
5-10 p.m. | Free admission
• • •
The Illusionists – Magic of the Holidays
If you're looking for holiday magic, well, you've found the right show. The Illusionists will bring astonishing and sophisticated acts and tricks to the stage at the illustrious National Theatre. Audiences around the world have had their jaws dropped and their minds blown by this traveling spectacular. Don't try to figure out the trick because, well, you won't … and you'll be too thrilled to care. The show runs from Tuesday through Sunday.
8 p.m. | Tickets
National Theatre, 1321 Pennsylvania Avenue NW, Washington, DC 20004
Saturday

Native Art Market
The National Museum of the American Indian hosts the 14th edition of this cultural market that arrives just in time for holiday season. Both traditional and contemporary works from more than 35 Native artists will be for sale, including fine apparel, beadwork, dolls, pottery, prints, jewelry and sculpture. Attendees will have the chance to meet artists and learn about Native American traditions and creativity.​ The market will be open on Saturday and Sunday.
10 a.m. – 5:30 p.m. | Free admission​
National Museum of the American Indian, 4th Street & Independence Avenue SW, Washington, DC 20560
• • •

'Becoming Jane'
The National Geographic Museum partnered with the Jane Goodall Institute to create an exhibit that highlights the incredible accomplishments of the legendary anthropologist. Chronicling her historic work with chimpanzees, the exhibit features jaw-dropping images, a 3-D exploration of Gombe Stream National Park, a life-size hologram of Goodall, a replica of her research tent and more.
10 a.m. – 6 p.m. | Tickets
National Geographic Museum, 1145 17th Street NW, Washington, DC 20036
• • •

'AURORA: The Spirit of Northern Lights'
ARTECHOUSE brings the northern lights and the aurora borealis to the nation's capital for this special holiday installation. The immersive exhibit, which opens Saturday and runs through Jan. 5, will let you shape light and frost, accessing your winter superpowers as you encounter dancing skies and magical illuminations. Visitors will also be able to learn of the technology behind this wonderful experience, which includes its own narrative featuring a stylized northern forest. When purchasing your tickets, make sure to use the code "AEF10" for 10% off your admission. This promotion benefits local students through the American Experience Foundation
Tickets
ARTECHOUSE, 128 Maryland Avenue SW, Washington, DC 20024
• • •

Swedish Christmas Bazaar
Held at the House of Sweden, this annual DC tradition takes place on the first Saturday in December every year. The event features a Swedish marketplace with for-sale crystal glassware, textiles, books, artworks and even homemade bread. Snack on Swedish delicacies like "fika" and "glögg" in the café and stick around for the main event: the St. Lucia procession with traditional caroling.
11 a.m. – 6 p.m. | Free admission
House of Sweden, 2900 K Street NW, Washington, DC 20007
• • •

District Holiday Boat Parade
Each year, dozens of dazzling boats traverse the Potomac River from the waterfront in Alexandria, Va. to the The Wharf. You can observe free of charge, and there are even holiday festivities on both sides of the river to enjoy beforehand for this year's parade. Prizes will be awarded to the most beautiful vessels, which begin their journey at 6 p.m., and fireworks will cap off the parade at 8 p.m.
6-9 p.m. | Free admission
The Wharf, 1100 Maine Avenue SW, Washington, DC 20024
• • •

NPR's 'A Jazz Piano Christmas'
Every year, National Public Radio (NPR) and the Kennedy Center join forces to bring outstanding jazz pianists together to perform their favorite Christmas classics for one night only. This holiday tradition has become a favorite in the District.
7 p.m. & 9 p.m.| Tickets
The John F. Kennedy Center for the Performing Arts, 2700 F Street NW, Washington, DC 20566
• • •

The Second City's 'Love, Factually'
America's most beloved comedy collective, The Second City, takes on one of America's most beloved holiday films, Love, Actually, in this farcical mash-up that will provide plenty of belly laughs. Mixing an original romantic tale with stories and characters from the classic film, Love, Factually contains music, improv and audience participation to go along with its heaps of comedy and parody. The play opens Tuesday and runs through Dec. 29.
8 p.m. | Tickets
The John F. Kennedy Center for the Performing Arts, 2700 F Street NW, Washington, DC 20566
Sunday

'Now Showing: Posters from African American Movies' – Through Nov. 1, 2020
This exhibit at the National Museum of African American History and Culture, which is open through Nov. 1, 2020, explores movie poster art for films by and featuring black filmmakers and performers. Movie posters double as art and advertising, so examining a set can provide both narrative and historical context for the films depicted. Some are simply fascinating visual spectacles. Visitors will become acquainted with icons of black cinema across the 400 original posters and lobby cards featured.
10 a.m. – 5:30 p.m. | Free admission | Timed Entry Passes
National Museum of African American History and Culture, 1400 Constitution Avenue NW, Washington, DC 20560
• • •
The Second City's 'She the People: The Resistance Continues!'
It's time for a she-quel at Woolly Mammoth Theatre. The Second City returns with a new version of She the People that packs in even more satire than the first, if that's possible. The all-female cast riffs on the reality of womanhood, myths that surround body positivity, bachelorette parties, Beyoncé and the 2020 election. Expect improv brilliance at one of the city's most offbeat theaters. The show opens Monday and runs through Jan. 5.
2 p.m. & 7 p.m. | Tickets
Woolly Mammoth Theatre, 641 D Street NW, Washington, DC 20004
• • •
Bob Dylan & His Band
Bob Dylan has been a staple of popular music for nearly 60 years, a towering presence in the history of both folk and rock music. From his humble beginnings playing coffee shops in Greenwich Village armed with only an acoustic guitar and lyrics rife with rebellion to his dabbling in country to his conversion to an electric sound to his complex recordings in the 1970s and beyond, Dylan has served as a vital inspiration to countless musicians every step of the way. See the legend in his twilight years during this show at The Anthem.
8 p.m. | Tickets
The Anthem, 901 Wharf Street SW, Washington, DC 20024
#MyDCcool Photo of the Week
Make sure to share your scenic photos with us using #MyDCcool, and we may feature yours next week!