15 Things to Do This Weekend in Washington, DC
Our end-of-the-week picks for March 23-25 – including the National Cherry Blossom Festival opening weekend, the March for Our Lives and more
If you're traveling to Washington, DC this weekend for the March for Our Lives or the National Cherry Blossom Festival, please make sure to familiarize yourself with the best transportation options and where to park in the nation's capital.
Friday
National Cherry Blossom Festival
Soak up the season during DC's world-famous springtime celebration honoring Japan's gift of 3,000 cherry blossom trees in 1912 from March 20 – April 15. Peak bloom is predicted from March 27-31, and there's so much more to see and do in addition to the blooming petals. Attend signature events including the Opening Ceremony (March 25), the Blossom Kite Festival (March 31), Petalpalooza, formerly known as the Southwest Waterfront Fireworks Festival (April 7) and the National Cherry Blossom Festival Parade presented by Events DC (April 14). View the full schedule of events and start planning your cherry blossom-themed fun in the District.
• • •
'UnSeen: Our Past in a New Light, Ken Gonzales-Day and Titus Kaphar'
Two contemporary artists highlight misrepresentations of minorities in American portraiture in this new National Portrait Gallery exhibit running from this Friday through Jan. 6, 2019. Ken Gonzales-Day uses photography of sculptures, busts and ethnographic casts to create installations that show how the notion of "Otherness" has become intertwined with race, while Titus Kaphar defaces his paintings to reveal how portraits of American icons have coded racial differences and left out African Americans from their representations.
11:30 a.m. – 7 p.m. | Free admission
National Portrait Gallery, 8th and F Streets NW, Washington, DC 20001
• • •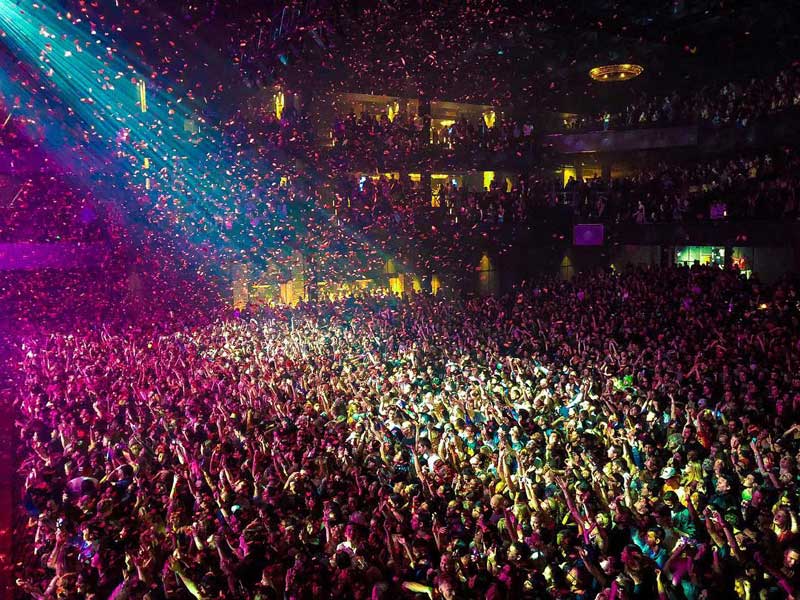 Stay Amped: A Concert to End Gun Violence
On the night before the March for Our Lives, The Anthem will host this special concert to benefit gun violence prevention. The all-star lineup includes Fall Out Boy, G-Eazy and Bebe Rexha. Student tickets can be purchased for half-price at box offices at The Anthem, 9:30 Club, Lincoln Theatre and Merriweather Post Pavilion with a valid student ID (limited to two tickets per person).
7:30 p.m. | Tickets
The Anthem, 901 Wharf Street SW, Washington, DC 20024
• • •
Mark Morris Dance Group and Silk Road Ensemble: 'Layla and Majnun'
Tragic love is at the center of this collaborative production set to be staged at the Kennedy Center from Thursday through Saturday. Layla and Manjun is an ancient tale of star-crossed lovers, much like Romeo and Juliet. Manjun is in perpetual search of his childhood love, Layla, which leads to controversy and misfortune. The Mark Morris Dance Group's accessible dancing style will be accompanied by the acclaimed Silk Road Ensemble in this epic performance.
7:30 p.m. | Tickets
The John F. Kennedy Center for the Performing Arts, 2700 F Street NW, Washington, DC 20566
• • •
Broadway Center Stage: 'In the Heights'
Lin-Manuel Miranda's Tony-winning first play will be staged at the Kennedy Center from March 21-25. The play, which will star Vanessa Hudgens in the main role, focuses on New York City's Washington Heights neighborhood, a multicultural community on the verge of change. The play encounters numerous characters and their stories, with music and lyrics by Miranda guiding the way. Tickets have unfortunately sold out, but make sure to check the secondary market.
8 p.m.
The John F. Kennedy Center for the Performing Arts, 2700 F Street NW, Washington, DC 20566
Saturday
'To Dye For: Ikats from Central Asia'
Ikat is a popular type of fabric made in Central Asia. The word means "to tie" in Malaysian, which is appropriate for the technique used to make ikats: threads are tediously patterned by binding and dyeing before being woven together. Over time, ikats have been increasingly used by designers, from couture gowns to T-shirts to sofa coverings. This exhibit at the Freer|Sackler galleries, which runs from this Saturday through July 29, will display roughly 30 ikat hangings and coats, showcasing the technical wizardry and historical prominence of the fabric.
10 a.m. – 5:30 p.m. | Free admission
Freer|Sackler Galleries, 1050 Independence Avenue SW, Washington, DC 20560
• • •
March for Our Lives
The March for Our Lives will take place at 12 p.m. this Saturday in Washington, DC on Pennsylvania Avenue between 3rd and 12th Streets NW. According to a permit filed with the National Park Service, the march will include "student speakers, musical performers, guest speakers and video tributes," and up to 500,000 people are expected to attend. Check out our FAQ on marching in Washington.
12 p.m.
Pennsylvania Avenue NW, between 3rd and 12th Streets NW, Washington, DC
• • •
'Translations'
Set in Ireland circa 1833, Translations is a rumination on the power of language. The British army arrives in County Donegal and begins drawing new borders and translating local place names into the King's English. As a result, disagreement, violence and even romance are brought about, leading to a captivating play penned by one of Ireland's greatest playwrights, Brian Friel. Translations will run at Studio Theatre from this Wednesday through April 22.
8 p.m. | Tickets
Studio Theatre, 1501 14th Street NW, Washington, DC 20005
• • •
Demi Lovato
With "Sorry Not Sorry" a platinum hit and her new album, Tell Me You Love Me, an undeniable smash hit, Demi Lovato is currently conquering the world, one thrilling live concert at a time. Her North American tour touches down at Capital One Arena next, and she'll have special guest DJ Khaled with her. Prepare yourself for one hell of a party in the nation's capital on Saturday night.
7:30 p.m. | Tickets
Capital One Arena, 601 F Street NW, Washington, DC 20004
• • •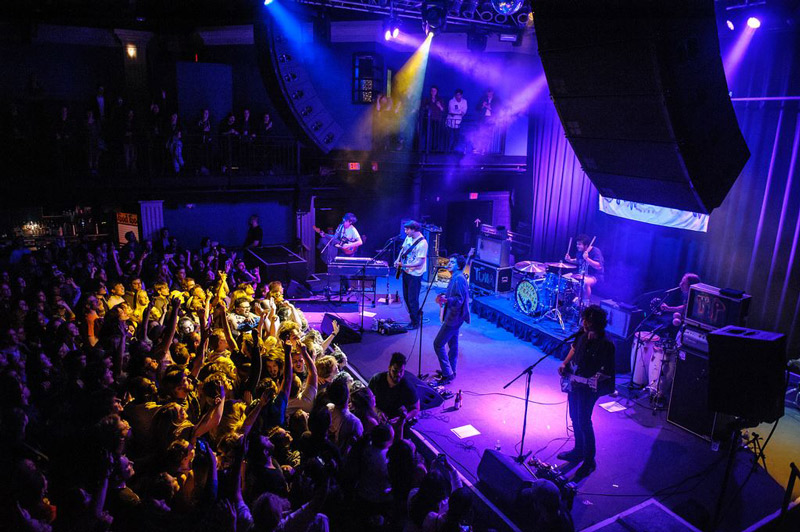 Godspeed You! Black Emperor
Godspeed You! Black Emperor make music that transcends speakers, headphones and stages. Their instrumental soundscapes have captivated fans and critics for more than 20 years. The Canadian collective is considered the forebears of the post-rock genre, and for good reason. Their albums register as journeys, as do their epic live shows, which feature myriad instruments to completely envelop the audience. The historic 9:30 Club welcomes these living legends on Saturday night.
8 p.m. | Tickets
9:30 Club, 815 V Street NW, Washington, DC 20001
• • •
Woolly Bacchanal: An Evening of Mammoth Indulgence
Dock 5 at Union Market hosts Woolly Mammoth Theatre Company's annual celebration of DC's arts community and business leaders. Expect food, drinks, dancing and plenty of discussion and support of the groundbreaking plays that the company stages. Last year's Bacchanal sold out, so make sure to get your tickets quickly to this one.
6:30 p.m. | Tickets
Dock 5 at Union Market, 1309 5th Street NE, Washington, DC 20002
Sunday
'Cézanne Portraits'
The National Gallery of Art presents the first exhibit devoted to Paul Cézanne's influential and highly regarded portraits. From this Sunday through July 1, visitors will be able to immerse themselves in the artist's portrait practice, as the exhibition also features the first full visual account of Cézanne's process for these post-impressionist works. Several of the paintings are exclusive to the Gallery, while some have never been shown in the U.S. before. Expect plenty of attention to be drawn to this exploration of one of history's greatest painters.
11 a.m. – 6 p.m. | Free admission
National Gallery of Art, 6th and Constitution Avenue NW, Washington, DC 20565
• • •
'Waves, all that Glows Sees'
Take your littlest one to the Kennedy Center for this family production by Le Théâtre Des Confettis from Canada. Families can follow a path of shells and stones to a comforting tent on the stage, where seaside scenery awaits. Music and dreams of the ocean come next, articulated through sand shaping, shadow puppets and sound effects. The two performers bring the sea to life in this truly distinctive performance that is most enjoyed by ages 18 months to four years. The show runs from this Saturday through April 1.
1:30 p.m. | Tickets
The John F. Kennedy Center for the Performing Arts, 2700 F Street NW, Washington, DC 20566
• • •
National Cherry Blossom Festival Opening Ceremony
Diehard blossom-goers make a point to be official about their visit by reserving tickets to this free event. Experience the festival on stage through traditional and contemporary performances at the Warner Theatre, with a lineup that includes Japanese singers, ensembles and even a drumming group. Note that there will be a $5 registration fee when tickets are claimed.
5 - 6:30 p.m. | Tickets
Warner Theatre, 513 13th Street NW, Washington, DC 20004
• • •
of Montreal
Sprung from the mind of singer/songwriter Kevin Barnes, of Montreal is one of indie rock's enduring treats, a project that has kept fans guessing for more than two decades. The group, which features an ever-rotating cast of members besides Barnes, is also prolific, with nary a year going by without one or two releases. Bank on hearing a wide-ranging set that will veer from upbeat, sunny pop to dirgy disco to funk spasms without ever breaking a sweat.
7 p.m. | Tickets
9:30 Club, 815 V Street NW, Washington, DC 20001
• • •
#MyDCcool Photo of the Week
Make sure to share your scenic photos with us using #MyDCcool, and we may feature yours next week!
For more events, festivals and things to do in Washington, DC, check out our events calendar.