The District is filled with plenty of outdoor adventures that won't cost you a cent. Explore the best free outdoor activities, from national parks in and around the city to modern art on the National Mall.
You will have no issue finding free outdoor activities in Washington, DC. From hiking, running and biking routes such as the Capital Crescent Trail to awesome places like Rock Creek Park, there are so many things to do outdoors in the nation's capital. Check out some of the city's best free outdoor activities below.
01
Explore Rock Creek Park
DC's ultimate outdoor mecca is Rock Creek Park, a 4.4-square-mile expanse that includes numerous trails for hiking, biking and exploring. There's more to like about the park, too, like a nature center, picnic areas, riding stables, tennis courts and Peirce Mill, a historical site.
02
Walk or run along the C&O Canal Towpath in Georgetown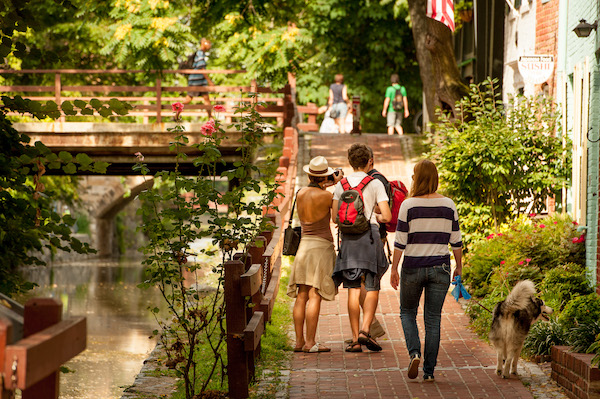 Grab your hiking boots and join the bikers trekking their way down the C&O Canal Towpath, which traces the Potomac River from Georgetown 184.5 miles north to Cumberland, Md. Expect awesome visuals along the way.
03
Enjoy modern art outdoors
Stroll through the National Gallery of Art's Sculpture Garden and admire works from artists like Roy Lichtenstein, Alexander Calder and Robert Indiana. The garden features seating for visitors and a fountain that has turned into an ice rink in past winters. The park also hosts Jazz in the Garden on Friday evenings in the summertime.
04
Make your way down the Anacostia Riverwalk Trail
The southeast pocket of DC has undergone significant development in recent years, including a continuous new 20-mile Anacostia Riverwalk Trail that runs along both sides of the Anacostia River through the Capitol Riverfront and Anacostia neighborhoods. Run, bike or stroll down the 10-12 foot wide trail that winds next to the revitalized waterway.
05
Visit Roosevelt Island
Reachable by footbridge off the George Washington Memorial Parkway, Theodore Roosevelt Island pays homage to the great conservationist. You will find nearly two miles of trails that traverse through forest and wetland, as well as a 17-foot statue dedicated to the historic figure. Via the trails, you can encounter beautiful views of the Potomac River.
06
No stair stepper, no problem
Head to the Watergate Steps, near the Arlington Memorial Bridge and close to the National Mall and Foggy Bottom, and take a jog up and down the famous stairs. There's also the infamous 'Exorcist' Steps in Georgetown, known for their inclusion in the classic DC-based horror film from 1973.
07
Experience Great Falls Park on admission-free days
Home to the popular Billy Goat Trail, Great Falls Park is the perfect place to explore nature and is only a 30-minute drive from DC. The 800 acres of scenic parkland consists of hiking trails, cascading rapids and spectacular waterfalls. While regular admission to Great Falls Park is typically $20 per vehicle and $10 per individual on foot or a bike, the park is free-to-enter on Martin Luther King, Jr. Day, the first day of National Park Week, National Public Lands Day and Veterans Day (check the Great Falls website for more information). 
08
Check out Walkingtown DC
Cultural Tourism DC showcases the incredible walkability of the nation's capital during this week-long public tour program that is annually held in September. Walkingtown DC includes more than 70 guided walking tours throughout the District, introducing attendees to the art, culture and history of the city. Tours come in many variations, from after-work "happy hour" soirees to long weekend tours. Historians, licensed tour guides, community leaders and business owners, among others, host these excursions that will take you to both well-known and hidden gems across DC.
09
Revel in the beauty of the U.S. National Arboretum
The beloved U.S. National Arboretum is open Monday through Sunday from 8 a.m. to 5 p.m. Note that the National Bonsai & Penjing Museum's tropical conservatory and exhibits gallery are closed until further notice. The Arboretum aims to increase the aesthetic, environmental and economic importance of landscape and ornamental plants. The gorgeous, 446-acre property makes for an inspiring and visually captivating visit at any time of the year.
10
Catch some fresh air at Kenilworth Park & Gardens
About five miles northeast of Anacostia, you'll find this natural wonder. Come for a visit, and you'll likely share the park with photographers, birders and even dog-walkers. Enjoy summer flowers, which bloom between late May through September. Mornings are the best times to see the famed water lilies and lotuses. For wildlife, be on the lookout from October through March, when lack of foliage makes birding for bald eagles easier. From Anacostia, the best way to get there is via a rideshare app like Uber, on bike or on the V2 Metrobus. Otherwise, take the Orange Line to the nearby Deanwood Metro station.