Take a minute to appreciate the scenery when enjoying these District destinations
Whether you require a rest after a long day of touring and exploring or simply desire a breathtaking view to round out your day, DC has plenty of places to pit stop while simultaneously taking in a gorgeous vista. Read below for some of the best bench views in the District.
01
National Mall
Okay, we know this destination is likely on your must-see list already. However, note that as you explore the Mall and all of its landmarks and museums, there are plenty of benches for chilling and taking in the gorgeous scenery of the area. There are also a litany of food trucks nearby if you need a snack or it's lunchtime.
02
The National Gallery of Art's Sculpture Garden
Take a timeout from the hustle and bustle of downtown with a reverie inside the National Gallery of Art's beloved Sculpture Garden. Admire the wondrous art all around you in the garden, which features a fountain in the warmer months and an ice skating rink in the winter.
03
National Harbor
Just across the Anacostia River in Maryland, National Harbor offers great dining, shopping and gambling at MGM National Harbor, in addition to the elevated fun on the Capital Wheel. On the pier towards the Wheel, find a bench to take in the waterfront, pick out a favorite yacht and wait for your ride back to the city on a water taxi.
04
Kogod Courtyard
Perhaps DC's most popular place to post up, the Kogod Courtyard inside the National Portrait Gallery and Smithsonian American Art Museum offers protection from outside elements, an array of spaces to sit and relax (or get work done) and plenty of natural light. Make sure to grab a snack or pick-me-up from the Courtyard Café while you relax.
05
C&O Canal Towpath
After getting your fill of food, history and shopping in Georgetown, why not take a break along the C&O Canal Towpath? Originally built for the mules towing canal boats, you can hang out next to the water, observe native plants and view historic architecture along this urban oasis. You'll see plenty of walkers and bikers and on another day, feel free to join them! Make sure to read up on additional trails in DC.
06
Nationals Park
During a family outing to see a Washington Nationals ballgame, the kids are likely to run you ragged. No worries: there are benches for you to catch your breath right near the kids' play area inside Nationals Park. There's also an awesome mural to admire and plenty of F&B options nearby.
07
Arlington National Cemetery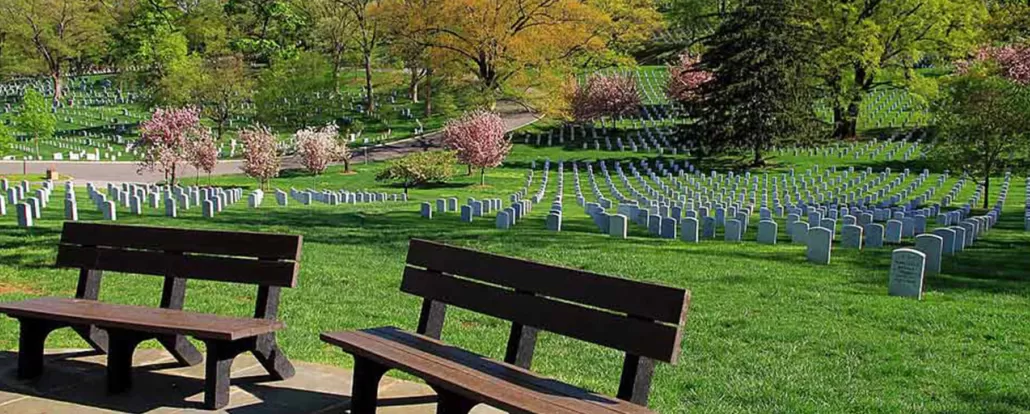 Carving out time to reflect is an essential component of any visit to the Arlington National Cemetery. There are plenty of quiet places to pay reverence and ponder the sacrifices made by the heroes memorialized at the cemetery. Views of the DC skyline and the Potomac River can also be enjoyed while on the grounds.