Things to Do This Weekend in Washington, DC
Live and virtual events, plus a stay-inside guide for DC music, videos and more for July 3-5
We've got the latest info about what's open and safety guidelines for dining out. As you continue social distancing, we've gathered up some live virtual events and other fun things to do that are going on this weekend. As always, you can also check out tons of on-demand virtual museum tours, neighborhood tours, TV and movies streaming ideas with a DC bent, DC-inspired music playlists, Washington, DC Zoom meeting backgrounds and much more.
Looking for things to do Monday through Thursday? Don't miss things to do this week.
Friday

Filmfest DC At Home
The city's annual international film festival has traded screenings for streamings in its effort to shine a light on global and independent cinema. Film viewings are free, and best of all, they are on-demand for a week after they first become available. Through Friday, you can watch We Have Boots, which is making its U.S. debut. Evans Chan showcases the revolutionaries in Hong Kong, from their beliefs and goals to their personalities and the risks they take for their democratic aspirations. You will also be able to view two panel discussions that discuss the history and current state of Hong Kong.
• • •

Smithsonian Folklife Festival: Beyond the Mall
Through this Sunday, the beloved Smithsonian Folklife Festival hosts daily online events that highlight the role of culture in facing the world's challenges. On Friday from 7:30-8:30 p.m., you can groove in your living room to sounds from two latina DJs: Oakland's DJ Leydis and DC's Kristy la rAt. Make sure to peruse the entire schedule to plan your digital adventures.
• • •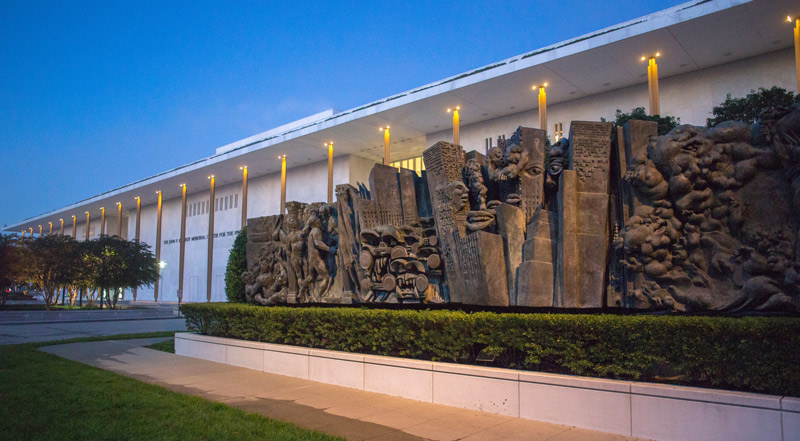 The Kennedy Center's Couch Concert: National Spotlight
Before staying at home swept the world, the Kennedy Center's Millennium Stage held free daily performances at 6 p.m. for any and all to see. More recently, Millennium Stage has kicked off its virtual companion: Couch Concerts. Fridays showcase Kennedy Center artistic directors, Turnaround Arts artists, the National Symphony Orchestra and the Washington National Opera.
4 p.m. on YouTube Live and Facebook Live
• • •

Art Chat @ Five: Picturing History
The National Museum of Women in the Arts hosts this series of informal 30-minute art chats about selected works from the museum's collection. The Art Chats kick off with this Friday's focus on history and how certain pieces tell tales from the past in unique ways. Sign up quickly - the chat can host a maximum of 20 attendees.
Register
5-5:30 p.m.
• • •

Friday Nights From Home Concert Series: AZTEC SUN
The Capitol Riverfront BID has moved its Friday night summer concerts to the virtual stage thanks to a special partnership with DC Fray. Get the full Capitol Riverfront experience by ordering some takeout or delivery from local faves like Bonchon Navy Yard, Ice Cream Jubilee or Osteria Morini before the show. This week, enjoy a performance by AZTEC SUN, the final concert of the series.
5-8 p.m. on Facebook
• • •
Saturday

Celebrate Independence Day Safely in the District
Each year, Washington, DC celebrates the Fourth of July with a bang. While 2020 presents a different set of circumstances due to COVID-19, there are still plenty of DC-flavored ways to celebrate Independence Day. Check out our piece that features numerous and safe ways to honor the holiday.

• • •

Yoga Live from the U.S. Botanic Garden
WithLoveDC hosts online yoga for free, courtesy of the U.S. Botanic Garden, where yogis can usually take advantage of a weekly class at the conservatory or outdoor gardens. Enjoy the one hour meditation, but make sure you register ASAP, as this opportunity is only available to the first 100 participants.
Register
10:30-11:30 a.m. via Zoom
• • •
Fourth of July Brunch at Boundary Stone
Boundary Stone will be open with Bottomless Brunch available until 3pm. They are also offering a whiskey flight, or a cocktail kit to-go before heading out for your 4th of July festivities.
Make a Reservation
11 a.m. - 8 p.m.
• • •
July Fourth at The Bullpen
The Bullpen is having an all day celebration with brunch, BBQ and a big screen movie showing of 'Independence Day' at sundown. The Bullpen will be first come, first served with no reservations. They are following DC guidelines and asking guests to wear masks between eating and drinking, as well as having no more than six people at a table at once. For more information, please go to their site.
More information
10:30 a.m. - 10 p.m.
• • •
Sunday

Phase Two of DC's Reopening
With Phase Two of DC's reopening under way, keep your safety in mind by staying in if you feel unwell, wearing a face covering whenever possible and continue social distancing. Restaurants allow diners inside as long as tables are six feet apart and the restaurant does not exceed 50% capacity. Make sure to consult our list of what's open in the city to plan your safe excursion.
Consider a visit to one of the city's many beer gardens, patios and rooftop restaurants so you can savor the outdoors. Outdoor parks, waterfront activities and gardens remain open, but with some restrictions: The National Gallery of Art's Sculpture Garden has reopened with attendee limits, the International Spy Museum offers timed tickets, The Thompson Boat Center and The Wharf Boathouse have reopened by reservation only, Hillwood Estate, Museum & Gardens, Glenstone Museum and George Washington's Mount Vernon require advance reservations and the U.S. National Arboretum is open on Mondays, Wednesdays and Fridays from 1-5 p.m. with a limited number of guests.
More Info​
• • •​
#DCtogether Photo of the Week
Make sure to share your DC photos with us using #DCtogether, and we may feature yours next month!