Our end-of-the-week picks for Oct. 6-8
We've gathered up some fun things to do in DC this weekend. You can also read what else is going on during the week and throughout the month.

Looking for a local perspective delivered directly to your inbox every two weeks? Sign up for our "DC on the Go-Go" Local Newsletter to stay in the know.
Friday
 

The National Building Museum hosts this curated show from Smithsonian from this Thursday through Sunday. Limited edition clothing, jewelry and accessories will be on display, as dozens of designers from all over the country will be represented. The wearable art extravaganza kicks off with a preview benefit.

Tickets
National Building Museum, 401 F Street NW, Washington, DC 20001

 

Because They're Funny Comedy Festival
Join NICE CROWD®, the producers of the American Black Film Festival, in partnership with Events DC, for the inaugural Because They're Funny Comedy Festival. Expect a fun-filled weekend showcasing BIPOC comedians at The Wharf, one of the most vibrant destinations in the nation's capital. Curated for anyone who likes to laugh, the lineup includes headline shows, new comic showcases, comedy classes, panels, podcasts, screenings and live music.
Tickets
The Wharf, 760 Maine Avenue SW, Washington, DC 20024

 

An Evening with Laurie Anderson
Grammy Award-winning musician and artist Laurie Anderson returns to the Hirshhorn for a free, one-night-only performance with composer and jazz musician Doug Wieselman. Anderson's immersive, site-specific installation Four Talks, currently on view at the Museum, was a highlight of her recent exhibition Laurie Anderson: The Weather and showcases the artist's multifaceted talents. Additionally, Anderson will share insights into her recent publication of The Art of the Straight Line by Lou Reed, a compilation of Reed's writings on Tai Chi, music and meditation.

6:30-7:30 p.m. |

 

Free AdmissionHirshhorn Museum, Independence Avenue & 7th Street NW, Washington, DC 20560  

Young Fathers
The sky is the limit for this Scottish trio that has managed to captivate music audiences all over the world, growing in stature and acclaim with each successive release. Young Fathers are reimagining pop music for turbulent times, capable of mining moments of pure darkness only to pull you back up into the light. This year's Heavy Heavy, shortlisted for the 2023 Mercury Prize, is only further proof that this is a band not to be missed, so catch them at the 9:30 Club. You won't be sorry.
10 p.m. |  Tickets
9:30 Club, 815 V Street NW, Washington, DC 20001

 
Saturday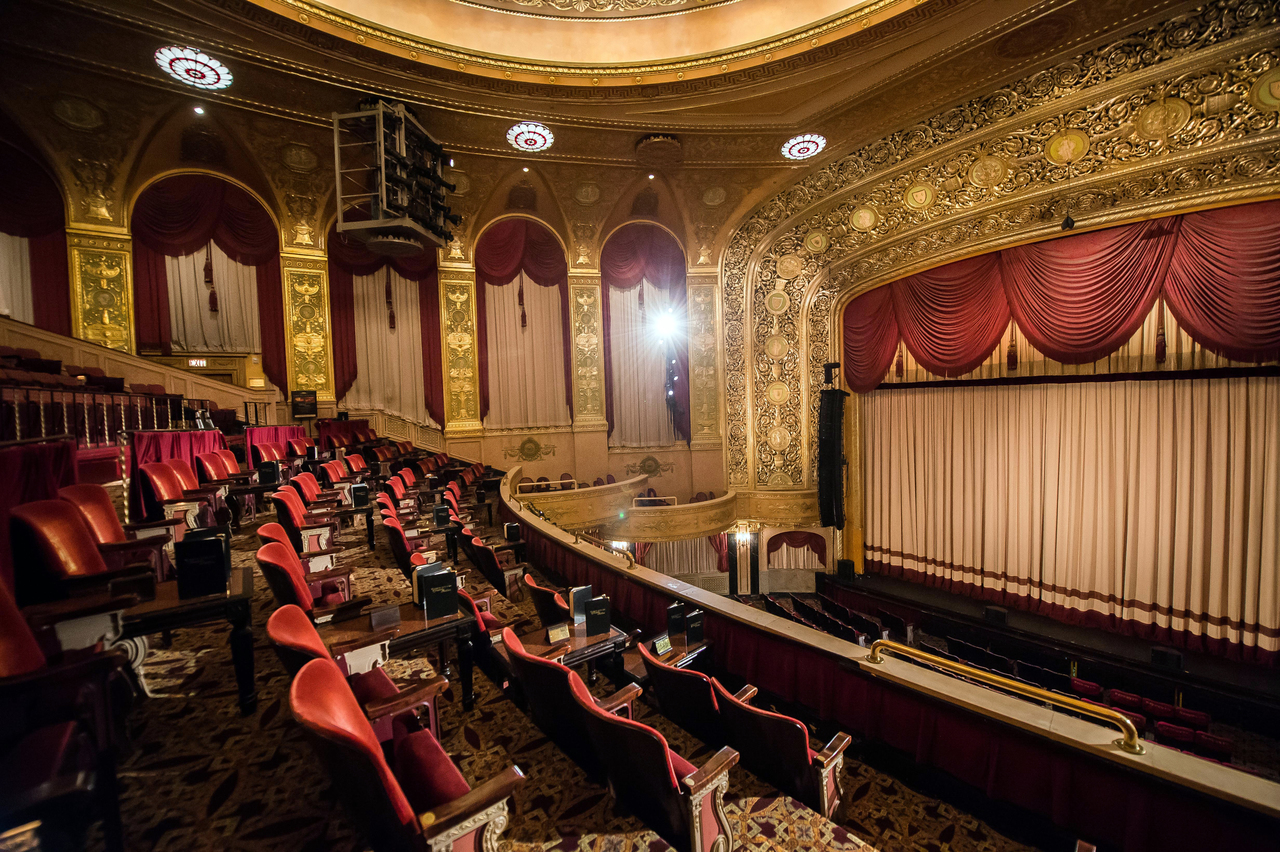 Theatre Week
Celebrate the theatre season in the Washington, DC through this Sunday thanks to TheatreWashington, including $20, $40 and $60 tickets to productions at venues all over the DMV area. There are musicals, dramas, comedies, theatre for young audiences and much more. In addition to discounted tickets, Theatre Week also includes special events designed to entertain, educate and inspire.
 
Shakespeare Everywhere Festival
Through 12 shows across 12 weeks, the Shakespeare Everywhere Festival incorporates numerous theaters across DC to honor the work of The Bard. In addition to world-class productions, you can also enjoy debates, special events and behind-the-scenes opportunities. Participating venues include Shakespeare Theatre Company, Studio Theatre, Folger Theatre, Warner Theatre and the Kennedy Center.
More Information
Mount Vernon Fall Wine Festival & Sunset Tour
George Washington's Mount Vernon is at its scenic best when fall rolls around, so it's fitting that the historic estate hosts this special celebration of wine followed by a sunset tour of the property. Bring along a blanket and chill out on the east lawn, which overlooks the Potomac River. Virginia wines will be available for sampling. Fruit and cheese boxes to accompany your wine are available for purchase in advance.
6-9 p.m. |  Tickets
George Washington's Mount Vernon, 3200 Mount Vernon Memorial Highway, Mount Vernon, VA 22121
King of the Yees
From the playwright of Cambodian Rock Band, a hit over at Arena Stage this year, King of the Yees is a semi-autobiographical comedy focused on culture, community and generational connections. Lauren Yee is in the middle of rehearsal for a new play when her father bursts in and interrupts her actors. Before long, he's gone missing through the streets of San Francisco, prompting Lauren to journey into Chinatown, beyond the Dragon's Gate, through a mess of portals and mazes in order to find her father … and rediscover her heritage along the way.
2 p.m. & 8 p.m. |  Tickets
Signature Theatre, 4200 Campbell Avenue, Arlington, VA 22206
 
My Mama & The Full-Scale Invasion
Woolly Mammoth Theatre Company and Wilma Theater collaborate to bring a timely story to the stage this fall. My Mama & The Full-Scale Invasion was inspired by playwright Sasha Denisova's online chats with her mother, an 82-year-old Ukrainian named Olga. While stranded in her hometown of Kyiv during the Russian invasion, Olga strategizes with President Zelenskyy, strikes enemy drones with pickle jars and even debates with God. Reality and the fantastical intersect in what promises to be one of the most thought-provoking productions of the season.
3 p.m. & 8 p.m. |  Tickets
Woolly Mammoth Theatre, 641 D Street NW, Washington, DC 20004
 
The Aces
A four-piece indie pop outfit from Provo, Utah, The Aces grew up in the Mormon church, one of many experiences that has inspired their work. Unafraid to touch on mental health issues, homophobia, racism and a range of other difficult subjects, the Aces are growing in confidence with each release. This year's I've Loved You For So Long has received rave reviews and landed in Billboard's Top 100 Albums list. The 9:30 Club will barely be able to contain the all-girl group during this Saturday evening show.
6 p.m. |  Tickets
9:30 Club, 815 V Street NW, Washington, DC 20001
The Team Room
The Keegan Theatre takes you through a day in the life of an Army Special Forces unit that just so happens to be the day before one of the most consequential days in American history. In this world premiere production, journey to Camp Diamond, West Virginia on Sept. 10, 2001 as Special Forces A-Team 824 embarks on what they think will be a routine week of duty and training. Little did they know that the world was about to change forever.
Tickets
Keegan Theatre, 1742 Church Street NW, Washington, DC 20036
Sunday
The Land Carries Our Ancestors: Contemporary Art by Native Americans
Curated by artist Jaune Quick-to-See Smith (Citizen of the Confederated Salish and Kootenai Nation), the National Gallery of Art presents an unprecedented exhibition that showcases work across a variety of mediums – including sculpture, beadwork, painting, performance, drawing, video and weaving – from 50 living Native American artists practicing across the United States. Visitors can marvel at a dynamic presentation of captivating art that reflects a deep reverence and appreciation of natural landscapes.
10 a.m. – 5 p.m. |  Free Admission
National Gallery of Art, 6th Street & Constitution Avenue NW, Washington, DC
African Modernism in America, 1947-67
The Phillips Collection presents the first major exhibition to examine the connections between modern African artists and American patrons, artists and organizations after World War II. The work of 50 African and African American artists, including David Driskell, Ibrahim El-Salahi, Ben Enwonwu, Jacob Lawrence, Demas Nwoko, and Uche Okeke, will be on display. African Modernism in America uncovers a network of artists, curators and scholars who challenged assumptions about African art in the U.S.
Hours & Admission
The Phillips Collection, 1600 21st Street NW, Washington, DC 20009
Park Chan-kyong: Gathering
The Seoul-based Park Chan-kyong has gained international recognition for photography and film that has been unflinching in its examination of the history of modern Korea. The National Museum of Asian Art will showcase the first solo presentation of his work in a major U.S. museum. The exhibition features images that highlight the artists' masterful use of the camera to capture tradition, history and disaster in a contemporary society.
10 a.m. – 5:30 p.m. |  Free Admission
National Museum of Asian Art, 1050 Independence Avenue SW, Washington, DC 20560
Something Moving: A Meditation on Maynard
On the 50th anniversary of the election of Maynard Jackson as Atlanta's first Black mayor, Ford's Theatre stages playwright Pearl Cleage's examination of the monumental moment's dramatic impact on the city through the recollections and reflections of its citizens. Atlanta becomes a character as the audience is immersed in one of the most historic developments of the New South. Use code "DDCSM30" for 30% off – offer is limited to four tickets per order and excludes Dress Circle seating.
Tickets
Ford's Theatre, 511 10th Street NW, Washington, DC 20004
 
#MyDCcool Photo of the Week
Do you know where you'll be dining pre- or post-event? From pop-up restaurants to Michelin-starred hot spots to laid-back food halls, our DC food guide is perfect for helping you plan a more memorable experience.