Things to Do This Weekend in Washington, DC
Live and virtual events, plus a stay-inside guide for DC music, videos and more for Oct. 23-25
We've got the latest info about what's open and safety guidelines in Washington, DC. As you continue social distancing, we've gathered up some live virtual events and other fun things to do that are going on this weekend. As always, you can also check out tons of on-demand virtual museum tours, neighborhood tours, TV and movies streaming ideas with a DC bent, DC-inspired music playlists, Washington, DC Zoom meeting backgrounds and much more.
Looking for things to do Monday through Thursday? Don't miss things to do this week. And if a DC staycation sounds appealing, check out our Stay Local DC content and deals.
Friday​

Visit Planet Word
Visitors will be able to immerse themselves in the power of language at this exciting and highly anticipated museum, which opens on a limited basis to support social distancing this Thursday. Please make sure to register in advance for a free, timed-entry pass. Planet Word will feature an array of galleries, including Words Matter, which will showcase how language can have an incredible impact on lives. The Spoken World will amaze visitors by highlighting the diversity of language around the globe through speakers and signers of 31 different languages. The museum will also feature one of Shared_Studios' Portals, a live, audio-visual environment that allows you to converse and interact with people all over the globe.
Visitor Guidelines | More Info
Planet Word, 925 13th Street NW, Washington, DC 20005
• • •

Park Up DC
Now would be an ideal time to enjoy a drive-in movie, right? Events DC and Broccoli City have teamed up to bring you this pop-up event at RFK Campus Lot 5 on weekends through Oct. 31. Enjoy a 45-foot HD LED digital screen and pre-paid delivery food from local food trucks. The event will follow all social distancing guidelines, including the necessity of facial coverings – make sure to visit the event's FAQ page for full clarity on the policies. Peruse the movie lineup and purchase your tickets online – each evening features multiple showings. Note that double features are encouraged and you will not be required to leave your designated 15 ft. x 20 ft. parking space in between screenings.
More Info | Tickets
Screenings begin at 7 p.m.
RFK Campus Lot 5​
• • •

Capitol Riverfront Drive-In Movie Series
Through Oct. 30, you can kick back and enjoy a movie from your vehicle at the Akridge Lot in Buzzard Point, located next to Audi Field. The line-up includes popular films such as Selma and Knives Out, as well as spooktacular Halloween classics like Frankenstein & Dracula. Before the movie, grab some take-out from one of the 60 neighborhood restaurants. Admission is $20 per car, per movie, with all of the funds donated to local charities. Check out Capitol Riverfront's website for a full list of movies and charities.
7:30 p.m. | Tickets
Akridge Lot, 1880 2nd Street SW, Washington, DC 20003
• • •

Sunset Cinema at The Wharf
Nothing beats watching the sunset on the water, right? Think again. Enjoy Hocus Pocus with popcorn and beer on the Transit Pier big screen during Sunset Cinema at The Wharf, in partnership with Cantina Bambina and Pacifico Beer. To participate, all guests must reserve a private cabana at Cantina Bambina in advance and must be over 21 years of age.
8 p.m. (Seating available at 7:30 p.m.) | Reserve
• • •
Saturday​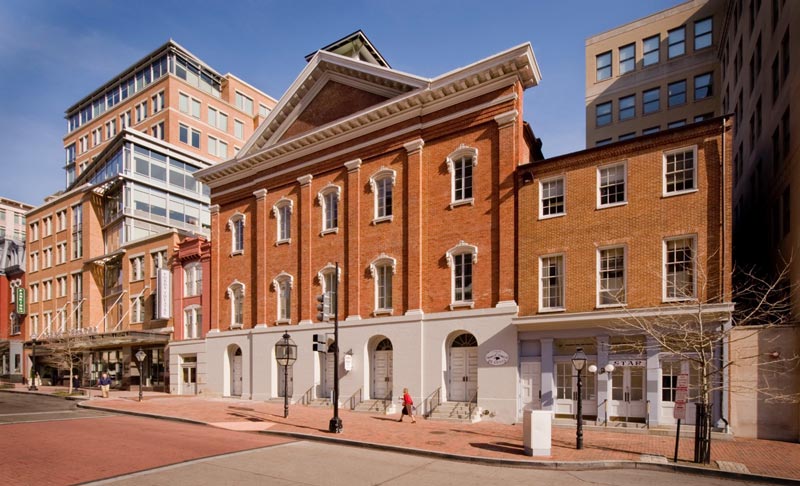 Visit the reopened Ford's Theatre
The legendary Ford's Theatre is officially open again! During the first level of reopening, the museum is open from Wednesday through Sunday and closed on Monday and Tuesday. Only the museum and theatre are open; the Petersen House and Aftermath Exhibits remain closed. Future ticket releases will be on Fridays at 10 a.m. for the following Wednesday-Sunday. For more information and tickets, visit the Ford's Theatre website.
More Info & Tickets
Ford's Theatre, 511 10th Street NW, Washington, DC 20004
• • •

Virtual Smithsonian Craft Fair
This year's Smithsonian Craft Show is now a free and virtual two-week celebration of fine American craft to benefit the Smithsonian Institution. This event will feature artists in individual online shops through this Sunday, as well as a virtual gala and live online auction on Wednesday. Advanced registration is required. Make sure to sign up for updates for the latest info regarding this virtual fair.
• • •

Drive Thru Boo at the Zoo
Lions, tigers, goblins, and princesses, oh my! Join the National Zoo for Drive Thru Boo at the Zoo, a special edition of the beloved children's trick-or-treating event. Prepare for some spooky fun and cruise down the Zoo's North Road, all in support of Friends of the National Zoo. Supernatural sights await along your drive—and so do treat bags stuffed with M&Ms, Twix and more! Car passes are available for Saturday and Sunday.
4:30-9:30 p.m. | Car Passes
Smithsonian's National Zoo, 3001 Connecticut Avenue NW, Washington, DC 20008
​• • •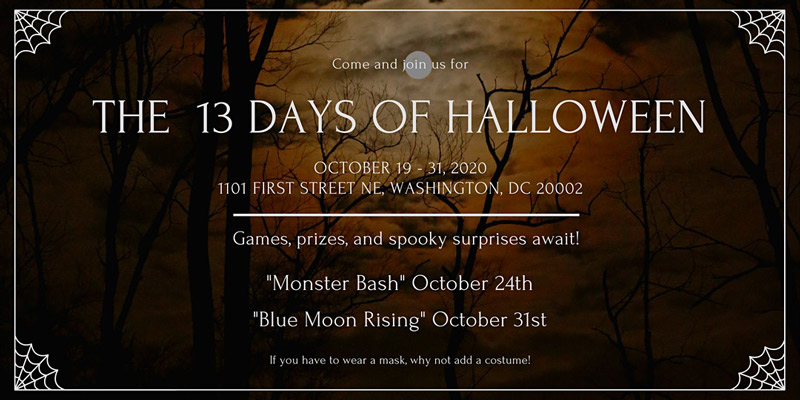 13 Days of Halloween at Wunder Garten
Now that Oktoberfest is in the rearview, DC's Wunder Garten has turned its attention to Halloween. Through the end of the month, you can enjoy Halloween-themed drink specials, festive decorations, trivia and movie nights and a socially distanced monster bash, which is scheduled for this Saturday. Outdoor fire pits and heaters will be arranged to help keep you warm. Please ensure you wear a mask when not eating or drinking and maintain a safe social distance from others.
12 p.m. - 12 a.m. | Register
Wunder Garten, 1101 1st Street NE, Washington, DC 20002
​• • •
Sunday

Visit the reopened Phillips Collection
After an extended hiatus, the beloved Phillips Collection, which is considered America's first museum of modern art, has reopened its doors with new health and safety guidelines in place. General admission will be free through Nov. 1. Tickets for Thursday through Sunday visits are released every Monday and every visitor must have a timed ticket in advance. Please make sure to review the museum's safety guidelines as you plan your visit. The museum's hours are Thursday-Saturday from 11 a.m. to 6 p.m., with six tickets offered every 15 minutes.
Thursday-Saturday, 11 a.m. to 6 p.m. | More info
The Phillips Collection, 1600 21st Street NW, Washington, DC 20009
• • •

Taste of (and Shop) Georgetown
This revamped version of the beloved one-day Taste of Georgetown event expands the celebration to take-out, delivery and outdoor dining specials at Georgetown restaurants through this Sunday. You can also satisfy your fall shopping fix with special promotions throughout the month. Stay tuned to the event's official website for participating business and their offers.
​• • •

DowntownDC Dine Out on 8th Street
One of the city's most vibrant neighborhoods is hosting a destination streatery throughout the fall. On 8th Street NW, between H and K streets, you will find a plethora of neighborhood eateries offering table service outside, with reservations required, on Fridays, Saturdays and Sundays. Social distancing guidelines will apply and masks must be worn when not eating or drinking. Tables can host up to a maximum of six people.
More Info
8th Street NW, between H and K streets
​• • •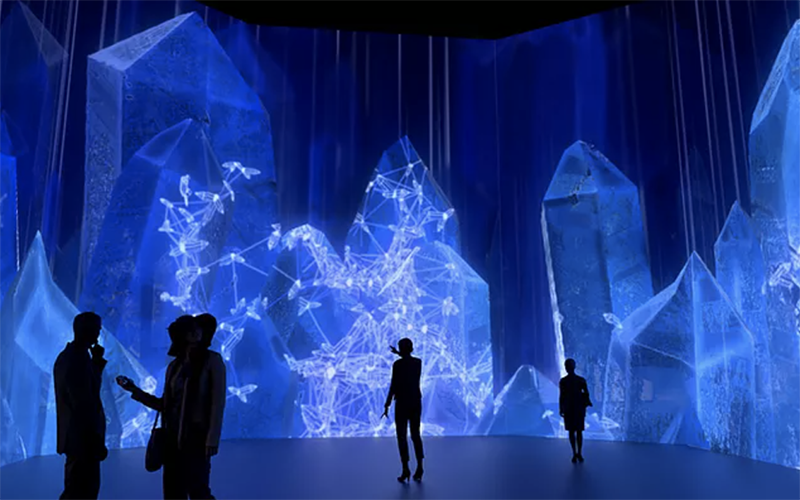 'Crystalline: A Submerge by ARTECHOUSE Experience'
ARTECHOUSE closes out 2020 by focusing on Pantone's Color of the Year: Classic Blue. This new exhibit, which runs through Jan. 3, 2021, dives into blue's connection with earth, crystals and adventure through a wondrous castle. Expect a merging of the surreal and reality as you wander through the castle's rooms, which will be filled with creative curiosities. Please make sure to review ARTECHOUSE's COVID-19 procedures before purchasing your ticket to this immersive experience.
Tickets
ARTECHOUSE, 1238 Maryland Avenue SW, Washington, DC 20024
​• • •
#DCtogether Photo of the Week
Make sure to share your DC photos with us using #DCtogether, and we may feature yours next month!