Our end-of-the-week picks for May 26-29
We've gathered up some fun things to do in DC this Memorial Day weekend. You can also read what else is going on during the week and throughout the month.

Looking for a local perspective delivered directly to your inbox every two weeks? Sign up for our "DC on the Go-Go" Local Newsletter to stay in the know.
Friday
Robert Houle: Red is Beautiful
The National Museum of the American Indian presents the first major retrospective dedicated to Robert Houle (Saulteaux Anishinaabe, Sandy Bay First Nation, b. 1947), an Indigenous artist known for masterfully blending Western and ancient traditions in his contemporary works. Visitors can marvel at more than 50 years of Houle's creativity, including paintings pierced by porcupine quills and historic scenes reimagined from an Indigenous perspective.
10 a.m. – 5:30 p.m. |  Free Admission
National Museum of the American Indian, 4th Street & Independence Avenue SW, Washington, DC 20560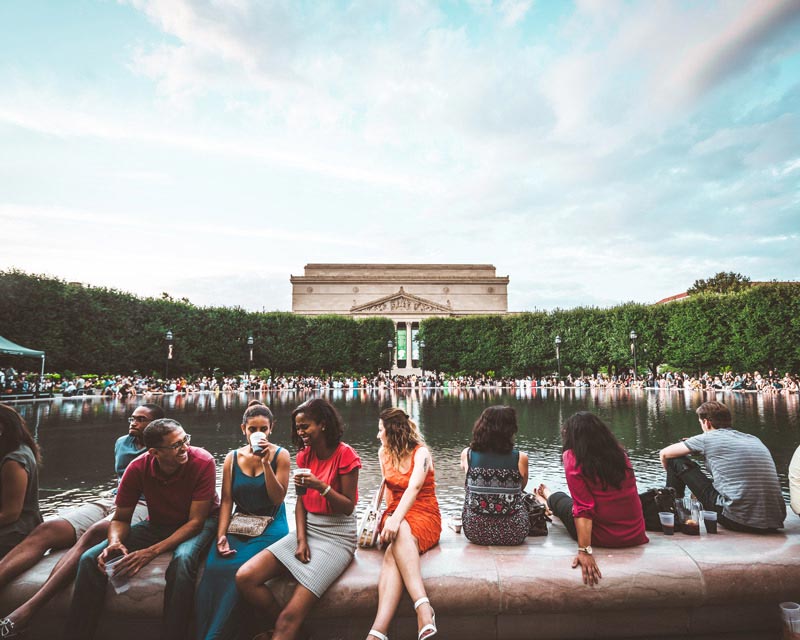 National Gallery of Art
Jazz in the Garden
Kick back and groove to the music with sangria in hand at Jazz in the Garden on Fridays throughout the summer, held in the National Gallery of Art's Sculpture Garden starting this Friday. An eclectic mix of DC area jazz musicians lend a soundtrack to one of the city's most idyllic scenes set around the sculpture garden's central fountain. This is a free seasonal tradition that you do not want to miss. Due to high demand, the museum is instituting a lottery system; visit the Gallery's website for more information.
6-8:30 p.m. |  Free Admission | More Information
National Gallery of Art, 6th and Constitution Avenue NW, Washington, DC 20565 
The Walkmen
One of the most influential and successful groups to emerge from the NYC art rock scene of the early 2000s features five DC natives. The Walkmen released six critically acclaimed albums before disbanding 10 years ago. Now reunited, the group will play a series of rousing shows at DC's legendary 9:30 Club, a fitting place to hold their homecoming.
Tickets
9:30 Club, 815 V Street NW, Washington, DC 20001
La bohème
Giacomo Puccini's loving and poetic ode to Paris comes to the Kennedy Center thanks to the Washington National Opera. Expect grand sets, from Café Momus to the Left Bank, as well as unforgettable music, an acclaimed international cast and a riveting tale of young bohemian artists as they deal with the highs and lows of art in the city of love.
Tickets
John F. Kennedy Center for the Performing Arts, 2700 F Street NW, Washington, DC 20566
Saturday
Curious George: Let's Get Curious!
The National Children's Museum hosts an exhibit dedicated to one of the most popular characters for younger audiences, Curious George, throughout the summer. Kids ages three to seven can explore math, science and engineering concepts in interactive experiences inspired by the classic stories and hit television series. The exhibit, which will be located in the Visiting Exhibit Hall, launches with an all-day event on Saturday.
Hours & Admission
National Children's Museum, 1300 Pennsylvania Avenue NW, Washington, DC 20004
The Avett Brothers
What started out as a little-known North Carolina trio riffing on bluegrass and folk music has blossomed into one of the most successful pop groups of the past decade. The Avett Brothers have grown from a folk group with a cult following to a national sensation, using their multifaceted songwriting talents to create beautiful ballads and steady rockers that won't leave your head for days. You'll have three chances to catch them at Wolf Trap.
7:30 p.m. |  Tickets
Wolf Trap, 1551 Trap Road, Vienna, VA 22182
Scottish Ballet: The Crucible
Scotland's national dance company returns to the Kennedy Center with the East Coast premiere of The Crucible. Arthur Miller's haunting and unforgettable play about the Salem witch trials, which celebrates its 70th anniversary this year, is interpreted through bold ballet performances informed by classical technique. 
Tickets
John F. Kennedy Center for the Performing Arts, 2700 F Street NW, Washington, DC 20566
Here There Are Blueberries – Final Weekend
A mysterious album of never before seen Nazi-era photographs arrives at the desk of United States Holocaust Memorial Museum archivist Rebecca Erbelding. As Rebecca and her team of historians begin to unravel the shocking story behind the images, the album soon makes headlines around the world. In Germany, a businessman sees the album online, recognizes his own grandfather in the photos and begins a journey of discovery that will lead him to a reckoning of his family's past and his country's history.
Tickets
Harman Hall, 610 F Street NW, Washington, DC 20004
Sunday
Sharing Honors and Burdens: Renwick Invitational 2023
The latest exhibit at the Renwick Gallery will focus on fresh and nuanced visions from six Native American or Alaska Native artists. Across more than 50 pieces, you will notice traditions of creating that honor family, community and clan, including projects that require broad community participation. The annual Invitational allows the Gallery to highlight innovative new voices in the world of craft and design art.
10 a.m. – 5:30 p.m. |  Free Admission
Renwick Gallery of the Smithsonian American Art Museum, 1661 Pennsylvania Avenue NW, Washington, DC 20006
The National Memorial Day Choral Festival
Held at the Kennedy Center, the free National Memorial Day Choral Festival is a powerful concert experience that features a 200-voice choir accompanied by the U.S. Air Force Orchestra. The musicians and singers come together in perfect harmony, performing patriotic classics in honor of those who have fallen while defending the U.S.
3 p.m. |  Free Admission |  Register
John F. Kennedy Center for the Performing Arts, 2700 F Street NW, Washington, DC 20566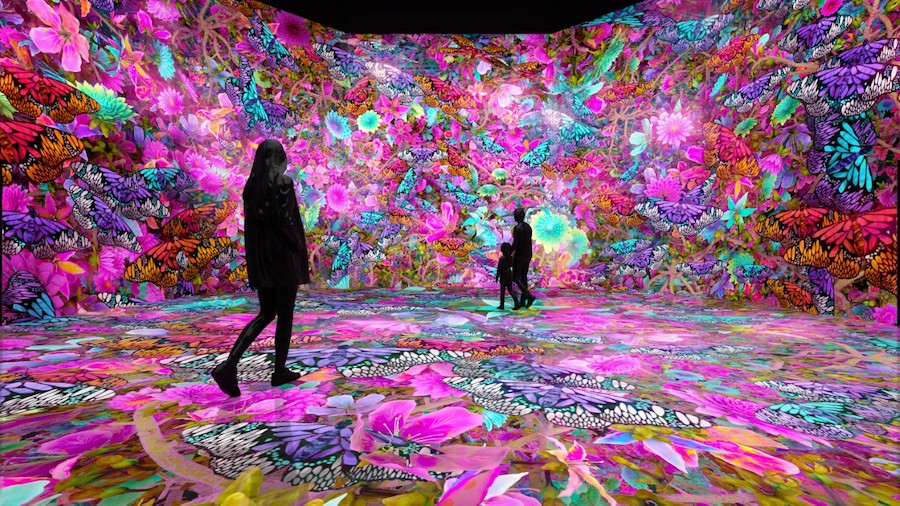 PIXELBLOOM: Timeless Butterflies
ARTECHOUSE invites you to step into a virtual world of cherry blossoms and discover the ephemeral beauty of butterflies and the thrilling exuberance of nature. A kaleidoscope of butterflies is awoken from their winter slumber and pixels burst into full bloom, all in celebration of the coming of spring. Leveraging custom technologies, ARTECHOUSE Studio reimagines the potential of nature, both digital and organic in design, expanding on the world of PIXELBLOOM to create a one-of-a-kind family-friendly journey. Use our special ticket link for 10% off!
More Information |  Tickets (10% off)
ARTECHOUSE, 1238 Maryland Ave SW, Washington, DC 20024
C&O Canal Boat Tours
A beloved DC tradition returns. One-hour guided historical tours of the first mile of the C&O Canal allow you to learn the history, technology and culture woven into the waterway. You'll also hear spellbinding stories of people who lived, worked and played along the Canal over the past two centuries. Visit the tour portal for more information.

Exclusion
The newest drama at Arena Stage weaves the tale of an award-winning historian, who's buoyed by the optioning of her best-selling book about the Chinese Exclusion Act of 1882, the first significant law to restrict immigration into the U.S. However, excitement turns to disappointment as she de-fends her book's authenticity and navigates the blurry line between the truth and what sells.
Tickets
Arena Stage, 1101 6th Street SW, Washington, DC 20024
National Memorial Day Concert
PBS's National Memorial Day Concert salutes the sacrifice made by the men and women in uniform, as well as their families. The free annual concert is held on the West Lawn of the U.S. Capitol the day before Memorial Day from 8-9:30 p.m. Actors Gary Sinise and Joe Mantegna will host the proceedings, which will feature numerous other celebrity performers. The show will be live-streamed online and broadcast nationally on PBS.
8-9:30 p.m. |  Free admission 
West Lawn of the U.S. Capitol, East Capitol Street NE & First Street SE, Washington, DC 20004 
Monday
National Memorial Day Parade
DC's most popular Memorial Day event features marching bands, youth groups, floats, performers and veterans parading down Constitution Avenue. The televised event is the largest of its kind in the U.S. and honors those who have served or presently serve in the U.S. military. Arrive well before the 2 p.m. start time for the best viewing options.
2 p.m. |  Free admission 
Constitution Avenue NW, Washington, DC
Brick City
The new exhibit from National Building Museum will celebrate iconic architecture from cities around the world through carefully recreated constructions made from LEGO® bricks by the U.K.-based artist Warren Elsmore. Visitors can take a tour and discover new destinations across all seven continents, including lively streetscapes from Cartagena, Columbia, Mardi Gras celebrations in New Orleans and intricate temples from India to Mexico.
Hours & Admission
National Building Museum, 401 F Street NW, Washington, DC 20001
Incendiary
Woolly Mammoth Theatre Company presents playwright Dave Harris' idiosyncratic dive into the storytelling techniques of video games and comic books. Incendiary is the story of Tanya, a Black mother determined to get her son, Eric, off Death Row … on his birthday. As the clock ticks down, the production weaves comedy, action and heroism into an intense (and satirical) meditation on the impact and complexity of generational trauma.
Tickets
Woolly Mammoth Theatre, 641 D Street NW, Washington, DC 20004
#MyDCcool Photo of the Week
Do you know where you'll be dining pre- or post-event? From pop-up restaurants to Michelin-starred hot spots to laid-back food halls, our DC food guide is perfect for helping you plan a more memorable experience.