Catch 'Em While You Can
The clock is ticking on these exhibits and events unique to DC. Make sure to get in on the fun before they close up shop.
Museum Exhibits
'ICEBERGS' – Closes Sept. 5
The hotly anticipated and immersive ICEBERGS installation held inside the National Building Museum's Great Hall closes for good on September 5. Don't miss your chance to step through this uniquely designed experience to get a glimpse of what it's like under the ocean's waterline from the ground floor — or to see it from above the waterline on the third balcony of the massive space. Visitors can also slide down an ice chute inside this incredible exhibit that will cover 12,540 square feet.
Hours & Admission
National Building Museum, 401 F Street NW, Washington, DC 20001
•••
'Martin Puryear: Multiple Dimensions' – Closes Sept. 5
A master craftsman, Martin Puryear has dabbled in sculpture, print and drawing, creating a stunning body of work across a 50-year career. Revel in more than 70 of Puryear's pieces, along with a small-scale model for a major public sculpture in DC, in this comprehensive exhibit at the Smithsonian American Art Museum.
11:30 a.m. – 7 p.m. | Free Admission
Smithsonian American Art Museum, 8th and F Streets NW, Washington, DC 20004
•••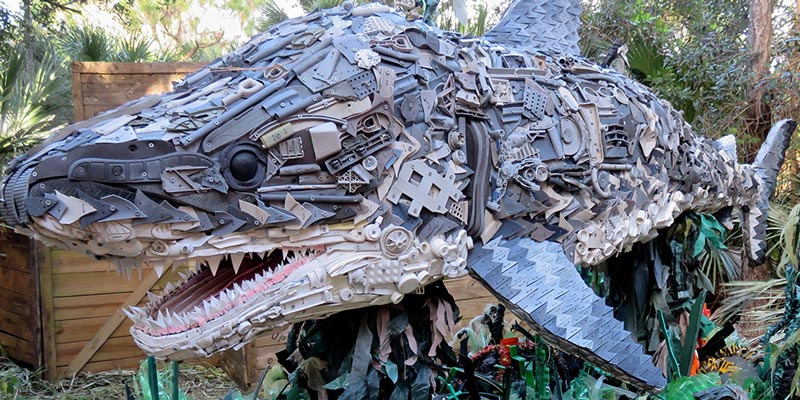 Washed Ashore: Art to Save the Sea – Closes Sept. 5
The Smithsonian National Zoo has commissioned fascinating works of art and in turn, made a powerful statement on the dire need to limit pollution in the world's oceans. Washed Ashore consists of 17 marine wildlife sculptures, including jellyfish, sharks and an octopus, all made from plastic pollution recovered from oceans. The structures highlight the fact that more than 315 billion pounds of said plastic cloud our waters. Wander the zoo and marvel at these creations – then make a difference.
8 a.m. – 7 p.m. | Free admission
Smithsonian National Zoo, 3001 Connecticut Avenue NW, Washington, DC 20008
•••
'Robert Irwin: All the Rules Will Change' – Closes Sept. 5
For the first time, the pivotal 1960s work of Robert Irwin, one of postwar America's most significant artists, is on display in a comprehensive museum survey. The exhibit now also features a major new installation created by Irwin, influenced by the Hirshhorn's architecture and done in his favorite medium of the moment, scrim.
10 a.m. – 5:30 p.m. | Free Admission
Hirshhorn Museum and Sculpture Garden, 700 Independence Avenue SW, Washington, DC 20560
•••
William Merritt Chase: A Modern Master – Closes Sept. 11
One of America's finest artists during the late 1800s and early 1900s, William Merritt Chase's work has received its first comprehensive exhibit in more than three decades at the Phillips Collection, America's first museum of modern art. Through over 70 works, experience Chase's artistic versatility, from landscape paintings to still lifes to domestic interiors. Encounter the artist's distinct style and philosophy and find out how he was able to consistently dazzle art lovers across a four-decade career before the exhibit closes up shop on September 11.
10 a.m. – 5 p.m. | Admission
The Phillips Collection, 1600 21st Street NW, Washington, DC 20009
•••
'Hollywood and Time: Celebrity Covers' – Closes Sept. 11
32 of Hollywood's greatest stars color this exhibit at the National Portrait Gallery. Using original cover art from Time magazine, the exhibit explores the mesmerizing talents of icons such as Meryl Streep, Dustin Hoffman, Paul Newman, Steven Spielberg and Marlon Brando through their powerful photographic portraits.
11:30 a.m. – 7 p.m. | Free Admission
National Portrait Gallery, 8th Street NW & F Street NW, Washington, DC 20001
•••
'Artifact Walls – Science Under Glass' – Closes Sept. 11
Roughly 200 years of glassware are displayed along the National Museum of American History's Artifact Walls, which consist of 275 linear feet of cases lining the museum's first and second floors. These pieces depict the advances in glassware from the 1770s to the 1970s, and how the material came to be the basis of a very successful industry and the evolution of laboratory science in the United States.
Hours | Free Admission
National Museum of American History, 14th Street & Constitution Avenue NW, Washington, DC 20013​
•••
'Reporting Vietnam' – Closes Sept. 12
Look back on an international conflict that still has resounding effects on the U.S. today. The exhibit opened last year in honor of the 50th anniversary of the Vietnam War. Inside, you'll learn the media's role in covering the controversial war, which was brought into family living rooms and divided the nation. The exhibit features documentary films, a stirring era-appropriate soundtrack, news footage, extraordinary photography and cultural artifacts that are vital to understanding this game-changing conflict.
Hours & Admission
Newseum, 555 Pennsylvania Avenue NW, Washington, DC 20001
•••
'Karel Appel: A Gesture of Color' – Closes Sept. 18
Karel Appel was a Dutch artist that rose to prominence in the latter half of the 20th century, and the Phillips Collection takes stock of his influence with this 22-piece retrospective. The exhibit stretches back more than 60 years, showcasing Appel's wide range of paintings and sculptures. The artist had a distinct take on children's art, portraits and landscapes, inserting his own style and creating unconventional works that enthrall observers to this day.
Hours & Admission
The Phillips Collection, 1600 21st Street NW, Washington, DC 20009
•••
'In Celebration of Paul Mellon' – Closes Sept. 18
Paul Mellon is one of America's greatest art collectors, and has been one of the National Gallery of Art's greatest benefactors. As the museum celebrates 75 years, view the more than 80 works from Mellon's personal collection, including pieces by Winslow Homer, Vincent van Gogh and Pablo Picasso. The exhibit also elaborates on Mellon and his approach to collecting, but only through September 18.
10 a.m. – 5 p.m. | Free Admission
National Gallery of Art, 6th and Constitution Avenue NW, Washington, DC 20565
•••
'Symbolic Cities: The Work of Ahmed Mater' – Closes Sept. 18
Ahmed Mater presents the societal and cultural facets of Saudi Arabia like no other artist can, and the Sackler Gallery proudly displays the first U.S. exhibit solely dedicated to his work. Trained as a doctor, Mater eventually turned his attention to art, depicting modern Saudi Arabia through photography and video. You'll gaze at desert cities, the evolution of Mecca, Mater's new work on Riyadh and much more.
10 a.m. – 5:30 p.m. | Free Admission
Arthur M. Sackler Gallery, 1050 Independence Avenue SW, Washington, DC 20013
Theater
The Phantom of the Opera – Through Aug. 20
Andrew Lloyd Webber's seminal tale has been adapted like never before, and you can witness this grandiose production at DC's go-to for opera, the Kennedy Center. Featuring new scenic design, costumes, lighting, staging and choreography, this version of The Phantom of the Opera injects originality into the classic story. Expect songs you know and love, performed by a cast and orchestra consisting of 52 people. Epic, indeed.
Tickets
John F. Kennedy Center for the Performing Arts, 2700 F Street NW, Washington, DC 20566
•••
'The Lonesome West' – Aug. 6-27
Written by Martin McDonagh, one of Ireland's greatest playwrights and the writer/director of the acclaimed In Bruges, The Lonesome West concerns the struggle of two brothers over one inheritance. Did one of the brothers kill their father over a petty insult? Can the local priest and the brothers' young girl whiskey supplier keep the brothers from killing each other? Find out, and laugh your butt off in the process, at the Keegan Theatre.
Tickets
Keegan Theatre, 1742 Church Street NW, Washington, DC 20036
•••
Born for This: The Bebe Winans Story – Through Aug. 28
The Winans family is synonymous with gospel music, and this Arena Stage production reveals an incredible story that will take the audience through the origin of success for BeBe and CeCe. Invited to join a popular religious television show, the two siblings encounter fame, conflict and a young Whitney Houston during their journey. BeBe and CeCe are played by Juan and Deborah Joy Winans, bringing the family theme full-circle. Enjoy classic Winans songs and new tunes during this musical that is sure to inspire.
Tickets
Arena Stage, 1101 6th Street SW, Washington, DC 20024
•••
Free For All: 'The Tempest' – Aug. 16-28
DC's summer season is not complete without Shakespeare Theatre Company's Free for All series, when the theatre offers two weeks of free performances of a classic Shakespeare play. This year, The Tempest, adapted by Company favorite Ethan McSweeny, is the showcase, a tale of one Prospero and his vengeance on his betrayers. To get free tickets, you can enter an online lottery or snatch one of the 200 tickets available to the public beginning two hours before each show.
Details
Sidney Harman Hall, 610 F Street NW, Washington, DC 20004
•••
'Jelly's Last Jam' – Aug. 2 – Sept. 11
Jelly Roll Morton is one of the most important figures in the history of jazz, as he's responsible for the first published jazz composition and helping to usher the genre into widespread popularity. Signature Theatre's production tells Jelly Roll's enthralling story, from Morton's humble beginnings in New Orleans to his incredible showmanship in Chicago dance halls and on New York stages. Fantastic songs and choreography make up this historical production sure to dazzle audiences until its run ends September 11.
Tickets
Signature Theatre, 4200 Campbell Avenue, Arlington, VA 22206
For more events, festivals and things to do in Washington, DC, check out our events calendar.