World-renowned chefs and top-tier hoteliers choose DC as their new home. Below, we shed light on their unparalleled hospitality.
Washington, DC is never in short supply of mouth-watering cuisine and unique hotels, but sorting through the options to find the newest offerings may be difficult. We also tend to shine a light on our most beloved, long-living entities, but that doesn't mean the brand new businesses don't deserve your support and attention.
 
Although we cannot list every new entity, we encourage you to follow along with us on social media for more openings and happenings within the city. Be sure to check back every few months for the newest additions to our ever-growing list of can't-miss hotels and restaurants.
Updated December 2022
Newly Opened Restaurants
Opened November 2022
Panamanian coffee shop and bar, Café Unido, opened a location in Shaw, where the 69-seat café and large patio will offer an all-day menu and bar featuring natural wines, coffee-infused cocktails and wallet-friendly dishes with Panamanian ingredients, like coffee-rubbed burgers. 
Opened November 2022
Casey Patten, owner of the hoagie restaurant Grazie Grazie, and Bammy's chef, Gerald Addison, opened Grazie Nonna at Midtown Center featuring in autumn 2022, which features thin-crust pizzas and pasta with "grandma-approved" Sunday gravy. 
Opened October 2022
Neighborhood Restaurant Group reopened the popular powerhouse restaurant, Birch & Barley, in Logan Circle, after being closed for the last two-and-a-half years. The restaurant highlights classic culinary influences while incorporating local and regionally sourced products.    
Opened October 2022
Located in Dupont Circle, Vagabond, boasts beach season year-round, with a coastal-themed bar and restaurant with a global menu of popular surf locations like Mexico, Portugal and Hawaii. The venue includes a revamped roof deck and speakeasy-style basement bar accented with a Patrick Swayze mural. 
Opended October 2022
Miami's taco-and-tequila haven Hoja Taqueria recently opened in Dupont Circle's hostel, Generator. The menu of traditional Mexican food offers homemade heirloom corn tortillas, Oaxaca cheeses, and chiles imported from Mexico for quality. 
Opened October 2022
Famed Chinese chef Peter Chang opened Dupont Circle restaurant Chang Chang, a two-in-one concept split between Szechuan takeout (Chang-out) and an upscale Chinese dining room (Chang-In).   
Opened October 2022
Located in Capitol Hill, Hill East Burger, turns out tallow-washed cocktails and smoked burgers – popular in Texas – using local Roseda Farm's grass-fed aged beef. They aim to source whole cows down the line. 
Opened October 2022
Coastal American restaurant Opal opened in Chevy Chase. Graced with a wood-burning oven and 1930s row-style building, the cozy spot offers diners a wide variety of coastal options from across the American coastline - from small plates of tequila-chili butter roasted oysters to bone-in short ribs with salsa verde. 
Opened September 2022
A Japanese-inspired restaurant and craft cocktail bar along the U Street Corridor by James Beard award-winning chef Michael Schlow and executive chef Derek Watson, featuring honored Japanese techniques alongside innovative twists. The menu offers sushi, soft serve ice cream and sorbet from pastry chef Alex Levin, and a collection of Japanese whiskeys and sakes. 
Opened Fall 2022
The all-you-can-eat dim sum arrived in Barracks Row at Han Palace Capitol Hill, where restauranteur Chris Zhu offers two unlimited daily tasting menus and free-flowing mimosas on the weekends. 
Opened October 2022
Opened at the Wharf, bringing elevated spins on the classic English street food to DC's newest waterfront district alongside Gordon's signature shakes Sticky Toffee and Biscoff.  
Opened October 2022
A Lebanese-inspired kabab and cocktail shop with a robust non-alcoholic program (including an Arak service), is the creation of Maydan alums Co-Exec. Chefs Gerald Addison and Chris Morgan and GM Said Haddad. Located inside Union Market, Yasmine's menu includes perfectly grilled meats and kebab, thinly shaved shawarma, crisp falafel, and innovative sauces.
Opened Fall 2022
A wine bistro from hospitality professionals Ian and Mika Carlin, opened on H Street. The two-story 1,600 square-foot restaurant features a six-course seasonal tasting menu from chef Ben Browning, who highlights Mid-Atlantic produce and producers. Tasting menus are offered alongside two optional beverage pairings, one of which exclusively focuses on Virginia wine and spirits. 
Second Location Opened Fall 2022
Authentic Indian Street food is made from scratch at Bindaas Bowls & Rolls, created by James Beard Award Winning Chef, Vikram Sunderam. The new Penn Quarter carry-out concept allows diners to customize popular dishes found at the original Bindaas location in Cleveland Park. 
Recently Expanded
Chef Amy Brandwein has expanded her all-day café, Piccolina, at CityCenter DC by adding 1,200 square feet, a space that allows them to now offer a total of 70 seats. The café features a menu cooked over a wood fire, alongside a variety of freshly baked bread inspired by the chef's travels through Italy. 
Opened Fall 2022
Owner Mike Bramson has opened a second Rebel Taco storefront, this time in Mount Vernon Triangle, where guests can enjoy specialty tacos and an expansive drink menu. The first brick-and-mortar location of a popular breakfast taco spot La Tejana opened in August 2022, bringing Northwest Washington the taste of Rio Grande Valley's beloved border cuisine. 
Opened Summer 2022
Inspired by nightlife in Spain's Basque Country, Chef Johnny Spero's eponymous restaurant Bar Spero joined other newcomers at DC's Capitol Crossing near Penn Quarter this summer. It features open hearth cooking and seafood, like a whole turbot for diners to share.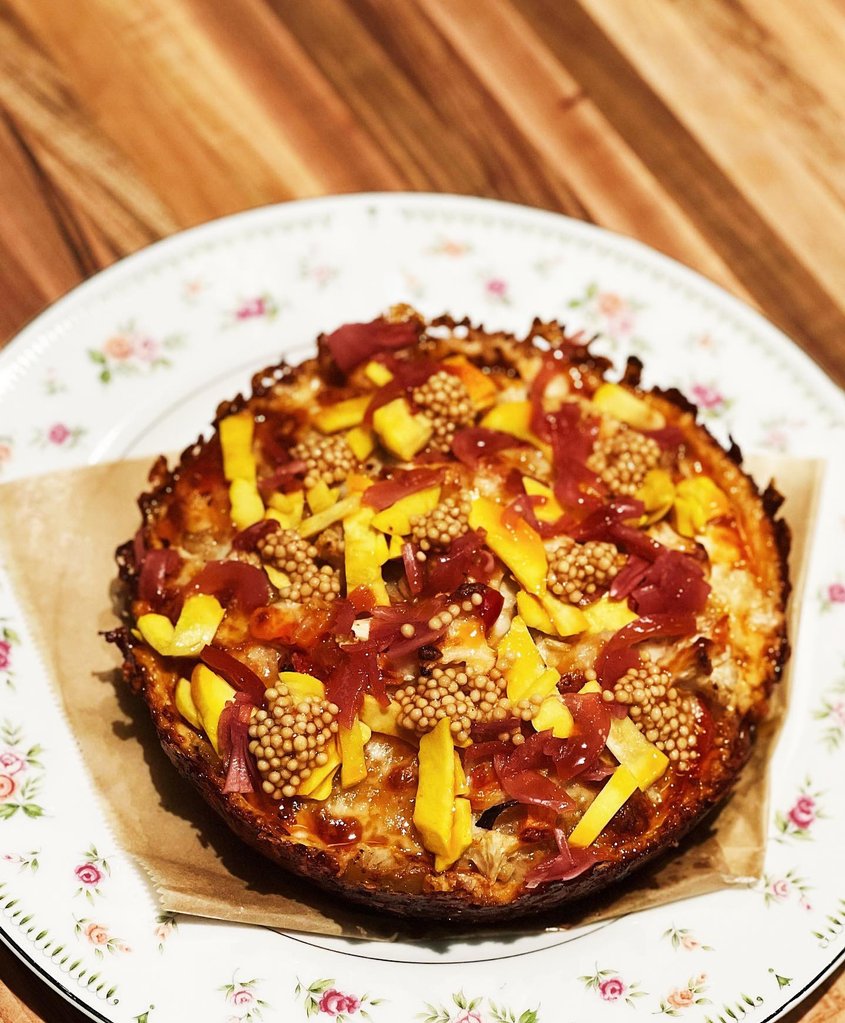 @tigerelladc
Tigerella
Opened August 2022
Headed by chef Vincent Falcone and founded by the creators of Mount Pleasant Elle, Tigerella's cafe menu includes coffee, baked goods, sandwiches and more. The restaurant is slated to start dinner service in early September.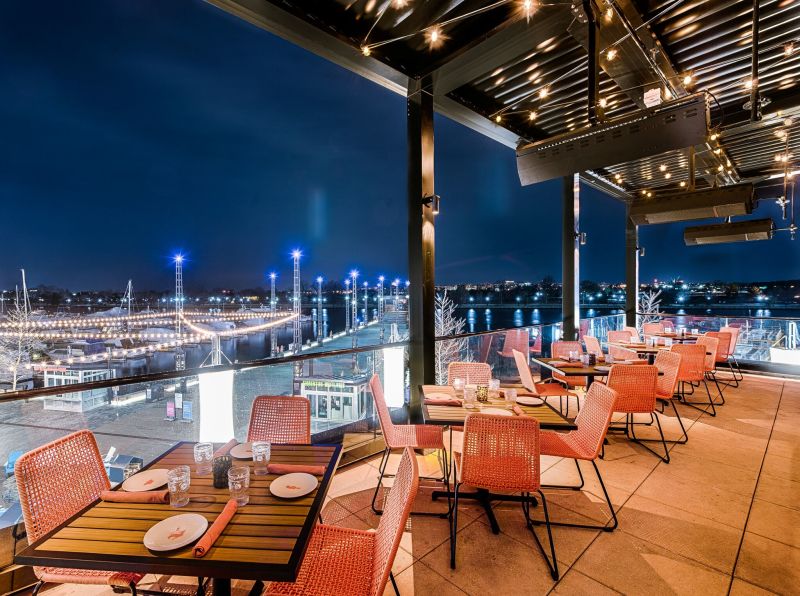 Mi Vida 14th Street
Opened August 2022
Rooted in tradition and history, 14th Street continues the Mi Vida story with new and intriguing contemporary twists. Celebrated chef Roberto Santibañez adds dishes to the menu to cater to the lively neighborhood crowd like skewers with agave-marinated chicken, Chilean sea bass with pumpkin seed salsa macha and skirt steak with mole negro and crispy shallots. Cocktail and tequila flights will also be offered.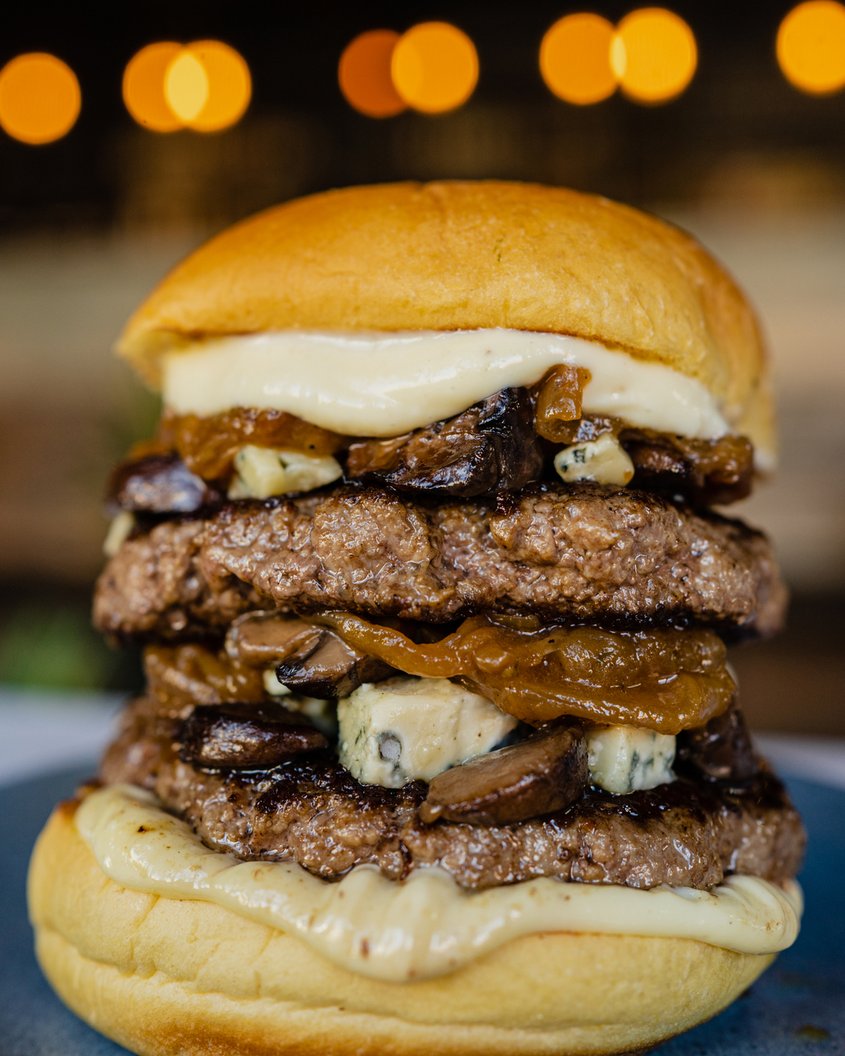 @ghostburgerdc
Ghostburger
Opened August 2022
The popular burger and cheesesteak pop-up has opened its first brick-and-mortar location across from the Walter E. Washington Convention Center. In addition to established favorites of smash burgers and Philadelphia-style cheesesteaks, the "glam-casual" restaurant also has offerings like scrapple and drinks such as the "Ghost Claw," Ghostburger's take on hard-seltzer brand White Claw. The restaurant will continue to include vegetarian options.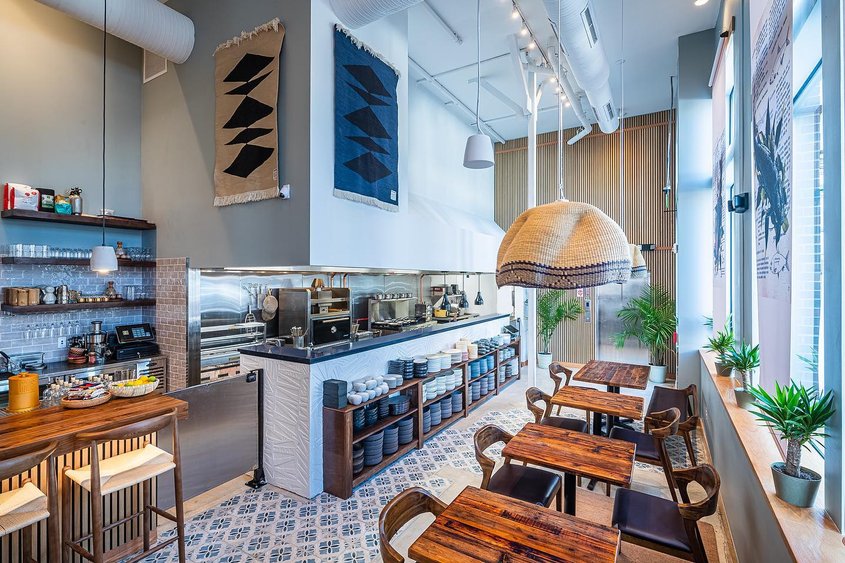 @causadc_
Causa
Opened August 2022
Check out this restaurant in Shaw's Blagden Alley with a prix-fixe menu that aims to capture the bounty of Peru. While ingredients, preparation and presentation vary weekly on Causa's menu, the six set courses follow the same path: raw fish, vegetables, anticucho (skewer), rice, meat and dessert. The intimate space with just 22 seats lends itself to an immersive, personalized experience captained by Peruvian-born chef and co-owner Carlos Delgado.
La Tejana
Opened August 2022
DC's wildly popular breakfast taco pop-up, La Tejana, opened its first standalone store in the Upper Northwest neighborhood, bringing Rio Grande Valley's border cuisine in the form of breakfast tacos and coffee. Guests find house-made flour tortillas and made-from-scratch ingredients inspired by the countless taquerias that co-founder and McAllen, TX native Ana-Maria Jaramillo grew up with on both sides of the Texas-Mexico border.
Chesapeake
Opened August 2022
From the team behind Duke's Grocery, Gogi Yogi and Duke's Counter, Chesapeake brings the region's favorite shellfish dishes to the heart of U Street. The bar only serves beers brewed in DC, Maryland and Virginia, alongside a wide selection of spirits and classic dockside drinks like orange crushes.
Clubhouse
Opened August 2022
Clubhouse is Georgetown's new grown-up replacement to Church Hall. Located at the end of the neighborhood's longest set of stairs, featured in the iconic Exorcist film, the subterranean spot is now a polished, wi-fi enabled café during the day and a 23-and-up bar at night, offering a refined menu of natural wines and clarified cocktails.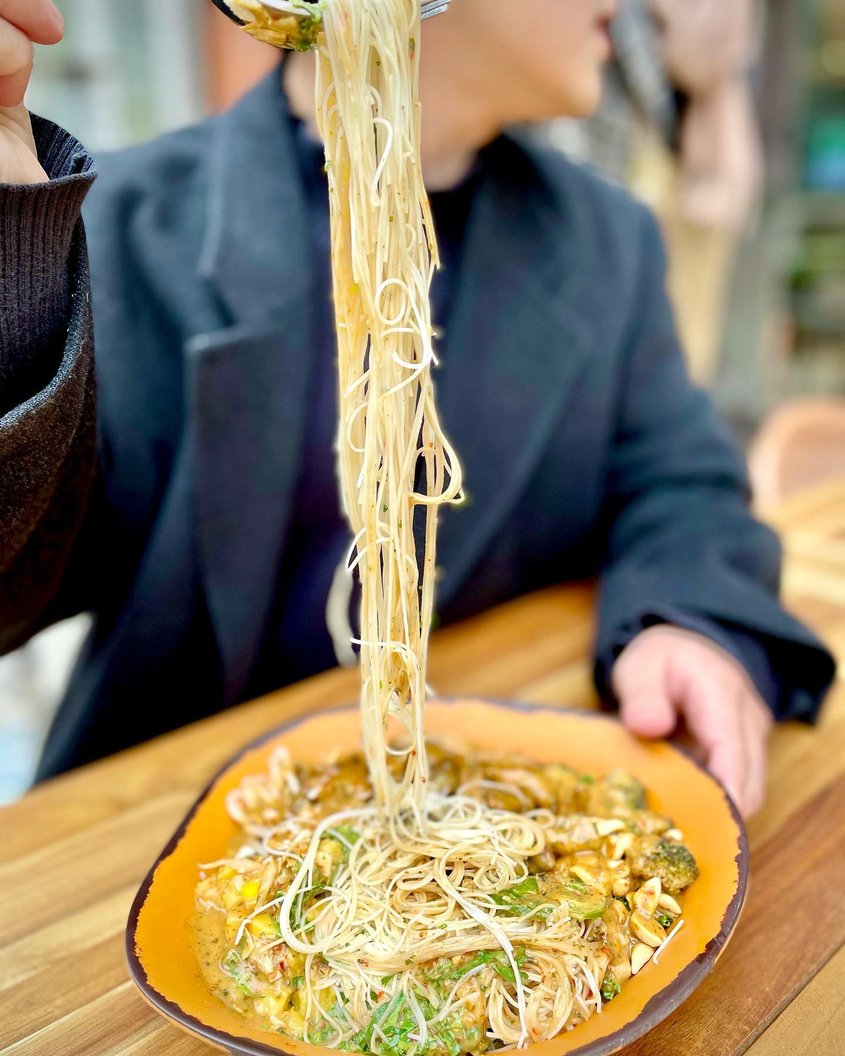 @immigrantfood
Immigrant Food+ & New Patio
Opened July 2022
Located at the Planet Word Museum, guests on the Negroni Patio can look forward to $21 Negroni flights or opt for a favorite from the menu of new takes on the classic drink with inspiration from Italy, France, Chicago and Mexico.
Lima Twist
Opened June 2022
Reopened in June in Downtown DC, Lima Twist offers a sophisticated Latin lineup of ceviches, crudo, chimichurri ribeye, empanadas, mofongo and pisco sours, with ingredients sourced from local farmers' markets.
 
Bar Ivy
Opened June 2022
Bar Ivy combines the cool, relaxed vibe of the West Coast with a Mid-Atlantic approach to ingredients, shining the spotlight on seafood and vegetables, vibrant cocktails and low-intervention wines. Guests can expect an elegant but laid-back atmosphere with subtle influences from the opposite coast, with attractive al fresco dining, an open, airy bungalow-style interior, and a casual Kiosk serving morning coffee and breakfast.
Bandoola Bowl: New location
Opened June 2022
A Southeast Asian salad shop is now open inside Western Market and brings flavors from Burma, Vietnam, Thailand and beyond across a menu of fresh ingredients. Guests will enjoy a customized salad or warm bowls, topped with spicy rice noodles or brown rice and a variety of proteins, spices, fruits, vegetables and garnishes.
@bykimberlykong
il Piatto Restaurant
Opened June 2022
Famed DC restauranteur Hakan Ilhan has reactivated a glitzy space near the White House, il Piatto Restaurant, as a new Italian home away from home. Naples native and Al Crostino alum, Lina Nicolai, oversees a comforting menu full of homemade meatballs, arancini, fettuccine alla Bolognese, ricotta gnocchi, eggplant parmigiana and chicken Milanese. Happy hour starts early (2:30 p.m.) at its gold-plated bar and weekend brunch brings "build-your-own" Aperol spritz kits to the table.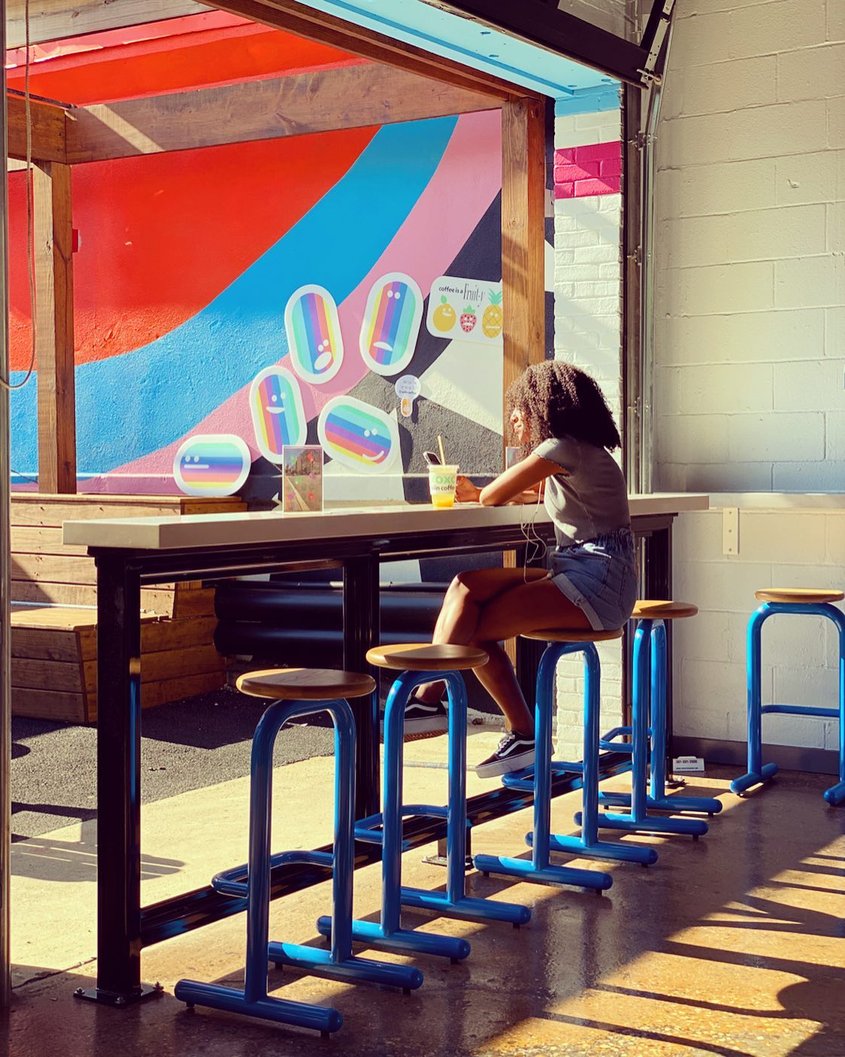 @louisedettman
Aslin Coffe
Opened Summer 2022
NoVA's Aslin Beer Company opened a Logan Circle beer garden and coffee shop in the summer of 2022 and brought their famed colorful cans and beers named for DC's neighborhoods. Aslin Coffee opens early for lattes, then transitions to brews and dinner from the onsite Bun'd Up food truck over a firepit.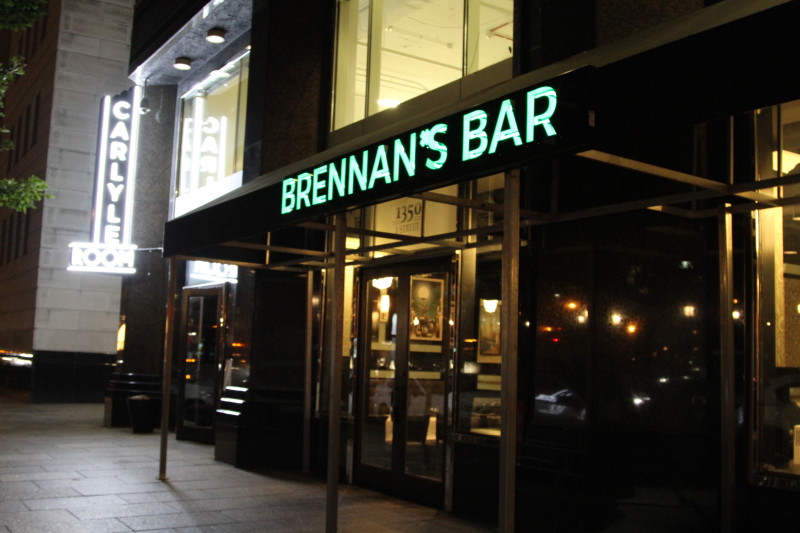 Carlyle Club
Opened Summer 2022
A rebooted version of Alexandria's Carlyle Club opened in downtown DC with a pair of concepts: event venue Carlyle Room and Brennan's Bar. The venue offers indoor and outdoor seating and serves American cuisine with seafood.
Newly Opened Hotels
The Morrow Hotel Washington, DC Curio Collection by Hilton 
Opened Nov. 28
The 203-room hotel is in The Morrow at Central Armature Works, a redeveloped site in the emerging NoMA neighborhood directly next to the NoMa/Galludet Metro station. The upscale brand from Hilton is in a three-tower mixed-use project alongside two resident towers. The hotel is seeking LEED Silver certification and includes outdoor event space, indoor and outdoor food and beverage spaces and a rooftop with views of the city.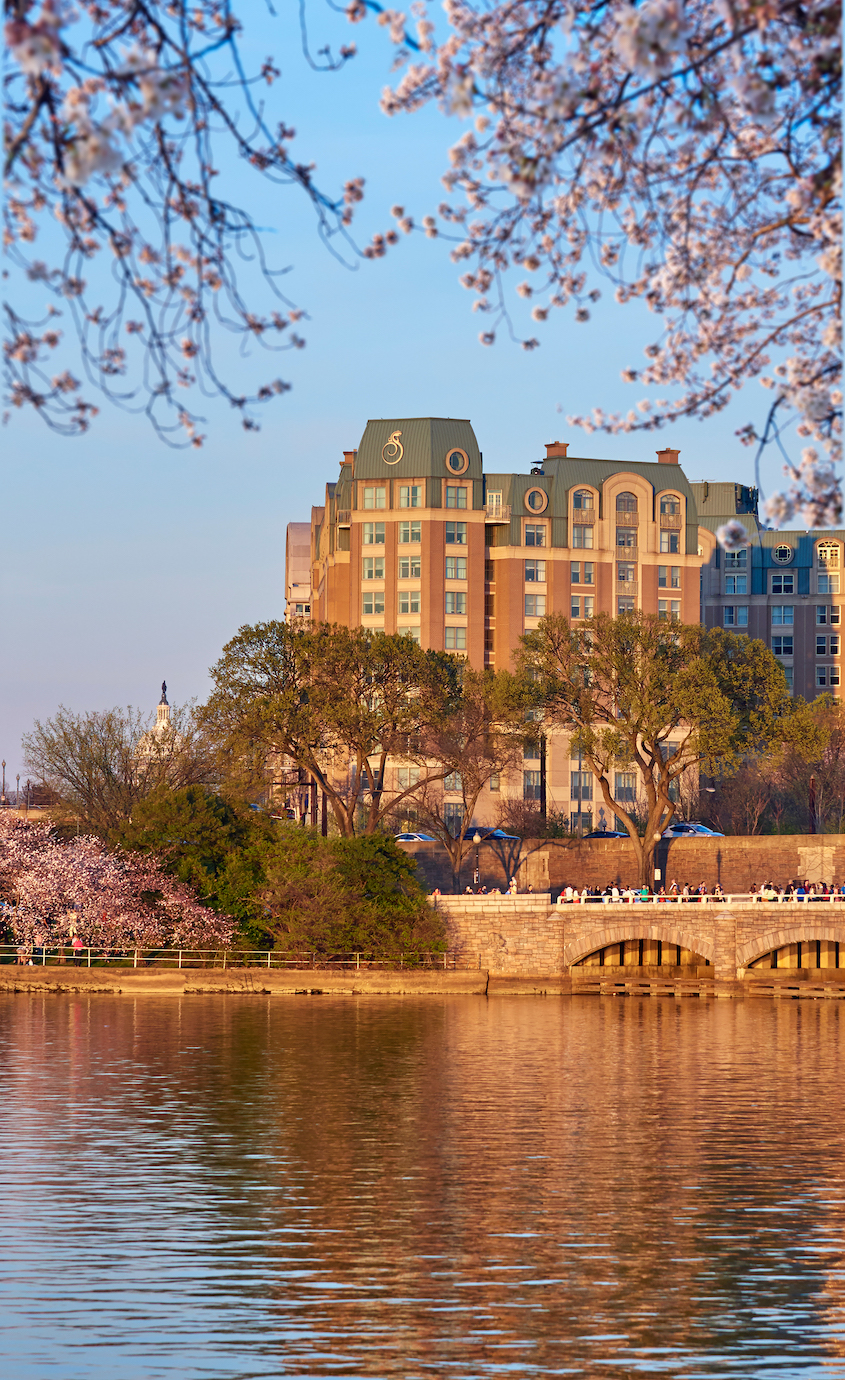 Salamander Washington, DC
Salamander Washington, DC
Opened September 2022 
Middleburg, Virginia-based Salamander Hotels & Resorts has taken over the 373-key Mandarin Oriental, Washington D.C. in Southwest DC. The transition occurred in September and marks the first venture of the brand in Washington, DC.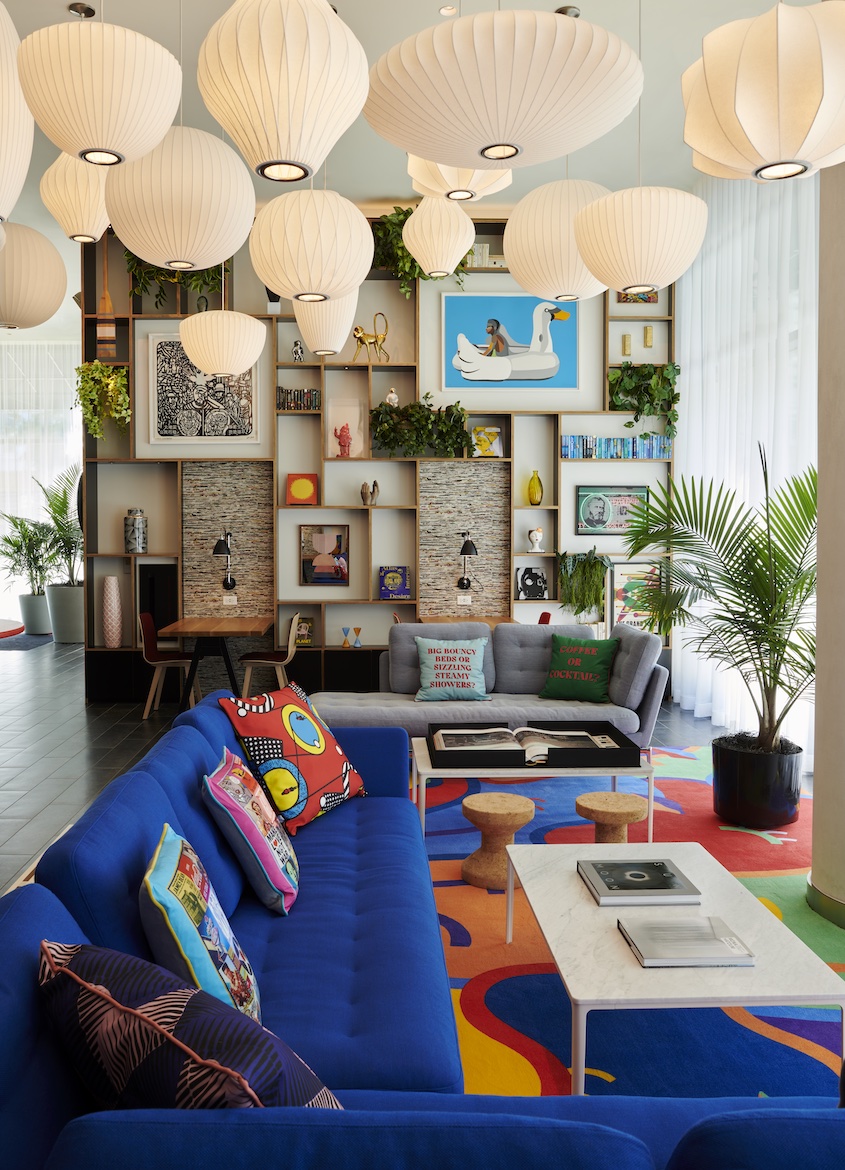 citizenM Washington DC NoMa
citizenM Washington DC NoMa
Opened September 2022 
Situated in the heart of NoMa near the metro and Union Market, the 292-key property is the city's second citizenM hotel. Staples of the beloved European brand include King-sized beds, MoodPads, HD-TVs with streaming, free Wi-Fi, blackout blinds and rain showers. The hotel has a ground-floor restaurant, bar, meeting space and fitness center. The lower level of the property offers bike storage, showers and changing facilities.
Selina
Opened June 2022
The DC property is designed in partnership with local artists, creators and tastemakers. Located in the NoMA neighborhood, Selina features 106 guest rooms and offers curated local experiences. The hotel caters to the Millennial and Gen Z market with value-priced accommodations and local experiences, branding itself as being designed for digital nomads and the modern traveler.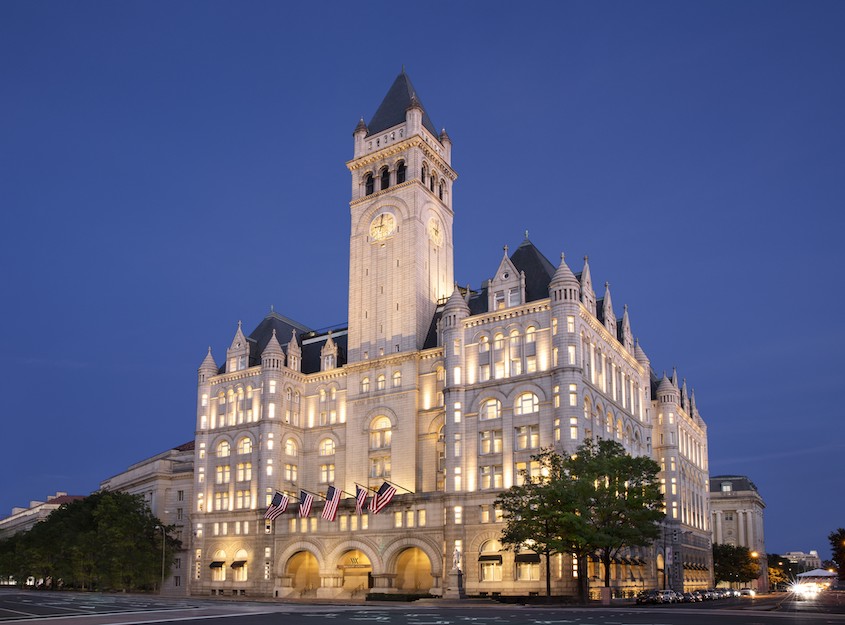 Waldorf Astoria
Waldorf Astoria Washington DC
Opened June 2022
Waldorf Astoria Washington DC is now open in the nation's capital off Pennsylvania Avenue Northwest. Inspired by the legacy of the Old Post Office, Waldorf Astoria Washington DC offers meeting and event space, a spa and deluxe guest rooms as well as a restaurant by José Andrés called Bazar, set to open by the end of the year.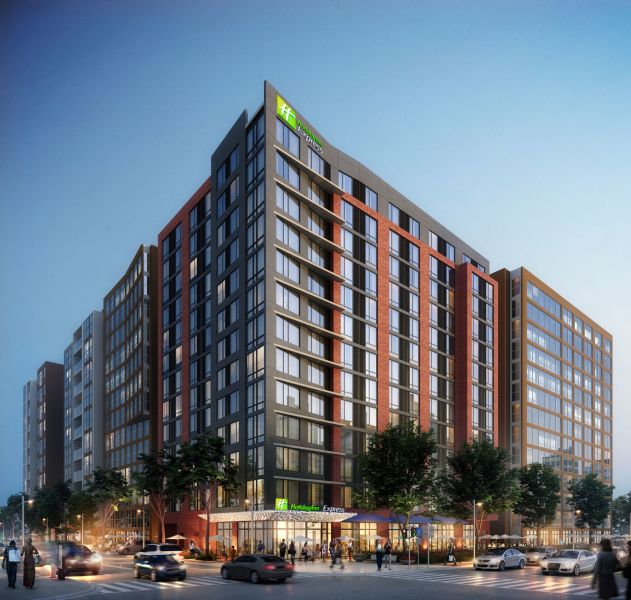 Holiday Inn Express Washington DC Downtown
Holiday Inn Express Washington DC Downtown
Opened May 2022 
Located a few blocks from Mount Vernon Triangle Metro station, the Walter E. Washington Convention Center and Capital One Arena, the 14-story hotel features 247 contemporary guest rooms, free Wi-Fi, a 24-hour fitness center and a complimentary hot breakfast bar. A flexible meeting space on the top floor offers views of the U.S. Capitol and each room is equipped with a microwave, mini-refrigerator and 43" TV. Other amenities include onsite parking.
 
AC Hotel Washington DC Capitol Hill Navy Yard
Opened February 2022 
The AC Hotel Washington DC is situated between DC's Capitol Hill neighborhood, Navy Yard and the attractions on the National Mall. The modern hotel features 225 spacious guest rooms, many with two queen beds and several with private balconies and Capitol views. There's also a 10,000-square-foot, state-of-the-art fitness center, flexible meeting and light-filled event spaces and a large rooftop restaurant and bar named Smoke & Mirrors. The restaurant can accommodate 200 people indoors and another 150 outdoors. In addition to the rooftop restaurant, there is a main floor all-day restaurant.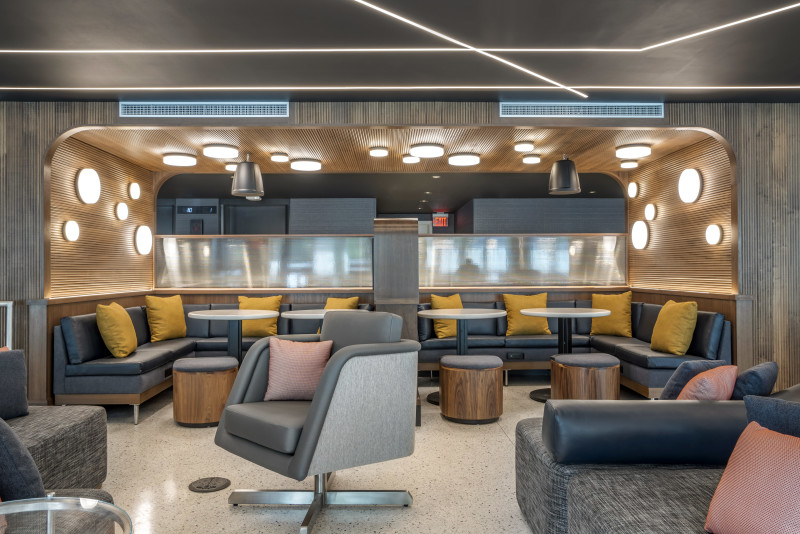 Courtyard by Marriott Washington DC Dupont Circle
Courtyard by Marriott Washington DC Dupont Circle
Opened January 2022 
Formally the Kimpton Topaz hotel, the renovated Courtyard by Marriott features a contemporary design in the historic Dupont Circle neighborhood a few blocks from the National Geographic Museum. The hotel includes a 24-hour fitness center and 143 guest rooms available in kings or double queens with large windows with views of the neighborhood and St. Matthew's Basilica. The lobby welcomes leisure and business travelers with two dining options, check-in pods and private booths equipped with built-in monitors.