Your guide to the best restaurants along the District's late night hot spot
It may be the Atlas Performing Arts Center that anchors the H Street NE corridor and kicked off the area's renewal, but the neighborhood known for its late night bar and club scene is also quietly making a name for itself among informed foodies. On H Street, you'll find plenty of places to get a great meal. Make sure to check out other places to eat and drink all over the District.
Global Grub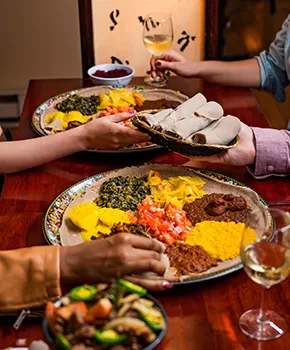 Toki Underground serves Taiwanese ramen, dumplings and cocktails surrounded by spray painted walls and a line of eager diners waiting on the stairs for a table to become available. Maketto is a dining-retail-coffeeshop triumvirate featuring more Taiwanese fare, as well as Cambodian dishes. The minimalist, two-story space also offers a curated collection of international clothing, accessories, books and magazines, and Vigilante Coffee and Frenchie's pastries in its cafe. Sticky Rice boasts a fresh sushi bar with creative rolls like the G.I. Jane, plus buckets of tater tots for nostalgia's sake. Locals love Copycat Co., a dumpling shop and cocktail bar that stays open late (closed Mondays and Tuesdays).
Get a taste of the Caribbean at Cane, offering jerk wings, tender oxtail, glazed Trin-Chinese chicken and other street food staples, and Lydia on H and Bronze which serve elevated, traditional eats with African influence. H Street also features a piece of DC's Ethiopian community with authentic flavors from Ethiopic.
Before or After a Show
Elevate your date night with traditional Swiss fondue and Raclette at Stable or Irregardless for an intimate wine bar experience. Or head to Granville Moore's, which calls itself "a cozy tavern with a healthy Belgian fetish," where you'll find an extensive list of Belgian beers and nourishing bowls of mussels. Purl, the new kid on the block, offers American comfort food among a vibrant setting.
Calling all vegetarians: Fancy Radish is your new home-away-from-home with unique dishes like a rutabaga fondue served with a soft pretzel or the restaurant's namesake "fancy radishes," which are plated with shico, shichito, yuzu avocado, pickled tofu and smoked soy.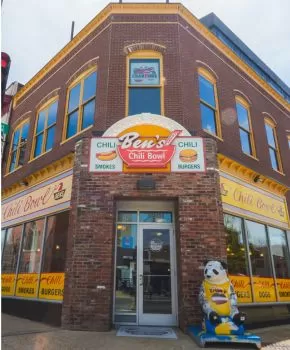 For after dinner drinks, the Haymaker Bar serves up craft cocktails and whiskeys, while Binge Bar mixes up innovative, non-alcoholic libations. And U Street institution Ben's Chili Bowl knew what it was doing when it opened an outpost on H Street. The hot dog-and-chili haven attracts a late-night crowd.

Refuel the next morning with traditional New York-style bagels from Bullfrog Bagels or a hearty brunch at Milk & Honey.