You are here
10 Cool Reasons to Check Out the By The People Festival This Summer
10 Cool Reasons to Check Out the By The People Festival This Summer
From June 15-23, experience a celebration of creativity and compassion through interactive exhibits, discussions and more.
The By The People festival makes a welcomed, bold proclamation: "We believe that we are more alike than different, stronger together than apart and more connected than it may seem." This empathetic credo is at the root of the all-new, Washington, DC-based event, unlike any other arts undertaking the city has ever seen.
The four-day fete attracts some of the modern art world's top talents, who will put on performances and display works spanning various forms of media – paintings, projection, sculpture, drawings, design, dance and more. It also includes collaborations with local museums on and off the National Mall, as well as points of interest throughout the neighborhoods. Visitors can expect plenty of free ways to celebrate the festival, Instagram-friendly displays and interactive installations. Read on to learn why you should plan to attend the highly awaited first rendition of this annual festival.
1
Most of the events and installations are free
One major goal of By The People is to make art accessible to all, including locals and visitors. The best way to do that is to host free events and exhibits, and By The People delivers on its promise by making nearly everything, besides a few affordable ticketed performances, free to all.
2
Explore something exciting in every quadrant
Set in the nation's capital, the festival embraces the entire District, meaning all quadrants. Venture to Southwest to explore festival HQs at the Smithsonian Arts & Industries Building, head to Southeast to explore the Smithsonian Anacostia Community Museum or THEARC West, trek to Northeast for a date with foodie-favored Union Market and cap it off in Northwest, where you can check out everything from the Parks at Walter Reed to Washington National Cathedral.
3
Get access inside the historic Smithsonian Arts and Industries Building
The Arts and Industries Building serves as the headquarters for By The People, with site-specific installations from light artist Jenny Sabin, tissue paper sculptor Maya Freelon and found-object artist Dan Steinhilber. After being closed for many years, the building is back in operation for special events only – meaning any time you can visit, it's worth taking advantage. Good to know: the building served as the site of the first national museum (now there are Smithsonian museums all over DC to explore!).
4
Visit Smithsonian museums late night on the solstice, Saturday, June 23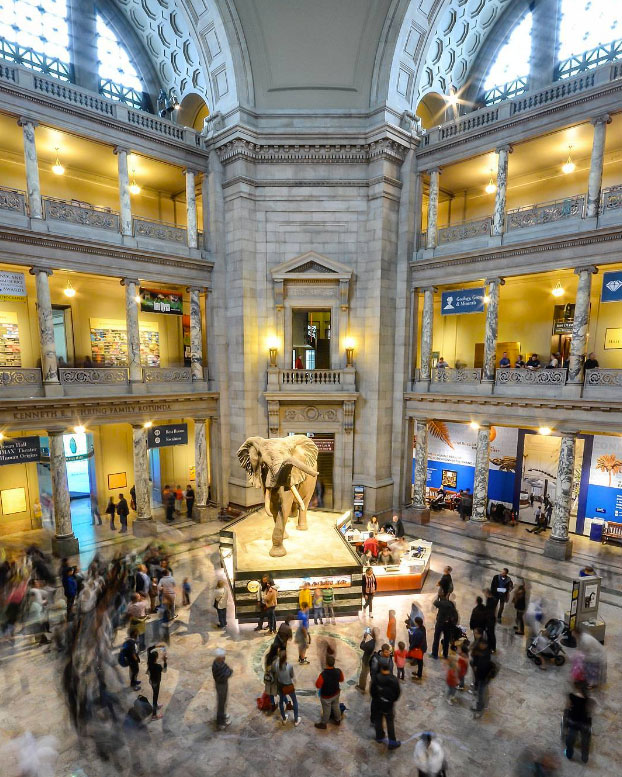 Not only is the Arts and Industries Building open to the general public during By The People, but 11 more Smithsonian sites, including museums, the Castle, galleries and the National Zoo, will stay open late night on the longest day of the year, as part of Smithsonian's Solstice Saturday. Enjoy special programming including exhibition access, live music and lots more.
5
Share discourse centered on life, liberty and happiness
In addition to focusing on art and human creativity, the festival puts human connection front and center. The goal is to engender dialogue amongst everyone by uniting individuals from all walks of life – especially those on opposite sides of an issue.
6
Sit down for a conversation with an exoplanet scientist from NASA
Maybe the best way to emphasize our shared humanity is to discuss the cultural and philosophical implications of discovering life beyond our world. That's the topic that Dr. Avi Mandell will explore. A NASA research scientist, Mandell is the go-to expert on habitable planets and their characteristics.
7
Ready, set, go on an augmented reality, city-wide art hunt.
Known for its immersive, large-scale digital art installations, ARTECHOUSE has developed a Pokémon Go-style art hunt in DC. The entire city becomes a virtual canvas to explore, as augmented reality works created by digital artists from around the world come into view on your handheld device.
8
Witness bold ballet performances at Union Market's Dock 5
Committed to creating new productions, Philly-based dance company BalletX transforms the age-old artform into awe-inspiring feats of athleticism, grace and beauty. Watch BalletX perform new ballets by choreographers Darrell Grand Moultrie and Trey McIntyre at Union Market's Dock 5 on Friday and Saturday, June 22-23. And on Saturday and Sunday, catch a ballet chanté (dancing with singing) as the Hong Kong Ballet performs The Seven Deadly Sins, a new production by Wolf Trap Opera inspired by the original 1933 ballet chanté of the same name.
9
Catch a projection and a painting at The Washington National Cathedral
Internationally renowned visual artist Nick Cave will debut a new video projection examining the themes of love and faith. The free-to-visit artwork will appropriately be on display at Washington National Cathedral, where Pakistani artist Imran Qureshi will also display large-scale paintings.
10
You can skip the line with an All-Day Pass to All Arts Installations
Bypass the line and score access to art installations across the city during the festival, June 21-24. Here's how: Choose a day to explore art, pre-register for your pass and earn free entry to art installations at the following locations: Smithsonian Arts and Industries Building, The Parks at Walter Reed, THEARC West, Union Market and Washington National Cathedral.
Find more official festival info, schedule and events. Explore more of DC's vibrant arts and culture scene, catch The Arts District video series and discover museums, neighborhood murals and theaters where local creatives find their inspiration.