You are here
Free Things to Do: Winter in Washington, DC
Free Things to Do: Winter in Washington, DC
Explore the winter wonderland that is DC with free holiday displays, unforgettable events and much more
There's nothing like a trip to Washington, DC in winter. The nation's capital is filled with free winter activities and gorgeous holiday displays, serving as a great destination to celebrate Christmas, New Year's Eve or any winter holiday. From ice sculptures to holiday markets, Washington, DC features plenty of free things to do that are sure to inspire winter whimsy. Check out some of our favorites below.
1
Experience the National Zoo in holiday mode during ZooLights
Indulge your wild side with an after-hours visit to the National Zoo during ZooLights, which illuminates the zoo with more than 500,000 environmentally friendly LEDs, animated light installations and live music. Hot chocolate, coffee, eggnog, s'mores and holiday cookies are all available to satisfy appetites. Bid good cheer to various animals as well. ZooLights runs Nov. 24—Jan. 1 (closed Dec. 24, 25 & 31).
2
See winter holiday displays at CityCenterDC
Walk under Palmer Alley's signature stringed lights and admire a 75-foot Christmas tree and reindeer sculptures that stand 25 feet tall at this luxury shopping and restaurant destination in downtown DC. The tree lighting takes place on Nov. 25, a ceremony that will also include live music. Before or after you admire the displays, have dinner at one of CityCenterDC's acclaimed restaurants, a list that includes Centrolina, DBGB Kitchen & Bar and Fig & Olive.
3
Find fascinating light art installations during Georgetown GLOW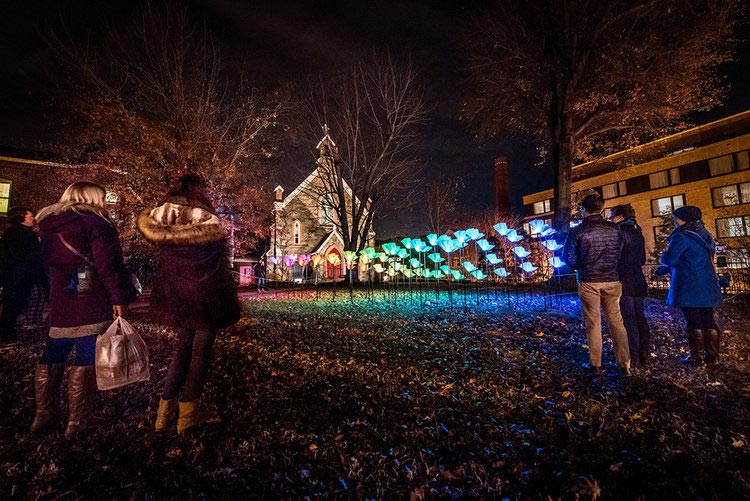 From Dec. 8 - Jan. 7 (5 - 10 p.m. nightly), you can stroll through DC's most historic neighborhood and marvel at stunning artworks as part of the only curated exhibition of outdoor public light art installations in the region, Georgetown GLOW. The event has quickly become a holiday tradition in the nation's capital, gathering work from artists both locally known and internationally celebrated.
4
Lay a wreath at Arlington National Cemetery
Arlington National Cemetery is the largest military cemetery in the U.S., where more than 400,000 military veterans and their immediate family members rest in peace. Each year, the cemetery participates in National Wreaths Across America Day (this year's date: Dec. 16), when wreaths are laid at every headstone. You can join in that day, or visit any other day to pay your respects, free of charge.
5
Explore the U.S. National Arboretum's Gotelli Dwarf and Slow-Growing Conifer Collection
The U.S. National Arboretum is full of treasures, from the Capitol Columns to the Bonsai & Penjing Museum to the seven-acre Gotelli Dwarf and Slow-Growing Conifer Collection. This collection is one of the most comprehensive in the world, with 1,400 specimens forming an oasis that is perfect for getting lost in, or simply admiring from the gazebo that overlooks the area. You will be amazed by the great variance and adaptability within the conifer family.
6
Gaze at the majestic U.S. Capitol Christmas Tree
Each year, a tree from a National Forest in the U.S. is brought to the Capitol, where it resides on the West Lawn throughout the season. This year's tree comes from Big Sky Country — more specifically, Kootenai National Forest in Montana. The tree will be set aglow in early December. Follow the tree's Facebook and Twitter for the latest news and updates.
7
Catch the Christmas spirit at Union Station
Union Station is like its own self-contained holiday retreat. Its famous model train display cannot be missed, and neither can its dazzling Norwegian Christmas tree. Amazing wreaths that hang at the front of the station either greet you on the way in or wish you a holiday goodbye before you explore more of the city.
8
Witness the Holiday Boat Parade of Lights from Alexandria to The Wharf
Visit Alexandria
Each year, dozens of holiday-themed and illuminated boats traverse the Potomac River from the waterfront in Alexandria, Va. to the District. This year, they'll dock at The Wharf, DC's newest and hottest recreational development on the Southwest Waterfront. You can observe free of charge, and there are even holiday festivals on both sides of the river to enjoy beforehand. Alexandria's Torpedo Factory Art Center plays host to a festival complete with a building-wide kids scavenger hunt, open art studios and (of course) Santa, while The Wharf's festivities include live music, ice skating and winter-themed drinks at the Waterfront Wine & Beer Garden. Prizes will be awarded to the most beautiful vessels, which begin their journey at 5:30 p.m, and fireworks will cap off the parade at 8 p.m.
9
Don't miss your chance to stand next to the National Christmas Tree
The National Christmas Tree is DC's claim to fame during the holidays, and for good reason. The gorgeous conifer lives in President's Park on the White House Ellipse and is accompanied by nightly musical performances throughout the holiday season. The tree will be lit from Nov. 30 through Jan. 1, 2018.
10
Admire the world's largest menorah
Throughout Chanukah, the National Menorah stands tall on the White House Ellipse, an international symbol for the Jewish community. Its first lighting comes on Dec. 12, featuring a free ceremony (tickets must be acquired online) complete with musical performances, hot latkes and donuts.
11
Take in the holiday grandeur of the Downtown Holiday Market
Located at 8th and F Streets NW across the street from Capital One Arena, the Downtown Holiday Market holds down the area in front of the Smithsonian American Art Museum and National Portrait Gallery (2017 dates: Nov. 24 - Dec. 23). As you stroll, you will encounter stirring lights and decorations, live music on-site and irresistible holiday vibes. If you do have a few bucks to spend, dozens of vendors will be offering artwork, crafts and much, much more.
12
Discover winter wonder at Washington Harbour
Washington Harbour is a crown jewel of Georgetown, a waterfront destination that can be appreciated without spending a cent. Admire views of the Potomac River and the largest ice skating rink in DC (which only charges $10 for adults and $9 for children from mid-November to March) while walking the Harbour's illustrious pier. There's at least one dynamite Instagram photo, just waiting to be snapped.
13
Check out the Swedish Christmas Bazaar
SWEA Washington, DC
Held at the House of Sweden, this annual DC tradition takes place on the first Saturday in December from 11 a.m. - 5 p.m. each year (Dec. 2 this year). The Swedish Christmas Bazaar offers a marketplace decked out with for-sale crystal glassware, artworks, craft items and food from a Swedish cafe, and you can also participate in a special raffle. Make sure not to miss the main event: the St. Lucia procession featuring festive caroling.
Looking for more winter whimsy in Washington, DC? Find out why Washington, DC is a winter wonderland.