Explore the winter wonderland that is DC with free activities, holiday displays, unforgettable events and much more.
There's nothing like a trip to Washington, DC in winter. The nation's capital is filled with free winter activities and gorgeous holiday displays, serving as a great destination to celebrate any winter holiday. From festive virtual events to holiday markets, Washington, DC features plenty of free things to do that are sure to inspire winter whimsy. Check out some of our favorites below. Also, be sure to check out our #DCTogether page for the latest COVID-19 updates for the city.

01
ZooLights Express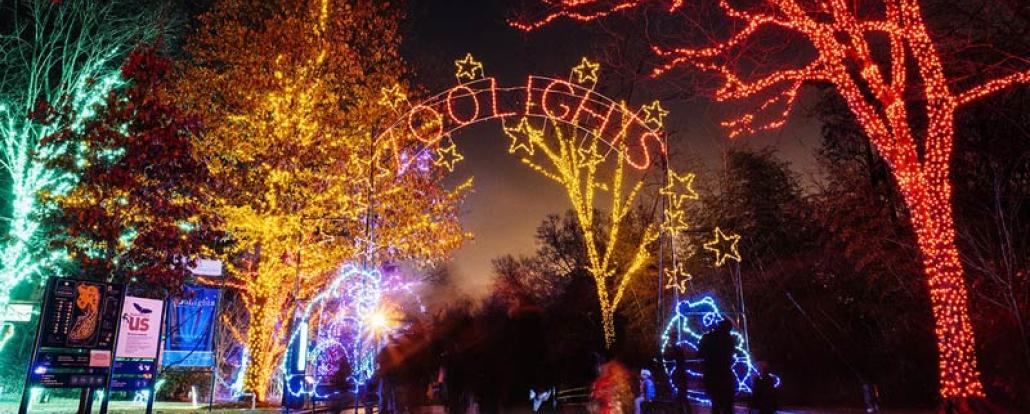 Smithsonian's National Zoo is taking its popular holiday installation on the road this year. ZooLights Express features a 24-foot truck, festively decorated with light displays and "Panda Claws", that travels all over the District through Dec. 19. The Express will visit one ward in DC each Friday and Saturday from 6-8 p.m. For a full schedule and routes through each ward, visit the Zoo's website. ZooLights Express runs Nov. 27 — Dec.11 
Fridays & Saturdays, 6-8 p.m. | More info | Free admission
02
Don't miss your chance to stand next to the National Christmas Tree
This year, the National Christmas Tree Lighting will take place online, with holiday performances accompanying the ceremony. The site can be visited for free from 10 a.m. to 10 p.m. daily throughout the holiday season; the tree itself is lit from 4:30-10 p.m. each day. The National Christmas Tree is DC's claim to fame during the holidays, and for good reason. The gorgeous conifer lives in President's Park on the White House Ellipse, where it's surrounded by trees decorated with handmade ornaments from 56 U.S. states and territories.
10 a.m. – 10 p.m., tree lit from 4:30-10 p.m. | Watch here l  Free admission
The Ellipse, 15th & E Streets NW, Washington, DC 20500
03
DC Holiday Lights
Neighborhoods throughout the nation's capital are adorning their "main streets" with colorful lights this December. Additionally, vendors in each neighborhood are offering holiday specials and promotions throughout the month to encourage shopping locally. You can enjoy this holiday cheer in Columbia Heights, Mount Pleasant, Dupont Circle, Logan Circle, U Street and Woodley Park, among other locales. Votes can be cast for the best decorated corridor! 
More info
04
Lay a wreath at Arlington National Cemetery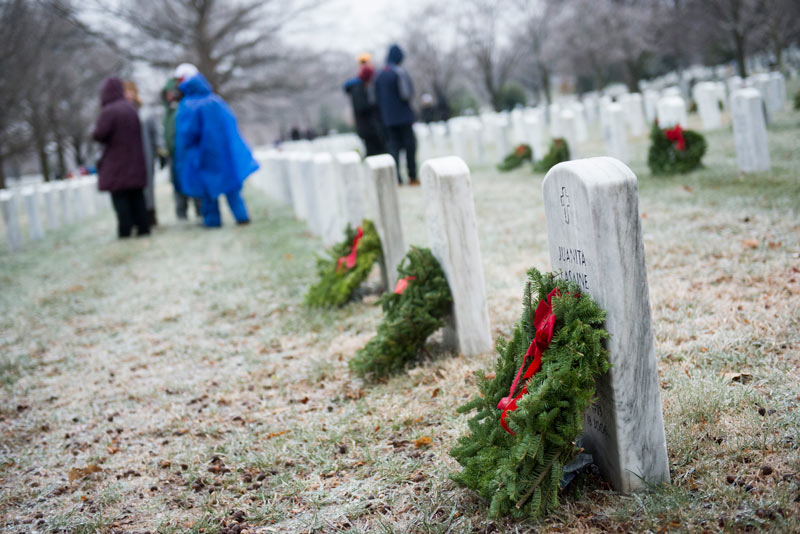 People lay wreaths at Arlington National Cemetery - National Wreaths Across America Day
Arlington National Cemetery is the largest military cemetery in the U.S., where more than 400,000 military veterans and their immediate family members rest in peace. Each year, the cemetery participates in National Wreaths Across America Day (this year's date: Dec. 19), when wreaths are laid at every headstone. This year, you can sponsor a wreath or become a volunteer to help place wreaths on the graves of our fallen heroes. 
More info
05
Gaze at the majestic U.S. Capitol Christmas Tree
Each year, a tree from a National Forest in the U.S. is brought to the Capitol, where it resides on the West Lawn throughout the season. This year's tree comes from Grand Mesa, Uncompahgre and Gunnison national forests in Colorado. The tree will be set aglow in early December. Follow the tree's Facebook and Twitter for the latest news and updates.
More info
06
Take in the holiday grandeur of the Downtown Holiday Market
This free-to-frequent downtown bazaar has expanded its space this year to account for social distancing. Centrally located in front of the Smithsonian American Art Museum and National Portrait Gallery, the beloved market stretches across two blocks of F Street between 7th and 9th streets. Scope out eclectic wares from dozens of pop-up tents with seasonally flavored music performed live in the background. Locally roasted coffee and crafted-before-your-eyes mini-doughnuts inspire a cold-weather appetite, creating a holiday atmosphere you won't find anywhere else in DC. Please make sure to read the market's safety information before your visit. There will be one entrance at 8th and F streets and guests will walk one-way through the market.
12-8 p.m., daily |  More info | Free admission | Safety guidelines
F Street between 7th and 9th Streets NW, Washington, DC
07
Admire the world's largest menorah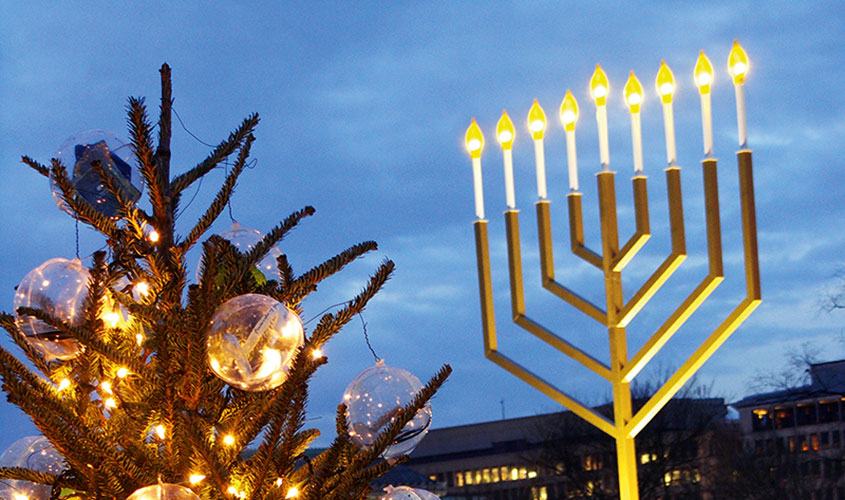 Chanukah kicks off with this lighting ceremony of the world's largest menorah on the White House Ellipse, which greets all with latkes, doughnuts, menorah kits and dreidels. Music from the United States Navy Band will add a soundtrack to the scene. As is the custom, a new candle is illuminated on each of the eight days of Chanukah. Special measures will be in effect due to COVID-19, with limited seating available. Please wear a mask if you plan to attend. 
4 p.m. (gates at 3 p.m.) | Free admission | Tickets required
White House Ellipse, 1600 Pennsylvania Avenue NW, Washington, DC 20500
08
Explore the U.S. National Arboretum's Gotelli Dwarf and Slow-Growing Conifer Collection
The U.S. National Arboretum is full of treasures, from the Capitol Columns to the Bonsai & Penjing Museum to the seven-acre Gotelli Dwarf and Slow-Growing Conifer Collection. This collection is one of the most comprehensive in the world, with 1,400 specimens forming an oasis that is perfect for getting lost in, or simply admiring from the gazebo that overlooks the area. You will be amazed by the great variance and adaptability within the conifer family.
09
Dupont Circle Holiday Pop-Up
Artists and makers will be situated in front of retail shops all over the Dupont Circle neighborhood for this annual event hosted by Historic Dupont Circle Main Streets, which also plans to incorporate Dupont Underground. Roughly 30 vendors will sell paintings, scarves, chocolates, jewelry, pottery and additional holiday-themed items. Pop-up shops will feature imported food, fine art, shoes and more. Please make sure to wear a mask and maintain social distance during this free event.
12-5 p.m. | More info | Free admission
10
Park View Pop-Up Holiday Market
Hook Hall hosts this pop-up of the popular Park View Farmers Market on three consecutive Saturdays. Before the market officially reopens in January, many of its vendors are offering food and holiday gifts from local artists, makers and producers at this holiday bazaar on Dec. 5, 12 & 19. The market layout will allow for one-way traffic flow, capacity limits will be in place and masks are required for entry.
10 a.m. – 2 p.m. | More info |  Free admission
In front of Hook Hall, 3400 Georgia Avenue NW, Washington, DC 20010
11
'A Christmas Carol: The Radio Play'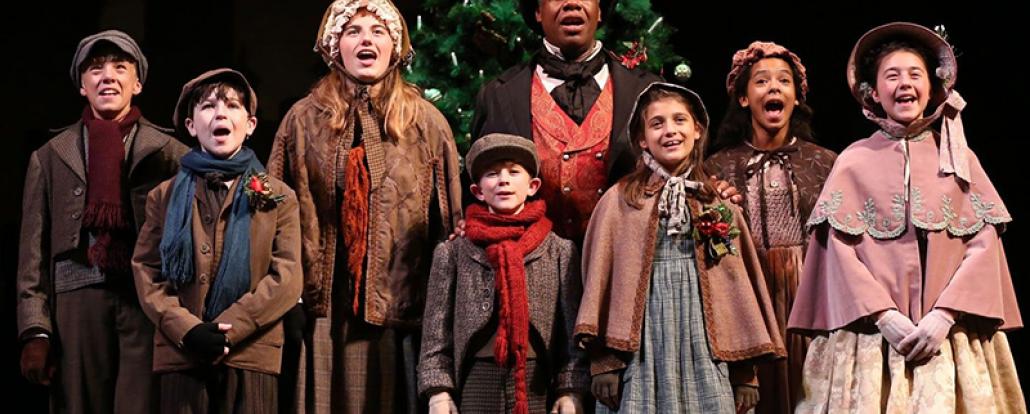 Ford's Theatre takes its annual and highly acclaimed performance of Charles Dickens' 'A Christmas Carol' to the airwaves this year. WAMU 88.5 FM will broadcast the play on Christmas Day at 12 p.m., but you can access the one-hour performance, which features Craig Wallace as Scrooge, on the Ford's Theatre website beginning Dec. 14. The Theatre will also offer a downloadable program featuring photos and holiday-themed content.
12 p.m. | More info
12
Step Afrika!'s Magical Musical Holiday Step Show
DC's Step Afrika!, the first professional company dedicated to the tradition of stepping, puts on a holiday extravaganza every year. The 2020 edition of the family-friendly show, which combines clapping, stomping and stepping for a dazzling array of percussive dance, will be a free, virtual experience. Recorded at the Hylton Performing Arts Center, the show will feature furry friends from the animal kingdom, including Popper the Penguin and polar bear twins, and enough rhythm to have your whole living room rockin'.
7:30 p.m. |  Free – Registration required