You are here
11 Can't-Miss Summer Festivals & Events in Washington, DC
11 Can't-Miss Summer Festivals & Events in Washington, DC
Summer in the nation's capital is packed with free and family-friendly festivals featuring everything from jazz music to the wonders of barbecue.
Washington, DC never lacks for can't-miss events and warm-weather festivals. In fact, there are so many amazing choices that it can be tough to figure out which to attend. No worries – we've got you covered with some of the season's biggest festivals perfect for having the best summer ever. Off we go!
1
Capital Pride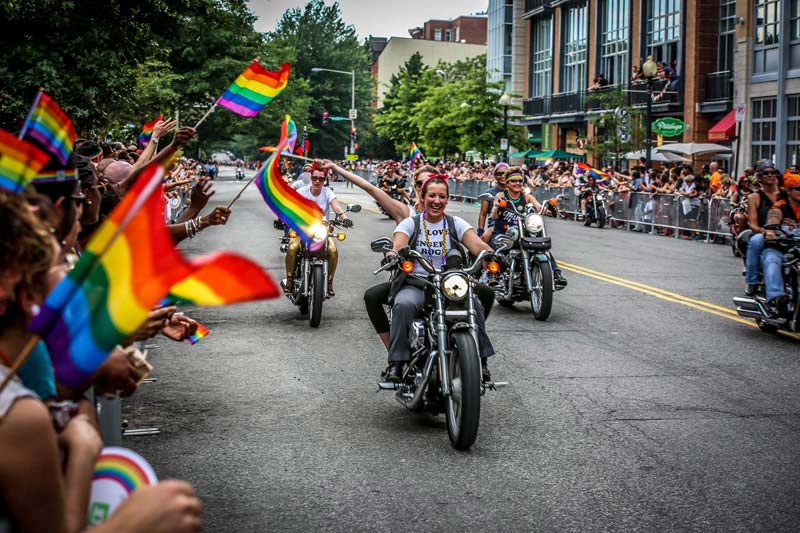 The DC community comes together for the annual Capital Pride, a citywide celebration of LGBTQ rights and the continuing fight for them. This year's theme is "shhhOUT," and signature events include a rooftop pool party, a block party, the popular Pride Parade and the Pride Festival and Concert. Check out our rundown of these can't-miss events and get down with diversity May 31– June 9.
2
By the People Festival
A citywide arts festival with free and inclusive activations, By the People celebrates the creative culture of the arts, and the empathy and inclusivity they engender. During the nine-day extravaganza taking place June 15-23, expect a full-on arts takeover of the District, with innovative music and dance performances, interactive and collaborative displays, art installations in every DC quadrant and late-night museum openings from the National Mall to the neighborhoods.

3
DC Jazz Festival
The DC Jazz Festival brings national and local musicians to venues including The Wharf, National Gallery of Art and the Kennedy Center, as well as intimate jazz clubs all over the city. Some concerts are free; most are ticketed. A lineup stacked with talent and free performances are just two of the many reasons why you should check out the 15th year of this summer festival taking place from June 7-16.
4
AFI Docs
The American Film Institute's international film festival presents diverse documentaries ranging in topics from national politics, education and health to music, sports and culture. Considered one of the leading documentary festivals in the country, AFI Docs is an annual summer celebration of the power of storytelling in film. The festival takes place June 19-23, so be sure to check the festival's website for programming updates.
5
Giant National Capital Barbecue Battle
Rib roasters and sauce bosses show off their delicious wares during the Giant National Capital Barbecue Battle. Pit masters from all 50 states, local restaurants and live music shut down Pennsylvania Avenue between 3rd and 7th streets NW for a lively street party June 22-23. Cooking demos and free tastings make for a delicious (and filling) experience.
6
Smithsonian Folklife Festival
The free Smithsonian Folklife Festival salutes different international and American cultures every year on the National Mall with craft exhibits, live music, cooking demos and an expansive marketplace full of pottery, books, textiles, toys, sculptures, clothing and more. The 2019 edition, which focuses on the social power of music, takes place from June 29-30.
7
Citi Open
The District's signature professional tennis tournament returns to Rock Creek Park Tennis Center from July 27 – Aug. 4. Top-tier talent from all over the world will compete for a prestigious trophy, leading to action that you do not want to miss.
8
Capital Fringe Festival
During the edgy Capital Fringe Festival, you can catch out-there performances from local creatives, including improv dramas, punk rock shows and colorful dance shows. Events take place at libraries, museums, galleries and the Logan Fringe Arts Space throughout the month of July. Make sure to check out the festival's website as it gets closer for programming information.
9
Comcast Xfinity Outdoor Film Festival
It's not quite summer unless you enjoy movies under the stars. Comcast Xfinity and Strathmore Campus present this three-day outdoor film festival towards the end of August that benefits the National Institutes of Health Children's Charities. The entire family can settle down on the Strathmore lawn, enjoy on-site food from Ridgewell's and take in a classic movie (films begin at dusk each evening). Looking for more outdoor movie fun? Check out all the places to catch a flick outside this summer.
10
17th Street Festival
This annual festival honors the incredible diversity of restaurants and retailers on 17th Street NW in Dupont Circle, as well as its communal vibe. Taking place at the end of August, more than 100 vendors will be on-hand showcasing their offerings and over 60 artists will display jewelry, crafts, fine art and more. There will also be live music, a kids' zone featuring a moon bounce and a pet zone for those looking to shop or adopt a new pet!
11
Truckeroo
One Friday each month from April through October, Truckeroo brings local food trucks to the Fairgrounds at Yards Park in the bustling Capitol Riverfront neighborhood to dole out everything from cookies and milk to Vietnamese sandwiches. About two dozen wheeled food sellers show up, and there are picnic tables and shade to keep things cool.
If you plan to drive to any of these awesome summer festivals, you can conveniently book your parking through SpotHero to save up to 50% throughout the city.