You are here
6 Summer Food & Drink Trends to Try Right Now in Washington, DC
6 Summer Food & Drink Trends to Try Right Now in Washington, DC
The Classics
From season to season, there are some things you can always count on. In DC, that includes delicious offerings from two local favorites, Ice Cream Jubilee and District Doughnut. #MadeinDC darling Ice Cream Jubilee is giving us (adult) summer camp vibes with its new whiskey toasted marshmallow flavor. If you're after something a little more fruity, papaya piña colada and strawberry ginger lemonade are both on the summer menu and are both vegan. Marshmallow must be in this summer because District Doughnut is serving up a Fluffernutter flavor during the month of June. For those who don't know, Fluffernutter is a sandwich made with peanut butter and marshmallow cream. It's absolutely sticky and absolutely delicious.
Tiki Drinks
Fads come and go, and come and go again, and that's exactly what's happened with tiki drinks. The delightfully tacky 1980s trend has made a resurgence in the nation's capital with rum-forward hot spots like Potomac Distilling Company's Tiki TNT and Coconut Club, both of which are brightly lit and excel with vibrant drinkware and mugs. Cuban café/bar Colada Shop offers up understated tiki classics and Farmers Fishers Bakers hosts an outdoor tiki patio menu. If you're looking for colorful and delicious flavors but want to hold off on the booze, sip on one of the agua frescas from the Cascade Café at the National Gallery of Art. Also available: its mango, lemon, blood orange and raspberry gelatos.
Lunch break at a local farmers' market
Sure, we all know a trip to the local farmers' market means loads of fresh produce. But what if you're craving a little something more? Luckily, DC farmers' markets have got you covered. Tuck into a personal pizza from the award-winning Timber Pizza at the FRESHFARM CityCenterDC market on Tuesdays, or a bagel breakfast sandwich from its sister restaurant Call Your Mother at Sunday's Dupont FRESHFARM Market (get there early though, these sell out fast!). With 10 different markets running Tuesday through Sunday, you can explore flavors from all over the globe including falafel sandwiches from Hilana Cuisine, locally sourced fish burgers from Fishscale and gourmet Chinese dumplings from Pinch.
All-American Eats

If you didn't pack your grill into your suitcase this visit, don't worry, DC has the full slate of summertime favorites. Feast on everything from crinkle-cut fries and crave-worthy burgers (looking at you Shake Shack) to a DC rite of passage, the chili-smothered half-smoke from Ben's Chili Bowl – and leave some room for barbecue. And if you want to savor American cuisine across various eras, get to José Andrés' America Eats Tavern in historic Georgetown, which features longtime favorites like a 200-year-old mac 'n' cheese recipe and a shrimp and grits take from Jamestown in 1607. Cap off the experience with Americana-inspired cocktails and a table outdoors on the patio.
Za'atar Spice
This tangy Middle Eastern flavor is having a moment in DC. From the bagels at the oh-so-popular Call Your Mother Deli, to the chicken shawarma hummus from Little Sesame, to the khachapuri at Supra and Compass Rose and even the spring burrata and green goddess salad from fast-casual fave Sweetgreen – za'atar is popping up everywhere! The spice bursts with mouthwatering flavors like sesame, wild thyme, and sumac. In addition to your favorite restaurants, you can also find za'atar at local farmers' markets thanks to Z&Z, a mom-and-pop shop serving up the spice on its delicious flatbreads since 2016. You can also buy the spice for yourself to try on all of your favorite dishes at home!
Plant-Based Foods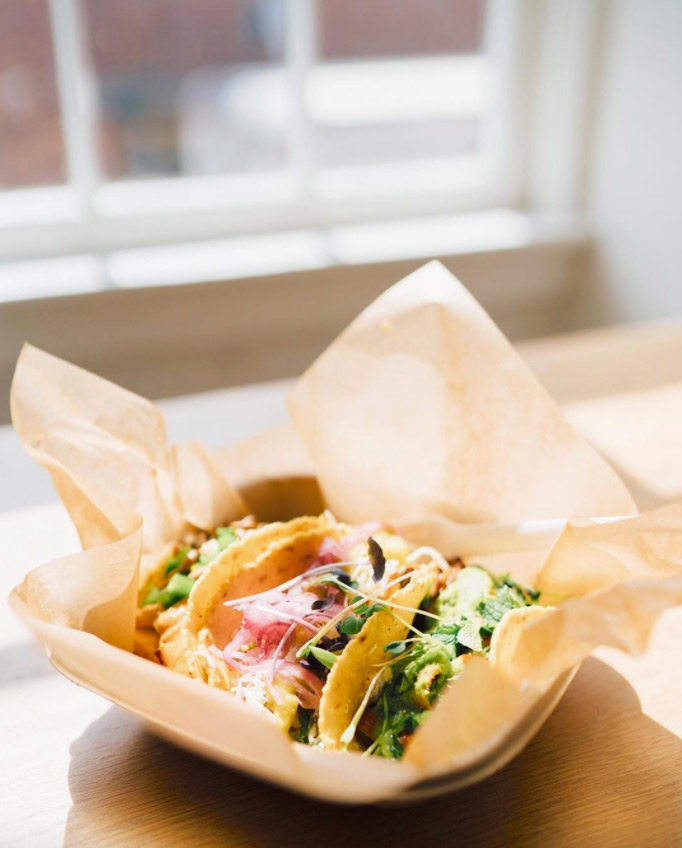 Vegan and plant-based diets have taken off – whether for weight loss, skincare or to reduce inflammation, it seems like everyone is going green with what they eat. Luckily, some homegrown DC restaurants are dishing out delicious plant-based options to satisfy your appetite. Chaia Tacos is an unconventional tacquería serving insanely delicious tacos made entirely of vegetables. The fast-casual spot, with locations in Georgetown and Penn Quarter/Chinatown, offer irresistible takes like the creamy kale and potato, rainbow carrot and pea shoot and smoky collard greens. The green rice with feta, herb pesto and pepitas is to die for. Top it off with a glass of fresh green tea and your mind, body and soul will thank you. You can also get your veggie on at Urbana in Dupont Circle, where chef Ethan McKee has created a vegetarian antipasti board. complete with fresh dips like a Tuscan hummus starring white beans, lemon, garlic and tahini.