New Outdoor Digital Art Gallery Now Open
Daily, Now - May 30, 2025.
DC has a new outdoor digital art gallery. The K street Virtual Gallery is a first-of-its-kind, permanent new. outdoor art installation located in the 400-foot rail underpass on K Street between First and Second Streets NE in NoMa.
Featuring 12 high-lumen laser projectors, each carefully calibrated and synchronized to cast a series of images on to the reticulated stone walls that flank the roadway, the K Street Virtual Gallery enlivens and brighten this section of K Street NE. The gallery is lit up 24/7, and admission is free.
The artist selected for the inaugural exhibit of the K Street Virtual Gallery is My Ly. Ly is the founder and creative director for My Ly Design, a local, woman-owned, minority-owned CBE practice in DC focused on architecture, interiors, urban design, and public arts. Ly's extensive urban planning and placemaking experience is an integral part of her design inspiration on how people move through city streets. Ly's exhibit will be on display through the summer of 2023, when a new artist will be announced.
The K Street Virtual Gallery will feature a variety of rotating exhibits throughout the calendar year and will include works by local artists representing diverse backgrounds. The NoMa BID will serve as lead curator for the gallery. Artists interested in participating in future "calls for artists" to exhibit digital works in the K Street Virtual Gallery may contact: [email protected].
Nearby Favorites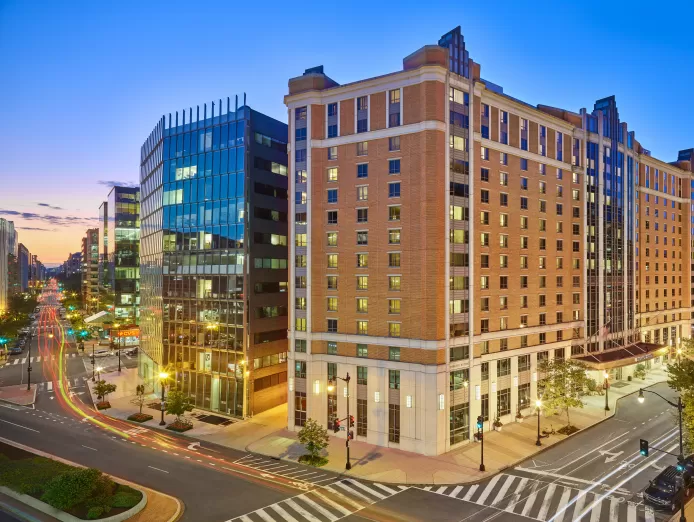 ---
Embassy Suites Washington, DC-Convention Center
Welcome to the Elevated Embassy Suites, a renovated all-suite hotel in...
SPONSORED