Things to Do This Weekend in Washington, DC
Live and virtual events, plus a stay-inside guide for DC music, videos and more for Oct. 30-Nov. 1
We've got the latest info about what's open and safety guidelines in Washington, DC. As you continue social distancing, we've gathered up some live virtual events and other fun things to do that are going on this weekend. As always, you can also check out tons of on-demand virtual museum tours, neighborhood tours, TV and movies streaming ideas with a DC bent, DC-inspired music playlists, Washington, DC Zoom meeting backgrounds and much more.
Looking for things to do Monday through Thursday? Don't miss things to do this week. And if a DC staycation sounds appealing, check out our Stay Local DC content and deals.
Friday​

Visit Planet Word
Visitors can immerse themselves in the power of language at this exciting and highly anticipated museum, which is now open on a limited basis to support social distancing. Please make sure to register in advance for a free, timed-entry pass. Planet Word features an array of galleries, including Words Matter, which showcases how language can have an incredible impact on lives. The Spoken World amazes visitors by highlighting the diversity of language around the globe through speakers and signers of 31 different languages. The museum also features one of Shared_Studios' Portals, a live, audio-visual environment that allows you to converse and interact with people all over the globe.
Visitor Guidelines | More Info
Planet Word, 925 13th Street NW, Washington, DC 20005
• • •

Taste of (and Shop) Georgetown
This revamped version of the beloved one-day Taste of Georgetown event expands the celebration to take-out, delivery and outdoor dining specials at Georgetown restaurants through this Saturday. You can also satisfy your fall shopping fix with special promotions. Check out the event's official website for participating business and their offers.
• • •

Park Up DC - Final Weekend
Now would be an ideal time to enjoy a drive-in movie, right? Events DC and Broccoli City have teamed up to bring you this pop-up event at RFK Campus Lot 5 that concludes this weekend. Enjoy a 45-foot HD LED digital screen and pre-paid delivery food from local food trucks. The event will follow all social distancing guidelines, including the necessity of facial coverings – make sure to visit the event's FAQ page for full clarity on the policies. Peruse the movie lineup and purchase your tickets online – each evening features multiple showings. Note that double features are encouraged and you will not be required to leave your designated 15 ft. x 20 ft. parking space in between screenings.
More Info | Tickets
Screenings begin at 7 p.m.
RFK Campus Lot 5​
• • •

Capitol Riverfront Drive-In Movie Series - Final Weekend
This weekend marks the final time you can kick back and enjoy a movie from your vehicle at the Akridge Lot in Buzzard Point, located next to Audi Field. The final screening will be of Tim Burton's Halloween classic, Beetlejuice. Before the movie, grab some take-out from one of the 60 neighborhood restaurants. Admission is $20 per car, per movie, with all of the funds donated to local charities. Check out Capitol Riverfront's website for a full list of movies and charities.
7:30 p.m. | Tickets
Akridge Lot, 1880 2nd Street SW, Washington, DC 20003
• • •
Saturday​

Visit reopened galleries at the National Gallery of Art
The National Gallery of Art has reopened the galleries east of the Rotunda on the West Building's main floor. These spaces include 18th and 19th-century French paintings and sculpture in addition to notable works from British and American artists and the temporary exhibition, True to Nature: Open-Air Painting in Europe, 1780–1870, which will close on Nov. 15. Note that on Nov. 16, additional Main Floor galleries west of the Rotunda will reopen. Timed passes are required for entry to the museum. Please make sure to follow all of the museum's safety guidelines, including wearing a mask.
11 a.m. – 4 p.m. daily | Free timed passes
National Gallery of Art, 6th Street and Constitution Avenue NW, Washington, DC 20565
• • •

DowntownDC Dine Out on 8th Street
One of the city's most vibrant neighborhoods is hosting a destination streatery throughout the fall. On 8th Street NW, between H and K streets, you will find a plethora of neighborhood eateries offering table service outside, with reservations required, on Fridays, Saturdays and Sundays. Social distancing guidelines will apply and masks must be worn when not eating or drinking. Tables can host up to a maximum of six people.
More Info
8th Street NW, between H and K streets
• • •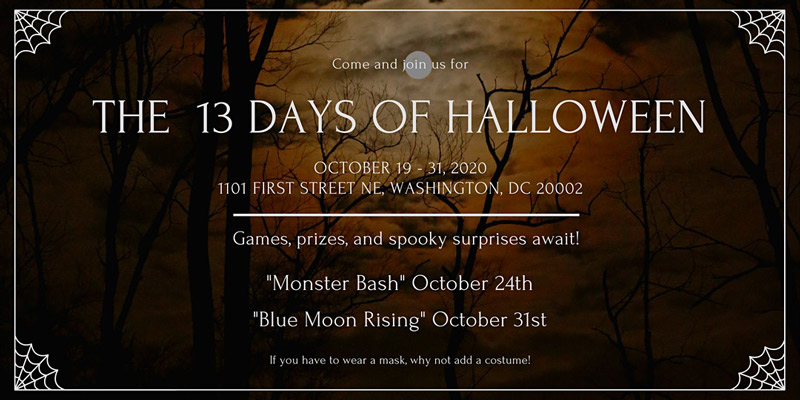 13 Days of Halloween at Wunder Garten
Now that Oktoberfest is in the rearview, DC's Wunder Garten has turned its attention to Halloween. Through this Saturday, you can enjoy Halloween-themed drink specials, festive decorations, trivia and movie nights and a socially distanced, costumed good time. Outdoor fire pits and heaters will be arranged to help keep you warm. Please ensure you wear a mask when not eating or drinking and maintain a safe social distance from others.
12 p.m. - 12 a.m. | Register
Wunder Garten, 1101 1st Street NE, Washington, DC 20002
​• • •
Sunday

Visit the reopened United States Holocaust Memorial Museum
The United States Holocaust Memorial Museum will reopen to the public this Monday. Timed passes will be required for entry and the museum will be open from 11 a.m. to 4 p.m. every day of the week except Wednesday. Face coverings are required and the museum will enforce social distancing guidelines. Visit the museum's website for more information and to reacquiant yourself with the facility's in-depth exhibitions.
11 a.m. – 4 p.m. daily, except Wednesdays | Free timed passes
United States Holocaust Memorial Museum, 100 Raoul Wallenberg Place SW, Washington, DC 20024
• • •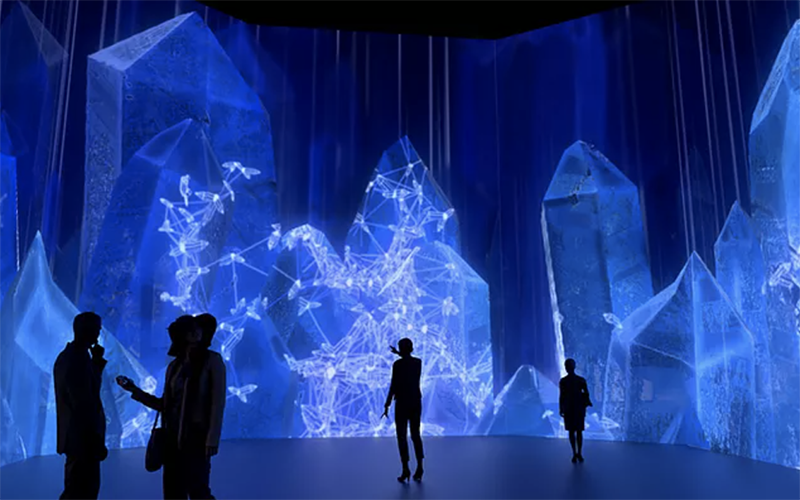 'Crystalline: A Submerge by ARTECHOUSE Experience'
ARTECHOUSE closes out 2020 by focusing on Pantone's Color of the Year: Classic Blue. This new exhibit, which runs through Jan. 3, 2021, dives into blue's connection with earth, crystals and adventure through a wondrous castle. Expect a merging of the surreal and reality as you wander through the castle's rooms, which will be filled with creative curiosities. Please make sure to review ARTECHOUSE's COVID-19 procedures before purchasing your ticket to this immersive experience.
Tickets
ARTECHOUSE, 1238 Maryland Avenue SW, Washington, DC 20024
• • •

Hook Hall Halloween Happy Hour
Passport Poppin' presents this holiday happy hour at the beloved Hook Hall on Georgia Avenue NW in the District. Cabanas can be booked in advance for 2-6 guests. Each table will receive a free bottle of champagne in addition to table service (food costs not included in pricing) and exclusive drink deals, including $5 Mimosas and Hook Hall Lagers and $7 cocktails and mulled apple ciders. Make sure to dress appropriately, as the event will be held entirely outdoors – the best costume can win up to $100. Games and giveaways are also on the docket. Please maintain social distance and wear a face covering when not eating or drinking.
12-2:30 p.m. | Tickets
Hook Hall, 3400 Georgia Avenue NW, Washington, DC 20010
​• • •

Halloween at Opaline Bar & Brasserie Patio
Specially priced and straight up spooky cocktails and mocktails will be available during this Halloween celebration at Opaline, located at the Sofitel Washington DC Lafayette Square. The cocktail roster includes a witches brew spiced mezcal mule, while the mocktail lineup offers steaming vampire punch, among other concoctions. During your socially distanced visit, you will be serenaded by the sounds of electric violinist Jason Labrador, provided by Bialek's Music. Reservations are suggested and face coverings are required when not eating or drinking.
7-9 p.m. | Reserve
Opaline Bar & Brasserie, 806 15th Street NW, Washington, DC 20005
​• • •

Virtual Eighties Mayhem - 80s Halloween Dance Party
Prep the living room for costumed dancing on Halloween night, courtesy of this three-hour live stream from The Black Cat. DJs Steve EP, Missguided and Killa K will be on the ones and twos for this Beetlejuice-themed extravaganza, which will feature a playlist of absolute jams from the 1980s. Make sure to break out your freakiest costume and liveliest dance moves for this from-home fun time.
9 p.m. | Free | Watch on Twitch
​• • •
#DCtogether Photo of the Week
Make sure to share your DC photos with us using #DCtogether, and we may feature yours next month!