DC's cosmopolitan downtown neighborhood offers a mix of in-demand restaurant options, high-end shopping and plenty of must-see museums.
Downtown DC is at the center of it all in the nation's capital. From luxe shopping to fine and fun dining, you can buy your happiness and eat it too. With museums galore, it's more about how much time you have to explore the varied and grand options in this neighborhood.
01
Brush up on presidential history at the White House Visitor Center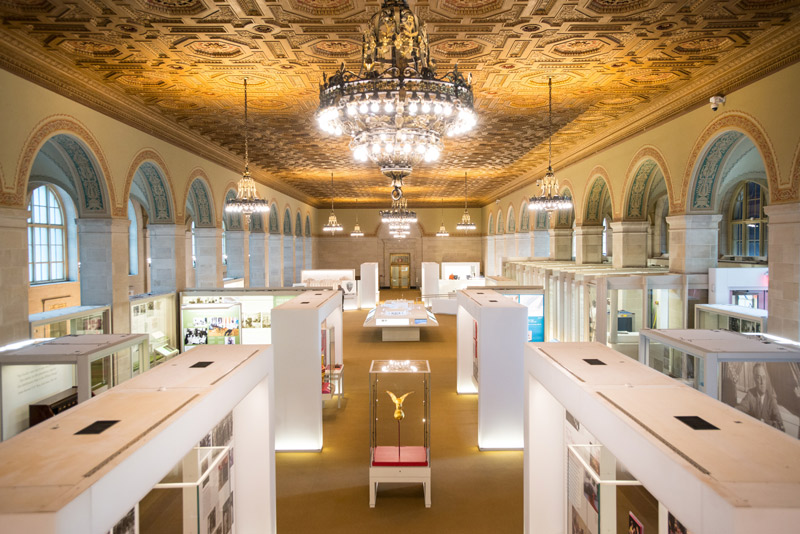 White House Visitor Center - Downtown - Washington, DC
Before heading over to snap a selfie in front of the White House (or take a tour), stop in at the White House Visitor Center. Open seven days a week, the center offers up an insider's view of 1600 Pennsylvania Avenue with a virtual touchscreen tour of the White House, more than 90 artifacts from the White House collection and a 14 minute film about the president's residence. The White House Historical Association gift shop also offers great collectibles, including the coveted official White House ornaments.
02
Explore a world-class art collection at the National Gallery of Art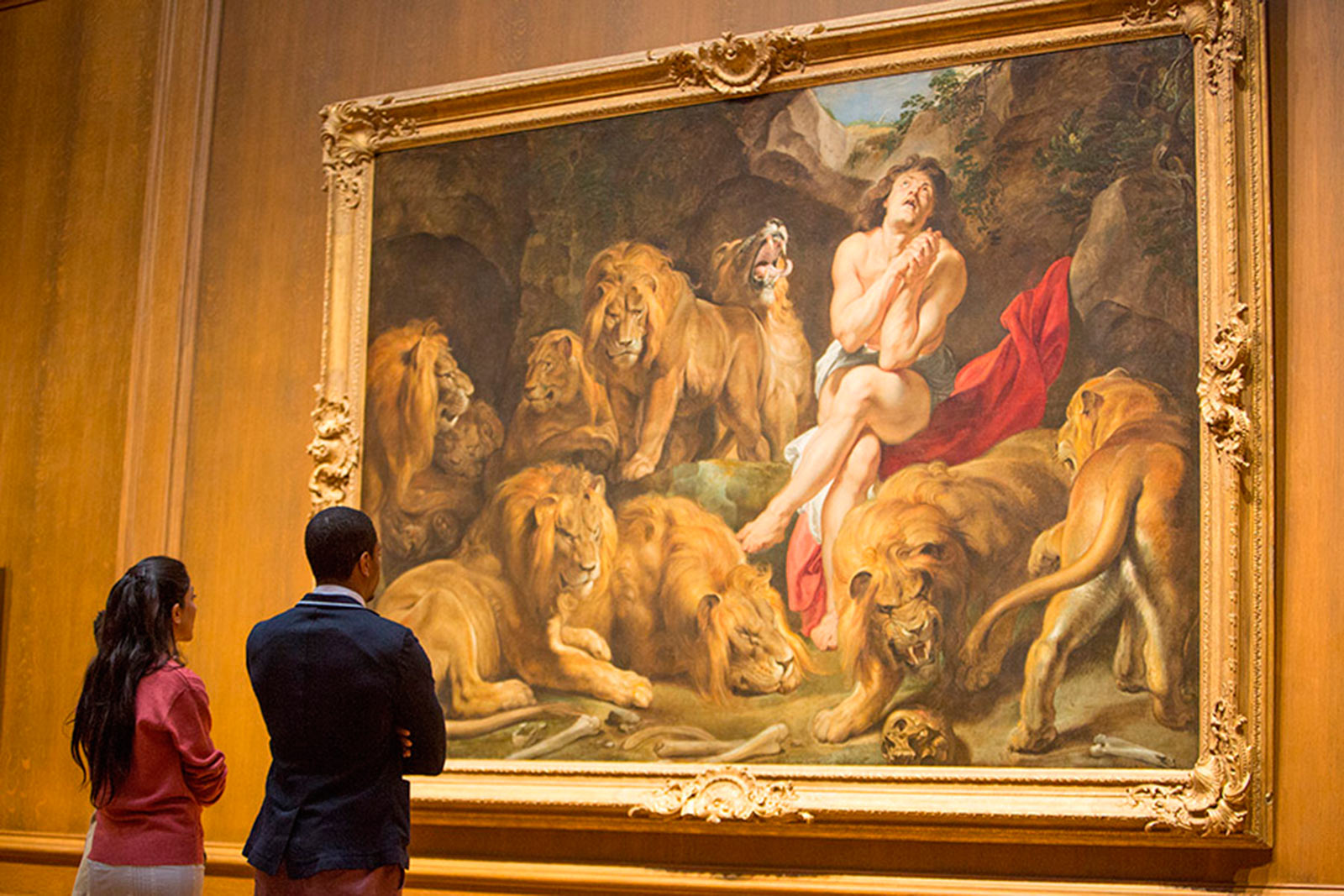 Famed financier and one-time U.S. Treasury Secretary Andrew Mellon offered to donate his expansive art collection to launch a national art museum that would rival those of other great cities around the world during then-president Franklin D. Roosevelt's administration. Roosevelt agreed and in 1937 the National Gallery of Art was officially established. Today, the museum is home to great works like Leonardo da Vinci's Ginevra de Benci (the only da Vinci in the Western hemisphere), Edgar Degas' Little Dancer Aged 14 and Vincent van Gogh's Self Portrait. The museum consists of an East and West building—connected by a concourse walkway-turned-artwork with Leo Villareal's mesmerizing Multiverse.
03
Shop 'til you drop at CityCenterDC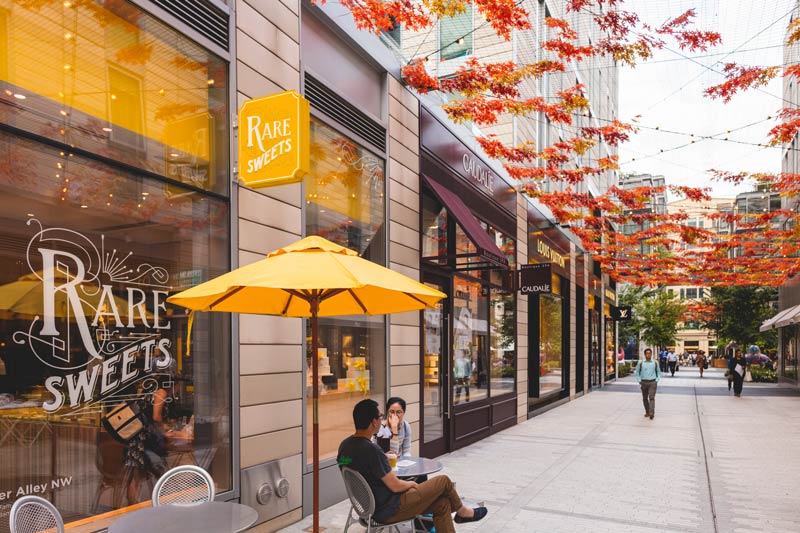 palmer-alley-at-citycenterdc-summer-evening_ddc-photo.jpg
One of downtown's hottest destinations is CityCenterDC. The massive, mixed-use development takes up several city blocks and boasts a Rodeo Drive-worthy amount of luxe labels. Window shop or break out your credit card for brands like Paul Stuart, Gucci, Hermes, Kate Spade, Christian Dior and Allen Edmonds. You'll be hearing the soundtrack to Pretty Woman in your head the whole time.
04
Catch a concert at DAR Constitution Hall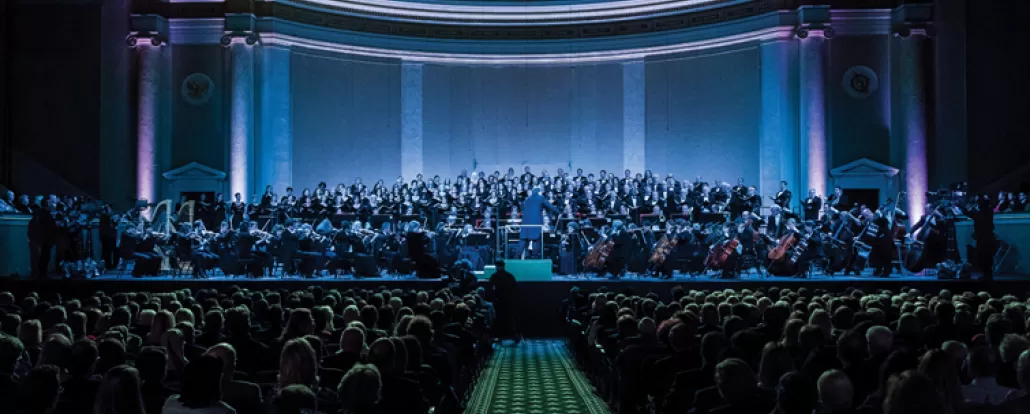 The Daughters of the American Revolution headquarters doubles as a music venue in Downtown DC. The calendar is usually jam packed with performances by touring musicians, comedians and special events – check it out here. The first floor of the building also houses a museum (open Monday-Saturday) dedicated to the history of the American Revolution.
05
Put your pinkies up at the St. Regis Hotel's afternoon tea
Locals and visitors alike can enjoy St. Regis' afternoon tea ritual in the hotel's grand lobby. From 2-5 pm daily, guests dress in their most proper clothes and sip tea and sample finger sandwiches. Teas from Harney & Sons Tea Company are served, while sandwiches like the Scottish smoked salmon with hackleback caviar and creme fraiche are whipped up by the hotel's Chef de Cuisine, Gyo Santa. If you're in a celebratory mood, add a Champagne pairing with a glass of Ruinart Rose.
06
Savor delicious bites at CityCenterDC
07
Root for the home team at High Velocity in the Marriott Marquis
Right next to DC's gleaming convention center sits the equally awe-inspiring Marriott Marquis. Stop in at the hotel's high-tech sports bar, High Velocity, after a day of sightseeing. The sports bar features 40 flatscreen TVs, free Wi-Fi, surfboard-shaped tables and, perhaps most importantly, nearly 50 beers on tap.
08
Experience the National Museum of Women in the Arts
Downtown DC's National Museum of Women in the Arts is the world's only major museum solely dedicated to recognizing women's creative contributions to the art world. The museum houses an impressive collection, including works by Frida Kahlo, Mary Cassatt and Sarah Bernhardt. The museum also hosts ongoing female-focused programming and lectures related to the gallery's latest exhibition. Make sure to check out all of NMWA's events and the particularly impressive gift shop.
09
Retire to the POV Rooftop Lounge and Terrace for cocktails with a view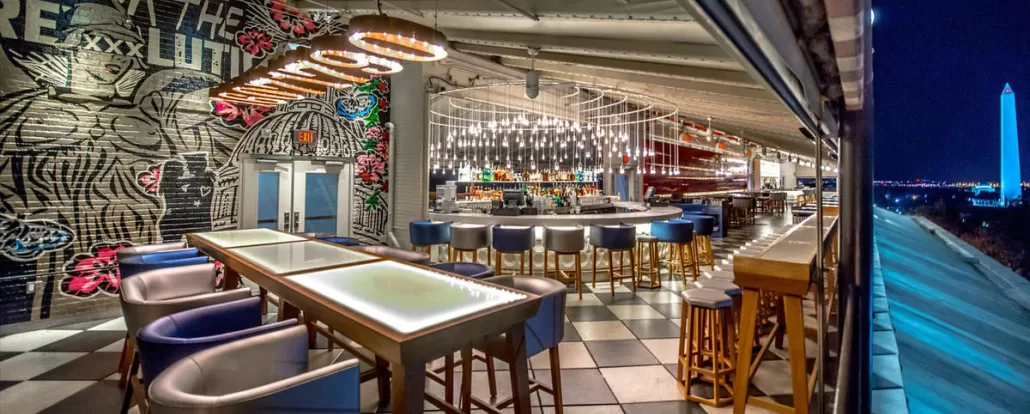 POV Rooftop Lounge & Terrace in the swanky W Hotel features indoor and outdoor seating, making it a year-round option for an evening appertif. The lounge is not only popular for its DC-themed cool vibe (look for the wall made of "red tape" in a nod to DC's sometimes bureaucratic ways) and creative cocktails, but for its absolutely spectacular view of the White House. The terrace overlooks 1600 Pennsylvania Avenue (it's so close, you can see the Secret Service posted on the White House roof), giving this popular bar extra cred. If you're lucky, you'll be there when the president's Marine One helicopter lands on the White House lawn.
10
Mingle with DC's power brokers at Old Ebbitt Grill
A historic lunchtime fave, Old Ebbitt Grill is an iconic DC spot, which first opened in 1856. Sit at the bar (look up to see an array of stuffed animal heads) and have the bartender help you spot famous DC politicos while you wait for your table.
11
Make a night of it Downtown
Downtown DC keeps thumping well into the night with hot nightlife options. Head over the Park at 14th for four floors of dining, dancing and VIP bottle service, or catch a concert at The Hamilton Live, where an underground concert hall hosts concerts most nights of the week.
12
Find urban sophistication at Eaton Washington DC
While Eaton Washington DC is technically a 200-plus room hotel, it defies the standard definition with a cinema, a progressive-minded coworking space and four unique food and drink establishments. Acclaimed DC chef Tim Ma has crafted an all-day menu out of his experience as the son of Chinese immigrants growing up in Arkansas at American Son, Eaton's flagship restaurant. The thoughtful seasonal menu includes highlights like the confit chicken banh mi and a very shareable spaghetti squash ssam. If it's rooftop vibes you're looking for, head to Wild Days for Asian-inspired tacos (short rib tacos with kimchi and puffed rice, anyone?) best paired with live music. There's also the highly-Instagrammable Kintsugi – a coffee shop-juice bar hybrid – and Allegory, a sleek, dimly-lit cocktail bar with an extensive drink list.
13
Get wild at the National Geographic Museum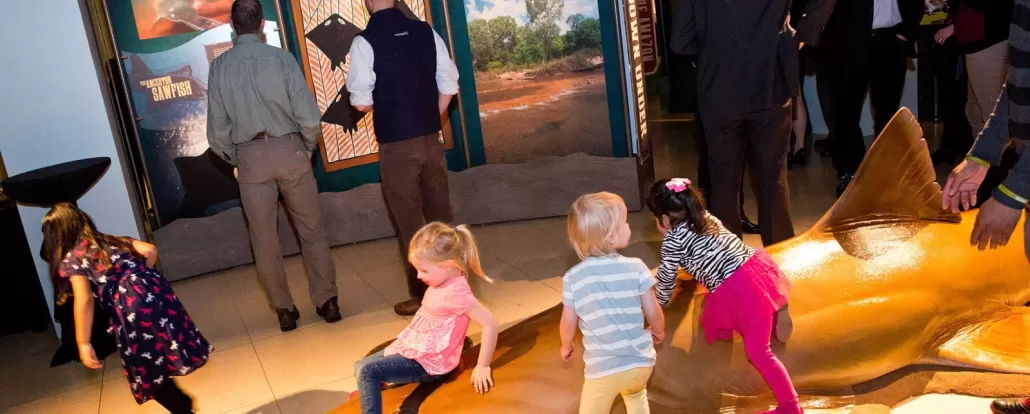 The headquarters for National Geographic Magazine and TV is located in downtown DC  and the office building is one wild place. The first floor houses a museum dedicated to all things adventurous. Rotating exhibits and a 3D movie screen with special engagements make this under the radar museum worth checking out.
Now that you have seen what there is to do Downtown, read up on other things to do throughout the District.