Dig in to our guide to finding peak flavor during peak bloom.
01
Cherry Picks
Savor the taste of spring thanks to the National Cherry Blossom Festival's Cherry Picks Program, run in conjunction with the Restaurant Association of Metropolitan Washington. During the festival, which runs March 20 through April 14, participating restaurants highlight creative spring menus participating restaurants highlight creative spring menus. Cherry Picks kicks off with Delicious Cocktail Week on March 25, Exquisite Entrée Week April 1 and concludes with Divine Dessert Week April 8.
Week of March 25 is Delicious Cocktail Week
Week of April 1 is Exquisite Entrée Week (i.e. Creamy Spring Onion Soup)
Week of April 8 – Divine Dessert Week
02
Cherry Blossom Pop Up Bar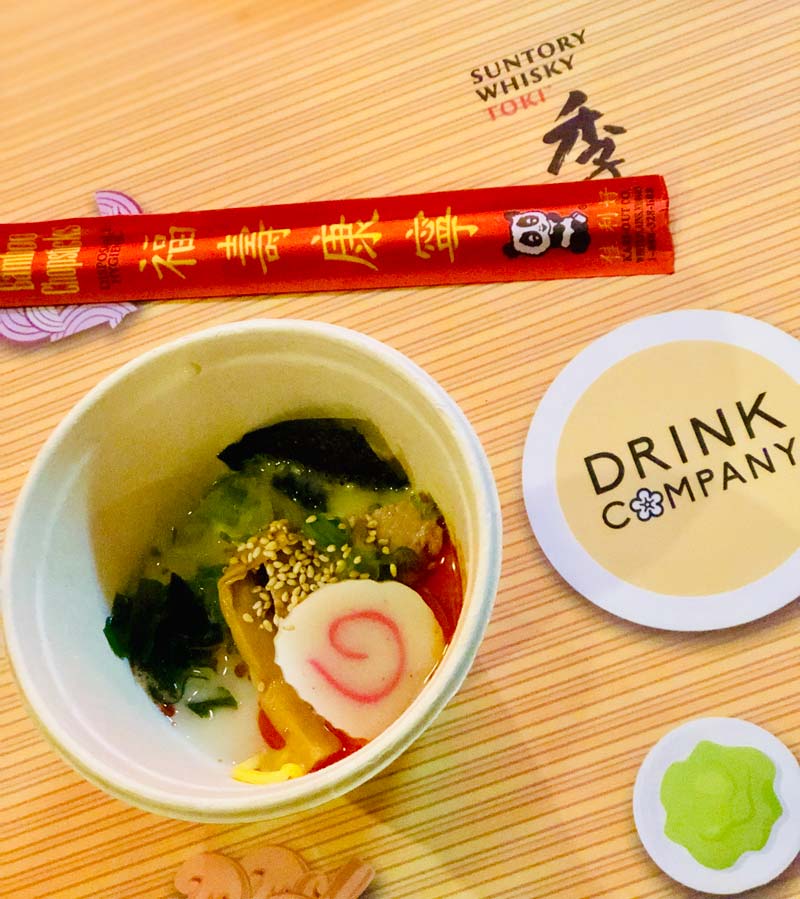 Ramen at the Cherry Blossom Pop Up Bar - Where to find cherry blossom-inspired food and drink in Washington, DC
For the third consecutive year, the Cherry Blossom PUB is back to spice up spring in Shaw. The 2019 edition features a room designed like a bowl of ramen, with sculptures of noodles and chopsticks, with actual ramen from Ramen by UZU served. There's also a garden room inspired by the Palace of Versailles' Fontaine de L'Encelade. The drink menu offers the Honeydew, Honey See (sake, vermouth, fermented sake syrup, cucumber, honeydew, absinthe) as well as the Once and Floral (gin, peach, lemon, orange flower water, egg white, matcha).
5 p.m. – 12:30 a.m., Sunday – Thursday; 5 p.m. – 1:30 a.m., Friday – Saturday; open March 20 – April 21
1843 7th Street NW, Washington, DC 20001
03
Ice Cream Jubilee
Never one to shy away from trying something new, the delightful Ice Cream Jubilee (with locations in Capitol Riverfront and 14th Street NW) rings in the blossom season with several new ice cream and vegan sorbet flavors that highlight traditional Japanese cuisine. Ume plum shiso sesame leaf is a green vegan coconut sorbet with a flavor as subtle as the cherry blossom scent. Usually enjoyed as a tea, the coconut cream and ume plums are blended with shiso and perilla leaves for this delectable concoction. Matcha green tea, roasted barley tea and a more traditional strawberry tres leches round out the menu of spring flavors.
1407 T St NW, Washington, DC 20009
301 Water St SE #105, Washington, DC 20003
04
Shake Shack
Beloved burger joint, haute hot dog purveyor and crinkle-cut fry crafter Shake Shack sweetens its menu for a limited time with the addition of the Cherry Blossom Shake. Slurp up the vanilla frozen custard milkshake, blended with cherry blossom flavoring and topped with petal-like pink chocolate curls.
800 F Street NW, Washington, DC 20004
1216 18th Street NW, Washington, DC 20036
50 Massachusetts Avenue NW, Washington, DC  20002
975 Wharf St SW, Washington, DC 20024
1400 14th St NW, Washington, DC 20005
05
The St. Regis, Washington, DC
There are multiple ways to celebrate spring at the St. Regis, Washington, DC. Guests staying at the hotel during the Cherry Blossom Festival will be treated to an ornate pink chocolate box filled with cherry truffles and a hand-painted chocolate cherry blossom branch created by the hotel's esteemed pastry team upon arrival. Anyone can sip into spring with seasonal craft cocktails like the Taste of Tokyo or the Sakura Sour. Even the hotel's renowned afternoon tea is getting a spring twist. Guests can enjoy custom-blended cherry blossom tea paired with sakura-inspired bites and treats.
923 16th Street NW, Washington, DC 20006
06
Baked by Yael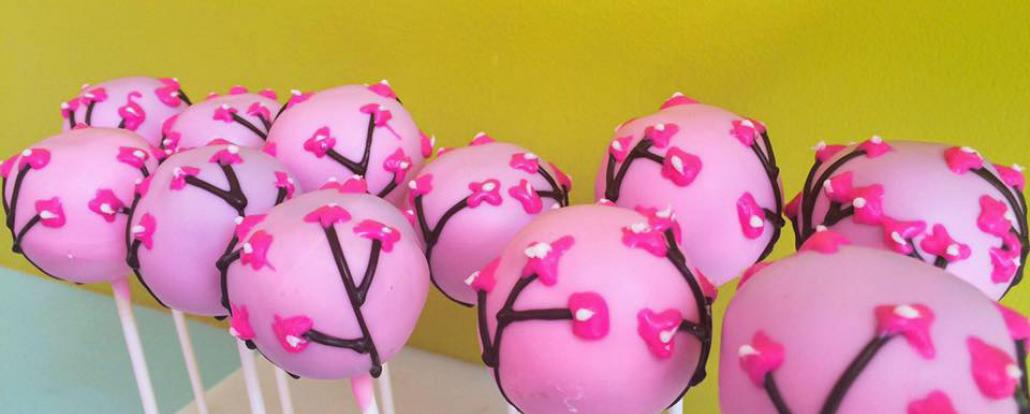 The bakery and cakepoppery conveniently located directly across from the National Zoo has some BIG news. It could be all about the hand-rolled bagels, which are some of the best in DC, but the the talk this spring is that Yael is stepping up the size of their special edition cakepops. Sink your teeth into a jumbo, intricately designed cherry blossom cake on a stick, and select from your choice of birthday, chocolate or red velvet flavors.
3000 Connecticut Avenue NW, Washington, DC 20008
07
Ben's Next Door
Stop by neighborhood favorite Ben's Next Door (located right next door to, you guessed it, DC landmark Ben's Chili Bowl) this season for a Cherries in Bloom cocktail. Crafted from strawberry gin, lemon juice, Domaine de Canton ginger liquer, cherry bitters and sparkling wine, the refreshing drink pairs well with Southern-inspired dishes.
1211 U St. NW, Washington, DC 20009
08
Medium Rare
There's more to the name "Medium Rare" than you probably guessed. Yes, the only dinner entrée served is steak frites, but the restaurant is a bona fide brunch haven and it recently reimagined its signature dish as a hand-held sandwich at Nationals Park – secret stadium sauce included. It also has its dessert game down pat, which is good news this spring. That's because you can cap off your prix-fixe kicks with a cherry blossom ice cream sundae, served exclusively during the National Cherry Blossom Festival.
3500 Connecticut Ave NW, Washington, DC 20008
515 8th St SE, Washington, DC 20003
09
The Cherry Blossom Terrace at La Vie
Soak up views of the blossoms as you savor flower-inspired cocktails from the penthouse pop-up at La Vie. Overlooking the Washington Channel at The Wharf, this limited-run restaurant focuses on using Japanese spirits and ingredients in drinks like the 88 Temples, Santori whiskey, and Wild Cherry Blossom Tea. Food will also take its inspiration from Japan, as sucshi will be available.
$15 entry includes admission and cocktail; open March 19 – April 20
88 District Sq SW 5th Floor, Washington DC 20024
10
José Andrés Restaurants
Enjoy Cherry Picks from the famed DC chef and philanthropist José Andrés, including Martha Washington's chocolate cake with cherry ice cream at America Eats Tavern in Georgetown and the Kichiro Blossom cocktail with Japanese whiskey at China Chilcano in Penn Quarter.
America Eats Tavern, 3139 M St NW, Washington, DC 20007
China Chilcano, 418 7th St NW, Washington, DC 20004
Jaleo, 480 7th St NW, Washington, DC 20004
Oyamel, 401 7th St NW, Washington, DC 20004
Zaytinya, 701 9th St NW, Washington, DC 20001
Fish by José Andrés, MGM National Harbor Resort & Casino, 101 MGM National Ave, Oxon Hill, MD 20745
12
Chaia Tacos
Vegetarian and vegan taco spot Chaia, with its flagship restaurant in Georgetown, recently expanded, opening up a second shop in Chinatown this winter. Both locations are offering up spring delights with a cherry twist. During the month of April, get your hands on the spring taco featuring roasted asparagus, cherry pepper relish, goat cheese and topped with preserved lemon. Satisfy your sweet tooth with the hibiscus cherry paleta, created in partnership with Maracas Ice Pops. The ice pops are available starting April 4.
3207 Grace St NW, Washington, DC 20007
615 I St NW, Washington, DC 20001
13
Magnolia Bakery
Located inside DC transportation hub Union Station, Magnolia Bakery has concocted the most beautiful cherry blossom cupcake, perfect to enjoy seated in the café or on the go! Available in chocolate or vanilla with vanilla buttercream, this limited-edition cupcake is only available at the DC location through April 13.
Union Station, 50 Massachusetts Ave NE, Washington, DC 20002
14
Ocean Prime
Born in Japan, Ocean Prime's Executive Chef, Leo Harvey, has fond memories of seeing the cherry blossoms there as a child. To commemorate his first cherry blossom season in Washington, DC, the chef has dreamed up a few cocktails and dishes inspired by the blooms, including a cherry pork belly with ginger-fennel rub, bing cherries, served on a bed of spring vegetables, plus the photogenic Sakura Dawn, a lime-infused, sake-gin-agave concoction finished off with an edible blossom. Both are available through April 20.
1341 G St NW, Washington, DC 20005