Explore this list of the best DC restaurants doing food delivery and take-out near you.
You can still support DC's restaurants! Take your dining experience into your home by ordering pick-up or delivery from these eateries across the city. No contact deliveries are available; make sure to specify your preference in your order details, including a drop-off location for the driver. Check out our list below and make sure to check restaurant websites for the latest updates.
&pizza 
A fast-casual pizza restaurant known for its personalized oblong pizza shapes, you can now get delivery right through &pizza's app. Feed the whole family with the Feed Four pack including four pizzas, four drinks and four cookies of your choosing.
Locations vary

Albi
Albi is open for carry-out Tuesday - Sunday from 5 - 9 p.m. (open until 10 p.m. on Friday and Saturday). The menu features Levantine-inspired dishes that travel well, as well as bottled beer and wine. 
Order online via Tock for carry-out
Navy Yard

All-Purpose Pizzeria
Try the Sedgewick pizza, made with whipped ricotta, mozzarella, taleggio, parmesan, truffle honey and chives. Now you can order from the All-Purpose Delikatessen special pop-up menu, Friday - Sunday, 10 a.m - 2 p.m.
Order carry-out or delivery
Shaw and Capitol Riverfront

Annabelle
Annabelle is now offering their full menu for to-go orders, including delicious mezze rigatoni Bolognese, roasted lobster and asparagus salad and goat cheesecake. Pick-up is available Tuesday - Sunday, 5 - 8:30 p.m. Orders must be placed by 4:30 p.m.​
Order carry-out or delivery online
NoMa
Baked By Yael
Looking to satisfy your sweet tooth? Try one of Baked By Yael's cake pops. With nut-free and kosher options, you can't go wrong. Available for curbside pick-up, delivery and even nationwide shipping. The bakery has also partnered with a local non-profit to help vulnerable members of the community.
Order Online 
Woodley Park
Bandoola Bowl
Bandoola Bowl is open for carry-out and delivery each day of the week from 11 a.m. – 6 p.m. Place orders for chickpea curry, mango, roasted pork and other Southeast Asian salads online.​
Order Online
Georgetown
Bantam King
Get your soup fix with chicken-based ramen from this DC fave! Popular items include the shoyu, miso and veggie ramen.​ Bantam King is now offering outdoor seating Friday - Sunday, 4 p.m. - 9 p.m.
Order Online
Caviar | Uber Eats
Chinatown
Ben's Chili Bowl
This DC landmark on U Street offers legendary chili dogs, half-smokes (DC's answer to the hot dog) and milkshakes.​ Open from 11 a.m - 6:45 p.m. for pick-up or delivery
Caviar | GrubHub
Cardoza/Shaw 

Blue Duck Tavern
The award-winning Blue Duck Tavern at Park Hyatt Washington, D.C. is offering curbside pick-up showcasing some of the restaurant's most notable dishes from 11 a.m. – 10 p.m. daily.​
Order Online
West End

Bluejacket
Bluejacket is offering food, cocktails, beer and wine to-go. The menu is available between 11 a.m - 9 p.m.
Order Online
Navy Yard
Busboys and Poets
A city staple, Busboys and Poets offers dairy and gluten-free options. Pizzas are a specialty and the apple pie is delicious.
Order delivery
Locations Vary
Centrolina
Chef Amy Brandwein's lovingly-curated Italian pantry staples are available for pick-up and delivery.
Order Online |  Caviar
Penn Quarter/Chinatown
Chaia Tacos
Vegetable-based tacos are the name of the game at Chaia.
Caviar | GrubHub | Uber Eats
Chinatown and Georgetown
Chicken + Whiskey
Order up South American rotisserie chicken brined for 12 hours and slow cooked over wood charcoal to 185° F (also known as "perfection"). The menu is available for pick-up and delivery. Curbside cocktails are available too.
Order Online
Caviar | DoorDash | GrubHub | Uber Eats
Cardoza/Shaw 
Clyde's Restaurant Group
This adored regional collection of restaurants is offering pick-up and no contact delivery at several locations. 
Order Online
Locations vary
Colada Shop
Bring the taste of Cuba to your living room with sandwiches and croquetas. Online ordering is available at both locations, including the new spot on the Wharf.
Order Online |  Caviar
The Wharf & 14th Street
DC Noodles
This Thai restaurant offers an array of – you guessed it – noodles, from pad Thai to pad kee mao and so much more. 
Order Online  |  GrubHub | Postmates
Cardoza/Shaw

Del Frisco's Double Eagle Steakhouse
Not only is Del Frisco's Double Eagle Steakhouse offering their standard menu, but you can get meal kits and grill boxes as well. The CityCenterDC locale is offering 10% off on all to-go orders. Curbside pick-up is available.
Carry-out menu 
Downtown

The Delegate
Located inside the Residence Inn/Courtyard Convention Center, The Delegate is offering pick-up from 8 a.m. – 8 p.m., every day of the week (open until 9 p.m. on Friday and Saturday). 
Uber Eats
Mt. Vernon Square
District Doughnuts
Expect gourmet doughnuts made with exceptional ingredients!
Order Online | Postmates | Uber Eats 
Locations vary
Due South
Discover Due South's comfort food, which includes mouthwatering ribs, shrimps and grits and much, much more.
DoorDash | GrubHub
Navy Yard
Duke's Grocery & Duke's Counter
With a nod to the ubiquitous corner cafés, bodegas and curry joints of the East London neighborhoods of Shoreditch and Hoxton, this neighborhood pub offers outstanding burgers.
Doordash
Dupont Circle, Woodley Park & Foggy Bottom
Espita Mezcaleria
Get some spice in your system with authentic southern Mexican tacos and tlayudas. Espita just launched a burger ghost kitchen called "Ghostburger" for takeaway and delivery. The 9th Street entrance is reserved for takeaway guests and delivery drivers.
Caviar
Mount Vernon Square
Fare Well
Order pick-up or delivery from Fare Well, available Wednesday and Thursday, 4 – 8:30 p.m and Friday-Sunday, 10 a.m - 8 p.m. The eatery offers breakfast all day, Impossible burgers, baked goods, family-sized reheatable meals and other plant-based comfort foods along with bottled beer and wine.​
GrubHub | Pick-up | Uber Eats
H Street Corridor
Farmers & Distillers
Wow your taste buds with pan-fried dumplings, a perfect snack. The restaurant's extensive menu provides an additional variety of options across multiple culinary styles.
Caviar | DoorDash | Uber Eats
Chinatown
Farmers Fishers Bakers
Faves include the crab and artichoke dip, spicy ahi tuna poke salad and the white wine and garlic mussel pot. You can't miss with Farmers Fishers Bakers' salads, burgers or sushi either. Grab some kettle corn for later, too.
Caviar | DoorDash
Georgetown
Fogo de Chao Brazilian Steakhouse
Fogo de Chao offers premium cuts of beef, lamb, chicken and pork, fire-roasted to expose their natural flavors. Additional items include seasonal salads, fresh vegetables, feijoada (traditional black bean stew with rice), pao de queijo (Brazilian cheese bread) and more.
Order Online
Downtown
Four Seasons Hotel Washington, DC
This sophisticated hotel is offering an innovative daily menu crafted by executive chef Sebastien Giannini. Every menu includes an entree, main course and dessert. A portion of the proceeds from this effort will go to MedStar Washington Hospital Center.
Order Online
Georgetown
Gravitas
At Gravitas, staff is preparing dishes inspired by their families and cultures. The new delivery and pick-up menu features pupusas, posole, roasted lamb shoulder and more and is available Wednesday - Sunday, 4 - 8 p.m. Wine is also available for delivery and carry-out.
Order delivery or pick-up
Mount Vernon Square
Haikan
The masterminds behind Daikaya also handle this Sapporo ramen shop. Try the shoyu ramen with a soy sauce base.
Caviar | Uber Eats
Shaw
HipCityVeg
HipCityVeg's mission is to tempt meat eaters to walk on the vegetable side with their takes on burgers, fries, salads, wraps and shakes. Check out the signature Groothie.
Order Online
Locations vary
Ivy City Smokehouse
Restaurant items and smoked fish from Ivy City Smokehouse's market are available for delivery through GrubHub from 12-8 p.m. every day of the week. Additionally, the restaurant and market are open for carry-out.
GrubHub
Ivy City
LEON
LEON is serving the community with 50% off orders for all care workers (valid ID required), free coffee for hospitality and retail workers (proof required), free meals for all kids and free delivery.
Order Online
Downtown
Little Pearl
Little Pearl offers no-contact dinner packages with takeout through Tock and delivery through Caviar with optional wine, cocktails, and burgers available. Both options available from Wednesday - Sunday, 5-8 p.m
Caviar
Eastern Market
Luke's Lobster
The seafood craving is going to kick in any minute now. Luke's Lobster has you covered with rolls layered with a quarter-pound of seafood.
Order delivery
Locations vary
Lupo Verde
Known for pastas, Lupo Verde favorites include agnolotti del plin and the tonnarelli cacio e pepe.​​
DoorDash | Uber Eats
Cardoza/ 14th St. 
Maggiano's Little Italy
Order up delicious Italian cuisine for carry-out or catering.​
Order Online
Friendship Heights
Mastro's Steakhouse
You can order delicious dine-at-home steak kits from Mastro's for delivery or carry-out. Delivery is available through Uber Eats and Doordash.
Order Online
Downtown
Medium Rare
Steak frites delivered right to your door? Sounds awesome. What's even cooler? Medium Rare has made the news for delivering free meals to elderly folks in DC.
DoorDash
Locations vary
Mercato
Mercato in Union Market offers hand-cut steak and kombucha. All its items feature fresh, local ingredients.
Order Delivery
NoMa
Mi Vida
Savor contemporary Mexican cuisine from this Wharf locale.
Order Online
Wharf 
Morton's The Steakhouse
One of the area's most beloved steakhouses is offering carry-out and delivery service from 12-8 p.m. each day​. Offering 10% off all call in orders.
Call 202-955-5997 to place an order
Downtown
Occasions Caterers
On Tuesdays and Thursdays, Occasions offers a mobile, drive-through market at locations throughout the city. Expect local farm and dairy boxes, prepared meals, wine, beer, spirits and fresh-cut flowers. You can order online and pick up from the location that best suits you. Proceeds go towards Occasions Giving Kitchen, which delivers cost-effective meals to vulnerable communities. Note that Occasions is also offering home delivery.
Oceanaire Seafood Room
This eatery's fresh and mouthwatering seafood is available for curbside pick-up. Open Monday - Friday for lunch and dinner, and Friday - Sunday for dinner only.
Call 202-347-2277 to place an order
Downtown
Osteria Morini
Order up some Northern Italian cuisine crafted to perfection.
Order Online
Navy Yard
Piccolina
You can order pizza or other wood-fired favorites from Piccolina's all-day menu. Breakfast, coffee and drink menus are also available daily. Place pick-up orders through Toast and delivery orders through Caviar.
Penn Quarter/Chinatown
Pie Shop
Formerly Dangerously Delicious, Pie Shop on H Street, NE is a Mom-and-Pop shop and the winner of Washington City Paper's "Best Pie" for the past 10 years! You can still get the award-winning pies thanks to curbside pick-up and delivery. Pie Shop serves up sweet pies, dinner pies and quiche made fresh from scratch each and every day.
Order Online
H Street NE
RASA
RASA is open during its regular hours, offering carry out, pick-up via its website, delivery via Caviar, UberEats, DoorDash, Postmates and Grubhub, as well as selling gift cards for purchase. Additionally, RASA is offering free meals for school children under 18 and hospital workers.​
Order pick-up | Caviar | DoorDash | GrubHub | Postmates | Uber Eats
Navy Yard
Rasika West End
This acclaimed restaurant located at 1190 New Hampshire Avenue, NW, 20037 is offering both an a la carte lunch and dinner menu 7 days a week. Items subject to availability. Both carry-out and delivery are available.​
Caviar
West End

Rose's At Home
This beloved DC restaurant now offers multi-night no-contact dinner delivery anywhere in the DMV. Wine is available to add on in DC only. There is limited availability, so order ahead of time on their website. 
Order Online
Eastern Market

Roti
Roti's goal is to share the Mediterranean's delicious flavors, wholesome ingredients and bright spices. All three locations (NoMa, Foggy Bottom, Navy Yard) are offering pick-up and delivery.​
DoorDash |  GrubHub
NoMa, Foggy Bottom, Navy Yard
RPM Italian
Make sure you grab RPM Italian's truffled garlic bread and Mama DePandi's pomodoro with parmesan and genovese basil.​ Also, check out what other Lettuce Entertain You restaurants are offering.
Caviar | DoorDash | GrubHub | Postmates | Uber Eats
Mount Vernon
Shouk
Shouk in Mount Vernon Triangle is open for curbside pick-up, delivery and catering. The catering minimum is waived on orders within 10 miles. Place orders on the app or online, and call ahead to arrange curbside pick-up. Shouk's Union Market location is closed until further notice.​
Order Online
Mount Vernon
Stellina Pizzeria
Stellina's menu includes desserts from Annaré, Stellina's sibling Italian pasticceria, as well as bottled beer, wine, Negronis and other cocktails. DIY kits of handmade pastas, sauces, pizza dough and toppings are also available to purchase online and pick up at the restaurant. Carry-out and delivery are available every day of the week from 10:30 a.m. – 9 p.m.​
Caviar | Order pick-up
NoMa
Sticky Fingers
This vegan bakery is open for pick-up and delivery from Wednesday through Sunday. offering cookies, cupcakes, cakes and even bake-it-yourself cookie and pancake mixes for a family-friendly, hands-on activity. Sticky Fingers also ships a selection of prepared baked goods and DIY mixes for mail-order delivery nationwide.​
Order Online
Columbia Heights
Succotash
Succotash is taking online orders for carry-out at both its Penn Quarter and National Harbor locations. 
Order Online
Penn Quarter
Taberna del Alabardero
Indulge in Spanish cuisine from this DC mainstay via pick-up or delivery. Additionally, for every $25 you spend on Taberna del Alabardero gift cards, you will receive a bonus card that grants you 20% off.
Order Online
Downtown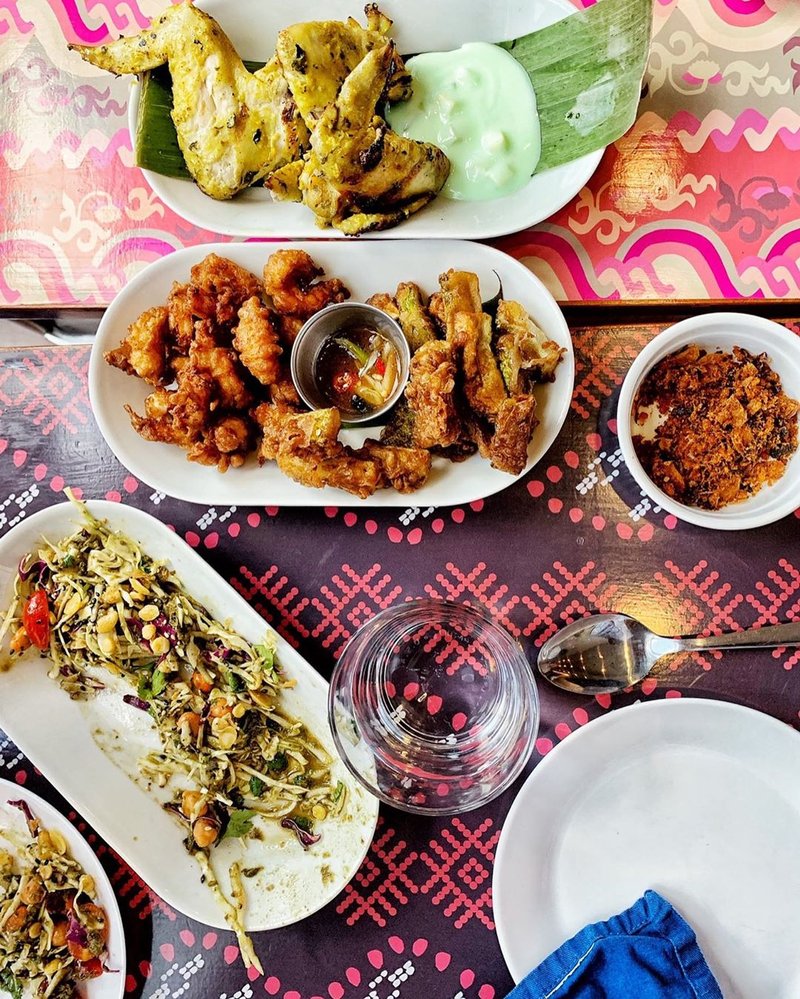 Burmese Fried Chicken from Thamee
Thamee
DC's only full-service Burmese restaurant is known for its outstanding fried chicken.
Caviar
H Street Corridor

Tonic at Quigley's Restaurant
Order for either takeout or delivery online. Beer and wine can be included in to-go orders.​
Order Online
Foggy Bottom
We, The Pizza
Try hand-tossed pizza from this family-owned eatery that offers three locations in the District.
Caviar | GrubHub | Postmates
Capitol Hill
Wolfgang Puck Catering On the Go
Led by renowned Chef Wolfgang Puck, a group of chefs is preparing delicious, locally sourced food available for curbside pick-up every Monday through Friday at The Sunset Room at National Harbor. Menu highlights include comfort classics like mac n' cheese, plus fresh produce boxes, beer and wine.
Order Online
National Harbor
 
Yard House
Yard House is offering carry-out and delivery options, growlers to-go and family takeout meals. The bar is open for take-out drinks. 
Order Online
Chinatown
Zaytinya
One of DC's favorite Mediterranean spots, Zaytinya has dips and spreads that will make your day or evening. Available for both pick-up and delivery. 
GrubHub | Order Online
Chinatown