You are here
12 Fabulous Things to Do This Summer in Washington, DC
12 Fabulous Things to Do This Summer in Washington, DC
From fireworks by the monuments to biking tours around town, there are so many ways to explore DC this summer.
Sunny days, loads of free things to do and a cultural scene that doesn't go on summer vacation make Washington, DC a cool place to be in hotter months. From the National Mall, where free festivals and museums lure, to baseball at Nationals Park, you'll find the capital city fascinating in summertime.
1
Celebrate the Fourth of July amidst the monuments
There's probably no city that'll give you a more all-American, patriotic Independence Day than Washington, DC. Take in the pomp-and-circumstance filled National Independence Day Parade in the morning along Constitution Avenue NW, then stake out a spot on the National Mall or across the Potomac River near the Marine Corps War Memorial (also known as the Iwo Jima Memorial) in Arlington – or check out these other spots to watch the fireworks. The fireworks typically start just after 9 p.m. Basking in the rockets' red, white and blue glare with a backdrop of glowing white monuments is an unforgettable - and highly photographable - thrill.
When: July 4th, various events throughout the day and evening; free
Where: The National Mall
2
Take yourself out to the ballpark
@bevyncassidy
There are plenty of reasons to check out DC's Major League Baseball team, the Washington Nationals, who play their home games at Nationals Park on the bustling Capitol Riverfront. The state-of-the-art ballpark boasts terrific views, friendly fans and plenty of great places to eat, some of which offer up local brews and specialties from DC restaurants. During the fourth inning, the popular Presidents Race features costumed, jumbo-headed commander-in-chief lookalikes running – and sometimes cheating – their way to glory.
When: Afternoon and evening games, check the schedule for game times; ticketed attraction
Where: 1500 S Capitol St. SE, Washington, DC 20003
3
Explore music, crafts and more at the Smithsonian Folklife Festival
The Smithsonian's annual summer cultural treat brings crafters, musicians, cooks and artists to the National Mall for a free, fascinating festival. This year's event focuses on the circus arts. Expect plenty of family friendly demonstrations, concerts and food for sale.
When: June 29-July 4, July 6-9; free
Where: The National Mall between 4th and 7th streets NW
4
Witness a solemn sunset parade at the Marine Corps War Memorial
Every Tuesday night from late May to mid-August visitors can experience a sunset parade at this memorial in Arlington, also known as the Iwo Jima Memorial. The parade includes patriotic music by "The Presidents' Own" Marine Band and the U.S. Marine Band Drum and Bugle Corps, plus precision moves by the the Marine Corps Silent Drill Platoon. No reservations are required and seating is available on the grass nearby.
When: Every Tuesday, May 30-Aug. 8, sunset; free, starts between 6:30-7 p.m. depending on date. No reservations required.
Where: U.S. Marine Corps War Memorial, Arlington, Virginia
5
Paddle a boat past the monuments
You'll get a new perspective on iconic structures like the Lincoln Memorial and the Kennedy Center if you see them via kayak, canoe or stand-up paddle board. Rent boats and boards from Boating in DC's boathouses in Georgetown and on the Capitol Riverfront, then take off on your own or via a guided tour. Bird-watching and a good workout come with the deal.
When: Open daily; check out Boating in DC's website for times, prices and events
Where: Ballpark Boathouse, Potomac Avenue SE and First Street SE; Thompson's Boat Center, 2900 Virginia Avenue NW; Key Bridge Boathouse, 3500 Water Street NW
6
Spot wildlife and water lilies at Kenilworth Aquatic Gardens
Dream you're in a Monet painting at this serene, off-the-beaten-track park near Anacostia, where hundreds of water lilies, aquatic bamboo and wild flowers can be reached via boardwalks and pathways. Critters from blue herons to turtles also thrive here, and summer might be the most pleasant time to visit. Rangers lead free nature walks daily at 2 p.m.
When: Open daily; free
Where: 1550 Anacostia Avenue NE
7
Catch a new museum exhibit
DC is a gallery-goers' paradise, with showplaces devoted to everything from modern art to postage stamps. In a class all of its own, start your adventure at any of these DC museums, or for a truly interactive experience head to on of DC's kid-friendly museums and hands-on attractions that will transport the whole family from the ho-hum of touring to the "Wow!" of experiencing.
8
Panda spot at the National Zoo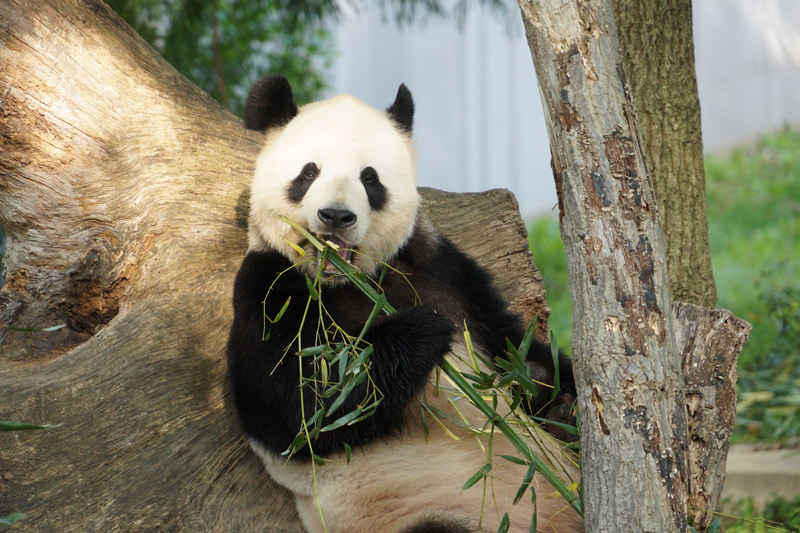 The Smithsonian National Zoo has the happy, totally cute honor of housing three pandas - cub Bei Bei, born in August 2015, and parents Mei Xang and Tian Tian. Watch them climb trees and gobble bamboo at the Panda House, or check out the red pandas, smaller Asian animals known for their climbing abilities.
When: Open daily 9 a.m.- 6 p.m.; free
Where: 3001 Connecticut Avenue NW
9
Become immersed in the international world of espionage
Kids (and adults) will love uncovering the secrets of espionage at the International Spy Museum, which features numerous interactive experiences.
When: Open daily 9 a.m.-7 p.m.; admission varies
Where: 800 F Street NW
10
Bike wherever you like
Yes, Capitol Hill is genuinely an incline, but most of DC's major tourist zones are flat and filled with green spaces, bike lanes and trails. Capital Bikeshare, one of the largest cycle-share systems in the country, makes it easy to rent wheels and zip around town for an hour or a day. There are over 3,000 bikes and 300 stations around town.
11
Take in a free show
Shakespeare Theatre Company
The Kennedy Center's Millennium Stage offers free shows every night of the year at 6:00 p.m., with acts including dancers, blues singers and classic string trios. For a kid-friendly focus, National Theatre hosts puppet shows, music and other events on Saturdays at 9:30 a.m. and 11 a.m. And you can't forget about Shakespeare Theatre Company's Free for All, an annual ode to some of the Bard's best plays. From Aug. 15-27, catch a spellbinding performance of Othello.
12
Enjoy an outdoor flick
Summertime and movies go hand-in-hand. Yes, the biggest blockbusters are in theaters, but step your movie-going experience up a notch and relax outdoors while taking in a classic film or one you've never seen before. Find out when and where to catch an outdoor screening and turn summer nights into summer memories.
Looking for more summer fun in the District? Check out our ultimate guide to summer in Washington, DC.