Save on your next vacation by visiting a capital city filled with free attractions
As you look ahead to travel plans, Washington, DC should be at the very top of your list. In total, the nation's capital offers more than 100 free things to do, but we've gone in-depth on eight free attractions to help you visualize your next year-making trip to Washington, DC. These locales are open year-round and will never charge admission.

---
George Washington
"Perseverance and spirit have done wonders in all ages."
History
Its legendary design rose from a competition supervised by the Washington National Monument Society, founded in 1833. The winner was architect Robert Mills, who had designed the first monument to Washington in Baltimore, Md., a structure completed in 1829.
Mills' initial plans for DC's Monument were much more complex than the final product; the architect envisioned a circular colonnaded building featuring statues of other Revolutionary War figures and an obelisk that would have a cylindrical pillar at its base, where visitors would enter. However, due to issues with funding, the Monument Society eventually settled on a simple, Egyptian-style obelisk. Many years later, that signature design is what makes the Washington Monument truly unique among DC's many historic memorials.
Experience
After its 2019 renovation, the Monument is in the best shape of its life. A state-of-the-art elevator shuttles visitors on a minute-long ride up 50 stories while a video from the National Park Service shows riders what to expect once they reach the summit.
The observation deck allows visitors to see nearly 25 miles into the horizon in every direction, offering a vista that includes the U.S. Capitol, Arlington National Cemetery and the Washington National Cathedral. After the breathtaking views, your elevator descent will highlight the interior walls, which are lined with stones that commemorate George Washington placed by civic groups, states and other organizations, a tribute to the man's immense influence on the country he helped found.
How It Was Supposed to Look Vs. How It Actually Looks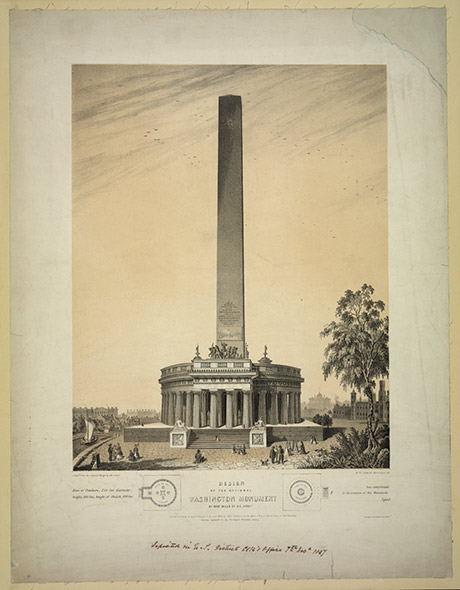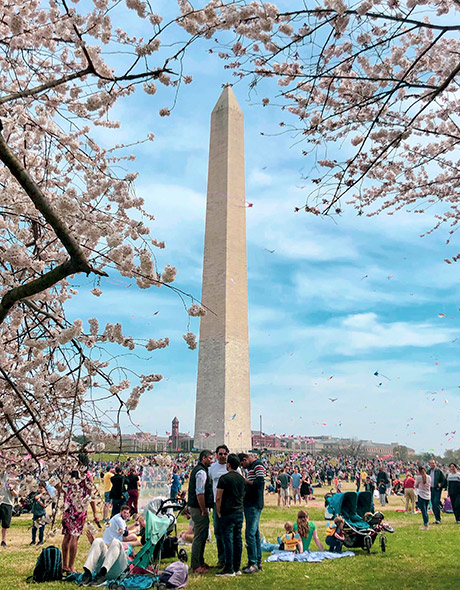 Legacy
From the moment your eyes rest upon the Washington Monument, its size, scale and prominence, along with the fifty American flags that surround it, evoke feelings of pride and patriotism. Fittingly, the Monument's history is as complicated and multi-layered as the history of the country it represents.
Scholars believe that prior to the Civil War, enslaved Black men were involved in the process of constructing the monument. This serves as an example of a monumental beacon containing the honorable and dishonorable elements of American history, a notion reinforced by the fact that America's first president was also a slave owner.
When one considers that the Washington Monument pays tribute to one of the nation's founders, has its own conflict-ridden backstory and has undergone improvements and renovations to remain standing, it becomes obvious that this DC landmark serves as a fitting introduction to the story of our country.
For more information about visiting the Washington Monument, including COVID-19 procedures, visit our guide to the monument and the National Park Service's dedicated web page.
Washington Monument 360 Video
Did you know?
The monument was the tallest structure in the world for a year, until the Eiffel Tower took its place atop the list in 1889. The National Mall landmark remains the tallest obelisk in the world.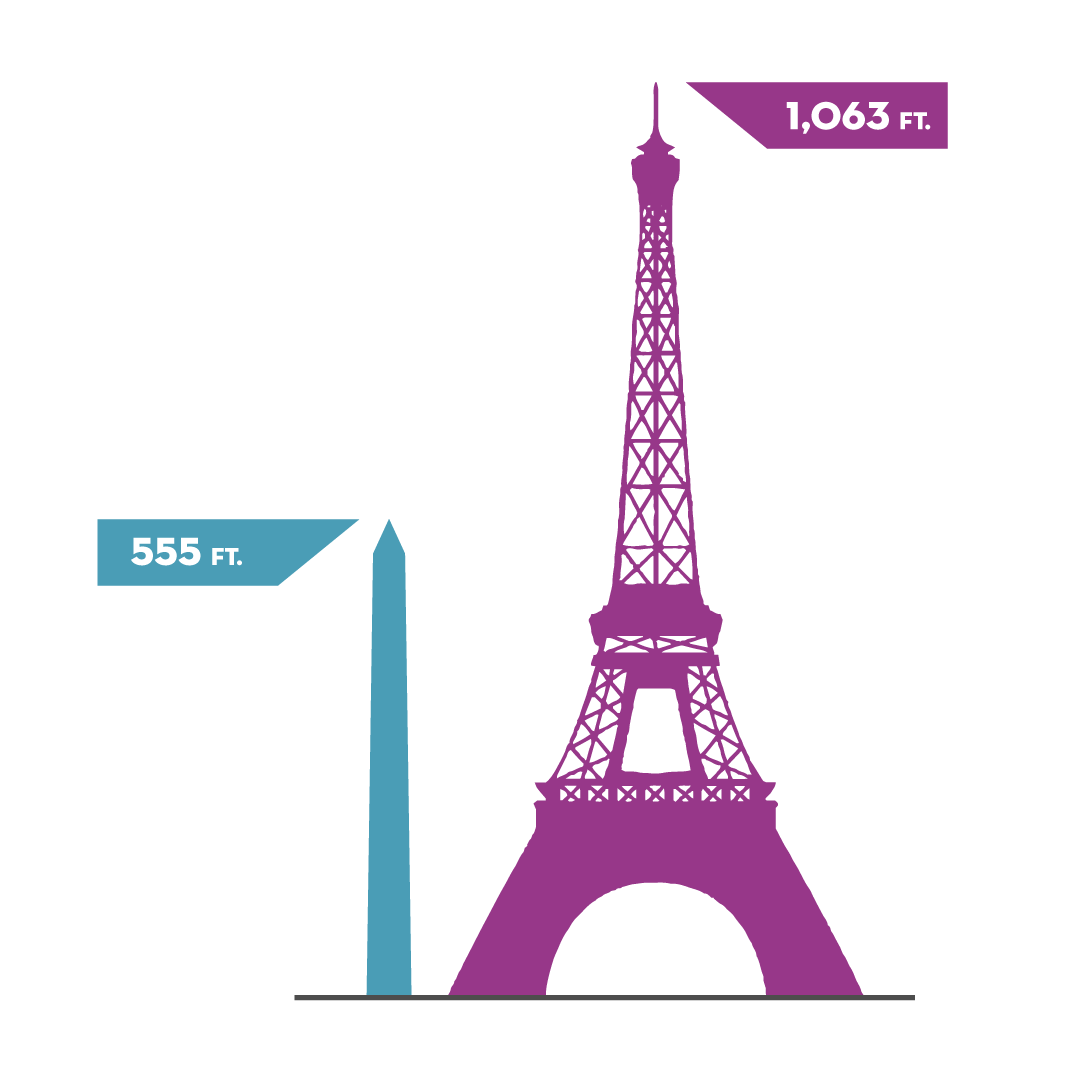 DC's Street Murals
The true heartbeat of DC can be found on mural walls when navigating the city's streets. From scenescapes to historic figures to bursts of color, DC's murals are a veritable mix of styles, an apt representation of a city filled with peoples and cultures from all over the U.S. and the world. Before we highlight a selection of murals across the city, listen to the passion of local artist Aniekan Udofia as he describes the inspiration for his jaw-dropping murals. Udofia is responsible for the alleyway artwork that adorns the wall of local institution Ben's Chili Bowl, which features iconic figures such as Dave Chappelle, Harriet Tubman, Prince and Barack and Michelle Obama.
Must-See Murals
A mural-focused DC excursion will take you to all corners of the city, unmasking a vibrant spirit, a wealth of color and tributes to iconic figures that made DC – and in many cases the nation – what it is today. Get to know the highlights, but also don't miss visiting more of these street art displays with each visit. Plan a self-guided tour with this comprehensive street murals map.
---
Aniekan Udofia, Mural Artist
"I love the ability to tell stories. I like that part of the process, just the magic of it."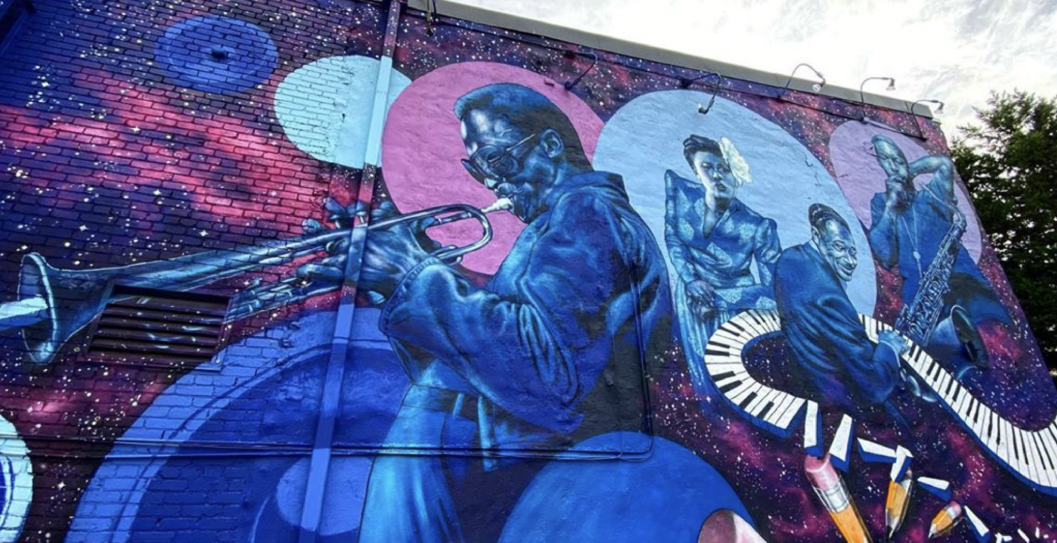 Shaw is home to Blagden Alley, which was a popular destination for Black Americans following the Civil War. Tucked amongst rehabbed carriage-houses and restaurants are murals that speak soulfully to this history and transform the space into an outdoor museum.
Udofia's Space Is The Place pays tribute to the cosmic powers of singer/songwriter Erykah Badu and jazz composer Sun Ra.
Cita Sadeli Chelove's Windswept Mandala celebrates the legacy of DC musicians, while Lisa Marie Thalhammer's  Meditation speaks to female empowerment.
In the same neighborhood, Dacha Beer Garden, a dog-friendly brewtopia and café, features an enormous mural by Byron Peck and Ivo Koytchev of 20th-century movie star Elizabeth Taylor, whose activism and contributions to AIDS research have been felt in DC and are also commemorated at the nearby Whitman Walker Clinic. Prolific artist Udofia strikes once again in Shaw at S Street NW between 7th and 8th streets with a bright-colored Marvin Gaye tribute, dedicated to the DC-born Motown star.

Over in NoMa, you can check out a funkified mural of George Washington from artist MADSTEEZ. The piece was completed for the POW! WOW!, an international mural festival that NoMa hosts every year.
If you head over to the neighborhood's popular food hall, Union Market, you'll discover the beloved heart wall by LA-based graffiti artist Mr. Brainwash, which is topped with the message, "Never Give Up".
You can also marvel at the minimalist work of one of the great avant-garde artists of our time, Yoko Ono. On the side of the food hall itself, her RELAX mural is an uplifting message to all passersby. The display was originally commissioned by DC's Hirshhorn Museum.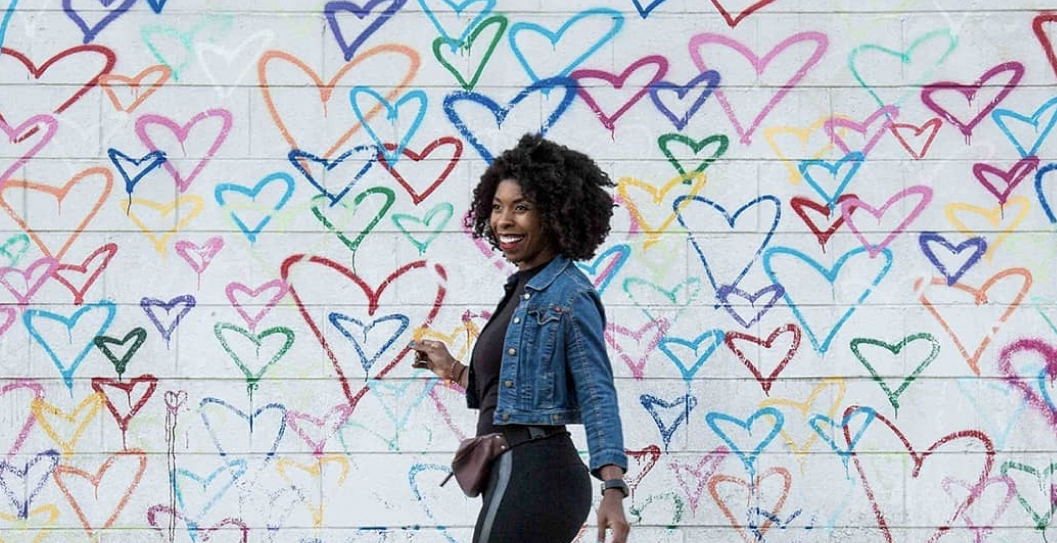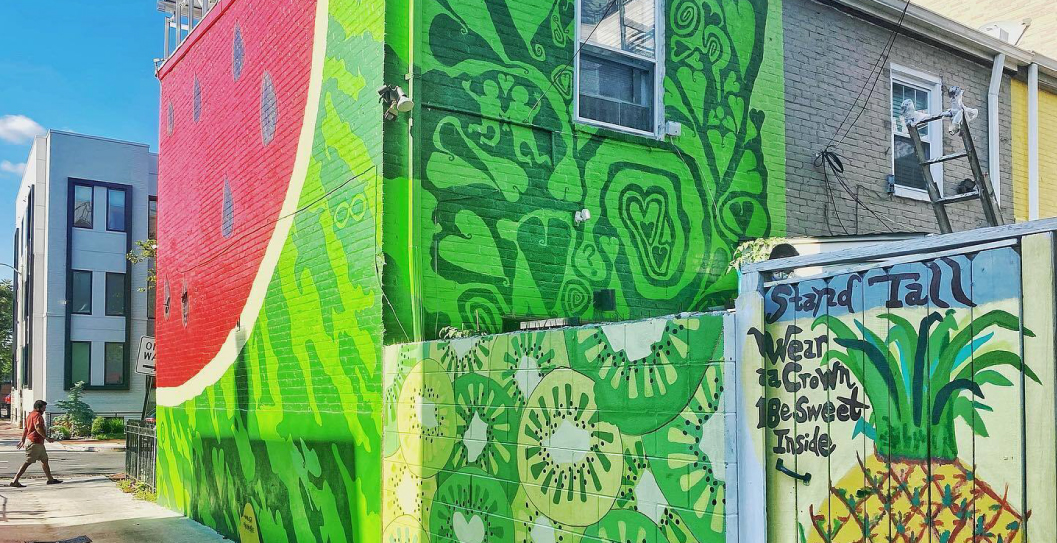 No mural tour of the District is complete without a stop at the Watermelon House in Logan Circle. The story goes something like this: the owners of the home hired a crew to paint the side of the residence red, but the result was more pink than anticipated and the owners turned lemons into watermelon. 

Once home to a spirited jazz scene and now one of the most buzzworthy destinations in the city, U Street fittingly offers the eye-catching Duke Ellington mural, as the legendary musician was born and raised in the neighborhood. G. Byron Peck's piece, painted with nine local students adorns the Reformer Building right near the Metro.
The striking portrait is based on the image on the frontispiece of Ellington's famous autobiography. The neighborhood is also home to Meet Me at the Dunbar, a lovingly crafted ode to poet Paul Laurence Dunbar on the exterior alley wall at 1506 U Street NW. The mural features the DC flag in its tribute to Dunbar, who attended Howard University and lived in the city for years.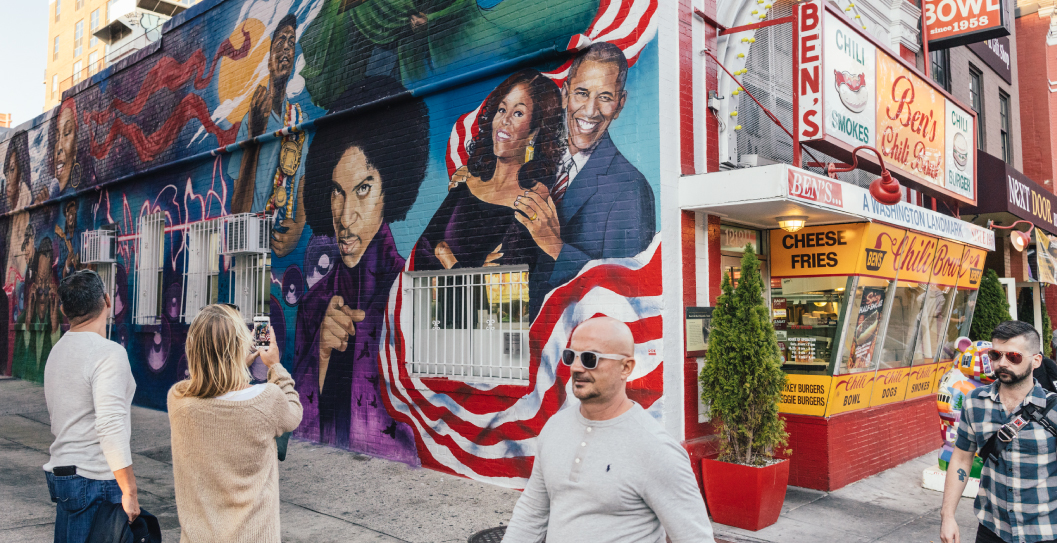 Martin Luther King, Jr. Memorial
The National Mall is an ode to American history; a sect of land dedicated to showcasing the figures whose ideas and sacrifices moved the country forward, through monuments and memorials; the details of those struggles and accomplishments can be explored inside magnificent museums. However, it was not until 2011, when the Martin Luther King, Jr. Memorial was first unveiled, that an African American individual was honored in one of the country's most sacred domains. The necessity of such a memorial is undeniable.
Born in 1929 in Atlanta, Ga., King was a witness to segregation and discrimination throughout his childhood and adolescence. By the mid-1950s, Dr. King had developed a reputation with his incredible oratory skills and passionate advocation for equal rights for African Americans, which included an end to segregation. King led the Montgomery bus boycott in 1955 in response to Rosa Parks' arrest for refusing to give up her seat on a bus in Montgomery, Al. His emotional, insightful and inspiring speeches and promotion of powerful, nonviolent resistance turned him into an icon. From the Albany Movement in 1961 to his arrest in Birmingham in 1963 to the march from Selma to Montgomery in 1965, King exposed racism at the root of America.
History
King's most celebrated moment may be his leadership of the March on Washington on Aug. 28, 1963, when he gave the legendary "I Have A Dream" speech on the steps of the Lincoln Memorial. Fittingly, when you visit the National Mall today, you can marvel at a four-acre site dedicated to his accomplishments and words, a memorial that shares a direct line of sight between the monuments to Lincoln and Thomas Jefferson and sits along the gorgeous Tidal Basin. The address is 1964 Independence Avenue SW, in honor of the Civil Rights Act of 1964, a landmark legislation in which King played an important role.
Alpha Phi Alpha, a fraternity that King joined while attending Boston University, led the charge in erecting a permanent memorial to the historic figure in DC. Calls for the memorial began as far back as 1968, after King's assassination, and culminated with Congress authorizing an establishment of the memorial on Department of Interior lands in DC in 1996, 10 years after King's birthday was first celebrated as a federal holiday known as Martin Luther King, Jr. Day.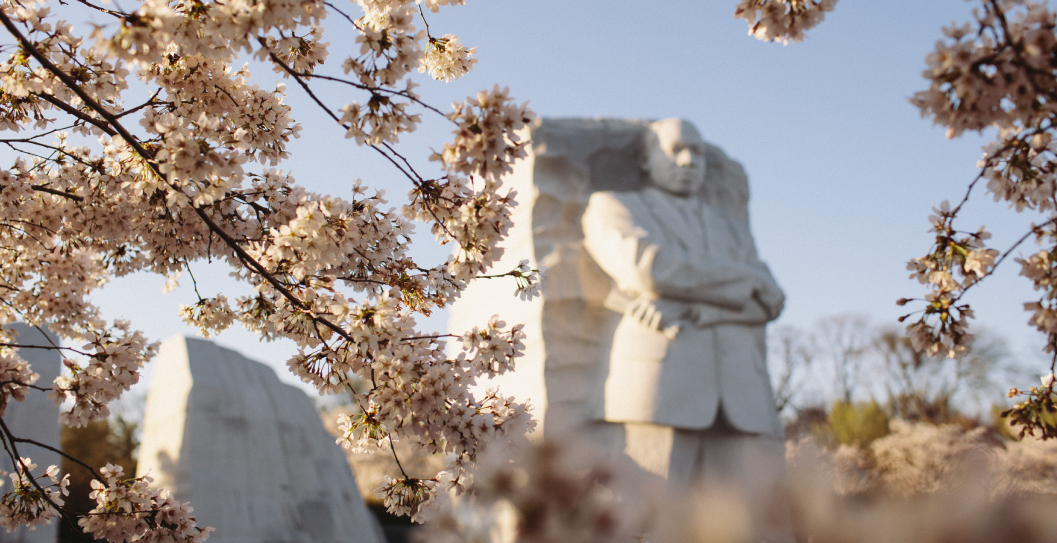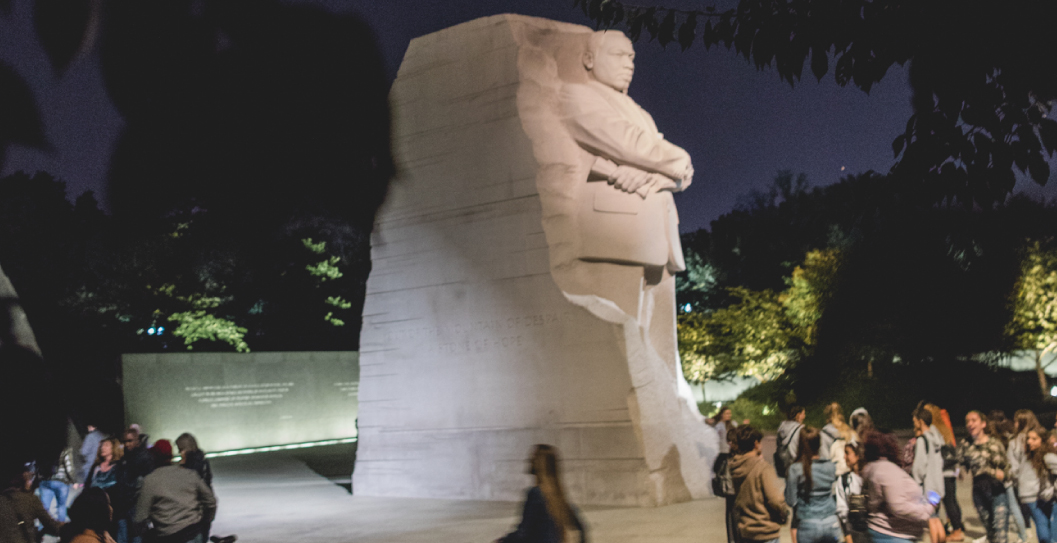 Experience
The centerpiece of the memorial is a 30-foot-tall statue of Dr. King, featuring his likeness carved into the Stone of Hope, which emerges powerfully from two large boulders, known as the Mountain of Despair. Together, this combination represents the soul-stirring words from Dr. King's "I Have a Dream" speech. Text from this speech is cut sharply into the rock of the Stone: "Out of the mountain of despair, a stone of hope."
When observed in total, this arrangement symbolizes achievement borne out of massive struggle.
Visitors enter through the Mountain of Despair and tour the memorial as if moving through the struggles that Dr. King faced during his own life. Your journey eventually brings you to the open tranquility of the plaza. The solitary Stone of Hope stands proudly, depicting the civil rights leader gazing over the Tidal Basin towards the horizon, forever encouraging all citizens to strive for justice and equality.
Surrounding the statue of Dr. King is a 450-foot long Inscription Wall, which features 14 quotes from King's speeches, sermons and writings. Inscriptions were chosen by a special "Council of Historians," which included Maya Angelou and Henry Louis Gates. Quotes were chosen with Dr. King's four main principles in mind: justice, democracy, hope and love.
Once you've visited the memorial to Dr. King, make sure to check out the recently renovated Martin Luther King, Jr. Memorial Library, which features a marvelous Great Hall and a Rooftop Terrace that offers amazing views of downtown DC.
For more information about visiting the Martin Luther King, Jr. Memorial, visit National Park Service's website and check out our guide to the monument.

---
Melanie Choukas-Bradley, author, naturalist and DC resident
"Washington, DC is not known enough for how beautiful it is."
Rock Creek Park
Melanie is absolutely correct. While New York City has Central Park, DC has what locals call, "Rock Creek," which is double the size of NYC's famous urban oasis. Melanie elaborates further on what makes this park so special to nature lovers and locals.
Today, with its lush greenery, miles of trails and array of attractions, Rock Creek Park is a popular destination for outdoor enthusiasts throughout the year. The park's asphalt trails are mostly flat and allow bikers, runners and hikers to escape the hustle and bustle of the city. On weekends, parts of Rock Creek Park are closed to traffic, allowing even more space for adventurers to stretch their legs.
The Real DC: City of Trees
What Can You Do in Rock Creek Park?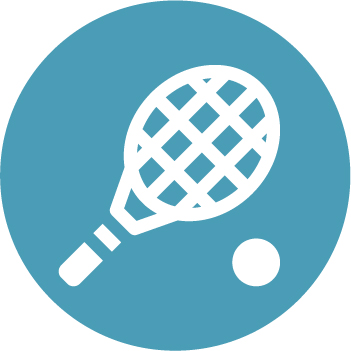 Tennis
25 outdoor courts and five indoors at 16th and Kennedy streets in Northwest DC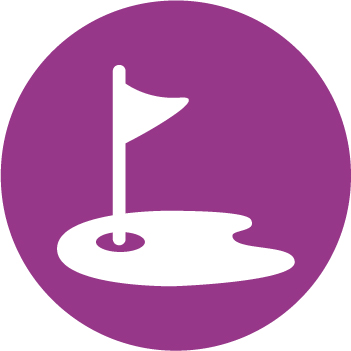 Golf
18-hole public course with dense woods and narrow fairways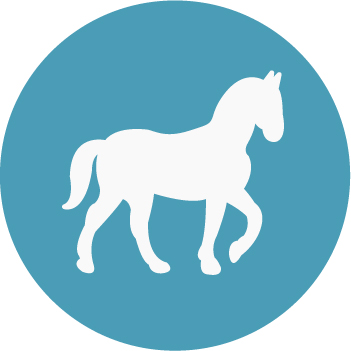 Equestrian Trail Rides
Rock Creek Park Horse Center offers guide-led rides through tree-lined trails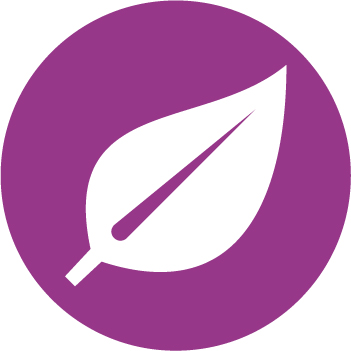 Nature Center
Visit for maps, to learn about native plants and animals, and a half-mile trail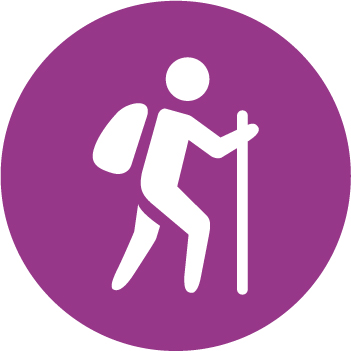 Hiking
32 miles of trails along the Western Ridge and Valley trails and offshoots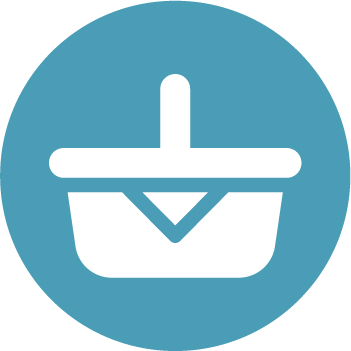 Picnic Areas
Enjoy pavilions, open-air tables and grassy areas throughout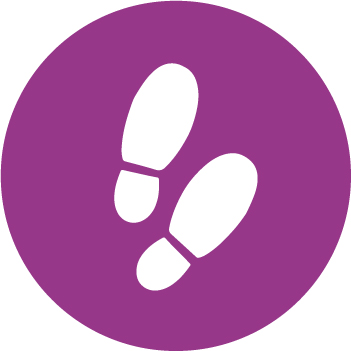 Join a Park Ranger
Learn more about the park via a robust Ranger-led program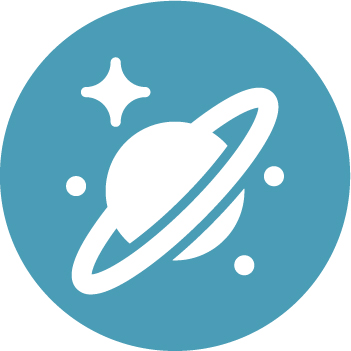 Star Gaze
Park Rangers discuss astronomy, the solar system at the planetarium
For more information regarding Rock Creek Park, visit our guide to the destination and the National Park Service's dedicated web page.
More from the Capital of Free
---